How Bhumi Pednekar Lost 32 Kgs – Diet And Workout Secrets
Bhumi Pednekar is one of Bollywood's real and relatable actors. Her debut movie, Dum Laga Ke Haisha (2015), was about an overweight newly-wed bride. Her immaculate acting in the movie won her the Filmfare Award for Best Female Debut in 2016. As she walked up the stage, we all couldn't stop but notice her slimmer, toned body. The news was out the next day – Bhumi had lost 32 kgs!
How did she go from 89 kg to 57 kg in about six months without going on a fad diet? Read on to find out Bhumi Pednekar's weight loss secrets and use these tips to whittle away the extra inches.
How Did Bhumi Lose 32 Kilos?
Bhumi lost 32 kilos not by going on a popular commercial diet. She was always a little plump and loves food. She revealed, "Food makes me happy. It's for the soul. I've never deprived myself of eating anything I've wanted. I had ghee, butter, buttermilk and the only thing I stopped having completely was sugar. But yes, I controlled my carbohydrate intake too. I followed my regular diet, exercised portion control and was very particular about not bingeing. I had a cheat meal every five days."
She went on to spill the secrets of her weight loss. "It sounds fancy but I never went to a dietician or a nutritionist. Till now, it has only been my mother and me. I used Google search and my mother's vast knowledge on food to lose weight. Apart from being physically active, simple home-cooked meal is the most effective way for weight loss. The two of us came up with a diet plan."
Bhumi posts about her social life and her weight loss lifestyle regularly on Instagram. She also posts diet and lifestyle tips.
Here's something that you would want to know if you have a sweet tooth. The gorgeous actress admitted, "Quitting or rather reducing the intake of refined sugar was one of the best decisions of my life. Refined sugar – brown or white – is nothing but taste and empty calories. In fact in the process to digest it, it empties your body of a lot of vitamins and minerals. For someone like me who has a sweet tooth,staying away from meetha was tough. So I thought, why crave and deprive yourself, when you have healthier options available today."
She added, "It's just about opting for the healthier bottle. Why not have a brownie that's amazing to taste but also beneficial to the body? Be it raw honey or stevia, these natural sweeteners are a boon and affordable too."
"Raw honey is good for digestion and is packed with zinc, potassium, calcium and vitamin B6. Add it to your nimbu paani, oats, even milk. You can also add it in your salad dressing. Honey can be used in various different ways." But she cautions, "Please don't cook it at high temperatures, as it will lose its taste and nutrients."
She further explained, "There is maple syrup, coconut sugar and a whole bunch of other natural sweeteners… all the information is available online. But always remember guys, even though these options are healthier, they still need to be eaten in moderation. A little restrain goes a long way in improving your health. Hope this was helpful.."
Bhumi Pednekar also drinks 7 liters of water per day. She said, "I found this thing called detox water. It cleanses and detoxifies your body. Lemon not only cleanses your body but also makes it alkaline. It also boosts your immunity. Mint aids digestion and gives the drink some sweetness without any sugar. Cucumber has several benefits – it's good for your skin, it keeps your body hydrated, and it contains anti-inflammatory properties. In short, it's good for you. Just remove it from the fridge in a couple a hours, strain the liquid and Just pop it your sipper and keep sipping on it…one of the things I tried…
So, what does she eat for breakfast, lunch, and dinner? Let's take a look at her diet to find out.
Bhumi Pednekar's Weight Loss Diet
• Breakfast
Bhumi posted on her Instagram about her breakfast ritual. She said, "I start my mornings with a glass of warm or detox water and thirty minutes later, I eat muesli with skimmed milk and flax or sunflower seeds. Then comes the king-sized breakfast (an hour before gymming) of whole-wheat bread with 2 egg white omelets and a fruit (papaya or apple)." She added, "There is nothing healthier than kick-starting your day with a breakfast like this. Stomach this recommendation for now, next week I will share with you my lunch menu for losing it like me :)"
• Lunch
For lunch, she eats "Simple, home-cooked wholesome food that includes roti, sabzi and dal. I eat everything but a healthy version of it. So my rotis are not made of wheat but of bajra, jowar, nachni, soya, chana or rajgira and topped with a little white butter."
She also advised on how to make healthy meals. "You can mix all these grains together to make a power-packed multi grain roti or use them individually. My dal has tadka and the sabzi has oil but olive oil used in moderation. "
She consumes homemade curd or buttermilk.
At other times, she loves to consume, "grilled chicken, brown bread vegetable and grilled chicken sandwich (I like using hummus/honey mustard, green chutney or just little olive oil if I want to grill it as a spread instead of butter or any other trans-fat spread), hummus with cucumber and carrots, nutri-nuggets or some homemade chicken gravy cooked in very little oil with a bowl of brown rice."
• Evening Snacks
Snacking is very important. But you must choose the healthier versions. Here's what she does. "At around 4-4.30pm, I eat half a papaya or an apple/pear/guava. After an hour or so, I have a cup of green tea with few almonds or walnuts." So, swap your crackers, samosas, and cappuccino with fruits, nuts, and green tea.
She keeps her dinner simple and light. She says, "Around 7:00 pm, I have a big bowl of salad with all salad greens, maybe add an apple, and some walnuts or some dried berries if seasonal ones are unavailable – dressed with olive oil and balsamic vinegar or some olive chilli oil with garlic and mustard, or some apple cider vinegar."
To keep dinner fun, Bhumi says, "at times I add grilled chicken or feta cheese. By 8.30pm, I have my dinner which is usually grilled fish or chicken (there are a lot of easy-to-make recipes available on the internet. Keep experimenting!)."
And when she's in the mood for a vegetarian dinner, she eats, "fresh, grilled or slightly pan cooked paneer/tofu, stir fried or steamed vegetables (seasoned as you like) with a small cup of brown rice or a thin multigrain roti. I try eating as less carbs as possible at night."
Apart from eating right, she also believes in working out and moving around to lose flab and build lean muscle mass. Here's her workout plan.
Bhumi's Workout Regimen
Bhumi alternates between cardio and weights at the gym. Doing cardio at least thrice a week will help burn the calories and shed the fat. Going for weight training twice a week will improve your muscle mass, tone your body, and improve muscle strength and power.
View this post on Instagram
She also emphasizes the importance of moving around a lot instead of sitting at one place for too long. She says, "Just basic things like taking the stairs up instead of the lift or walking shorter distances or just getting up for a glass of water every time you're thirsty instead of keeping a bottle next to you."
Conclusion
When asked about weight loss in an interview, she said, "Love your body type. I have always been content with my body type and that comes from self-acceptance. Self-acceptance and healthy eating habits are the tricks to feel good and look even better. Don't judge others by weight. Stop telling your sisters, friends, and mothers that they need to lose weight. You're not doing them a favour. If it's someone you care about, by all means make sure she's eating healthy but never let it take on the connotations of fat-shaming."
So, you see, the secret to a long-term weight loss lies within YOU. If you want to improve your health and lifestyle, go for it. Strive to change your lifestyle gradually. And you will see a difference in how you look and feel in no time. Take care!

The following two tabs change content below.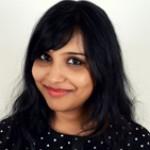 Latest posts by Charushila Biswas (see all)