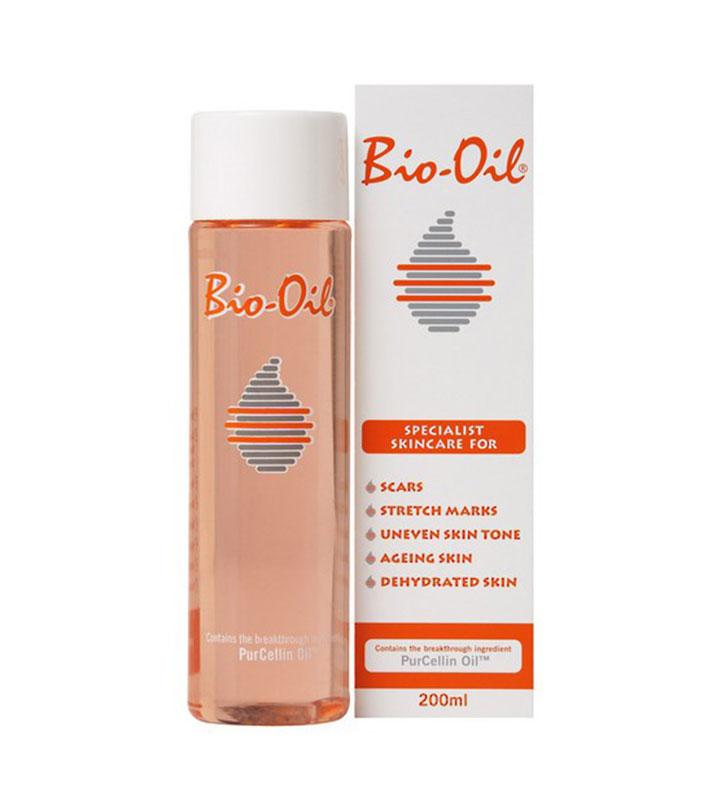 Stretch marks. The very words send shivers down your spine, don't they? Every woman, no matter what her age or body type is, worries about developing stretch marks at some point in her life. And once pregnancy rolls around, there's no escaping the inevitable – your skin will pull and stretch to accommodate the miracle of your life and leave behind marks in its wake. So, it's no wonder that when Bio-Oil came around, it took the skincare world by storm. With its breakthrough ingredient PurCellin oil, Bio-Oil promises to reduce scars, stretch marks, uneven skin tone, aging skin, and dehydrated skin. Tall promises, if you ask me. But here's the thing – somehow, miraculously, this product works.
Bio Oil Ingredients
Paraffinum Liquidum, Triisononanoin, Cetearyl Ethylhexanoate, Isopropyl Myristate, Retinyl Palmitate, Sunflower seed oil, Tocopheryl Acetate, Chamomile flower oil, Lavender oil, Rosemary leaf oil, Marigold oil, Wild Soybean oil, BHT, Bisabolol, Parfum, Alpha-Isomethyl Ionone, Amyl Cinnamal, Benzyl Salicylate, Citronellol, Coumarin, Eugenol, Farnesol, Geraniol, Hydroxycitronellal, Hydroxyisohexyl 3-Cyclohexene Carboxaldehyde, Limonene, Linalool, CI 26100.
Now, let's look at all the good things contained in Bio-Oil:
Rosemary oil has been found to reduce inflammation and facilitate the healing of micro wounds. This means it's great for reducing scars!
Chamomile oil is great for evening out your skin tone and other pigmentation issues.
Lavender oil works as a great antioxidant and is known to reduce skin damage.
Calendula oil is the main moisturizing agent in Bio-Oil and is great for dry skin.
Vitamin A and Vitamin E work wonders as antioxidants.
Packaging of Bio Oil
Much like any other skincare product, a bottle of Bio-Oil comes in a white cardboard box that also houses the instruction manual. I particularly loved this manual because it has diagrams showing you exactly how to apply this oil. The bottle itself is a pretty basic transparent white bottle with a white screw-on cap. The opening of the bottle is covered with another white cap that has a small hole in its center – perfect for a klutz like me who would probably topple all the oil out within 0.25 seconds of opening the bottle. Whoa, also a strange thing about this product is that though it has an orange tint when in the bottle, it is completely transparent when you pour it out. Which is great because that way you won't stain your clothes. Lastly, if you get the small 60ml bottle, you can travel with it in your handbag without any worries because it's under the TSA liquids allowance limit and also the packaging is pretty sturdy and leak-proof.
Bio Oil Uses And Benefits
I think its important to preface the benefits of Bio-Oil by mentioning that the company itself does not claim that it can completely remove or make any scars or stretch marks vanish altogether. It simply reduces their appearance. Now that that's out of the way, let's look at all the wholesome goodness this product has to offer:
i) Bio-Oil For Scars
First things first, and I cannot stress this enough, do not apply Bio-Oil on an open wound thinking it will prevent it from scarring. That's just an infection waiting to happen. Now, on to the main point – the company itself claims that it can never completely remove a scar, just reduce its appearance. After continuous usage over a month, I did notice that a burn mark and some of my chicken pox scars and acne scars had lightened considerably. So, yay!
ii) Bio-Oil For Pregnancy Stretch Marks
Pregnant women around the world swear by the effect of Bio-Oil on their stretch marks. And so does my sister. She started using Bio-Oil immediately after her delivery and has found that her stretch marks have faded considerably. Her only regret is that she did not start using Bio-Oil during her pregnancy because then her stretch marks would have been even lighter now.
[ Read: 20 Simple Home Remedies To Remove Stretch Marks ]
iii) Bio-Oil For Uneven Skin Tone
The only areas I noticed where my skin tone had slightly evened out after using Bio-Oil were under my eyes. I could not find much of a difference anywhere else on my face or body.
iv) Bio-Oil For Aging Skin
Bio-Oil works to reduce wrinkles by improving the collagen and elastin content in your skin. My mum swears by its anti-aging properties and religiously applies it to her face twice a day.
v) Bio-Oil For Dry Skin
The essential oils in Bio-Oil (like lavender, chamomile, and marigold) work wonders to moisturize your skin and leave it soft and supple. My skin seemed so much softer and healthier within a week of starting my Bio-Oil treatment. It has also managed to give my skin a dewy glow, which, of course, I'm a huge fan of.
[ Read: Top 20 Home Remedies For Dry Skin On Face ]
Pros
Sturdy packaging that is safe for traveling.
The oil has a light texture that absorbs into your skin pretty quickly and does not leave it feeling greasy.
Is not heavily fragrant, which is great for people with sensitive skin.
Can even be used on cuticles to moisturize them.
Delivers on its promise of reducing scars and stretch marks.
Since each application requires just a couple of drops, a single bottle will last you for a long time.
Cons
A little on the expensive side.
Its oily formulation may cause people with oily skin to break out.
Primarily available only online, which can be a con for people who would rather shop at stores.
Bio Oil Review
Bio-Oil came into my life when nothing in the world seemed to be working on my skin. I had chicken pox when I was 19, which meant they left behind some pretty prominent scars. Add to that the stretch marks on my thighs and a scar from a childhood accident on my forehead and you can imagine what level my self-esteem was operating on.
After trying tons of home remedies and skin creams, I had just about given up when I was introduced to Bio-Oil. And what a wonder product it is! Being a total hater of greasy skin products, I was pleasantly surprised when I saw that it was not greasy at all and got absorbed into my skin within a few minutes. It is also such a light formulation that I could not feel like I had applied something (much less an oil-based product) onto my face or body.
Another fear I had was that it would block my pores and cause me to break out, but thankfully that did not happen. On the contrary, my skin feels much cleaner and more even now. After 2 months of usage, my stretch marks and scars have faded significantly. It has also worked wonders on my dark circles. My skin is now healthy and hydrated, which has resulted in a glowing complexion.
The only drawback I felt was its price, but considering the results it gives you and how long a bottle lasts, I think it's worth every penny you spend on it.
How To Use Bio Oil?
Rub a couple of drops of Bio-Oil between your fingers.
Massage the Bio-Oil into the affected area.
Make sure you massage in a circular motion.
Do this twice daily for at least 3 months to see effective results.
Expiry Time Of Bio-Oil
36 months
Rating: 4.5/5
Where To Buy Bio Oil?

Do I Recommend Bio-Oil?
Absolutely! Your skin will love you pampering it with this wonderful product!
Bio-Oil has been all the rage in the Western market for a few years now and I'm so glad that it has finally made its way into the Indian market. Too long we women have been plagued with stretch marks and scars. But no more, I say! Go grab a bottle of Bio-Oil today. You can thank me later.
Recommended Articles

The following two tabs change content below.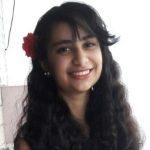 Latest posts by Arshiya Syeda (see all)