15 Best Biotin Shampoos For Thicker And Healthier Hair – 2023
Tackle hair dryness and breakage to reveal healthy, shiny, and thick tresses.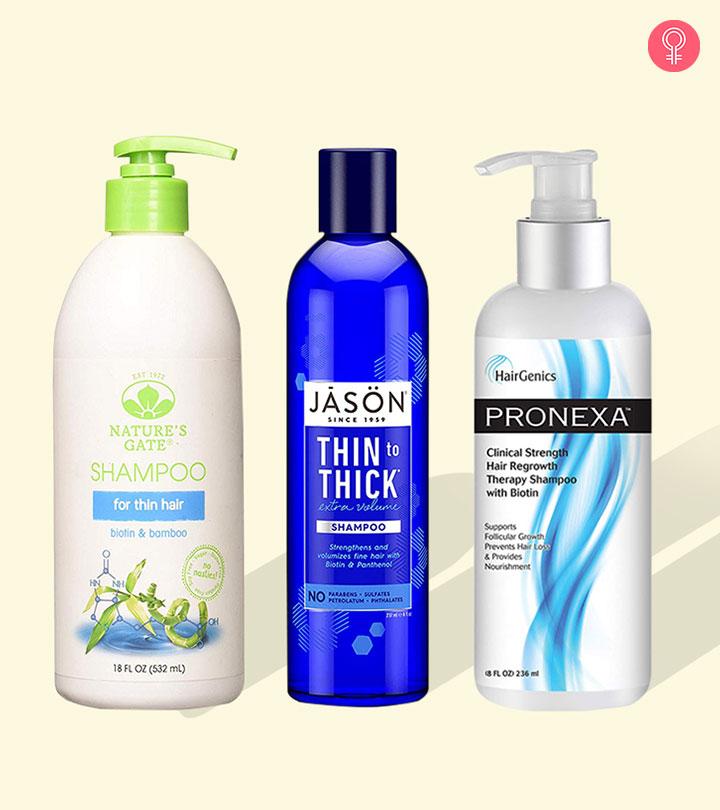 Biotin is a popular ingredient in the hair care industry. Many hair care brands are including this vitamin supplement in their products. While shampoos are primarily used for getting rid of the built-up oil and dirt from your hair, biotin shampoos are specially formulated to tackle issues such as dryness, damage, breakage, and hair fall. Laura Dale, licensed cosmetologist, says, "As a hair expert and stylist, I often recommend biotin shampoos as a part of a healthy hair routine for people looking to improve the thickness and overall health of their hair. By incorporating a biotin shampoo into your hair care routine, you can take a proactive step towards achieving the thick, healthy hair you've always wanted."
Why Is Biotin Good For Your Hair?
Biotin (vitamin B7) is a B-complex vitamin that is found in vegetables such as cauliflower and cucumber. This vitamin is also known as "hair food" as it increases hair growth and makes your hair thick and strong. Many people take biotin supplements to improve their hair's health and boost its growth. Moreover, it also helps nails and eyelashes grow stronger and faster. This is why a lot of women who want healthy, long, and thick hair include biotin in their diet.
Biotin deficiency often leads to issues like hair thinning, brittle hair, and dryness. The recommended intake of the vitamin along with proper topical use can remedy these issues. If you are experiencing brittle hair, dryness, or hair fall, using a biotin shampoo can go a long way in improving the health of your hair. We have put together a list of the 15 best biotin shampoos that you can check out.
15 Best Biotin Shampoos For Hair Regrowth
Pura D'Or Original Gold Label Anti-Hair Thinning Shampoo is a clinically proven and tested shampoo that reduces hair loss and promotes strength, thickness, and volume of your hair. It is formulated with argan oil that boosts scalp and skin cell production for increased hair growth. This shampoo is created using 17 active ingredients, extracts, and nutrients to control hair loss. These ingredients are packed with a powerful blend of biotin, nettle, pumpkin seed, and black cumin seed oil. This shampoo claims to decrease hair thinning within 8 weeks of daily use. Here's a video to help you know more about this product.
Pros
Slows down hair loss
Facilitates hair regrowth
Free of sulfates and parabens
Lathers well
Pleasant citrus-y fragrance
Cruelty-free
Cons
May dry out your hair initially.
Price at the time of publication: ₹29.99
Hairgenics Pronexa Clinical Strength Hair Regrowth Shampoo is a USDA- certified Biobased shampoo. It contains organic ingredients like ultra-purified water, aloe vera extract, apigenin, citric acid, biotin, hydrolyzed collagen, seaweed extract, vitamin B5, and other growth promoting components. This shampoo claims to increase the elasticity of the hair cortex, minimize breakage, prevent dryness, and promote longer, healthier, and thicker hair. It nourishes your hair from the inside to make it look fuller and bouncier. The formula contains DHT blockers, which prevent hair loss. This video takes you through this product's details.
Pros
Certified by FDA
Contains pure ingredients
Delivers quick results
Cruelty-free
Cons
Price at the time of publication: ₹29.99
This gentle hair thickening shampoo is made using nature's purest ingredients. It contains a balanced blend of biotin, saw palmetto, quinoa protein, and vitamin E that enhance hair volume to help build body, leaving your hair feeling thicker and healthier. This shampoo also encourages new hair growth and hydrates your scalp and hair follicles. If you are looking for a good shampoo for daily use, this one is a great pick. For a more detailed review of this product, here's a video.
Pros
EWG-certified shampoo
Free of harsh chemicals and preservatives
Efficiently cleans hair and scalp
Controls hair loss
Vegan and cruelty-free
Pleasant fragrance
Cons
Price at the time of publication: ₹9.99
This DHT blocker-formulated shampoo helps fight hair thinning caused by hormonal imbalance and other scalp conditions. It contains biotin, castor oil, coconut oil, and procapil. These plant-based ingredients cleanse your scalp and strengthen your hair follicles for increased hair growth. It helps improve circulation and prevent fungal build-up. It also adds volume, shine, and moisture to each strand for a thicker and fuller look.
Pros
Suitable for daily use
Makes your hair smooth and silky
Provides vitamins to your hair
Cons
Takes time to deliver effective results
Price at the time of publication: ₹17.03
Maple Holistics Biotin Shampoo revitalizes your hair follicles. It strengthens fragile and weak strands with the help of 10 powerful botanicals that help improve scalp health, strengthen the follicles, and eliminate impurities. Its ingredients, like coconut oil, jojoba oil, tea tree oil, and biotin, help block DHT and rejuvenate your hair to make it look fuller, shinier, and healthier.
Pros
Fights dandruff
Nourishes your hair
Suitable for all hair types
Hypoallergenic formula
Cons
May dry out your hair initially.
Price at the time of publication: ₹14.95
Nature's Gate Natural Biotin And Bamboo Shampoo is ideal for thin and damaged hair. It is a blend of natural plant and fruit extracts, biotin, bamboo oil, pro-vitamin B5, and jojoba oil. These ingredients strengthen weak and fragile strands and promote new hair growth. This shampoo is also effective at gently cleansing your hair, leaving it looking healthy and shiny.
Pros
Moisturizes dry and brittle hair
Contains organically-harvested herbs
Cleanses scalp well
Controls hair loss
Cruelty-free
Cons
Price at the time of publication: ₹21
Paisie's Re:line Biotin Thickening Shampoo is specially designed to stimulate your scalp for new hair growth. It contains healing ingredients like biotin, saw palmetto, and rosemary oil to help build volume in thinning hair. Nourishing ingredients like aloe vera and coconut oil impart vitamins B and E to your roots for rapid hair growth.
Pros
Suitable for all hair types
Hypoallergenic
Adds volume and thickness
Ideal for dry, damaged, and frizzy hair
Cons
Price at the time of publication: ₹19.97
This shampoo, formulated with biotin, is perfect for adding thickness and volume to your flat and fine hair. The advanced polymers in the formula work to provide you the desired volume and texture. Moreover, extracts of artichoke leaf, moringa, and golden root are rich in antioxidants to offer your hair protection from free radicals, heat, and daily pollutants. It strengthens and nourishes hair from the roots to the tips and improves its keratin structure, giving you healthy and strong hair.
Pros
Suitable for thin and fine hair
Vegan
Gluten-free
Protects from thermal stress
Strengthens hair structure
Cons
Price at the time of publication: ₹34
Jason Thin-To-Thick Extra Volume Shampoo gently cleanses and nourishes fine and limp hair. It contains panthenol and biotin that improve hair elasticity and prevent breakage while cleansing your scalp and hair of excess oils. This shampoo uses natural botanicals and essential oils for healthy hair growth.
Pros
Curbs hair fall
Imparts shine
A little goes a long way
Cooling effect on the scalp
Rinses out easily
Cons
Does not have a pleasant fragrance
Price at the time of publication: ₹8.49
Andalou Naturals' Lavender And Biotin Shampoo cleanses your locks while stimulating your scalp. It contains natural ingredients that impart proteins to dull, fragile, and thinning hair to make it look more voluminous and healthy. This shampoo promises to give you fuller looking hair with body, lift, and shine.
Pros
A little goes a long way
Pleasant fragrance
Suitable for dry hair
Controls frizz
Improves hair texture
Cons
Price at the time of publication: ₹8.4
This shampoo is formulated with 14 DHT blockers to stimulate hair growth and fullness. It contains niacin, biotin, argan oil, and antioxidants that make your hair healthier and shinier. This gentle and fortified shampoo nourishes your hair follicles, repairs damaged hair, strengthens each strand, increases blood circulation, and promotes healthy hair growth.
Pros
Suitable for sensitive scalp
Pleasant fragrance
Lathers well
Free of harsh chemicals
Cons
May dry out your hair initially.
Price at the time of publication: ₹15.95
OGX Thick & Full Biotin & Collagen Shampoo is ideal for people with flat and fine hair. It is a nutrient-rich formula that is infused with pro-vitamin B7, biotin, and collagen. These ingredients boost the volume of your hair to make it look fuller and shinier. This shampoo claims to thicken and texturize any hair type after just one use.
Pros
Improves hair texture
Strengthens weak hair
Conditions hair
Travel-friendly packaging
Free of sulfates and parabens
Cons
Price at the time of publication: ₹759
[ Read – Top Rated OGX Products For Women ]
Mill Creek's Biotin Shampoo is enriched with vitamins, niacin, panthenol, and folic acid. These essential nutrients promote healthy scalp and hair. This formula contains argan oil, aloe vera, and peppermint oil that create an invigorating tingling sensation on your scalp. They energize your scalp and promote healthy hair growth within a few days. Despite these potent benefits, this shampoo is mild and does not damage your hair.
Pros
Strengthens hair
pH-balanced formula
Cruelty-free
Does not contain SLS or parabens
Lathers well
Suitable for oily hair
Cons
Price at the time of publication: ₹12.87
Schwarzkopf's Essence Ultime Biotin Volume Shampoo is specially formulated for fine and limp hair. It contains biotin, white water lily, castor oil, and citric acid that nourish your hair and stimulate hair growth. It also contains Ultime-4 Complex, a combination of pearl essence, panthenol, refined protein, and keratin that increases the volume of your hair instantly. This shampoo makes your hair appear 80% fuller right from the first use.
Pros
Strengthens hair
Adds volume
Travel-friendly packaging
A little goes a long way
Cons
The fragrance might be too strong for some.
L'Oreal Professionnel's Serie Expert B6 + Biotin Inforcer Shampoo curbs breakage and split ends, leaving your hair softer and healthier right from the first use. It improves your hair's texture by nourishing it with its biotin and vitamin B6 content. It strengthens fragile and weak hair with continued use.
Pros
Travel-friendly packaging
Lathers well
Suitable for oily hair
Improves hair texture
Does not disturb the pH balance of your scalp
Cons
Price at the time of publication: ₹31.43
Biotin has long been popular as a hair nourishing nutrient. If you want thick hair, buying a biotin shampoo would be a good investment. However, there are a lot of factors involved when choosing the right shampoo for your hair – just buying a product off the rack because it has 'biotin' on the packaging may actually end up causing more hair fall. Take a look at these pointers so that you can make an informed purchase.
How To Choose The Right Biotin Shampoo For Thicker, Healthier Hair
Ingredients
Always choose a product that does not have sulfates, phthalates, or parabens. This will aid significantly in maintaining the health of your mane. Shampoos containing organic plant oils like castor oil, jojoba oil, tea tree oil, or coconut oil are great options if you prefer to use nourishing products. They repair the hair follicles and reduce any damage to the strands.
Hair Concerns
Select oil-based, highly moisturizing biotin products if your hair is on the drier side. Use a moisturizing biotin shampoo and a deep conditioner combo to treat frizzy, coarse hair. Do not waste your money on a generic biotin shampoo if you suffer from dandruff. Shampoos that provide moisture and shine to your hair are essential if you have damaged or color-treated hair.
If you have an itchy scalp, use products that are hypoallergenic in nature. They will prevent you from getting scalp skin issues.
If heat styling is your thing, go for shampoos that protect your hair from thermal stress and repairs heat damage. You could also go for a thermal protectant shampoo if you spend long hours out in the sun.
Price
Don't get captivated by a product just because it's posh and pricey! Spending a fortune on a biotin shampoo may not solve the problem of hair fall if it doesn't suit you. It is crucial to make sure the product suits your hair type.
However, it's true that some high-priced products can help you achieve healthy hair. If you have the bucks to spare, you can give a costly product a try.
Fragrance
It is usually a smart idea to opt for fragrance-free skincare and haircare products. But, if you are opting for a biotin shampoo because you want to curb hair fall, you need to be extra cautious when choosing shampoos. Don't take a chance by purchasing a product with unnecessary chemicals or added perfumes that may cause adverse reactions.
Why Trust StyleCraze?
Pooja Karkala, the author of this article, is a hair care expert with many articles to showcase her expertise. She recommends using these biotin shampoos to cleanse your hair while also protecting it from dryness, hair fall, damage, and breakage. She conducted extensive research and poured over many products and reviews to form this list. She chose these products based on the ingredients added, hair care benefits, and additional features like cruelty-free and vegan-friendly.
Frequently Asked Questions
How often should you use biotin shampoo?
If it is a mild formula, you can use biotin shampoo daily. But a less mild formula should be used twice or thrice a week.
Does biotin shampoo damage the hair?
No. Biotin shampoo does not damage hair, it is generally safe for use.
Does biotin shampoo help regrow hair?
No, biotin shampoo does not regrow hair. However, biotin shampoo improves overall hair health by thickening and strengthening the hair.
Does biotin increase facial hair in females?
No, no scientific data suggests the increase in facial hair in females due to biotin consumption or use.
How long does it take for biotin to work on hair?
When taken orally, biotin supplements show results in three months. But biotin shampoos start showing results within 4-6 weeks.
Recommended Articles: