33 Impressive Bird Tattoo Designs That You Can Try In 2023
These tattoo designs that symbolize freedom and happiness can add to your personality.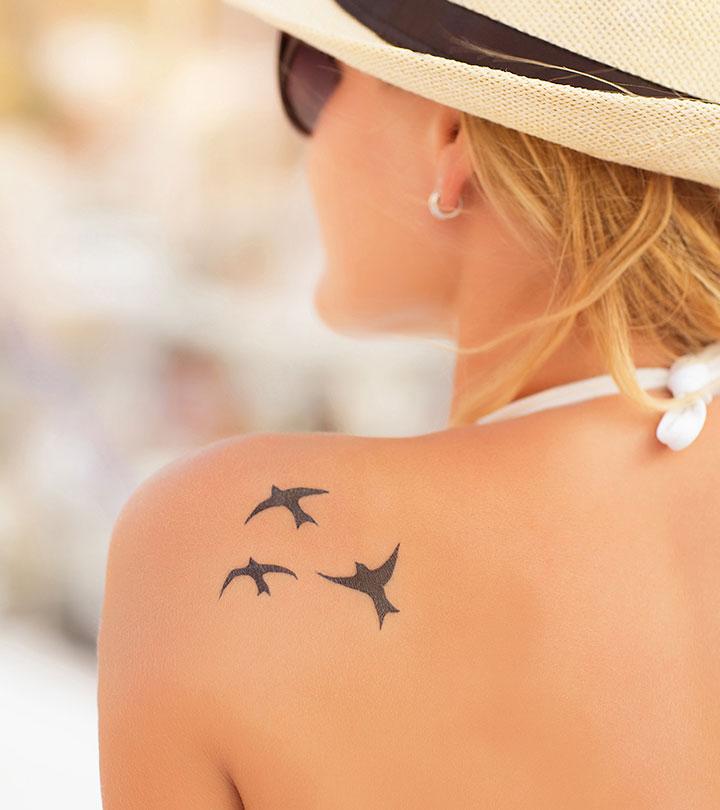 Bird tattoo designs depict trust, dedication, freedom, nobility, mortality, and spirituality. Apart from birds being often considered a source of charm and fascination, these avian creatures also hold a strong metaphor and symbolism for human life and emotions. Moreover, since it is believed that they mate for their entire life, birds can also represent the quest for true love. What more? Birds also symbolize a person's journey to life after death. So, here is a list of some beautiful bird tattoo designs that you must check out. Scroll down.
33 Adorable Bird Tattoo Designs With Meanings
1. Peacock Tattoo
A peacock symbolizes royalty, liveliness, graciousness, and sexual appeal. This one-of-a-kind full sleeve tattoo stretches from your biceps to your wrist. The color palette used for the tattoo is cherry red, black, and gray. The styling of the tattoo is done with a jewel render, which makes it look realistic and attractive.
2. Watercolor Bird Tattoo
Bird tattoos have always been admired because of the rich colors used to create them. This elegant tattoo of a color-splashed flying bird on the side waist makes your curves even more attractive and noticeable. The absence of a borderline of the tattoo makes it look artistic and unique.
3. Stork Tattoo
Storks are believed to be carriers of good fortune and wealth. They represent rebirth and change in life and also symbolize purity and innocence. This elegant design of a stork in a vase fits beautifully on your forearm and makes it highlight your toned muscles. The intricate feather designs and bold lining are part of traditional Japanese art.
4. Egyptian Bird Tattoo
Horus, a falcon, has a double crown. The falcon represents Ra, who has a human head, which symbolizes the soul. The other Gods are Moth and Sokar. You can sport this tattoo on your thigh (as indicated in the image) or upper back. The monotone design makes it look ethereal.
5. Rooster Tattoo
Roosters symbolize family and fortification. They are territorial birds that defend their turf with all their might. They reflect opportunity, bravery, and leadership. This colorful rooster tattoo is the perfect bird tattoo to flaunt on your back. The use of vibrant orange, red, and yellow, in contrast to dark blue, gives it a semi-realistic appeal.
6. Eagle Tattoo
Eagles are considered symbols of power and bravery. The fierce bird with strong talons represents strength and authority. This beautiful tattoo made with black and white ink can be placed on your upper arm. The realistic rendering and use of coordinates under the eagle design make it personalized. The coordinates can be a place you call home or a place you always wanted to visit.
7. Owl Tattoo
The owl symbolizes insight, wisdom, and mysteriousness. It is also considered the harbinger of misfortune and death in some cultures. This abstract tattoo with thin black outlines and gray shading is the perfect design to flaunt on your forearm.
8. Green Bird Tattoo On The Forearm
This beautiful realistic rendering of a green bird perched on a branch covers the full length from your elbow to your wrist. The long feathers give an edge of daintiness. This forearm tattoo is totally worth your attention!
9. Kingfisher Tattoo
Kingfishers represent the urge to win and achieve your goals. A kingfisher tattoo also symbolizes exquisiteness and pride. This elegant tattoo in turquoise blue, orange, and black can be flaunted on your forearm or leg. Make sure you get it done by a seasoned artist.
10. Hummingbird Tattoo
In Caribbean culture, the hummingbird is considered a symbol of loveliness, elegance, and love. Hummingbirds represent energy and vitality. This elegant tattoo is made with monotone black ink with a simple gray shade. You can flaunt this tattoo on your forearm, back, or leg.
11. Geometric Bird Tattoo
Geometric shapes have various meanings. A cube symbolizes stability, spiral designs symbolize infinite possibilities, andconcentric patterns represent balance and harmony. This beautiful triangular sparrow design is unique in terms of the color scheme and the bold strokes used. You can get this done on your forearm or back.
12. Blue Parrot Tattoo
Parrots are symbols of adventure, communication, and companionship. They are popular for their social and intelligent nature and the ability to speak the human language. This realistic tattoo of a blue parrot on your calf or thigh can help portray your bold and unique nature.
13. Bird Tattoo On The Neck
The neck is one of the bravest places to get inked. Not only does it require a higher pain tolerance, but also hiding the tattoo becomes a challenge if you want to attend a formal interview. Swallows symbolize love, loyalty, strength, and rebirth. This beautiful shaded tattoo of a swallowcan be done on the edge of your neck.


Quick Tip
The neck is among the most visible areas of the body. So, be sure before inking it.
14. Love Birds Tattoo
Birds mate for life and symbolize true love and longevity in a relationship. This beautiful twin tattoo of love birds in deep hues of blue and purple looks perfect on the wrists. Match this tattoo with your loved one to make it special.
15. Phoenix Tattoo
The phoenix symbolizes rebirth and resurrection. This elegant phoenix depicts a cheerful nature with colors ranging from cyan to purple on the feathered wings. You can get this tattoo done on your calf or arm and flaunt it in shorts or sleeveless tops.


Did You Know?
The ancient Egyptians believed Phoenix to be half heron and half falcon.
16. Blackbird Back Tattoo
The blackbird represents gaining wisdom and higher understanding and can also depict dark energy. It portrays your pure potential for life. This beautiful design with distinct shading and flowers covering the extravagant plumage make it the perfect tattoo to be etched on your upper back.
17. Raven Tattoo
According to American mythology, ravens created the world and protected it with their powers. They symbolize creation, regeneration, and intelligence. You can flaunt this tattoo of a raven in black ink on the forearm.
H. Bradford, a blogger, decided to get a bird tattoo. She identified about 230 species for her bird listing as she wanted something that matched her aesthetic. She states in the post, "I tend to wear dark colors and dye my hair blue and black. Perhaps if I wrote jaunty sailor costumes all the time, a gull would be a good tattoo. But, that isn't me…at the moment." She also did not want a gull tattoo because of her seasickness and dislike for water. She adds, "Ultimately, I decided to pick a raven because they are attractive, interesting birds (i)."
18. Small Bird Tattoo
If you are looking for a minimalistic design that does not draw much attention, you can get a small bird tattoo done on the wrist, side of the neck, behind your ear, back of the neck, or shoulder. You can wear a sleeveless or backless top whenever you want to flaunt this tattoo and keep it covered during other instances.
19. Flamingo Tattoo
Flamingos represent protection and love for family. This design of a small flamingo on the ankle with full color spill without a border looks mesmerizing. The use of several colors on each wing makes the tattoo stand out.
20. Thunderbird Tattoo
The thunderbird was a mythical creature that was considered a fierce fighter and a spiritual guide with nurturing powers. This ornamental tattoo spreads from the wrist to the elbow. The use of turquoise blue, gray, and black inks makes the tattoo look appealing and attractive.
21. Bird Tattoo On The Shoulder
Shoulder tattoos can be flaunted in off-shoulder tops and low-neck tees. This design of three tiny flying birds in blue looks cute and can be done on your collarbone to highlight the curve of your chest.
22. Swan Tattoos
Swans are symbols of transparency, devotion, and love. This unique design of a swan enclosed in a circle is perfect for your back or shoulder. The highlights of the pool in the tattoo and the intensive use of gray, black, and white make the tattoo look attractive.
23. Colorful Bird Tattoo
A bird tattoo can serve as a metaphor for human emotions and the stage of our life. This beautiful and colorful macaw tattoo symbolizes loyalty, love, energy, and abundance. You can get this tattoo done on your arm or calf.


Quick Tip
Tattooing the feet may cause severe pain. Therefore, take necessary precautions before and after inking them.
24. Bird Tattoo On The Foot
The feet are the best places to get inked if you want to play safe. You can easily cover them in socks or flaunt them in sandals or flip-flops when you want to. This lovely swallow design in monotone shade covers the lower ankle. Pair it with an anklet, and your feet will never go unnoticed.
25. Flying Bird Tattoo
A flock of birds in flight represents spiritual care and leadership. Birds are associated with friendship and togetherness. The plain black silhouette of the birds makes this design look chic and elegant.
26. Bird Tattoo On The Wrist
The inner wrist is one of the most common places to get inked. In ancient times, the wrist was believed to represent spiritual energy. It is the perfect place for miniature tattoos. This twin bird tattoo with a heart symbolizes love and affection for your partner.
27. Sea Lark Tattoo
This tiny tattoo art is placed under the thumb. A lark symbolizes the coming of wealth and opportunities. It is one of the most popular tattoo designs worn by Eastern Europeans. If you like keeping your designs simple and meaningful, this lark tattoo is sure to win your heart.
28. Blossom Bird Tattoo
In Asian countries, the cherry blossom denotes feminine supremacy and power, particularly in cases of sexual intimacy and love. It is the perfect tattoo to portray your freedom and independence when combined with a bird tattoo. The tattoo is made in oil painting. The white highlight and placement of the tattoo right above the ankle make it look appealing.
29. Tribal Bird Tattoo
Tribal art has been inspiring artists with its unusual and bold monotone designs. Each design is made with non-concrete strokes with pointed or hooked designs. Tribal tattoos are mostly designed to portray animals and birds. This beautiful design of a soaring quail bird on the forearm is a perfect choice if you like ethnic tattoos.
30. Dove Tattoo
Doves and pigeons are considered to be emissaries of love and harmony. They are believed to spread peace and are regarded as the epitome of purity and gentleness. This beautiful forearm tattoo of a flying dove with olives in its mouth symbolizes amity.
31. Japanese Crane Tattoo
Japanese crane tattoos are popular among professionals and entrepreneurs because they symbolize luck. They represent striving for freedom and betterment. This beautifully elaborate design of a crane with a prominent long beak with a black border and red petal design is perfect for flaunting on the thighs.
32. Feather And Bird Tattoo
A feather symbolizes valor, bravery, and liberty. It is used in some cultures to signify spiritual connections. This elegant design of a well-shaded feather ending inflying birds deliversthe message of freedom. If you are looking to break free from chains and live freely, this tattoo is the perfect design to flaunt on your lower leg.
33. Bird Tattoo On The Palm
Palm tattoos represent a rebellious attitude as they are noticed first when you meet a person. It requires a higher pain tolerance to endure the needles on the highly sensitive nerve endings on the palms. This flying bird tattoo in black and gray shading can be flaunted below your wrist.
Infographic: General Interpretations of Bird Tattoos
Birds have historically been a top tattoo choice across different cultures, with different birds symbolizing different things. However, bird tattoos, in general, can be interpreted to represent various human values. Check out the infographic below to know some broad interpretations of bird tattoos.



Bird tattoo designs depict many things like love, spirituality, mortality, freedom, nobility, dedication, and trust. It also offers a wide range of choices in designs and sizes. If you want a bird tattoo, you can refer to the designs listed above and find a good tattoo artist with neat artistry for the perfect look. While most kinds of birds have been mentioned above, you can consider other types like a petite songbird or a raptor bird like a hawk for a minimalist design Adding more elements to your design will also help you make it more meaningful and gorgeous. However, it is best to do thorough research before getting inked. Also, do not forget to follow the aftercare tips to ensure your ink stays long and your body art always looks brand new.
Frequently Asked Questions
What do two birds tattoos mean?
Birds can symbolize love, a strong commitment, and loyalty.
What does a wings tattoo mean?
The wing is frequently associated with freedom and protection. They are also linked to remembrance pieces.
What do birds on a branch tattoo mean?
The birds on the branch tattoo signifies the children you have.
What is the meaning of a bird and cage tattoo?
The tattoo of a birdcage with a bird flying out or perched on top represents being set free. This could be a metaphor for breaking through a barrier in your life that has kept you in one place. It symbolizes being given room to breathe once more and inspire new ideas.
What do crow tattoos mean?
A crow tattooed on your body indicates a spiritual connection to the afterlife.
Watch this video to discover some of the best bird tattoo designs. Explore the unique and creative ways to express yourself with a beautiful bird tattoo.
Personal Experience: Source
i. My raven tattoo
https://brokenwallsandnarratives.wordpress.com/2017/10/27/my-raven-tattoo/
The following two tabs change content below.