70 Best Birthday Ideas For Wife To Make Her Feel Special
Gifts, a love letter, or a surprise getaway – celebrate your lady love on her special day!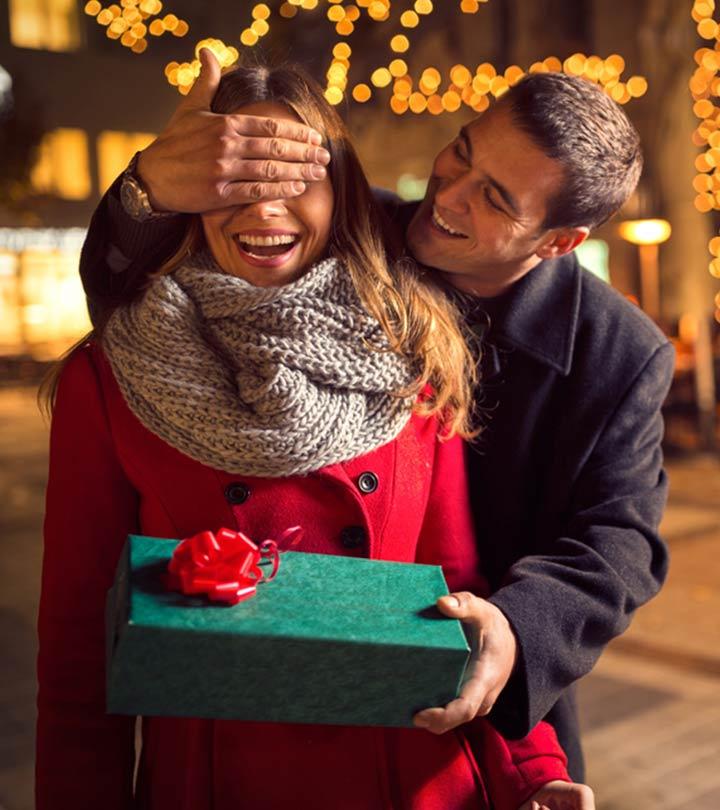 Do you want to give your wife the best surprise on her birthday but are running out of ideas? Don't worry. This list of the 70 best birthday ideas for your wife can help. A gift from you on her birthday is always special. But if you are still unsure about what to buy, you can reach out to her best friends. They know exactly what she will or won't like. Get suggestions, and take it from there. Continue reading to uncover the many gift ideas and things to do to make your sweetheart's birthday memorable.
Best Birthday Gifts To Surprise Your Wife
1. Birthstone Jewelry
Birthdays are a perfect time to give your wife birthstone jewelry. Each birth month has a specific birthstone assigned to it. Find out what your wife's birthstone is and surprise her with this thoughtful gift.

Quick Tip
Look for garnet for January, amethyst for February, aquamarine for March, diamond for April, emerald for May, pearl for June, ruby for July, peridot for August, sapphire for September, opal for October, citrine for November, and blue topaz for December.
2. A Scented Candle
Scented candles are universally appreciated as great gifts. They give you warm natural light and their fragrance will surely lift your wife's mood and bring back those happy memories. Also, scented candles bring a cozy vibe that your wife will surely love and appreciate.
3. An Elegant Watch
A watch that is elegant and timeless can be a perfect gift. With so many options available, choose one that will complement your wife on all occasions.
4. Nail Colors
Gift her a range of nail colors that she can use to paint her fingernails and enhance the beauty of her hands. Make sure that you gift her a mix of different colors of nail polish. As a personal touch, you can also make her day special by painting her nails.
5. Sunglasses
Don't let your wife suffer under the harsh rays of the sun. Give her a beautiful pair of sunglasses that she can use to protect her eyes. However, do keep your wife's face shape in mind while choosing a pair of sunglasses for her.
6. Stunning Lipsticks
Lipsticks can be the perfect gift for any occasion. Find out your wife's favorite lipstick brand and the colors that she loves wearing every day – and surprise her with her favorite lipstick.
7. Handbag
A stylish yet spacious handbag will make her life easier by giving her space to keep all her stuff that she needs daily. Gift her a handbag that she can use every day. From bold colors to formal ones, you have a lot of options to choose from based on your wife's taste and style.
8. Gym Bag
If your wife loves hitting the gym and is into fitness, a sturdy and durable gym bag will serve as a great gift. It will give your wife a space to carry her water bottle or yoga mat and other gym essentials.
9. Statement Earrings
Your wife will love a big and dangling pair of statement earrings that will surely help accentuate her beauty. Make sure to give her a pair of versatile earrings that can be paired with her work outfit as well as her evening gowns.
10. Bathrobe
Bathrobes are comfortable and relaxing to wear at home. Gift her a cozy and pretty bathrobe that she can just wrap around herself to relax at home.
11. Headphones
If your wife loves listening to music, giving her a pair of headphones will surely make her day. There are a lot of options available when it comes to headphones. What's great about headphones is that your wife can use them to listen to music, watch videos, or take phone calls – anytime and anywhere.
12. An Essential Oil Diffuser
An essential oil diffuser will surely help your wife relax after a long and stressful day at work. With a few drops of essential oil, the diffuser can help create a soothing and relaxing ambience in your home. Don't forget to give her some relaxing essential oils along with the diffuser!
13. A Tote Bag
Is your wife always on the go? Does she carry around numerous things in her hand and her bag? If yes, a tote bag will be a really helpful addition to her life. Tote bags are spacious and comfortable and will help your wife carry a lot of things without straining her shoulders.


Quick Tip
Put on your creative hat and customize the tote bag. You can either get it printed with a picture or quote that is special to her or paint something with acrylic colors on it.
14. Everyday Journal
If your wife is detail-oriented and loves writing down her plans for everything she does daily, she will find a beautiful everyday journal useful. You can have her initials monogrammed on the journal for a personal touch!
15. Bath Soaps
A set of luxurious bath soaps will surely help elevate your wife's mood every time she takes a bath after a long and stressful day. We are sure she will appreciate such a refreshing and relaxing gift. A relaxing bath will surely help her feel completely peaceful and make her skin silky smooth too.
16. Cozy Socks
A super cozy and cute pair of socks will keep your wife's feet warm and comfortable. We know that socks can be a simple gift – but they will be quite useful and your wife will love them.
17. A Comfortable Armchair
If your wife likes relaxing by just sitting in the corner with a cup of coffee, then gifting her a comfortable and cozy armchair will be a great idea. Get one that is comfortable and compliments your house's interior design and she will appreciate your gift even more.
18. Water Flask
With time, we have been slowly adapting to using non-plastic and chemical-free products as they are safe for us and our environment. If your wife is someone who worries about the environment and tries to cut down on her plastic usage, a chemical-free and stainless steel water flask will come in handy for her. It will keep her hydrated and healthy while saving the environment.
19. A Monthly Book Subscription
If your wife loves reading books, gifting her a monthly subscription of books from her favorite author or favorite magazine can be a great idea. This gift will help her stay informed and updated on her favorite topics too.
20. A Silk Pajama Set
A silk pajama set is stylish and comfortable. Your wife will love changing into these comfy pajamas after she comes home from work every day. What's more incredible is that these pajamas will make her look fashionable even while she relaxes. However, do keep her style and favorite colors in mind while choosing this gift option.
21. A Comforter
A comforter will help your wife relax and be comfortable when it's cold and gloomy outside. This is a gift that will win her heart for sure.
22. A Chic Bathing Suit
Gift your wife a pretty, fashionable, and comfortable bathing suit that she can wear to your next summer vacation. Do keep her personal preferences in mind while making the purchase.
23. White Linen Sheets
If your wife likes everything around your house to be clean and organized, she will surely love a pair of white linen bed sheets and pillow covers. White linen sheets help add a feel of sophistication to your bedroom while being super comfortable. We guarantee that your wife will love this gift.
24. A Sleep Mask
A sleep mask will enhance your wife's sleep routine and help her get uninterrupted sleep. A stylish yet comfortable sleep mask will also come in handy if your wife travels a lot or takes a lot of naps in a day.
25. Face Masks
If you want your wife to relax and add some much-needed glow to her skin, gifting her a luxurious face mask can be a great idea. We are sure your wife will also love this thoughtful gift.
26. A Skincare Kit
If your wife is into skincare, you can give her a skin care kit that will help take care for her skin without having to leave the comfort of your house. Go for the brands that your wife usually prefers and you will never fail to make her happy with this gift.
27. Bookends
Bookends can be a super classy gift that will also look sophisticated while in use. They can also be used as a great piece of decoration for your house. Look for some classy and chic bookends that will match your wife's taste.
28. A Makeup Bag
If your wife loves makeup, gift her a handy, spacious, and comfortable makeup bag to store her makeup in. You can choose from a big makeup bag or a small and foldable one – based on your wife's needs and preferences.
29. A Woolen Scarf
If you live in a place where it gets chilly most of the time in a year, give your wife a classy and chic woolen scarf. This scarf will keep your wife warm and cozy all the time, be it inside the home or outside. Don't forget to choose a scarf that is versatile and can be styled easily with all her outfits.
30. Cheese Knives
If you and your wife are big cheese lovers but don't have a good set of cheese knives at home, giving her one can be a good idea. This will be a helpful and useful gift that both of you can use on an everyday basis.
31. Bracelet
Gift her a beautiful bracelet that will add sparkles to her hand every time she wears it. It will also be a sweet reminder of you that she will carry around everywhere she goes.
32. Perfume
Your wife can never say no to a nice smelling perfume. But to gift her the best one, do your research on which fragrance she likes and what kind of brands she usually prefers. If you do it right, your wife will surely love her gift and use it every day.
33. Eternity Roses
Gift her the symbol of your never-ending love with an eternity rose. This rose will never die and stay fresh for a long time, just like the love you carry inside your heart for her. You can add a handwritten note to make the gift extra special.
34. A Framed Memory
You can take a sweet memory of you two, frame it, and give it to her as a special gift. This memory can be a photo or a love letter that you wrote to her or anything special for just the two of you.
35. Champagne Glasses
If you and your wife love drinking champagne, gift her a champagne glass set that she will surely love and use. You can also give it a personalized twist by adding your and your wife's initials to the glasses. You can also gift her a bottle of her favorite champagne to drink out of these champagne glasses – along with you!
36. A Body Massager
Turn your wife's birthday into a relaxing day by giving her a body massager. A handy massager will relieve her from all her aches and pains and will help her unwind at home after a long day. Body massagers can be a pricey investment but your wife will surely love and use it all the time.
37. A Warm Hoodie
A hoodie made from the softest of fabrics will keep your wife cozy, warm, and comfortable all the time. From oversized to slim fit to zip-up hoodies, there are many options available for you to choose from. However, keep your wife's preferences in mind while getting her this gift.
38. A Cashmere Shawl
A luxurious and expensive shawl made from the most sought after fabric in the world will surely lighten up your wife's face with happiness. A cashmere shawl can be glamorous and comfortable at the same time. Go for a versatile one that will look good with all of her outfits.
39. Comfortable Sneakers
A pair of fashionable and comfortable sneakers in your wife's favorite color will be a great birthday gift for her. Sneakers are great for long journeys, workouts, or even for a quick visit to the supermarket. We are sure your wife will find this gift handy and useful in her everyday life.
40. Wedding Vows
A framed wedding vow as a gift can be a beautiful and romantic gesture. It will serve as a constant reminder of the happiest day of both your lives and the lasting love you two share.
41. Weekend Bag
If you and your wife like travelling a lot or love going away on the weekend, gift her a beautiful weekend bag. Make sure the bag is spacious, sturdy, and comfortable for her to carry around. You can also monogram the bag to add a personal touch to it.
42. A Comfortable Pair Of Leggings
For women, leggings are like second skins. They are fashionable, comfortable, and functional – all at the same time. Your wife will surely appreciate a trendy and comfortable pair of leggings that she will be able to wear everywhere.
43. A Lunch Box
If she is into fitness and loves taking home-cooked meals to her work, a spacious and sturdy lunch box that will keep her food warm for a long time will be a great gift for her. And believe us, this lunch box will put a smile on her face every time she uses it as it will remind her of you and your thoughtfulness.
44. Photo Album
Photos are a great way to walk down the memory lanes. Make her birthday extra special by giving her an album filled with special photos from different phases of her life. You can also add sweet little notes to make the album even more romantic and personal.
45. Satin Pillowcase
Cotton pillowcases can cause premature wrinkling and damage hair. You can instead gift your wife a luxurious satin pillowcase that will protect her skin and hair.
46. DIY Jewelry Kit
If your wife loves crafting, a DIY jewelry kit will be a perfect gift for her. The kit will allow her to take some "me time", and she will end up with some custom necklaces and bracelets that she can wear whenever she wants.
47. Cute Planters
If your wife loves growing plants, you can gift her planters of various sizes and designs. These planters can adorn your windows or gardens and make your wife happy whenever she looks at them.
48. Wrap Dress
Buying a dress without your wife's right measurements can be tricky, but with a beautiful wrap dress you will not have to worry about the gift not fitting your wife. A wrap dress flatters every body type and is perfect for day-to-night styling.
49. Home Spa Set
With a home spa set, your wife will be able to take some well-deserved "me time". She will be able to pamper herself with some luxurious products. A spa set will benefit your wife's body and put her mind and spirit at ease.
50. Instant Camera
Instant cameras will allow you to hold a piece of memory seconds after creating it. It can be a thoughtful gift in an era where many of our photos get lost in hard drives. An instant camera will help your wife capture all her special memories and keep them with her forever.
51. Jewelry Holder
A beautiful jewelry holder will look beautiful on your wife's dresser and will also give her a place to store all her jewelry. With so many designs of jewelry holders available on the market, we are sure you will find one that will suit your wife's style and needs perfectly.
52. Ice Cream Machine
Does your wife love ice cream? Then she will surely love a gift that will allow her to have ice cream anytime she wants without having to leave the comfort of your home. Be it a good day or a bad one, she will always be able to count on the ice cream machine to cheer her up.
53. Custom Family Painting
You can turn a family photo into a beautiful handmade painting that will adorn your home's wall for years to come. This painting will be one of the memorable gifts your wife will treasure forever. From watercolor to oil painting to charcoal ones, there are so many options for you to choose from.
54. Paint By Numbers Set
A paint by numbers set is a great gift for many reasons. It will help your wife create her masterpiece and will help her reduce any anxiety or stress she's feeling. It will also help her increase her attention span and patience.
Apart from the above-mentioned gifts, there are certain gestures that you can make to make her birthday special.
Things To Do To Make Her Birthday Special
55. A Love Letter From You
On your wife's birthday, write her a sweet and heartfelt letter that she will treasure forever. Let her know how important she is in your life and how much you love her. Pour your heart out in this letter and we are sure she will truly appreciate this gesture. You can also add a few of your favorite love quotes and lyrics and make the letter even more special and romantic.
56. Special Classes
As a gift, you could enroll her into classes she always wanted to try. It could be as adventurous as surfing lessons or a professional photographer giving her lessons for taking photos in nature. You can also have a gourmet chef attend and prepare the birthday dinner while teaching how to create the meal, if she's into cooking. Learn what she enjoys doing and give her a lesson to excel at it.
57. A Home-Cooked Meal
A home-cooked meal is a great romantic gesture that you can do to make your wife's birthday special. Cook some of her favorite dishes and watch how happy this gesture makes her. If you don't know how to cook, you can always prepare a mini-buffet of her favorite snacks and beverages.
58. A Girl's Night Out
Sometimes your wife might just want to spend time with her closest girlfriends. You can organize a girl's night out for her and surprise her on her birthday. From making reservations at her favorite restaurant to telling all her close friends to join her, prepare everything and wait to see the smile on her face when you surprise her with this night out.
59. A Camping Trip
If your wife and you love spending time in nature, organizing a birthday camping trip can be a good idea. This will allow you to spend time with each other in nature without getting disturbed by anyone. You can also visit new places on the way to your campsite.
60. A Night At The Theater
If your wife is a big theater fan, you can surprise her with tickets to any new or old play that you know she will thoroughly enjoy. You can also arrange a pre-play birthday dinner that both of you can go to before watching the play.
61. A Playlist Of Her Favorite Romantic Songs
Make a playlist of her favorite songs and songs that will remind her of some of the best times you both spent together. You can gift her this playlist on her birthday. You both can listen to this playlist every day and dance to the songs as well.
62. A Surprise Trip To The Place She Always Wanted To Visit
If your wife loves traveling, you can plan a secret gateway for her birthday. Pick a place that you both wanted to visit and plan an itinerary keeping in mind what you and your wife like doing when on a vacation. When all is prepared, surprise your wife with this trip and celebrate her birthday in a new place.
63. Something Handmade By You
Be it a simple handmade birthday card or something more sophisticated like a wallet or bracelet, something that is handmade by you will surely be loved and appreciated by your wife. Do it in secret and give her an incredible birthday surprise.
64. A Card With A Heartfelt Message
You can make a handmade greeting card and write a sweet little message for your wife's birthday. You can pair it with her birthday cake and make her birthday a lot more amazing.
65. Bake A Cake
You can make a special birthday cake for her and surprise her with this loving gesture. You can write a short message or just her nickname followed by a simple "I love you."
66. Throw Her A Surprise Party
You can plan a surprise birthday party for her and invite all her closest friends and family members. Bring all her favorite foods to the party and her favorite cake. This will surely make her birthday extra special.
67. Go For A Picnic
Pack some delicious lunch and go for a special picnic at the nearby park or hike to the top of a mountain or get lost in a forest. It will be just the two of you, spending time together on her special day.
68. A Pampering Spa Day
On her special day, you can surprise her with a special at-home spa treatment. Put all your massage tricks to work and help her relax by giving her a special body massage. Don't forget to bring out all the scented candles and essential oils for that extra aromatherapy. After the body massage, pamper her with a special face mask that will make her skin fresh and glowy. You can end the spa day with a relaxing bubble bath.
69. Breakfast In Bed
By bringing her breakfast in bed, you will make sure that your wife's birthday starts with extra love and happiness. The breakfast doesn't have to be something special or luxurious – you may even make her some coffee and French toast and we are sure she will love it!. Gift Her A Memory Wall
You can create a memory wall for your wife on her birthday. You can frame photos from your wife's childhood, teenage, and adult years and hang them on the wall. You can also add photos from your wedding, of your first date, and photos of different places that you two visited. Put all of these on the wall and dedicate them to her on her birthday.
Infographic: The Good Husband Checklist
Remembering your partner's birthday and celebrating it shows that you care for them and wish to be deserving of them. But that is not the end of your duties towards your spouse.
Check out the infographic below to know if you have been a good husband to your partner.


All of us look forward to birthdays, regardless of our age. Celebrate your wife's milestone with her close ones, or make it a romantic affair with just the two of you. If you are looking for some birthday ideas for your wife, we have got you covered with several ideas. They range from simple, thoughtful ones to expensive, elegant ones. Give her any one or many of the gifts we have mentioned above to make her day a memorable one. We are sure that she will appreciate all your efforts, and it is the thought behind the gift that counts most.
Frequently Asked Questions
What can I do to make my wife feel special?
Prioritizing communication with her, paying attention to the little details about her, sharing chores, and celebrating her achievements will make your wife feel special.
How can I surprise my wife romantically?
Writing a love letter, picking her up from work without prior notice, planning a date night, and cooking her favorite meal are some of the ways to surprise your wife romantically.
Key Takeaways
A thoughtful gift can make your wife super happy on her birthday.
A handmade gift, a theater visit, a cake made by you, or a special at-home spa treatment are a few of the best gifts you can give her.
You can also surprise her with perfume, a gorgeous piece of jewelry, or satin pajamas to show her how much you care about her.