23 Heartfelt Birthday Poems For Wife
Make the occasion all the more special with romantic verses to sweep her off her feet.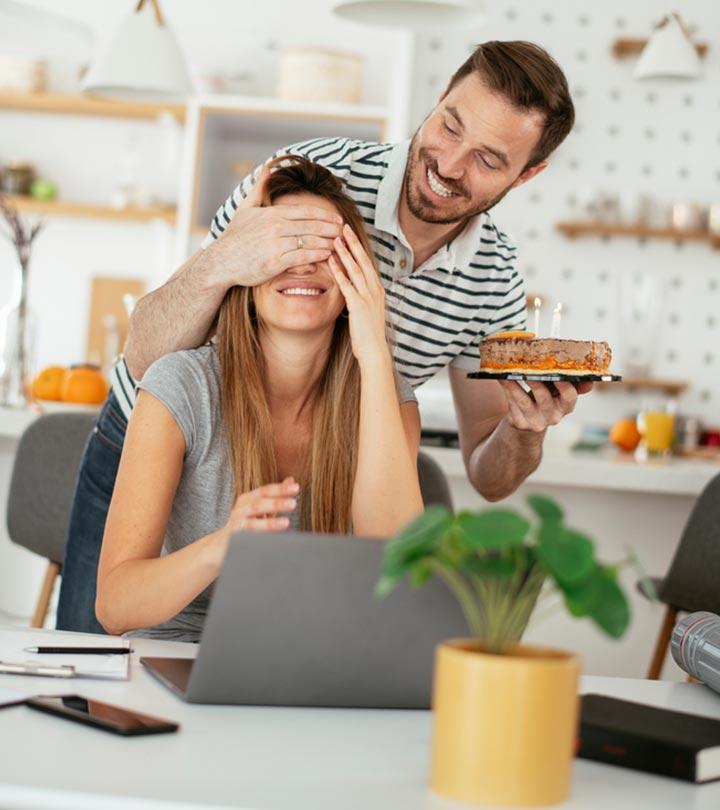 Birthday poems for your wife are a great way to show your love and appreciation for them in a personal way. Your wife's birthday is the perfect time to express your affection for them, and you don't have to buy them an extravagant present to show it.
A beautifully crafted poem is the best way to declare your love. You can always select a poem from our list of best birthday poems for your wife if you have trouble putting words together. You can use these romantic birthday poems to share your heartfelt wishes in the sweetest way possible. Check them out!
23 Romantic Happy Birthday Poems For Wife
1.
Adored is the heart
touched by you,
Redeemed is the soul
by your side,
Blessed are the eyes
that behold you,
For my heart, soul, and eyes
don't lie.
Happy birthday!
– Kevin Nishmas
2.
To my wife on her birthday,
Good wishes I give to you.
I know I've kept my promise
To love you and be true.
There's something about this birthday
That seems to bother me.
Perhaps you know the answer,
Let me ask you, and we'll see.
I married you at age twenty,
When you were looking nice.
We have our ups and downs,
Never had to pay the price.
I ask this in good conscience,
I hope that you don't mind.
Is it okay, my little darling
To quit pretending you're twenty-nine?
Happy Birthday Sweetheart
– Unknown
3.
In this world, where we are together,
Moments between us always get sweeter
The love we share will always grow stronger
I love you today, and I will love you forever.
Happy birthday to my dear wife!
– Unknown
4.
My angel descended on a day like this,
the heavens cried for what they would miss,
as you are an angel like no other,
a beauty inside and out.
I was lucky to have found you first,
and even luckier as we fell in love.
Laughter crackled with your mirth,
and you made me the happiest man on earth.
One fine day, as we tied the knot,
I pledged to keep you safe and sound,
and to always resist our every strife,
for you are the best and sweetest wife!
Happy Birthday my angel!
– Unknown
5.
You are the Jerry to my Tom,
You are sometimes the Tweety to my Sylvester,
You are my love and I can't ask for more,
You will always be the Nala to my Simba,
Happy birthday my love! Stay blessed always!
– Unknown
6.
365 days have passed since I said ¨I do¨.
I have loved you since then and will continue to love you.
You have been my inspiration and my only hope.
Thank you, my lovely wife, for not making me mope.
I love you and wishing you a very happy birthday!
– Unknown
7.
I'm wishing you a birthday
You never will forget,
A day packed full of pleasure,
Your very best birthday yet.
And when your birthday's over,
I'm wishing quite sincerely
That happiness and joy and fun
Will fill your birthdays yearly!
– Joanna Fuchs
8.
I have seen you in tears
I have seen you in laughter
You have been the mightiest
In all your chapters.
Loved you before, love you now,
Love you always and always thereafter.
Happy birthday beautiful!
– Unknown
9.
You have been the shadow to my dreams,
I know the value behind your gleams.
The love we share will always be strong,
You are more right than anything that is wrong.
Love you always, my sweet little wife,
Thank you for coming into my life.
– Unknown
10.
There's one gift you cannot buy,
A buried treasure precious and true,
It's the gift of a close, kind friend,
Exactly what I have in you.
We've shared each other's joys,
And cried on each other's shoulders,
These are our precious moments,
That make us stronger, even bolder.
So I wish you "Happy birthday,"
With all my heart and soul.
We'll be best friends forever,
Two halves of one fabulous whole.
– Kevin Nishmas
11.
During my highs and during my lows,
You have been holding me by your elbows.
Love is not what you just see in the light,
It is more serene and pure beyond your sight.
Take a look and see its size,
I can see it when I open my eyes.
– Unknown
12.
You are the reason for my morning smile,
The purity in which you always reside.
The lady who handles me and my faults,
The angel who feels I should take her side.
I don't mind because the wife is always right,
Thank you, dear, for letting me win every fight.
Happy birthday my love!
– Unknown
13.
It's your birthday time again;
It's true, there's no denying,
Another year has come and gone;
You know that I'm not lying.
So for you, the birthday person,
Here's what I want to say:
I hope this birthday's the best one yet,
In every delightful way.
So happy birthday to you.
Have lots of birthday fun!
May your birthday wishes all come true,
Even if you have a ton.
– Karl Fuchs
14.
This heartfelt wish is just for you,
Today is your special day;
May all the dreams you do pursue,
Be realized in every way.
A special person you are to me,
You deserve the best of everything;
So may this birthday and the coming year be,
One that offers you the best that life may bring.
– Kate Summers
15.
It is the time of the year when you are celebrated for being wiser.
Living life in the most beautiful way, loving all just the way the Gods would say.
You being my wife is all I asked for, but the Lord decided to give me more;
He created a bond between us of laughter, whom we dearly call our daughter.
Happy birthday my love!
– Unknown
16.
Another year has passed for you, sweetheart;
It's time to cut the cake and celebrate.
And once again, my love, I start to think
Of things about you I appreciate.
It means so much to have you in my life;
Your loving care fills up my days with pleasure.
Your warm and giving nature helps create
Close, special times together that I treasure.
I live within a safe and steady world,
Because you love me unconditionally.
Your easygoing ways mean that I'm blessed
With peace and joy and blissful harmony.
To me, your birthday is a precious day;
I hope it brings you joy in every way.
– Joanna Fuchs
17.
I am not a poet,
I have never been,
But when I think of you,
The words flow from within.
You taught me the meaning of love
My life partner, my angel,
Every day with you is beautiful,
Every moment memorable,
You completely accepted all of me;
Loved me despite my eccentricities.
However busy you might be,
You happily fulfilled all my necessities.
You have done so much for me,
Today I want to do my part,
And make you feel like a queen
On your special day, my sweetheart!
Happy birthday my love!
– Unknown
18.
Some people give the gift
of peace and tranquility
to every life they touch.
They are always who they really are.
They are blessedly reliable,
dependably good,
predictably pleasant,
loved and treasured
by all who know them.
You are one of those people.
You are a gift
of peace and tranquility
in my life.
Happy Birthday!
– Joanna Fuchs
19.
This birthday wish is just for you,
And I hope it comes true:
B  – Be yourself, we love and appreciate you
I   – Imagine and achieve all you can be
R  – Relax this day and celebrate another year
T  – Take time to look after you, you are so dear
H  – Humor, never lose your sense of humor
D  – Determination, you do have that great quality
A  – Attitude, yours is positive and felt by others
Y  – Yesterday is gone, tomorrow is not here, live today and enjoy the year
– Catherine Pulsifer
20.
Time just flies in your company,
Life just seems so good
May our bond stay this way forever!
It's a touch wood,
Coz you are my life,
My pretty wife!
Wish you a loving birthday!
– Unknown
21.
As I saw the twinkle in your eyes,
even the brightest stars paled forever.
As you flashed your radiant smiles,
even the rays of sunshine dimmed forever.
As I heard your melodic voice,
even the songs stopped sounding the same.
As I touched your velvety skin,
even the finest silk was put to shame.
And darling, when compared to our eternal love,
every other love story on earth would fade!
Happy birthday my sweetheart!
– Unknown
22.
Holding your hand warms my heart.
Kissing your lips ignites my soul.
Making a promise, never to depart,
I rely on you, to make me whole.
Another year, and another birthday,
an additional candle lights up the cake.
Need not count those candles today,
So just enjoy the glow they make!
May this birthday be the best day of your life!
– Unknown
23.
Here is a wish that says:
Warm, happy hours be yours
Shadows are of passing note
But healing laughter cures.
Be, therefore, ever joyful, friend,
And walk on gladsome feet;
Towards tomorrow's brand new dawn
And promise sweet!
– John McLeod
Infographic: Top 5 Heart-Warming Poems To Celebrate Wife's Birthday
Birthdays are always special and emotional for women. A husband can go out of his way to surprise his wife in the most creative ways. That may include dedicating a special birthday poem with gifts and love. But, writing a poem may not be as easy as you think. To give you inspiration we've picked our top favorites from the article above.
Check out the infographic below to choose from the top 5 heart-warming poems to celebrate your wife's birthday and become the best husband in the world.


Take advantage of the special occasion of your wife's birthday to let her know how much she means to you. Your better half has been with you through difficult times, and you never got to appreciate her enough. These birthday poems for your wife will help you convey your love and warmth on your behalf. They are thoughtful and describe your beautiful bond in words. Write a heartfelt letter about your feelings and note a few of these poems and surprise your wife. There is no better way to celebrate your wife's milestones than by cherishing how much she means to you.
Frequently Asked Questions
How can you make a birthday poem for your wife unique and special?
Write from your heart in your voice and tone, add fond memories, include light humor, and express your love well to make the poem unique and special.
What are some ways to make a birthday poem for your wife rhyme?
Experiment with different rhyming techniques like adding internal rhyming and homophonic words to make the birthday poem rhyme.
How can you make a birthday poem for your wife more personal and intimate?
Add your own personal touch with inside jokes, funny or loving memories, and express your love for them freely. You can add in moments when she stood by you. Speak from the heart to let her know how important she is to you.
How can you make a birthday poem for your wife even more special by adding a meaningful gesture or gift?
Consider giving the poem along with a thoughtful gift or handcrafting a gift based on the poem. You can also try pairing the poem with fun activities like a treasure hunt to arouse curiosity and add more love and meaning to your effort.