55 Best Birthday Wishes For Your Husband To Make Him Feel Happy
The man of your dreams deserves the most heartwarming words from you on his special day.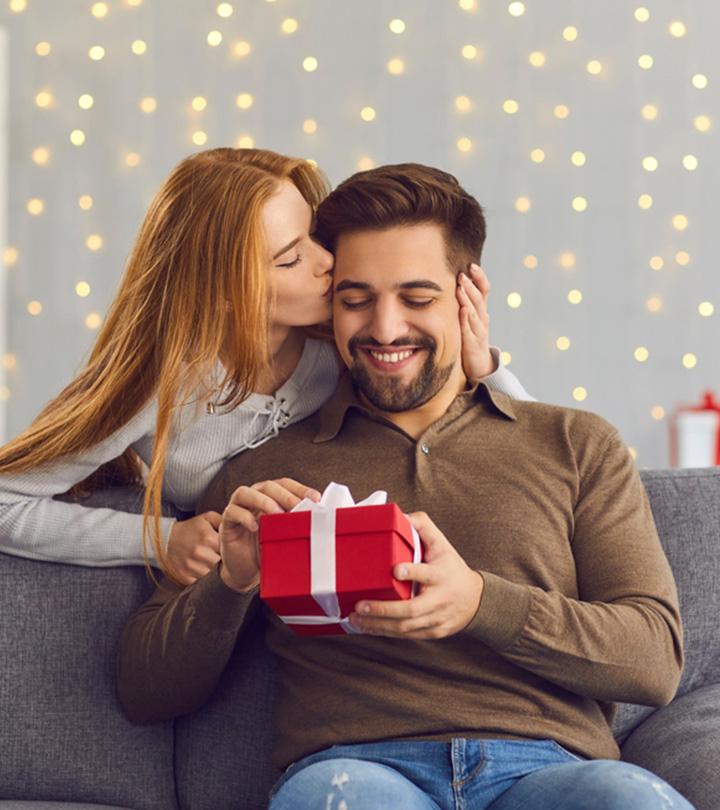 "Words and words are all I have to take your heart away" – The Bee Gees were right. Words can make the heart flutter and brighten gloomy skies. Sending heartfelt happy birthday wishes to husband on his special day lets him know that he is cardinal to your life! It doesn't take an essay to share heartfelt feelings with your man on his special day. From your heart to your husband, genuine birthday wishes express your love for him. A meaningful wish over some candlelight can truly let your husband feel appreciated. Keep reading to check out a handpicked list of 55 sweet happy birthday wishes for husbands and let them know he is your world! There is a birthday wish for husbands in all types and forms!
Heart Touching Birthday Wishes For Your Husband
A birthday is a great occasion to let your husband know how much you appreciate him for all he does. Here are a few heartfelt wishes to convey your love:
I wish to be everything you need and everything you want. May you live a healthy and joyful life. Happy birthday to you.
I pray to God that he fills your life with infinite joy and gives you all the success you deserve. Happy birthday, honey.
You will always be my greatest achievement in life. You've always been the man of my dreams. I'm thankful to God for having you in my life. Happy birthday.
Happy birthday to my sweet and loving husband. Every day is a party with you! You always keep me laughing. I love you so much today and every day.
Happy birthday to my amazing husband, who never ceases to amaze me. Thank you for who you are and all that you do. I love you.
Happy birthday! I fell in love with your brilliant smile and contagious laughter. Here's to you.
Happy birthday to the world's most loving, caring, and kind-hearted husband. May you live a thousand years and love me for the rest of your life.
To the wonderful man I love, Happy birthday. I never knew what soulmate meant until I met you.
Happy birthday to my husband! I can never grow tired of saying what a wonderful and dutiful person you are. I love you, my precious.
Wish you a meaningful birthday, my lovely husband! Happy birthday.
You're the most caring and loving person I have ever known. Happy birthday.
Happy birthday to the best husband! You are the humblest and kind-hearted person I've ever come across. Thank you for being in my life.
I have no words to describe how important you are in my life. Your love has made my life complete and blissful. Love you and happy birthday.
Happy birthday to my amazing husband. I am that lucky girl who has found a best friend and husband in the same person. Thank you for always being there for me.
I want nothing but your love in my life. May you find all the success you desire. Happy birthday.
I thank God for giving me the most handsome, loving, and caring husband in the world. Happy birthday.
Happy birthday, my husband. Thank you for who you are and all that you do. I love you so much.
Romantic Birthday Wishes For Your Husband
Romance keeps a marriage fresh – and what can be better than showing your romantic and naughty side in the form of birthday wishes to husband? Let him know you still get butterflies when you are together with these passionate, romantic birthday wishes for husband:


Quick Tip
Write this message on a small note card and sign it off with a lipstick print of your lips. Leave this note by his bedside so he can wake up to a mood of romance.
Happy birthday! There's a lot of love and a big kiss coming to you on this birthday, dear hubby.
You mean everything to me. You'll always be my one and only until my last breath. Happy birthday.
Happy birthday to my husband. My life wouldn't be the same without you. So, here's to your brilliance, kindness, strength, and everlasting charm. Happiest of birthdays, my love.
Darling, you are the anchor that keeps me grounded in my darkest days. I could not ask for anything more. Happy birthday to you.
Your kisses are sweeter than candies, and your hugs are softer than a teddy's. Happy birthday my husband!
Never in a million years, I thought I would get a husband as loving and caring as you. I'm happy that I have you. Happy birthday, honey.
Wishing a very happy birthday to the love of my life! Words will never suffice how much you mean to me. May you always stay blessed.
Whatever happens in life, I know deep down that I can always count on your love. Thank you for being such a wonderful husband! Happy birthday.
Life couldn't be precious without you. I treasure every memory of ours! Happy birthday, love.
On this special day, I want to shower you with my heartfelt husband birthday wishes quotes, to let you know how much I love and appreciate you.
Happy birthday to you! There are not enough words to describe what you are for me. But I hope "I love you" will summarize it.
Happy birthday! You are my companion, comforter, and friend. I am so blessed to have and hold you as my husband forever.
My love for you is infinite, immeasurable, and interminable. It will be the same even when you are 100 years old. Happy birthday, sweetheart.
Funny Birthday Wishes For Your Husband
Humor can make everything smoother, especially your marriage. The ability to laugh together makes life so much fun and easy to navigate. Adding an element of fun and laughter can be one of the best birthday wishes for husband:
Don't think that you will get away with your birthday. You have to do grocery shopping! Otherwise, I can't make your cake and dinner. Happy birthday to the laziest husband!
I just noticed that your hair got grayer, wrinkles got deeper, and you got a fat layer under the skin. Officially, you are getting old. Happy birthday, old adult.
It must be exhausting to be the husband of the most perfect and amazing wife. So, I'll take a day off and let you be amazing instead. Happy birthday, baby.
You should be glad that you have got the most awesome wife. I should be your best gift. Happy birthday, sweet husband.
You are the ketchup to my fries and jelly to my peanut butter. We are stuck together, forever! Happy birthday hubby!

Quick Tip
You can serve this birthday message on a note with breakfast in bed. What's for breakfast? A PB&J sandwich and fries with ketchup!
I thought husbands are to protect wives from danger. But the irony is I had to protect you from a spider. Such a scared cat. Happy birthday, my hubby.
Long-Distance Husband Birthday Wishes
It can be a task to celebrate your spouse when he is far away from you. Fortunately, you can choose these birthday greetings for husband, and use them as a birthday caption for husband on Instagram, or put it online as a happy birthday status.
I may not be with you, but my heart always wants the best for you. I wish you have a wonderful time today. Sending my kisses on your way. Happy birthday.
Darling, I wish you the happiest birthday ever. You are the best husband.
Distance can never destroy true love. I may not be with you, but you can always feel my presence in your heart. Happy birthday, love.
Happy birthday, my dear husband! It hurts to feel the coldness of your absence beside me, but your love keeps me warm. Love you always.
You don't always have to be with me to make me feel blessed. Even a simple thought of you can make me smile. Happy birthday, dearest husband.
Happy birthday, darling! Hope you have a cheerful day. No matter how far we are from each other, our love and trust will only grow stronger.
Distance can only make our love stronger and intense. I know you are feeling it too. Happy birthday, my dear husband. I love you.
Whatever happens in life and where ever it takes you, remember, you can always feel my love in the air. Happy birthday husband!
Days without you by my side are the hardest, but I will always wait for you with my arms wide open! Happy birthday, honey.
As you celebrate another year of life far away from me, I send you all my love and blessing birthday wishes for husband, may your day be filled with happiness and surrounded by those who love you most.
Sending all my love and happy birthday wishes for hubby on this special day, may your heart be filled with joy and your life with endless blessings.
Cute Birthday Quotes For Husband
If you love being cheesy here are some happy birthday husband wishes that are just about right! These are some of the most heartfelt quotes for husband birthdays that are cute and include puns as well!
You're not just my husband, you're also my partner in pun. So here's a cheesy one: You're a pizza my heart, and I never want to share the slice. Happy birthday, my cheesy love!
Happy birthday to my better half, my rock, my everything bagel. You're everything I could ever want in a husband, and more. Here's to a day filled with laughter, love, and bagels!
Sometimes I can't imagine how you put up with me, but then I remember hey, I do the same! So here's to more years of annoying each other, I love you! Wishing you a very happy birthday, baby!
Baby, we may need a fire extinguisher to put out all the candles on this cake. Happy birthday!
Happy birthday to my dearest husband! I wanted to get you the perfect present for you, but instead, I got you someone that will stick with you forever – that's me! Have a great day.
Happy birthday to a paw-some buddy that I call my husband! I donut know what I would do without you and celebrating you is a piece of cake. You're one in a melon, I hope you have a great day!
Infographic: Fun Birthday Gifts For Husband
Now that you have an extensive list of birthday wishes for your hubby, it is time to focus on the gifts. Surely, you wouldn't want to stick to the basics. For fun and unique birthday present ideas, we can help. Below is an infographic that will enlighten you with amazing birthday gift ideas for your man. Check it out!


You may have planned a great party and hunted down some of the best gifts, but you can struggle to find the right words for simple birthday wishes for husband. We understand that no words can define the love you hold for your life partner or all the good things you wish for him. However, these wishes on "happy birthday for husband" listed above can come quite close to the idea! They are romantic, thoughtful, and even funny to let you choose those that convey your feelings and love to your husband.
Frequently Asked Questions
How do I write a birthday message for husband on social media?
You may post wholesome pictures of yourself and your husband, accompanied by some heartfelt birthday wishes on social media. You can compile a photo montage and videos and add text and voiceover as a social media gift. Be sincere and mention personal anecdotes and words of appreciation and gratitude to personalize it and make it memorable.
What do I write on my husband's birthday card?
Birthdays are the perfect time to let your husband know that you acknowledge all their efforts and how appreciative and thankful you are for them. Since we often forget to express gratitude and appreciation in our everyday lives because of our busy schedules, writing these birthday wishes for husband with love and comfort are the best messages to write on birthday cards for husbands.