27 Birthday Wishes For Your Son That Reflect Your Emotions
Let these words inspire you to pen a heartfelt note to your son on his birthday.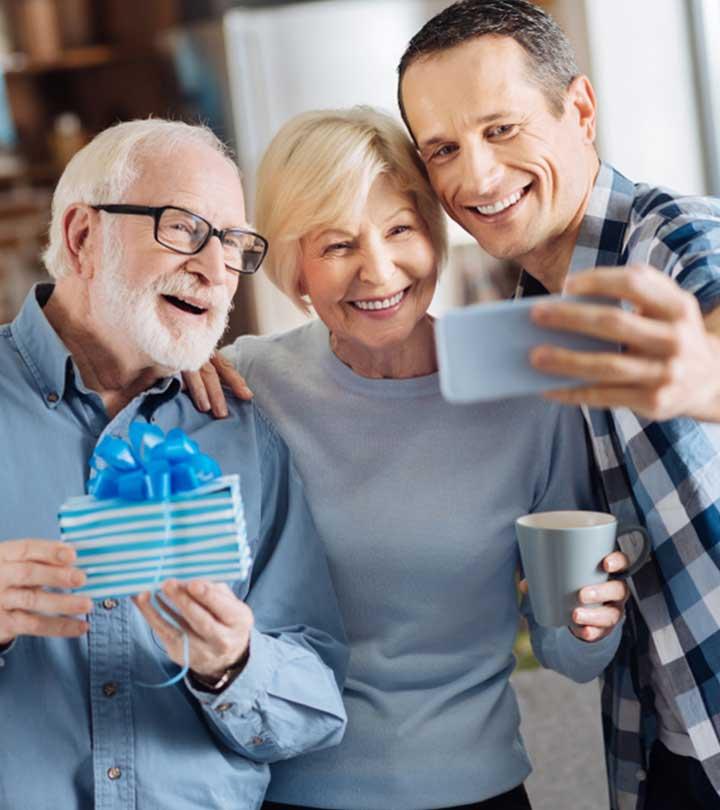 Your son's birth would be one of the best days of your life. Even if he is a grown-up adult who lives away from your home, you would love to celebrate the day he came into your life. While writing birthday wishes for sons, parents often brim with emotions and may not find the right words to express themselves. If you are in the same spot, we can help.
In this article, we have curated some lovely birthday wishes that summarize your emotions and love. Keep reading to find out the best wish that reflects your emotions.
27 Birthday Wishes For Your Son
To have a son is to have the universe looking back at you with love, for such a blessing is truly cosmic. My darling son, you have made the world brighter with your smile and brilliant mind. Happy birthday!
Happy birthday, my son. You bring me so much pride by being who you are. Watching you grow has been the most thrilling experience of my life. May you continue to be blessed in abundance.
My dearest boy, this world is yours. Take every step with conviction and believe in your dreams. Work hard and enjoy the simple moments. Find what makes you happy and never let it go. These are a few gems of life that I wanted to share on your birthday. Wishing you the greatest of days yet.
The day you were born was the happiest day of my life. It was a day that love filled me and made my heart grow larger. My son, you have brought me the greatest joy that a parent could ask. May the Almighty continue to watch over you and guide you on your path of self-discovery. Here's to your birthday!
Wherever you choose to go, I will always be your safe haven. Whoever you meet along the way, know that in me, you will always have a best friend. However long your journey takes, I will be right behind you, cheering you on. Son, you are the world to me, and on your birthday, I celebrate all that you are and all that you will be. Happy birthday!
Kind and wise – you put your mind to all that you believe in. There's not a day that you don't dedicate yourself to your dreams, and for that, we will always be proud of you! But most importantly, we are proud of the person you grew up to be. So, on this day, along with our boundless love, we send you special birthday wishes. – From your parents.
Happy birthday, my son! May your day be as splendid as you are, and may the years ahead bring you all that you wish for. May your light shine brighter each day as you walk into new adventures, and may you discover hidden beauties in the little things. Sending you all my blessings and love.
My dear boy, cherish each moment and make the most of it. Gather great memories and keep them close to your heart because life is a blessing that you need to celebrate, not just on your birthday, but in each moment. Wishing you the happiest of birthdays.
On this birthday, I wish you luck, courage, and endless joy. My son, may you find all that your heart seeks, and may your days blossom like spring. With all our love, Mom and Dad.
Happy birthday dear son! While this day may come once a year, know that you bring brilliance into our lives every single day. You are thoughtful and caring and beyond what we could ever dream of. We feel privileged to call you ours.
To my darling son – you are a dream come true. You have grown to be the perfect gentleman – charming and wise. It is an absolute pleasure to see you embrace yourself and fly even higher. May this day and the many that lie ahead bring you even more luck. Happy birthday!
Time may have passed, but to me, you will always be a little boy with mischief in his eyes and dreams in his heart. You grew to be the same, and each of those days was pure joy in the house. Today, I look back on all the good times and eagerly look forward to spending more with you! Happy birthday, my son. May you have all that you need and much, much more.
Happy birthday to the most precious part of my life. My son, you are a true miracle. Your mind, your heart, and your words amaze me each time. Wishing you a spectacular day filled with love, laughter, and sweet memories.
My darling son, I wish you the happiest of birthdays. You bring a calm breeze to my life, showing me its beauty and adding joy in my heart. Your unique way of seeing the world will always fascinate me. Pour yourself into all that you do, for you are brilliant, and so will your work be. Keep it up!
Happy birthday, my son. Treat yourself to all that is special! Give yourself a break and take a moment to breathe in the air. Eat your favorite food and fill yourself up with cake! Whatever you choose, it's your day so have it your way. Wish you loads of blessings and fun memories.
To the brightest star in my life, happy birthday! Dear son, you are beautifully unique and exquisitely radiant. You have been lighting up my life since the day you opened your eyes, and each day with you has been even better than the one before. May you continue to illuminate the lives of all that you love. Loads of love and kisses.
Dear son, as you celebrate your day, remember to be thankful for all that you have. You are truly one in a million with your brilliant mind bubbling with ideas! We thank the universe that you came to us for you add color to our lives and bring in the melody. Thanks to you, our family is a portrait that is perfect. Wishing you a happy and fruitful birthday.
Happy birthday, my son. We wish you wisdom, adventure, and countless opportunities. May each new day bring you fulfillment, and may you always be happy!
To my dear son, you are the pride of my life. Your commitment to your dreams and hard work are an inspiration to many, myself included. You teach me new things each time, and for that, I am forever grateful. Wishing you more success and good fortune. Happy birthday.
My son, I wish you a happy birthday! May the cakes keep getting larger, and the candles never burn out. May all your wishes come true, and may every moment in your life be beautiful.
As you grow into an adult, my precious boy, I wish you countless journeys filled with travel, thrill, and love. May each destination give you a new perspective, and may each road take you to great places. Happy birthday, my son.You are the love of my life.
Dearest son, on your birthday, we wish you good health, great success, and endless happiness. The world is at your feet. So, go on and get all that you need. We will be right here to watch over you. With all our love, Mom and Dad.
The day you entered my life, nothing else mattered. You became my heart, and in you, I found my deepest joys. Son, you are so wonderful, passionate, and spirited. You let yourself live with honesty and courage, qualities that inspire me each day. Here's celebrating you. Happy birthday!
On your birthday, I want you to know how much you mean to me! I may never be able to put it into words, but rest assured, each day, I try. There is no limit to the love I have for you, my son. You are the prayer in my breath and the hope of my heart. Happy birthday!
Dearest son, as the years pass by, I grow more and more excited to see all that you accomplish. You have achieved so much at such a young age, and you will continue with much more. Your greatest achievement is your character – kind, earnest, loving, and generous. You are every parent's dream. Happy birthday.
As you complete another year around the sun, I wonder what miracle brought you into my life, for I am truly blessed to have you. Darling son, you are the rarest treasure that I found, one that completes me and gives my days meaning. May you continue to grow in the light of positivity and love. Happy birthday.
Happy birthday, my son. You are the center of my universe. I pray that you continue to be the way you are because you are perfect in every way. May you always be happy and filled with love.
Infographic: Unique Birthday Gift Ideas For Son
While bringing your son into the world and giving him a beautiful life is already a gift for him, gifting something thoughtful will also make his day memorable. To help you choose the perfect present, we have curated a list of some unique and valuable gift ideas that will surprise your darling son. Check it out in the infographic below!


There is no doubt that most parents love their children unconditionally and always wish and hope for their betterment. You are also the most excited people on your kid's birthday and are at the forefront of all the planning that goes into the celebrations. However, when it comes to penning down birthday wishes for your son, you may often struggle to find the right words as nothing can compare to the pure and deep feelings. The above heartfelt wishes can come to your rescue at this juncture. Take a pick and send it to your son, and we are sure they will love it!
Frequently Asked Questions
What can I write on my son's birthday on Facebook?
You can use words that describe your affection, the bond you share with your son, how special they are in your life, and how incredible they are to you.
What can I write on my son's birthday card?
You can thank them for being an amazing son, or you can wish for their prosperity and long life. You can also mention a few lines about how special they are in your life.