Black Girl Makeup Tips: A-Z Makeup Ideas For Black Girls Explained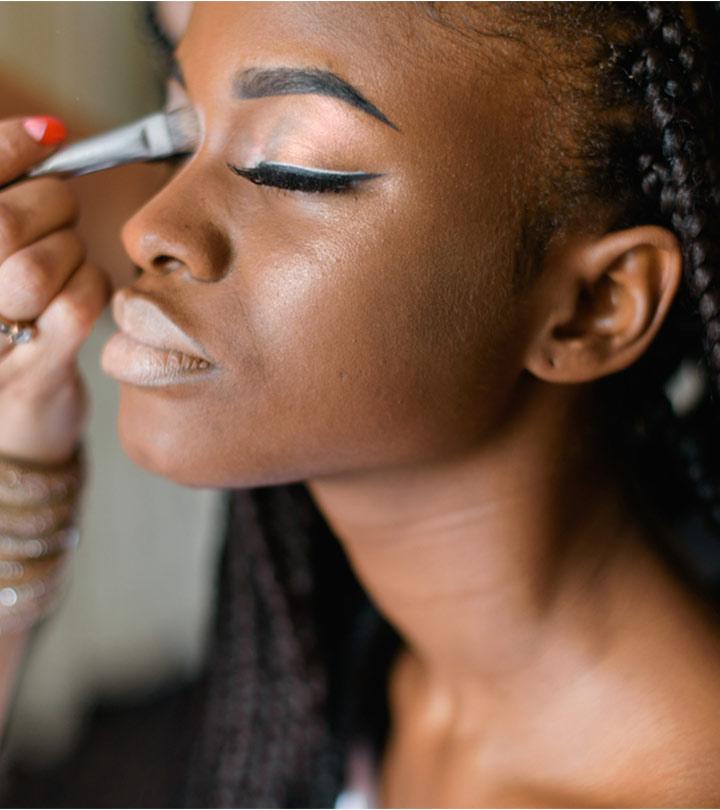 With the world advancing swiftly on all possible fronts, the idea of "unity in diversity" is being widely accepted by industries of all types and sizes now more than ever. The beauty industry is one such sector where inclusivity is the buzzword now. From incorporating black decision-makers to develop cosmetics for the people of color to encouraging models of different ethnicity to break all shackles and experiment with different types of makeup, the present-day world has constantly been showcasing its inclusive culture. Gone are those days when black girl makeup was cumbersome because women of color had to settle for makeup products that were not even remotely suitable for their skin color, given the limited production of cosmetics for them. Today, the choices are endless. Products that qualify the requirement for black girl makeup are in abundance now. Having said that, the growing demand for black girl makeup tips is yet to be catered to completely.
Therefore, with that vein in mind, we have curated some of the essential makeup tips exclusively for all you black beauties out there, so you do not have to strive much while choosing the appropriate makeup looks for yourself anymore. Read them below:
The Ultimate African American Women Or Black Girl Makeup Guide For Beginners:
Although skin types and facial features vary from person to person, certain fundamental elements remain the same for all. To this end, follow the tips listed below that will always come in handy while doing your makeup just the correct way:
The Right Foundation… Always:
Creating your own canvas is the alpha and omega for doing makeup of any kind. And this is where you fetch the foundation. But before you purchase one, you must learn about your skin complexion in order to avoid applying the wrong foundation that will only make your face appear unnatural. Remember, your goal is to enhance your skin color, not cover it up, for you are beautiful just the way you are. So, for the same, all you need to acquaint yourself with is the undertone that defines the primary shade of the complexion. Is it warm, cool, or neutral? You may take an expert's help to identify the right undertone of your face here if you want, as it will enable you to find the right foundation shade widely available for African American women.
A Good Brush For A Good Blend:
Once you have accomplished the task of identifying the suitable foundation, apply it gently on your face to blur out any flaws if you want in order to achieve a smooth-looking face. But….with a good brush that can help you blend the product properly and easily. Now, blending in itself is an art. Once you apply the product in wider strokes on the face, pick a foundation brush, sweep it from the center of your face and lead it outwards. With circular motions, give a full coverage to the face in order to enhance your natural skin color. And make sure you do it till the product blends in perfectly because foundation done right is what will give you a natural-looking face and keep the makeup in place throughout the day.
Mask'em With Concealer:
We all are well-versed with the fact that our skin changes with the passage of time and the fluctuation of various environmental conditions. We cannot always have a flawless face for which we are blessed with concealers. Grab one of them that is a bit lighter than your skin color and run it through all the blemishes you would wish to cover. Doing so will allow you to hide the rigid blemishes and age spots on the face, especially those under your eyes and around the bridge of your nose. Just like the foundation, buff the concealer too until it blends properly into the skin. You can use a blending brush for a smooth and seamless blending.
Contour To Frame Your Face:
To add the right dimension to the face, it is of utmost importance to do some contouring too. Use a contouring color that is one tone darker than the base foundation you have applied. This will allow you to intensify the required areas, such as the hollow of your cheeks, and soften the portions that need the spotlight. And the key to perfect contouring is blending till your face looks natural and not made up at all. Also, while contouring, you can go for either soft looks or overly dramatic ones— whatever makes you happy!
Don't Forget The Blush:
A hint of pink or peachy hues on the apple of your cheeks is a must. This will make you look fresh as a daisy! Pick the color of your choice, but of course, one that suits your skin again; tap the brush on it and sweep it around the cheeks for that instant rosy look. Dab a little bit of it on the tip of your nose, too….really a little, because you don't want Rudolf's cherry red nose after all. Anyway, so now, you can also thrust the blush brush onto the chin a bit to slightly highlight the pink vibes on your face.
Highlight For That Extra Drama:
Just like framing your face and smoothening it, giving the right amount of light to your facial features is essential for black girl makeup. And no other than your highlighter does this job the best because the transformation from a basic-looking face to a sassy, feisty one is a blessing you achieve through your highlighter. Applying highlighter to the elevated portions of your face, such as the bridge of the nose and the apple of your cheeks, will completely give the necessary lift to the face. It will not only enhance your complexion but will also make you glow and stand out in the crowd.
Eye Makeup, The Key To Ace A Flawless Black Girl Makeup:
Bring to life your creativity and let your eyes do the talk. But before that, make sure you have shaped your brows right because they play a crucial role in accentuating the eyes. You do not have to color them way too much; you can simply fill in the sparse areas of your brows and shape them well. Once done, do your eyes the way you wish to (winged eyes, intense black eyes, soft tones, are some you can pick) and add life to the eyelashes by applying a significant amount of mascara on them.
Do The Lips Like A Pro:
As someone who is new to makeup, you will need to first determine your undertone before doing your lips too. This is because today, there's an extensive array of lip colors specially made for African American women; you don't want to go dizzy choosing what is best for you. With the undertone identified, pick the suitable colors of your choice and paint them lips. You can outline your lips with a lip liner for neat and easy application. It will also hold your lip color longer. But make sure to blend in the lip liner well too.
Must-try Black Girl Makeup Tutorial:
Once you have memorized the basic elements required, you can go ahead and play with a multitude of makeup ideas for the same.
We have gathered a few sassy looks for you. Find them below:
Metallic eyeshadow is like a holy grail. Especially hues like cobalt blue and bright green in the metallic eyeshadow palette instantly make black eyes pop the best. You can also go with any shades from the grey color family for a wintry look. Apply some on the eyelids and work your way towards the under-eye for a more flattering effect.
You will never go wrong with glossy lips, especially when you want to give out that trendy soft girl vibe. Apply a lip color of your preference and cover your lips with the lip gloss without a second thought. This will also make your lips look fuller and softer.
Do not hold back from further enhancing those bright eyes that you are born with. You can go with matte smokey eyes or even add a bit of shimmer if you wish to. Once done with all the smudging for the perfect smokey vibe, add mascara to your lashes to finish the look. Your eyes will do the magic right after.
Dark Skin Girl Makeup Ideas For Different Occasions:
You might want to have different looks for different occasions. After all, it helps kill the monotony big time, doesn't it? So if you want to go glam for your parties or look calm for your work and fun for a holiday, below are some steps that you can follow to make every day a wonder:
Everyday Natural Looking Makeup:
If you do not want to go over the top for your everyday look, we got your back. Leave your eyes just the way they are. However, you can add a hint of mascara on your lashes to brighten the eyes. Next, apply lip gloss on those lips. You can grab a gloss that has a hint of pink or maroon shade in it. Also, any nude color does the job too. This easy-to-do makeup permits you to look natural as well as chic, and it can be worn every day to work or college.
Wedding Makeup For Guests:
While getting ready for your best friend's D-day, you know the drill. You want to look absolutely stunning but make sure to never overshadow the bride for the obvious reasons at the same time. Don't worry. You can get the desired look with a few simple ideas in mind. Fresh face, matte looks, a bit of shimmer, and bronzer are some of the things that can go into your makeup kit for the event. If your lip color matches the color of your outfit, you're good to go. Pink and red are always the go-to hues.
Holiday Makeup:
Fun is what we think of the second we plan that much-needed vacation. This implies you can choose to have fun with your holiday makeup too. Feel free to wear creamy orange lip colors to the beach and glitter eyeliners and shadows for clubbing. You can also try fun face stickers that come in cute little heart and star shapes. They carry the magic that can add an instant boost to your holiday!
So now that you have it all covered, go ahead and experiment with the makeup that's made especially for your skin tone. Having said that, while following the tips above, do not shy away from adding your own touch to them as it will bring out your personality better! Because your aim is to love your skin and flaunt your beauty. You go, girl! "Shine bright like a diamond".
The following two tabs change content below.