8 Benefits Of Including Black Gram In Your Diet
There are many reasons why nutritionists recommend adding this legume to your diet.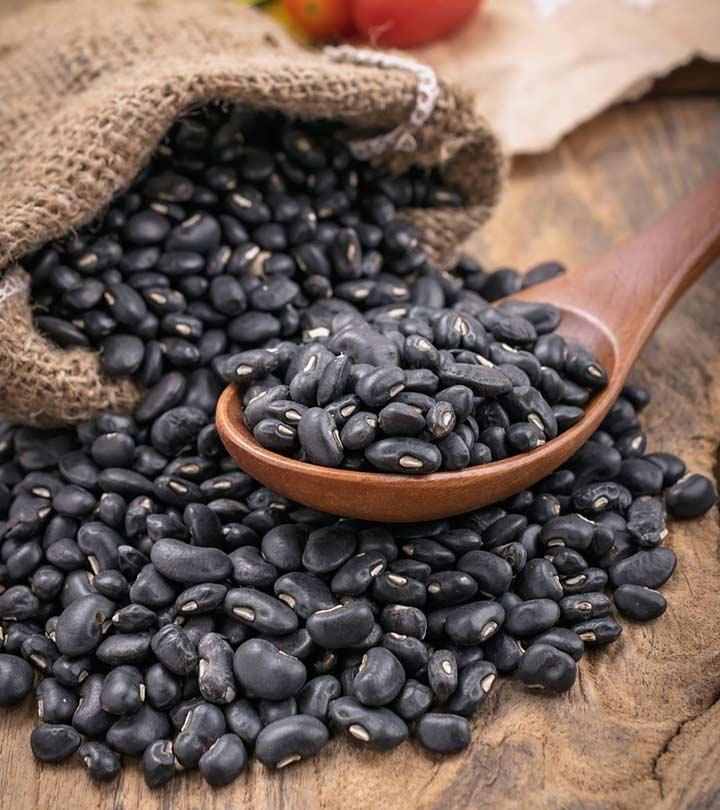 Black gram, also known as urad dal, is a legume native to South Asia. Many South Asian cuisines feature this pulse crop in stews, soups, and fermented foods. It is packed with essential nutrients, including protein, minerals, vitamins, dietary fiber, and antioxidants that are beneficial to the body in many ways. Black gram is also said to promote heart, liver, gut health, and bone health besides lowering blood sugar levels. But is there any scientific evidence to back these claims? This article discusses the health benefits of black gram, its nutritional value, potential side effects, and some of its easy-to-make recipes. Keep reading.

Know Your Ingredient: Black Gram
What Is It?
A cylindrical, narrow legume with a strong earthy flavor.
What Are Its Benefits?
It improves heart health, controls blood sugar levels, improves bone health, and boosts immunity.
Who Can Consume It?
Anyone can consume it except people with kidney or gallbladder stones.
How Often?
You can consume ¾ to 1 cup of black gram daily.
Caution
Excess consumption may cause a runny nose, breathlessness, bloating, skin rashes, or itchiness in some people.
What Is Black Gram?
Black gram (Vigna mungo) is a South Asian legume belonging to the Fabaceae (Leguminosae) family. This popular pulse goes by many names: urad, urid, black matpe, mash bean, mash daal, among others.
Black gram is essentially a black seed that is cylindrical and narrow in shape. A black coating or hull surrounds the white inside. This legume is sold in whole, split, or dehulled forms. The split form is the seed divided in half with a black and a white side, which is often called 'white lentil'. However, black gram is not a lentil.
Authentic South Asian cuisine revolves around black gram. It is traditionally used in 'dals', in which it is simmered, blended, and spiced. It is also used to prepare delicious stews and curries, while idlis and dosas are among the most popular black gram recipes in India that are made using its flour.
In medieval India, black gram dal was also used for making crucibles (ceramic or metal vessels). The dal was used to make them impermeable.
Black gram is a high-protein food and contains almost three times as much protein in cereals. This makes it a valuable protein source for vegetarians to fulfill their dietary requirements (1), (2). Let us discover more about its nutritional value in the section below.
Nutritional Information Of Black Gram
A 100g serving of black gram contains (1):
| Calories | 350 |
| --- | --- |
| Protein | 24 g |
| Carbohydrates | 60 g (Fiber: 29 g) |
| Total lipids (Fat) | 1.5 g |
| Calcium | 200 mg |
| Iron | 7.2 mg |
| Phosphorus | 345 mg |
| Sodium | 40 mg |
Black gram is considered healthy for its high protein and fiber content. Moreover, it offers essential minerals like Ca, K, Na, Mg, Cu, and Zn in addition to various essential and non-essential amino acids. Black gram also has a healthy balance of fatty acids, tocopherol (vitamin E), and sterolsi  XOrganic compounds found naturally in plants that help in lowering cholesterol and preventing heart disease. (3). As a result, black gram offers a wide range of health benefits. Keep scrolling to find out what they are.
Potential Health Benefits Of Black Gram
1. May Promote Heart Health
Black gram contains protein, polysaccharides (complex carbohydrates), and neutral detergent fiber that help lower blood lipid (fat) levels (4), (5).
A high blood lipid level is linked with an increased risk of cardiovascular disease, especially atherosclerosis (the buildup of fats, cholesterol, and other substances in and on the blood vessels) (6).
Studies on rats have shown that black gram may reduce fat and cholesterol levels. It was found to minimize the activity of enzymes required for cholesterol synthesis, increase bile excretion, and decrease dietary cholesterol absorption (7), (8).
2. May Help Manage Diabetes
The fiber-rich black gram has the potential to lower blood sugar levels and can help with diabetes control. This is because fiber slows down digestion, which can help reduce spikes in blood sugar and reduces the absorption of energy-producing nutrients, especially glucose, into the blood (9), (10).
Studies observed that black gram extract had decreased blood glucose levels and increased insulin levels in diabetic rats. It was also found to protect and stimulate insulin-producing cells (11). It has been reported that legume-rich diets lower diabetes risk by improving blood sugar control (12).
3. Is A Good Source Of Antioxidants
Black gram is a rich source of phenolic acids, flavonoidsi  XA group of phenolic compounds found in fruits or vegetables that have anti-inflammatory and antioxidant properties. , and condensed tanninsi  XA class of water-soluble polyphenols that are present in plant foods. They also have astringent and antioxidant properties. , which have potent antioxidant properties. A study suggests that phenolic-rich foods, through their antioxidant activity, may help reduce the risk of cardiovascular disease, cancer, neurodegenerative conditions, and Alzheimer'si  XA progressive neurodegenerative disease that causes brain cells to shrink, which impairs memory and cognitive functions. . The results also reveal that black gram extracts have age-inhibiting activity and can potentially be used as an ingredient in skin-whitening creams (13).
4. May Prevent Infections
A variety of proteins and bioactive components in black gram, like methyl ester, inhibit pathogenic microorganisms. According to a study, black gram has the potential to prevent the growth of pathogenic microbes like Klebsiella sp., Bacillus sp., Enterococci sp., Pseudomonas aeruginosa, etc. This popular legume may also help prevent the growth of fungi like Aspergillus niger and Candida albicans (14), (15).
5. May Promote Bone Strength
Black gram is ideal for building bones as it has a good balance of calcium and phosphorus. A diet high in animal protein and phosphorus may cause calcium loss. A low Ca/P ratio (low calcium intake and high phosphorus intake) may lead to excessive calcium loss in the urine and decrease calcium levels in the bones. Good food has a Ca/P ratio of >1 while poor food has a ratio below 0.5.
Black gram has a Ca/P (calcium and phosphorus) ratio ranging from 0.68 to 1.19, indicating that it is a good source of minerals for bone formation (16).


Trivia
Ancient Ayurvedic texts mention that applying dry roasted black gram paste or its oil on inflamed joints can ease the pain and provide instant relief.
6. May Protect Kidney And Liver
Phytic acid, phenolic acids, tanninsi  XA class of water-soluble polyphenols that are present in plant foods. They also have astringent and antioxidant properties. , and flavonoidsi  XA group of phenolic compounds found in fruits or vegetables that have anti-inflammatory and antioxidant properties. are some of the powerful antioxidants found in black grams. They protect the liver from drug-induced damage. These effects of black gram are also attributed to its ability to inhibit the activity of hepatic microsomal enzyme (present in liver).
The saponins (natural compounds found in legumes) in black gram are also strong diuretics (help rid your body of excess salt and water). They detoxify the body by excreting sodium, potassium, toxins, drug metabolitesi  XAn intermediate or end product catalyzed by various enzymes that naturally occur within cells, such as lipids, amino acids, or sugar. , etc. This helps protect the liver and kidneys from the damaging effects of drugs (17), (18).
7. May Boost Immune System
The bioactive compounds in black gram stimulate the immune system by boosting the activity of its components. It is most likely that fatty acids, saponins, vitamins, and amino acids are responsible for these stimulatory effects. According to a study, consuming black gram extracts was found to boost the production of immune cells (antibodies) (19), (20).
8. Black Gram For Hair
Black gram is a rich source of essential nutrients, including protein, and minerals, which play a vital role in promoting strong and lustrous hair (21). While protein is a key component in hair structure, aiding in the repair and growth of hair follicles, iron contributes to healthy blood circulation, which ensures hair follicles receive an adequate supply of oxygen and nutrients. Biotin, a B-vitamin found in black gram, promotes hair growth and helps control hair loss (22).
In addition, black gram also contains antioxidants that help combat oxidative stress, a common factor in hair damage (21). When included in a diet, it can help nourish your hair from within and promote its overall health and appearance.
The health benefits of black gram are far-reaching. Hence, including this delicious legume in your diet can be a great choice. But how do you go about it?
How To Add Black Gram To Your Diet
Black gram could contain dust or small stones. Hence, wash and rinse thoroughly before using it. It is typically soaked for about five hours or overnight before being used in different dishes. The legume has a nutty, creamy, and bland taste when cooked.
Here are a few ways to include black gram in your diet:
Make fermented dishes like idlis and dosas.
Cook and puree to make delicious 'dals'. These go well with rice or roti (Indian flatbread).
Grind into flour and make confectionery, flatbreads, or bread. You can also make vadas and papads using this flour.
You can store black gram indefinitely in an airtight container in a cool, dry environment. Cooked black gram can be refrigerated for three to four days.
This way, you can include black gram in your diet quite easily. In the next section, we list some of the best and easiest black gram recipes to try. Keep scrolling.
Popular Black Gram Recipes
1. Black Gram Dal
What You Need
Black gram: 1 cup
Onion (chopped): 1
Tomato puree: 1 cup
Garlic cloves (crushed): 3
Ginger (crushed): 1-inch piece
Green chili (chopped): 1
Coriander powder: 1 teaspoon
Cumin seeds: ½ teaspoon
Turmeric powder: ½ teaspoon
Red chili powder: ½ teaspoon
Garam masala powder: ¼ teaspoon
Oil: 1 tablespoon
Water: 3 cups
Salt, as needed
Coriander leaves (for garnishing)
How To Prepare
Rinse the black gram in water a few times and soak it for five hours. Drain.
Heat the oil in a pan and stir in cumin seeds. Add the onions when they start sizzling. Cook until the onions are brown.
Add the tomato puree and crushed ginger and garlic.
Stir in all the dry spice powders. Add the green chilies.
Sauté the masala until the oil starts to separate.
Add the soaked black gram, salt, and water.
Cook the black gram under pressure for 18 to 20 minutes or until it is tender.
Garnish with the coriander leaves. Enjoy with naan, rotis, or rice.
2. Black Gram Fritters
What You Need
Black gram (rinsed and soaked for 5 hours): 1 cup
Kale leaves: 1 cup
Ginger: ½-inch piece
Green chili: 1
Red chili flakes: 1 teaspoon
Coriander (chopped): 2 tablespoons
Onions (chopped): 2 tablespoons
Lemon juice: 2 tablespoons
Salt, as needed
How To Prepare
Smoothly grind the black gram, kale leaves, ginger, and green chili. Add one cup of water, if necessary, as you grind to adjust consistency.
Add the rest of the seasoning ingredients and mix well to form the fritter batter.
Heat oil in a pan. Add the batter by spoonfuls and fry until the fritters are golden. Drain on paper towels.
Serve with your favorite chutney or sauce while still warm.
3. Black Gram Dosa
What You Need
Black gram (rinsed and soaked for 5 hours): ½ cup
Idli rice (rinsed and soaked for 5 hours): 1½ cups
Fenugreek seeds: 1 teaspoon
Salt, as needed
How To Prepare
Grind the black gram and fenugreek seeds (adding water as needed at intervals) until the batter begins to bubble and becomes fluffy. Pour into a separate bowl.
Blend the soaked idli rice with a little water until smooth.
Mix both the batters thoroughly by hand.
Ferment overnight or for at least eight hours. The batter should rise the next day.
Spread the batter thinly in circular motions in a hot pan. Cook for two minutes. Flip and cook for one more minute.
Take the dosa out and serve with chutney.
Black gram is often compared to another closely related crop, the mung bean or green gram. The two species are similar and sometimes share the same local name. However, they are different in a few ways. Keep reading to find out.
Green Gram Vs. Black Gram
Black gram and green gram differ in the following ways:
Characteristics
Black Gram
Green Gram
Scientific name
Vigna mungo
Vigna radiata
Common name
Urad/mash bean
Mung bean
Appearance
White interior with black hull;

Bright yellow flowers;

Pods are upright;

Hairier than green gram

White interior with green hull;

Pale yellow flowers;

Pods are pendulous

Nutritional content
Higher mineral and fiber content
Higher moisture, fat, and protein

content
The two legumes only differ minutely. Therefore, including either of them in your diet will greatly help your health. Nonetheless, black gram might not be suitable for everyone and may cause certain side effects. Learn more in the next section.
Possible Side Effects And Allergies
Black gram has a high protein content. Some of these proteins may cause allergic reactions. Several regions, including Asia and Australia, have reported black gram containing allergenic peptides. Hence, consuming black gram can induce allergic reactions in asthma and rhinitis patients (21), (22). Anecdotal evidence suggests that the symptoms could range from breathlessness to runny nose, itching in the mouth, and skin rashes.
Infographic: 4 Reasons To Consume Black Gram
Puffy eyes can sneak up on you for various reasons, such as aging, changes in dietary habits, sleeping issues, stress, and trauma. The fluid retention under the eyes can make you look tired, sick, and older than your actual age. Fortunately, puffy eyes can be treated with simple yoga exercises that are easy to do and improve blood circulation. Check out the infographic below for more information.


Final Words
Black gram is a highly prized legume native to South Asia and is consumed widely in vegetarian diets as a plant-based protein. It is a rich food source of protein, minerals, vitamins, zinc, magnesium, folate, dietary fiber, and antioxidants, all of which contribute to a healthy body. Black gram also serves as a natural means to lower blood sugar levels, promote heart health and digestive health, improve the condition of liver and bone, lift one's energy levels, and boost the immune system. It is also low-fat and low-calorie compared to other protein sources, which makes it ideal for weight management. However, black gram may cause allergies in some individuals, especially those with asthma and rhinitis. Consult your doctor in case of any adverse reaction.
Frequently Asked Questions
Is black gram good for hair?
Yes. Applying black gram paste on hair may help treat dandruff and other hair problems (23).
Is black gram hard to digest?
No. Black gram is a rich source of fiber and is easy on the digestive system.
Is black gram cholesterol free?
Legumes are nutritious and nutrient-rich. They are low in fat, and since they are plant foods, they are cholesterol free as well.(24)
Is black gram inflammatory?
There is no evidence to suggest that black gram is inflammatory. In fact, it has anti-inflammatory properties due to its high antioxidant content.
Is black gram good for muscle gain?
Yes, black gram is an excellent source of protein and can aid muscle gain when consumed as part of a balanced diet.
Does black gram contain vitamin b12?
No, black gram does not contain vitamin B12. It is a good source of protein, iron, and fiber.
Does black gram have zinc?
Yes, black gram is a good source of zinc that is important for immune system function and wound healing.
Is black gram bad for arthritis?
There is no conclusive evidence to suggest that black gram is bad for arthritis. However, some people with arthritis may find that consuming legumes like black gram exacerbates their symptoms.
Is black gram good for fatty liver?
Yes, black gram is good for fatty liver as it is high in fiber and protein and low in fat. This may improve liver function and reduce the risk of liver disease.
Is black gram suitable for individuals with certain dietary restrictions or preferences, such as vegetarian or gluten-free diets?
Yes, black gram is suitable for those following vegetarian diets as it is a plant-based protein source. It is also naturally gluten-free, making it suitable for people with a gluten intolerance or celiac disease.
Key Takeaways
Black gram is a valuable protein source as it contains almost three times as much protein as cereals.
It promotes heart health, manages diabetes, reduces cancer risk, and has age-inhibiting activity.
In some cases, some of these proteins may cause allergic reactions like asthma.
Know all about the amazing health benefits of black gram. Click on this video to know why this simple ingredient should be added to your daily diet.
Sources
Articles on StyleCraze are backed by verified information from peer-reviewed and academic research papers, reputed organizations, research institutions, and medical associations to ensure accuracy and relevance. Read our editorial policy to learn more.
The following two tabs change content below.