What To Wear With Black Jeans – 20 Styling And Outfit Ideas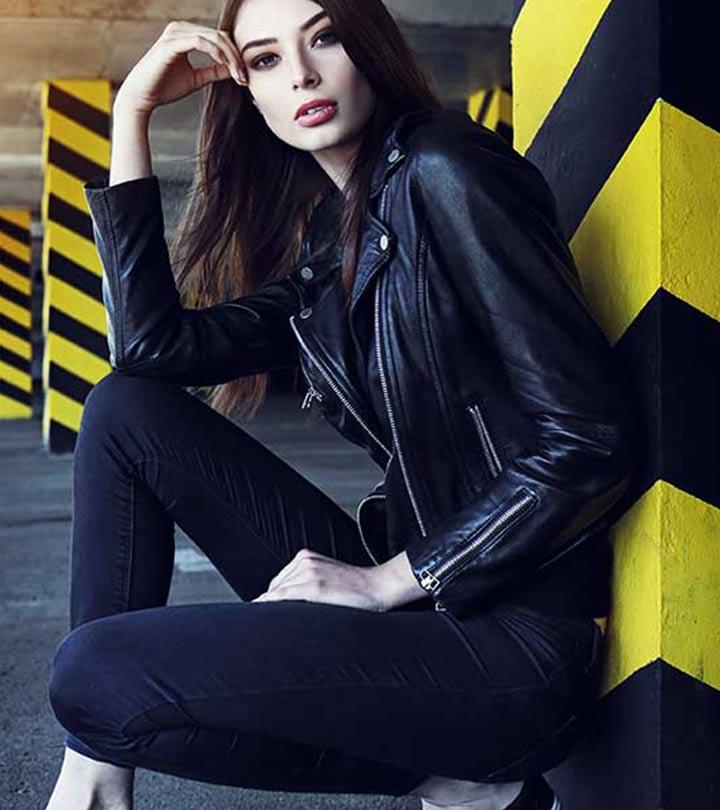 Black jeans are a wardrobe staple for both men and women across the globe. Makes sense because they are one of the most versatile pieces of clothing in a closet. If you ask me your wardrobe is incomplete without them and fashion gurus agree. Also, a fashionable wardrobe is not one with fancy and haute-couture stuff, but working your statements around basic pieces of clothing and putting them together to create stylish and chic outfits. Let's revisit this essential pair of jeans today and explore some outfit ideas on what to wear with black jeans. Join me as I do this, will you?
What Color Shirt To Wear With Black Jeans?
In one word – Any color.
In many words – black goes with just about any color, print or pattern. They come in many styles like ripped, boyfriend style, frayed, skinny, etc. Let the style be your cue. Some colors tend to look better with a specific style than others, but more often than not any color works!
What Sandals To Wear With Black Jeans?
Again, styling your black jeans is a no brainer. Just wear black sandals or match them with the color of your top. If you are a fan of color blocking, it's the easiest with black. Nudes or suedes stand out really well with black jeans too. So, whatever suits you will work just as good!
[ Read: How To Match Your Shoes With The Dress ]
What To Wear With Black Jeans – 20 Styling And Outfit Ideas
1. Distressed Black Jeans With A Blazer
Dinner at a fancy place? Date night at your favorite restaurant? Team up your black distressed or (regular) black jeans with a tank top and finish it off with a blazer for a polished yet chic look.
[ Read: How To Make Ripped/Distressed Jeans- DIY ]
2. All Black
Monochrome look with black head to toe, cascading curls, ankle length boots, smokey eye makeup and Ruby-woo is all you need to get some heads turning. Effortless!
3. With A Checkered Shirt
Checkered shirt and black jeans are like comfort food. They never fail you!
4. Skinny Black Jeans And A Trench Coat
Trench coat in red, orange or camel has forever been synonymous with fall and winters. A pair of skinny black jeans with a bold colored trench coat, tote bag, boots and perhaps a pumpkin spice latte will totally get you spring ready.
5. With A Chambray Shirt
Chambray – a shirt we all own and it's a safe choice to make. Instead of the regular black jeans try it with the distressed variant, and accessorize with oxidized silver jewelry. It's totally fitting!
6. Black And White Striped Shirt
I know this is an obvious choice for most of us, but it had to go in here just in case.
7. With A Plain White Shirt
Wear a chiffon or silk plain (loose) shirt, half tuck it with a high-rise black jeans and complete the look with a pair of pumps or wedges. It works as a perfect outfit from the office directly to a date night.
8. With A Powdered Blue Asymmetrical Shirt
Peplums, asymmetrical or corset tops will all look great with black jeans. Pastels and powder undertones work for formal occasions while printed and vibrant shades work otherwise.
9. With A Floral Tank Or Ruffled Top
Just about any tank or floral top goes with your black jeans. You can add layers irrespective of the color; you don't have to overthink with these.
10. With A Funky Printed Top
Printed T-shirts with emojis, hashtags, and movie merchandising has caught up because they are cool, comfortable and fun. Wear a pair of black jeans with one of these with folded sleeves and converse shoes.
11. Off-shoulder Crop Top
Off-shoulders or crop tops or both of them in one will be punk, perfect and stylish. The best part about these outfits is that you can either dress up or down depending on the occasion.
12. With A Blazer
A blazer either in linen, corduroy or velvet with black jeans is classy. Go with a no-makeup look and use fine jewelry pieces to complete the look.
13. With A Plaid Shirt
Plaid shirts will go with just about anything, but some colors stick out better with black jeans than your natural blue tones. You could pair it up with a tank or bralette and tie it around the waist on warm summer evenings.
14. Crop Top And Denim Jacket
The denim jacket is again a piece of clothing most of us have, so are crop tops. Layer a gray colored crop top with a denim jacket; accessorize with a big watch, messy bun, aviators and a tote bag to spend your day at the mall.
15. With A Backless Top
Light printed or plain black tops or muted tones in reds, blues, etc. will look great with black jeans. If you're not sure of how to style them, just wear your black jeans, you're sorted.
16. Distressed Jeans And Oversized Sweater
Oversized sweaters or hoodies are something most of us live in all through winters. A pair of black jeans and a few of these are enough to go on an entire semester for people like me or most of us. Wear bandanas or put your hair up in a bun all day every day with flip flops or funky shoes and finish it with nude lipstick.
17. Chiffon Top And Boots
Wear a fancy chiffon tank top and a pair of brown boots with your black jeans when you run out of time for sudden plans with friends. Add accessories to add oomph; no one will ever know that you were in a hurry!
18. With Captioned T-Shirts
We all love captioned T-shirts, don't we? You guessed it right, pair it with black jeans!
19. Noodle Strap Top, Denim Jacket, And Boots
Go for a full black look with spaghetti or noodles strap tops, and add colors with scarves, jacket, boots, and accessories. Little details to this look will bring the look together.
20. Color Block
Color block your outfit with black jeans. Keep everything else bold—from your shoes and tops to accessories and bags, etc.
Styling ideas for your black jeans is a bottomless pit, and I can sit here forever discussing this. Instead, I'd wait to hear from you. Do you know any other ideas on what to wear with black jeans? Let me know by dropping in a text in the comment section below.
Recommended Articles
The following two tabs change content below.