14 Best Black Skinny Jeans For An Edgy And Classy Look – 2022
Show off your beautiful legs with these fitting, comfortable, and trendy black jeans.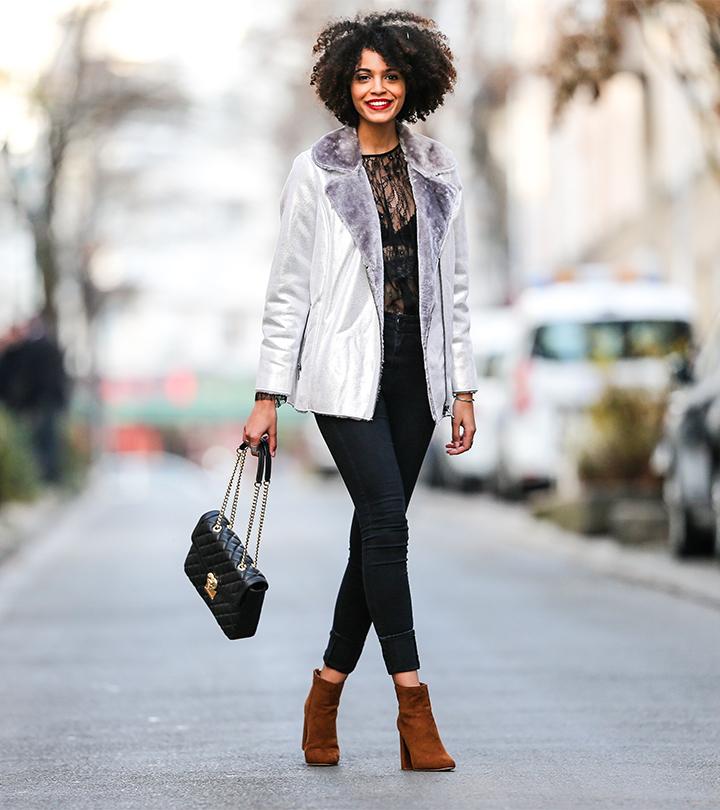 A well-fitted pair of black skinny jeans for women is a wardrobe essential and something that all women swear by most of the time. No matter what the occasion is, one can never go wrong with a pair of these jeans. They are easy to style and look both edgy and classy at the same time. You can also find them in a wide range of styles like high-rise and ripped jeans. You can play around with these styles according to your preferences. However, there is nothing worse than washing your jeans and seeing the dark dye bleeding, leaving you with a washed-out pair that you didn't ask for. While shopping for any jeans, there are some details to consider as they will increase your chances of finding the right fit, fabric, and quality.
Are you ready to find a flattering pair of black jeans that are comfortable and fit you perfectly? If yes, check out this article for some of the best options. Keep scrolling!
Description
Lee is a brand that is famous for the jeans they produce. These particular black jeans from Lee have a Monroe Straight Leg which gives a look that is more relaxed and easy-going. You can opt for these jeans if you're looking for a change from the regular skinny jeans. You can pair it with a fun floral-printed blouse, or a crop top or even wear it to work and team it with a well-fitted formal shirt. These outfit ideas paired with Lee's Monroe Straight Leg jeans will really add the fun element to your outfit.
Pros
Cotton-based fabric
Zipper closure
Machine washable
Relaxed fit for all-day comfort
High waistband
Five-pocket styling
Cons
You may have to size down
The Daily Ritual Women's Mid-Rise Skinny Jean is comfortable and makes you look stylish. It comes with incredible hold and does not lose its shape even after wearing it regularly. The jeans are crafted with a combination of 68% cotton, 17% lyocell, 8% modal, and 7% polyester. You can pair these jeans with t-shirts, shirts, tank tops, and sweatshirts.
Pros
Cotton-based material
Zipper closure
Machine washable
Slim fit and chic
Mid-rise skinny design
Suitable for all weather conditions
Cons
None
Description
Levi's women's jeans are always a treat to wear! There's always something fun and exciting about these beautifully tailored jeans and the 721 High Rise Skinny Jean is no exception. This pair comes in slim fit as well as skinny leg style that accentuates your physique. This is something you can opt for a fun night out or parties with your pals. These jeans can be paired with a casual tee and a bold black belt to accentuate your waist.
Pros
Cotton-based
Zipper closure
Machine washable
High rise
Slim fit
Cons
Description
Hybrid women's ultra-stretch jeans are something you can wear on an everyday basis for the incredible comfort they provide. Made out of an excellent combination of cotton and spandex, these jeans are tight yet allow your skin to breathe and avoid total discomfort. A polka dot blouse or a neon green crop top paired with a bold black leather jacket will look just flawless with these black jeans.
Pros
All-day comfort
Machine washable
Slim fitted
Zipper closure
Stretchable
Five-pocket styling
Cons
Description
Don't we all love ourselves the quintessential 'All-Black' look? These straight black jeans from Celebrity Pink help you achieve that look with style! These are super soft and stretchy for an all day wear. Don these jeans with your favorite black Pink Floyd tee while hanging out with your besties, and make a fashion statement to keep the compliments flowing!
Pros
Machine washable
Super soft material
Stretchable
Mid-rise waistband
Include back pockets
Cons
None
Description
This 91% Cotton, 7% Polyester, 2% elastane is a work of art. Designed in the USA, these jeans have a total zipper closure and are machine washable. This style of black jeans was beloved to the legend herself – Marilyn Monroe. And come with Lift tuck technology that lifts, slims, and tucks all the right places to give you all the benefits of spandex in jeans.
Pros
Cotton-based
Zipper closure
Machine washable
Straight fit
All-day comfort
Cons
None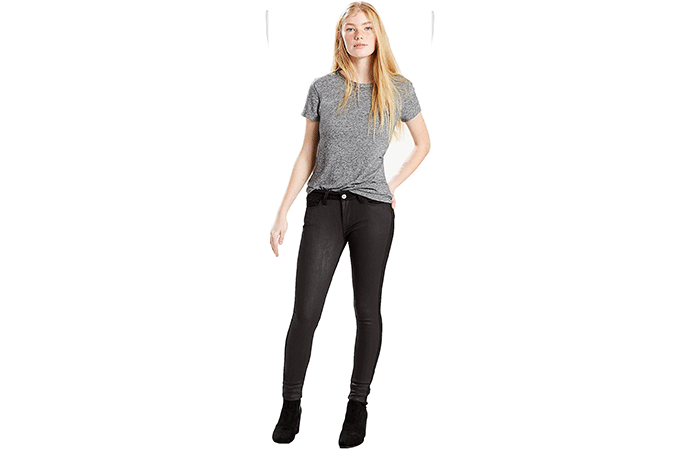 Description
Levi's is a brand popular for their jeans. They are stylish, give a great fit and last for a really long time and still manage to look just the same. This pair of black jeans from Levi's is something you can opt for. It is made out of cotton and elastane, thus giving you a comfortable feeling. It also allows your skin to breathe. These jeans come with a zipper closure and the fabric used is strong and durable. Hence, you can just toss them in a machine for a good wash.
Pros
Cotton-based
Zipper closure
Slim fit
Chic
Mid-rise design
Cons
None
Description
A high-waisted ripped jeans with five pockets fashion is a rare thing to find. So grab this one from Skirt BL and let it embrace your legs and accentuate your features. This comfortable pair of jeans is stretchable and offers you the perfect fit while being versatile for any occasion.
Pros
100% cotton fabric
Button closure
Machine washable
High-rise design
Offer tummy control
Cons
Not suitable people who are petite
Description
Made of high-quality soft cotton and spandex blend, these black jeans are stretchy and porous making them breathable. They custom-fit your body shape well enough to help you flaunt it. They are mid-waist styled and can be easily dressed with just about anything, so let your creativity go wild. You can pair these black jeans with fun tank tops and crop tops.
Pros
Highly stretchable
Soft fabric
Mid-rise fit
Breathable material
Accentuates the curves
Cons
None
Description
This pair of distressed jeans is something you must have in your closet. The stretchable skinny fit gives you an incredible shape, making you look tall and slim. Pair it with a cool t-shirt, a denim jacket over it, and a pair of sexy sneakers and you are ready to roll.
Pros
Machine washable
Slim fit
Stretchable
Zipper closure
Suitable for all ages and body types
Cons
None
Description
Having a pair of black jeans that works for all seasons and occasions is a must. This pair of high-waisted denim goes with whatever you pair it with and glams up your overall look. The lightweight fabric is stretchy and breathable to be worn all day long without any discomfort. The curve-enhancing fit gives you the perfect look. Moreover it is available up to size 3XL for women with some extra curves!
Pros
Durable
Slim fit
Accentuates the curves
Chic look
Machine washable
All-around coverage
Available in various colors
Suitable for all occasions and seasons
Cons
None
Description
These black jeans from Lee have an easy relaxed fit. Apart from looking smart and poise, they are not too tight and are comfortable to wear over formal shirts or floral blouses. These black jeans from Lee are a great addition to your wardrobe. They are durable and their fabric is soft and stretchy. It is available in all sizes with a mid-rise waist finish.
Pros
Relaxed fit
All-day comfort
Suitable for all weather conditions
Elegant design
Cons
None
Description
Chic, classy and sophisticated, these black denim leggings are made with great quality fabric. They might look delicate but are very durable and can be machine washed. Mixed with the style of jeans and comfort of leggings, these jeggings are a total savior. When you wear these, you are bound to feel so comfy that you are sure to fall in love with it. You can notch up your sense of style with these black jeans.
Pros
Machine washable
All-day comfort
Stretchable
Button closure
Real back pockets
Cons
The crotch area looks crumbled and loose
Description
These black jeans from Hybrid & Co. are sure to make you feel confident and fetch you loads of compliments. The very make of these pants lifts and provides support to your rear for a more toned-down look. They are made with the best-in-the-market cotton and spandex blend, which offers stretch and comfort. Whether you are headed off to school or work, these black jeans are here for you.
Pros
Super stretchy
Lift the curves
Ultra-comfortable
Slim fit
Chic look
Suitable for any occasion
Cons
Why Trust Stylecraze?
Pratima Ati, the author of this article, is a fashion enthusiast who loves to stay abreast with the latest trends in the domain. She has compiled this list of the best black skinny jeans for her readers, including all the features and specifications of each product to make the buying process hassle-free. She handpicked the jeans with the highest ratings so that you get to invest in a good-quality product that lasts you a lifetime.
Recommended Articles: