15 Best Black Skinny Jeans You Need To Get Your Hands On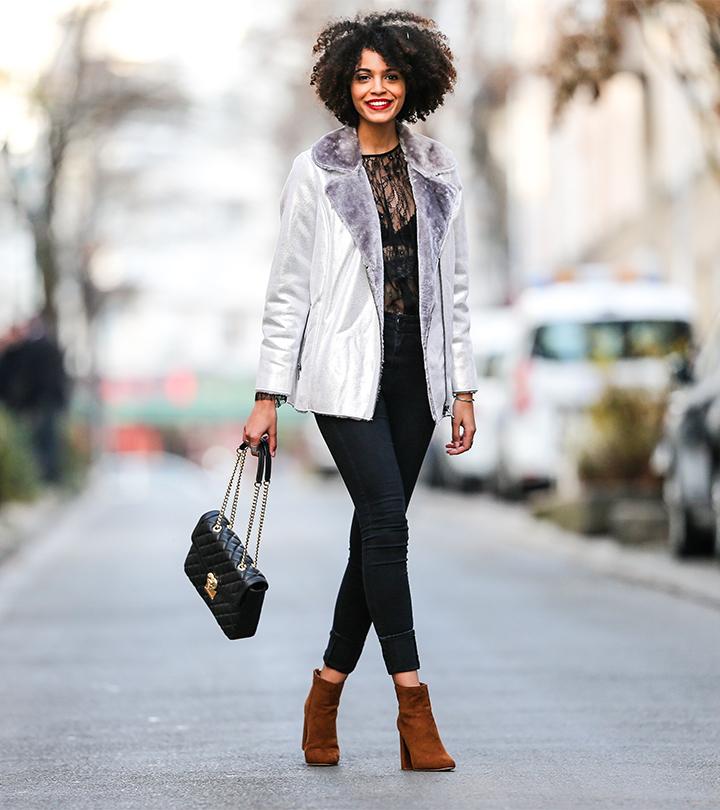 Don't we all swear by our most favorite pair of black jeans in our closet? No matter what the day, black jeans always save the day! Not only do they go with every fashion outfit but they also have a very urban chic appeal attached to it. Black jeans are so versatile that they can be paired with any crop top, blouse or tee-shirt that would make you look trendy effortlessly. It comes in plenty of styles like black boyfriend jeans, ripped jeans, and high rise jeans as well. You can play around with these jeans and create fun outfit ideas to glam up your look according to your mood!
They are a smart and good investment; hence it's important to opt for black jeans that are durable and of good quality fabric. We've put together a list of some of the best black jeans you could choose from that would make a great addition to your fashion closet. Dive right in to see what we have in store for you.
Description
Lee is a brand that is famous for the jeans they produce. These particular black jeans from Lee have a Monroe Straight Leg which gives a look that is more relaxed and easy-going. You can opt for these jeans if you're looking for a change from the regular skinny jeans. You can pair it with a fun floral-printed blouse, or a crop top or even wear it to work and team it with a well-fitted formal shirt. These outfit ideas paired with Lee's Monroe Straight Leg jeans will really add the fun element to your outfit.
Description
These black jeans from Gloria Vanderbilt are super comfortable as they are made with fabric that is a great combination of cotton and spandex. Gloria's black jeans give a casual vibe and you can pair it with a short Kurti and some fun printed shoes. They are slightly tapered near your hips to offer shape. It has a natural rise to it and sits perfectly on your waist region. Since the fabric used is tough, you can easily machine wash them.
Description
Levi's women's jeans are always a treat to wear! There's always something fun and exciting about these beautifully tailored jeans and the 721 High Rise Skinny Jean is no exception. This pair comes in slim fit as well as skinny leg style that accentuates your physique. This is something you can opt for a fun night out or parties with your pals. These jeans can be paired with a casual tee and a bold black belt to accentuate your waist.
Description
Hybrid women's ultra-stretch jeans are something you can wear on an everyday basis for the incredible comfort they provide. Made out of an excellent combination of cotton and spandex, these jeans are tight yet allow your skin to breathe and avoid total discomfort. A polka dot blouse or a neon green crop top paired with a bold black leather jacket will look just flawless with these black jeans.
Description
Don't we all love ourselves the quintessential 'All-Black' look? These straight black jeans from Levi Strauss & Co. help you achieve that look with style! Don these jeans with your favorite black Pink Floyd tee while hanging out with your besties and make a fashion statement that keeps the compliments flowing!
Description
This 91% Cotton, 7% Polyester, 2% elastane is a work of art. Designed in the USA, these jeans have a total zipper closure and are machine washable. This style of black jeans was beloved to the legend herself – Marilyn Monroe. And come with Lift tuck technology that lifts, slims, and tucks all the right places to give you all the benefits of spandex in jeans.
Description
Levi's is a brand popular for their jeans. They are stylish, give a great fit and last for a really long time and still manage to look just the same. This pair of black jeans from Levi's is something you can opt for. It is made out of cotton and elastane, thus giving you a comfortable feeling. It also allows your skin to breathe. These jeans come with a zipper closure and the fabric used is strong and durable. Hence, you can just toss them in a machine for a good wash.
Description
These black pajama jeans from Amazon are something you should consider buying. They fit you perfectly without being too tight and uncomfortable. Made out of fabric that is elastic, these black jeans can be paired with fun halter-neck tops or a tube top. It will definitely glam up your outfit. Investing in these black jeans is something you'd not regret.
Description
Made of high-quality soft cotton and spandex blend, these black jeans are stretchy and porous making them breathable. They custom-fit your body shape well enough to help you flaunt it. They are mid-waist styled and can be easily dressed with just about anything, so let your creativity go wild. You can pair these black jeans with fun tank tops and crop tops.
Description
If you're a punk rock kinda girl or love pairing your outfit with boots and a leather jacket, then this one's for you. You can wear these black distressed jeans with just about anything and it is sure to give you the X factor! High waist, ripped at knee and thigh and skinny fit, enough said. Over halter-neck tops or floral blouses, these black ripped jeans will look just amazing.
Description
These Wax jeans are something you should really think of buying. They offer you an incredible figure and hug your legs to make you look tall and slim. Made out of fabric that is so soft and stretchy, these black jeans from Wax are a great pair. You can wear them with a fun t-shirt and throw on a jacket with some bold sneakers and call it a day.
Description
Do you know how every woman wants the perfect body, with the curves and all? Well, these jeans might just help you get them. Engineered in such a way that they will give you a more toned rear and slim legs look, as they are made with spandex which also ensures utmost comfort and complete support. So no more worrying about your little pot belly or muffin top, these types of black denim jeans have got you covered!
Description
These black jeans from Lee have an easy relaxed fit. Apart from looking smart and poise, they are not too tight and are comfortable to wear over formal shirts or floral blouses. These black jeans from Lee are a great addition to your wardrobe. They are durable and their fabric is soft and stretchy. It is available in all sizes with a mid-rise waist finish.
Description
Chic, classy and sophisticated, these black denim leggings are made with great quality fabric. They might look delicate but are very durable and can be machine washed. Mixed with the style of jeans and comfort of leggings, these jeggings are a total savior. When you wear these, you are bound to feel so comfy that you are sure to fall in love with it. You can notch up your sense of style with these black jeans.
Description
These black jeans from Hybrid & Co. are sure to make you feel confident and fetch you loads of compliments. The very make of these pants lifts and provides support to your rear for a more toned-down look. They are made with the best-in-the-market cotton and spandex blend, which offers stretch and comfort. Whether you are headed off to school or work, these black jeans are here for you.
These are some of the black jeans we've had in store for you. Black jeans can be a real lifesaver on days where you just don't know what to wear. They are versatile, chic, fun and all things exciting. Be sure to have more than just one of these in your closet. Which one of them would you like to try? Let us know in the comments below!