How To Remove Green Color From Your Hair
Easy and effective at-home methods to eliminate greenish tints from your locks.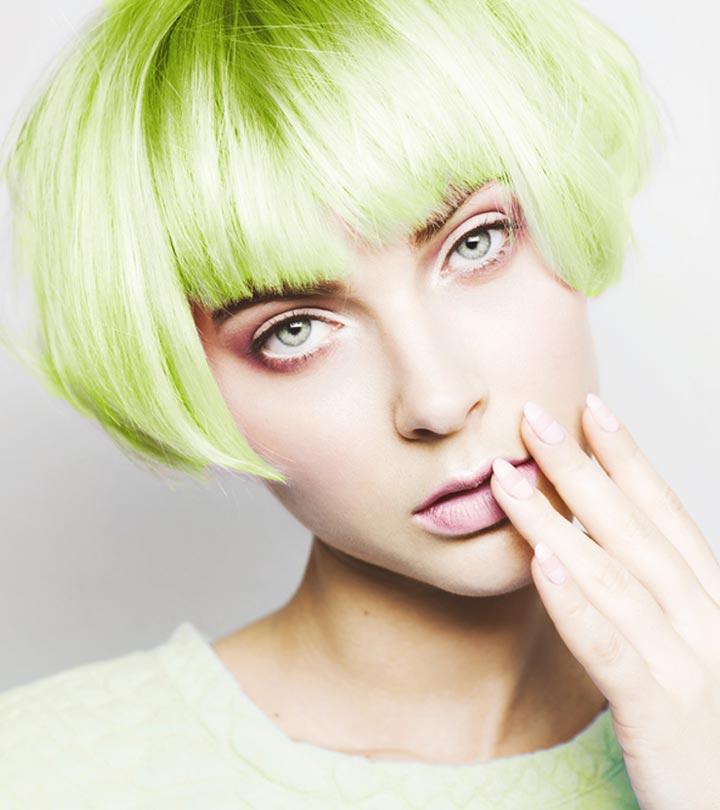 Green hair color adds a unique style statement and gives a vibrant look. However, if you want to change it, you must bleach your hair first. Bleaching green hair and removing the color can be tough if you do not know the process and correct steps. Keep reading this article to understand how to bleach and remove green hair color without damaging your tresses. Scroll down.
How To Bleach Green Hair To Get The Dye Out Of Your Hair?
Bleaching green hair is an effective method that will strip your hair of its current green tint. It is a process that penetrates the hair shaft to lighten your hair color (1). However, bleaching is harsh and can damage your hair. Hydrating and nourishing your hair in the weeks before you go ahead with bleaching is advisable to reduce hair damage.
At other times, you may find your hair turning green after bleaching. This is especially common among swimmers. The hard metals found in water  like copper, iron, and manganese  get oxidized by the chlorine found in pool water. These oxidized metals stick to your hair and turn it green (2).
Your hair can also turn green because of the high copper content in the water you use for washing your hair (2). In such cases, changing your water source is an obvious solution to your problem. You can even try using swimmers' shampoo and conditioner to get the desired results.
Quick Tip
The warm color pigments in red shampoos can remove green hues from your hair. You may also use red toners or glosses.
If you are going to visit a salon to treat your green hair, you may want to know the options available for you. It will help you in making the right decision. So read on for clarity!
Methods Used In Salons To Change Green Hair
Bleaching: Professional hair colorists say that green is the toughest color to treat. They may suggest bleaching your green hair if you want to go back to more natural hair color. Bleaching is a process that removes the pigment from your hair and lightens your hair by up to 6 shades.
It involves the use of ammonia or another alkaline substance to swell up your hair shafts and open the cuticles. The chemicals used in bleaching have a strong pH of 10, while your hair has a pH of 5 (3). Due to this, bleaching is harsh and can damage your hair. Your hairstylist may suggest a few ways to reduce the harmful effects of bleaching.
Chelating Treatment: Chelating treatment is another possibility that the stylist may suggest for your bleached hair that has turned green. It is a process that demineralizes the hair, removes any product build-up, and removes the green tinge that develops due to hard water.
Of course, you can always go ahead with the option of continuing your streak of adventurous colors and use another permanent hair dye of your preference.
If you choose to go with the option of using another permanent dye over your current green hair, you may be wondering which color will work best. Let us see what your options are in the next section!
What Color Can You Dye Over Green Hair?
If you decide to dye your green hair yourself, an understanding of the color wheel will get you the result you are looking for. In the color wheel, green and red are on the opposite sides of the spectrum. Due to this reason, you can apply a red dye to cancel the effects of green. Other pigments of red, like pink or purple, will also work well. A blue dye over your green color will give you a dark teal kind of a shade.
Quick Tip
Hair colors like midnight blue, ginger, lavender, mahogany, ash brown, copper, electric blue, and maroon can cover up green hair.
If you want to avoid visiting a salon to remove your green hair, you have a few options. Let us look at them in detail.
Ways To Remove Green Color By Yourself
The right tips and tricks will depend on whether you used a semi-permanent or a permanent dye to color over your green hair. In the former case, you can use another semi-permanent dye to change the color of your hair. It will give you satisfactory results.
However, if you had used a permanent dye, opting for warmer tones will be a better choice. Also, you will need to fade your green color before coloring it in a different shade. Here are a few options to achieve it.
1. Clarifying Caps
It is a method where you will have to soak your green hair in a clarifying shampoo and wear a shower cap over it. Warm the cap with a dryer for the best results. Clarifying shampoos, by design, remove the polymer film that gets formed on the hair shaft as a result of the dyeing process (4).
Clarifying shampoos or deep cleaning shampoos can help in gradually fading the green color. However, they may also damage the quality of your hair. It is advisable to use an oil soak before this treatment to maintain the quality of your hair.
2. Anti-Dandruff Shampoo And Baking Soda
Anti-dandruff shampoos contain selenium sulfide, which can lead to discoloration of hair (5). Thus, it may help remove green dye from your hair. However, it may cause your hair to dry out. For best results, use the treatment once a week while also following a stringent hair care routine to bleach green hair.
3. Baking Soda And Hydrogen Peroxide
Hydrogen peroxide is an excellent bleaching agent for your hair. To make this mixture, mix 2 teaspoons of baking soda and 1/2 teaspoon of hydrogen peroxide with water to make a paste. Apply this paste to your hair and leave it on for 30 minutes before washing hair.
Hydrogen peroxide can lift the cuticle scales of your hair strands to fade the green color. But, as a result, it may also cause your hair cuticles to become irregular and cause dryness of hair (6).
When you want to eliminate green dye from your hair by yourself, you need to take care of a few aspects that are mentioned below:
Using home remedies to bleach green hair color is a gradual process and may take a couple of sessions. It is recommended to use moisturizing hair packs to nourish your hair between these sessions. Do not try to accelerate the process by using these treatments too frequently, or you may end up damaging your hair.
Always test a permanent hair dye on a couple of strands to avoid any surprises. Some people are allergic to hair dyes, and using them without patch testing is not recommended.
Infographic: 3 Ways To Strip Your Green Hair Color At Home
Whether you got bored with green hair or would like to experiment with a new color or you just miss your original hair color, whatever the reason may be! If you are desperate to get rid of the green hue in your hair and want to cut your trips to the salon as well, then we are there to help you. Although removing unwanted hair color at home can be challenging, worry not, we will guide you through the process and make it a breeze. Ahead, we list out three different ways to remove artificial green color. Go, check the infographic below to learn more.


Bleaching green hair may be tricky, but it is possible. You can not only transition to your desired hair color but also reduce hair damage if you have the appropriate knowledge and ingredients. You can have it professionally bleached at a salon or do it in the comfort of your home by using simple remedies such as anti-dandruff shampoo, clarifying caps, or baking soda with hydrogen peroxide to strip away the green dye. Make sure you prevent your hair from getting damaged or drying out by replenishing it with lots of moisturizing and nourishing products between bleaching sessions.
Frequently Asked Questions
How long does it take for green hair to fade?
Green hair may begin to fade after 4 to 5 days. However, with the right products, you may increase its longevity.
Does Aspirin get the green out of hair?
Yes, the acids in Aspirin may help reduce the green tint of green from hair.
Does apple cider vinegar take the green out of hair?
Yes, apple cider vinegar can remove the green from hair. The vinegar in it can eliminate the impurities from the strands, reducing the green tint.
Key Takeaways
Bleaching removes the pigment and helps lighten the hair color by 6 shades.
Chelating treatment is another way to change green hair. It helps demineralize the hair and remove product build-up and the green tinge.
You can use clarifying caps, anti-dandruff shampoo, baking soda, or hydrogen peroxide to remove the green color by yourself.
References:
Articles on StyleCraze are backed by verified information from peer-reviewed and academic research papers, reputed organizations, research institutions, and medical associations to ensure accuracy and relevance. Read our editorial policy to learn more.
The following two tabs change content below.