How To Bleach Gray Hair The Right Way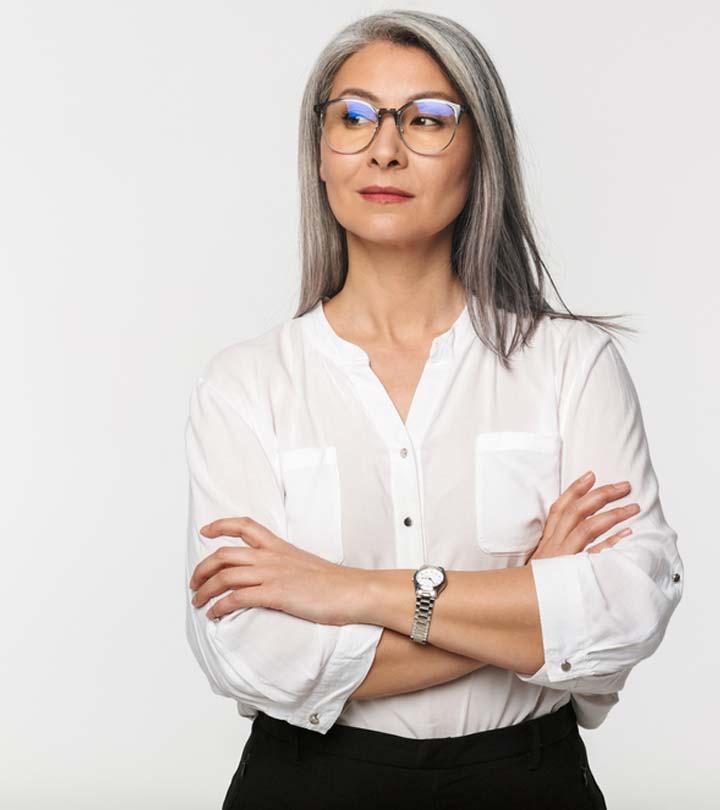 Your hair turns gray when melanin gets depleted in the hair follicles due to aging (1). Vitamin B12 deficiency, thyroid disease, vitiligo, and alopecia areata also accelerate the graying process (2). To camouflage the grays, we often resort to dyeing our hair. But following this practice for a lifetime might be unsustainable. It gets harder to cover gray hair at the roots, especially when it grows out. To solve this problem, you can try bleaching. Keep scrolling to explore the best way of bleaching gray hair at home.
Can You Bleach Gray Hair?
Yes. Bleaching gray hair can help remove the existing dye in your hair. It is especially recommended if the shade of your dye is darker than your natural hair color.
Otherwise, you can gradually shift from using a dark-colored dye to a lighter shade that blends well with your gray hair. For example, gray hair can be colored platinum blonde or brown, based on the natural color of your hair.
Curious to know how bleaching works on your gray hair? Check out the next section for the answer.
What Happens When You Put Bleach On Gray Hair?
Bleaching gray areas of your hair will not show any visible difference. However, the bleaching mix helps lighten the hair that is still dark. This imparts a uniform blonde or white look to your hair, based on how long you leave the bleach mix. If you dye your gray hair, shift to a lighter shade before bleaching.
Now that you know the effects of bleaching gray hair, let's go about the process.
Bleaching Gray Hair The Right Way
You Will Need
Bleach powder (1 part)
Developer (2 parts)
Gloves
Old t-shirt
Applicator brush
Shower cap
Keep the items mentioned above ready before you start bleaching your hair at home.
The Process
Step 1: Prepare the bleach mix with the bleach powder and developer. Pick the ideal volume of the developer as per your needs. Follow the instructions carefully as mentioned on the product packaging. You can also add coconut oil to this mixture to neutralize the drying effect of the bleach.
Step 2: Wear the gloves and part your hair into four sections.
Step 3: Apply the bleach mix to your hair using the applicator brush. Make sure to coat each section of your hair evenly.
Step 4: Cover your head with the shower cap. This helps retain heat so that the bleach can lighten your hair color effectively.
Step 5: Leave the bleach mix on your hair for 15 to 20 minutes.
Step 6: Rinse your hair with a mild shampoo and conditioner.
Note: Do a patch test on a small hair section from the back of your head. Wait for at least 24 hours to observe for any allergic reaction before the bleaching process.
Can You Bleach Gray Hair To White?
Yes. If you leave the bleach on your gray hair for a long time, it might turn white. However, there is no guarantee for this, and the results might not always be effective.
Also, keeping the bleach on your hair for an unnecessarily long time will cause dryness and brittleness. Instead, you can use a purple toning shampoo to make your gray hair appear whiter.
In Summary
Bleaching gray hair is an easier way to maintain it once aging sets in. Make sure to moisturize the hair before and after the process to keep it healthy and strong. Use a nourishing hair mask once a week that keeps the hair soft and reverses the damage. Also, wait for at least 15 days between your bleaching cycles.
Recommended Articles
Sources
The following two tabs change content below.