30 Latest Patch Work Blouse Neck Designs
Our undying love for sarees is at an all-time high because of (let's be honest) – the blouse. With the kind of designs that are available right now, it can be overwhelming to choose a particular one. I get confused every time I have an event to attend and need to have a blouse stitched. So, to make it easier for you, I decided to write about one of my favorite patterns –the patch work. There's so much that you can do with this technique and never get enough of. Scroll through to get some ideas!
30 Latest Patch Work Blouse Back and Front Neck Designs:
15 Patch Work Blouse Back Neck Designs
1. Checkered Patch Work Blouse For Pattu Sarees
Checkered sarees and blouses are back, except this time around opt for either a checkered saree or a checkered blouse. Try this checkered blouse that has an eclectic patch work detailing with a strip for the back. It adds a modern touch to your traditional pattu saree and also goes with the other sarees in your wardrobe.
2. Tulle Blouse With Maggam Work With Sheer Patch Work Design
Ditch your regular high neck blouse for this tulle-sheer back blouse design. You can add the sheerpatch to your silk blouses. The sheer-tulle patch can either be plain or have maggam work on it.
3. Bead Patch Work Back Neck Design For Plain Or Lace Sarees
This patch work back neck design with beads/pearls is another great option for your plain or lace blouses. Since plain or lace sarees are subtle, designs like these lift up your look while keeping it balanced yet stylish.
4. Back Patch Work Neck Design With A Bow
Bows add oomph to your blouse and outfit instantly. The best part about these bow-designs is that they are make-do patchwork attachment and not the regular tie-able ones. You could go with a contrast color just for the bow or follow the pattern of the rest of the body.
5. Floral Patch Work Design With Dori
Black blouses are a staple in our closets, one – because they go with any saree, and two – because they can never get outdated. So, might as well spruce up your deep pot neck back with simple floral patch work design. And, the dori is totally fitting.
6. Floral Blouse With Sheer High Neck For Plain Chiffon Sarees
If you are on Pinterest, chances are that you have already stumbled upon this one or something on similar lines. Chiffon sarees are convenient, easy to carry off and can work both as party wear or everyday wear, depending on the blouse. Again, since florals are everywhere, try this floral deep neck blouse that has been transformed into a high neck blouse with the sheer patch work and buttoned detailing.
7. Half And Half Patch Work Back Neck With Kundan Embroidery
Kundan embroidery is one way to keep your embroidery elegant without getting over the top. This half and half contrast patch work blouse is another design that is making the rounds. It goes perfectly with your plain pattu or sarees. Or, even your party wear sarees.
8. Raw Silk And Kutch Work Blouse
Kutch work blouses took their time to became popular, and then,were suddenly seen everywhere. Women started wearing kutch work blouses with all kinds of sarees. And, here's an interesting combination of raw silk and kutch fabric that has made this a unique looking blouse.
9. Deep Pot Neck Blouse With Piping Patch Work
Who says you cannot elevate your blouses with simple piping patch work? With just a piece of contrast piping for sleeves, neck, and back, this blouse has been made into a head turner.
10. Sleeveless Blouse In Net Fabric With Thread And Pearl Patch Work
There's so much detail going on with this blouse, and all of that is dealt with great finesse. Powder color sheer net sarees with blouses like these are nothing but love.
11. Deep Square Neck Blouse With Tassels
Blouses need to have deep backs– period. And, what makes this blouse so exciting is the huge tassel. Tassels have taken over the ethnic clothing sector right now. This just proves that there's nothing a simple contrast patch work blouse with tassels cannot do.
12. Velvet Blouse With Threadwork
Before you judge me, let me tell you that velvet blouse sare back in vogue. Unlike the sloppy looking velvet blouses from the 90s, these now have a face lift. Velvet is now being extensively used as the base for both saree and lehenga tops and decked up with either threadwork or zardozi embroidery. Sabyasachi has used similar patterns in his latest collections as well.
13. Designer Georgette Saree Patch Work Blouse For Wedding Sarees
Georgette sarees will invariably be part of any bride's saree collection. Since you will be part of a lot of events as a bride, both during and after the wedding, try this heavy patchwork blouse for one of your party wear sarees. The intricate threadwork detailing and the Chinese collar combination is rare and stylish.
14. Pigeon Hole Back Neck Design With Zardozi Work
A beautiful teal and red colored silk blouse with high tulle neck and zardozi work sets you apart from the crowd. When we sayzardozi, all we usually think of thick embroidery, but here's a stylish way to break that stereotype. This blouse can be flaunted with multiple colored sarees and fabrics.
15. Aari Patch Work Design For Pattu Sarees
A creation from Sabyasachi's label using the popular aari cut patchwork design. The full black blouse in silk goes with just about any pattusaree or can even be used withyour lehengas, long skirts, etc. You could also pair it with a black or gold plain net saree. Redefining elegance in the truest sense.
15 Patch Work Blouse Front Neck Designs
1. Patch Work Blouse For Pattu And Silk Sarees
One plain pattu or silk saree is enough to get you wedding ready. But, how do you take it to the next level?Pair it with a contrast blouse with patch work zardozi or maggam work like this one. You can either go all out with the embroidery or keep it simple; either way,patch work designs are a great option.
2. Simple Patch Work Design
There are subtle ways of incorporating the patch work technique in your blouses. If simple and elegant defines your style, then here's an exciting blouse design. Just like old times, go fora regular, 3/4th sleeve length blouse with gold border strips.
3. High Neck Blouse With Tulle Patch Work Design
Make your half and half tulle saree even more fun with this high neck blouse. Plain color for the body of the blouse, with contrast tulle embroidered sleeves. A head-turner!
4. Cape Style Patch Work Front Neck Design
Capes are everywhere – from wedding gowns to one piece dresses, lehengas, and blouses, it is being incorporated in every single thing. If you like to try unique blouse designs, then this is something you must try. It is absolutely stylish, ravishing, and sophisticated.
5. Velvet Patch Work Blouse By Manish Malhotra
Manish Malhotra's label is a benchmark for most of us, and not something all of us can afford. So, the least we can do is take inspiration from his collections and replicate it to the best of our ability. Here's one blouse I absolutely loved from the minute I laid my eyes upon it. This burgundy blouse with heavy kundan patch work is something we all need in our closets.
[ Read: 20 Best Outfits From Manish Malhotra's Bridal Collection ]
6. Sleeveless Highneck Blouse With Glass Patch Work
Dhoti sarees have taken over the saree world, and I could not have been more grateful that the fashion gods heard us. And, this particular design has been making rounds ever since. You remember Nargis Fakhri wearing it? The glass patch work blouse with either a boat or a high neck will rock your dhoti saree look.
7. Cotton Printed Patch Work Blouse
You don't need applique work or embroidery to get a designer blouse stitched. With the revival of handloom and cotton sarees, you can get a combination of ikat, baltic, or any two prints to get a regular 3/4th sleeve blouse made and incorporate the patch work technique.
8. Jewelry Patch Work Blouse
Yes, you heard it right, these designs are the next big thing in the ethnic clothing line. With the rise of big earrings and hair buns, all you need is a jewelry patch work style blouse to complete the look. Like the name goes, you do not need other neckpieces –well, the blouse takes care of it.
9. Warrior Style Blouse With Mirror Patch Work
With a warrior style blouse like this, you just can't go wrong. This is real power dressing. Keep the saree, accessories, and makeup simple to let the blouse stand out.
10. Full Sleeves Sheer Blouse With Maggam Work
Two things in one, that's what this blouse is. You could pair it with a heavy lehenga skirt or a plain saree, depending on the occasion. The maggam work on the bodice and sleeves makes the sweetheart neckline pop out. The blouse is such a show-stopper that you hardly need any accessories.
11. Sleeves Blouse With Heavy Moti Work
Nothing can be more elegant and classy than this ensemble. A pastel colored saree with pearl work, combined with this heavily ornate blouse with pearl cut work will get heads to turn wherever you go.
12. White Blouse With Sweetheart Neckline And Pearl Patch Work
A white blouse with intricate pearl and silver wire detailing, anda sheer sweetheart neckline – so dreamy. The plain high boat neck highlights the embroidery of the bodice.
13. Simple Black Chiffon Blouse With Puff/Flap Sleeves Patch Work
It cannot get any more simple, elegant, and universal than this blouse. A halter-high neck design for the bodice with an illusion neckline in chiffon fabric makes for an interesting option for your plain colored blouses.
14. Heavy Stonework Blouse For Wedding Sarees
Red chili colored sarees with heavy stone embellishments scream weddings. Take a plain blouse and fill it up with stonework, and you have yourself a classic wedding blouse.
15. Boat Neck Style Blouse With Golden Patch Work
The first word that comes to my mind when I look at this blouse is 'royal.' I love how an off-white blouse in raw silk decked up with golden thread and chip work embroidery can look so elegant. And the patches on the tulle sleeves marry it all perfectly. It will go perfectly with a lehenga or party wear sarees.
Our list of latest patch work blouse designs ends here. There are too many to choose from, I know! But, just pin them somewhere, and they will come in handy for you, friends, and family. Which one is your favorite? Let us know by dropping in a text in the comment section below.
Recommended Articles
The following two tabs change content below.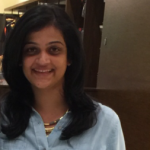 Latest posts by Pratima Ati (see all)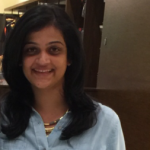 Pratima Ati
After working in Marketing and Business Development for a few years, Pratima Ati jumped ship to pursue two things she loved – fashion and writing. She's now a full-time Fashion & Lifestyle writer and has never looked back ever since. She sleeps early, reads often, and when she can't, she finally gives a closure to all the characters living in her drafts. Sometimes, they pass off as poetry too! That, and her training in Indian classical music and playing (learning) the veena keep her sane, civil, and bearable.