What Is Blowout Hair And How To Do It At Home?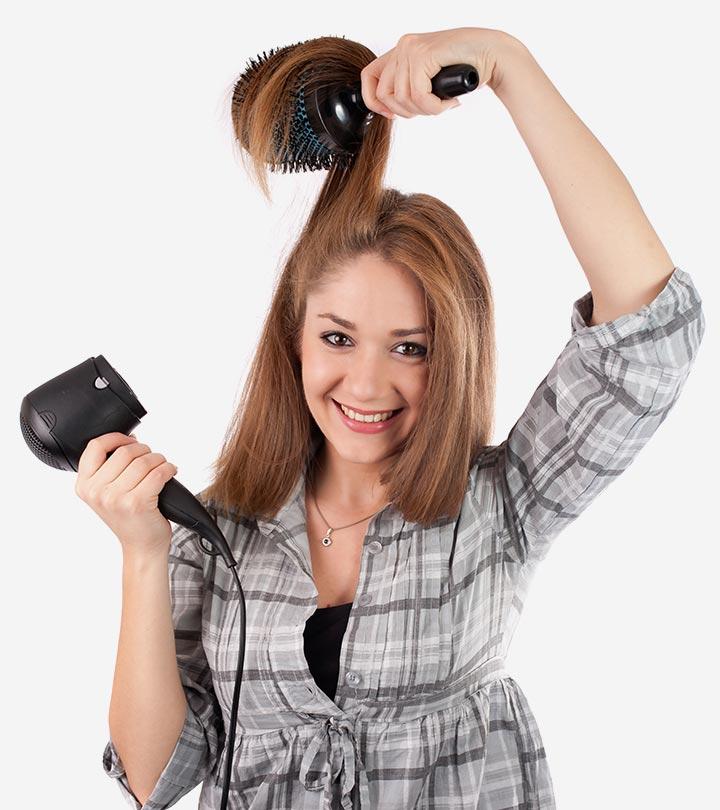 Getting a salon-like hair blowout at home may seem difficult initially, but you will eventually master the art with more practice and frequent application. So, why a blowout? It is the simplest way of styling your hair and making it bouncy and fuller. All you need is a blow dryer and a round brush.
Firstly, you need to pay attention to the nuances involved — tugging, rolling, and other arm-actions. Do not get discouraged if you are finding the process a bit difficult. Fortunately, there are a few tricks to help you with. In this article, we will learn how to do a blowout, manage it to last long, and many more. Keep reading.
What Does Blowout Hair Mean?
A blowout is simply the act of washing, blow -drying, and styling your hair to make it smooth, voluminous, glossy, and sleek without using straighteners or other heat styling tools.  It is the easiest way to say goodbye to bad hair days and zen out as you no longer need to worry about frizz and flyaways.
Here are some more perks of getting a routine blowout.
The Perks Of Getting A Blowout
Blowouts are ideal for those who want a quick hair makeover minus any extreme styling and permanent hair treatments. The benefits of a hair blowout go beyond the result. Here is a list:
1. Time Management Becomes Easy
Because you will be no longer spending too much time styling your hair! When appropriately maintained, a good blowout may last for 4-5 days. So, no more ponytail days when you are running out of time.
2. That Enviable Volume
The perfect blowout makes every day a good hair day. The heat and brush movement does the trick and lifts the hair to give a lion's mane-like volume to flat and limp hair.
3. No Frequent Washing
After getting a blowout, you do not need to shampoo for at least 2-3 days. The right products will help hold your style during the no-poo days.
4. No More Frizz
After a blowout, you will notice that the strands have become much smoother. It is because blowout helps the cuticles sit flat, minimizing breakage and giving you smooth hair.
Blowouts can make your life easier in so many ways. But can they damage your tresses? Find out in the next section.
Can A Blowout Damage Your Hair?
Anything in excess can be damaging to the hair. The same goes for blowouts too. Blowouts are great for your hair. However, if you do them more than once a week, it can dry out the hair.
Although blow dryers are less damaging to your hair, you have to use the dryer on a high heat setting when doing a blowout. Moreover, it also involves tugging and rolling the hair quickly. If you do this regularly, a blowout can damage the strands and cause breakage.
However, weekly blowouts are fine. In the next section, we have explained what to expect during a blowout session at the salon.
The Ins And Outs Of A Hair Blowout
Step 1: Shampoo Time!
The hairstylist will wash your hair with a shampoo that suits your hair type.
Step 2: A Hydrating Conditioner For An Extra Dose Of Shine
The stylist will apply a hydrating conditioner to detangle your hair and protect it from the heat. The hair is washed with cold water to seal your cuticles and give your mane a natural sheen. A few salons can also suggest a few treatment upgrades to tackle dryness, brittle hair, and frizz.
Step 3: The Stylist Will Blow Dry Your Hair
The stylist will first dry your hair using a blow dryer. Once the hair is dry, they will section your hair and wrap it around a round brush, and blowout on high heat setting. They will wrap the hair section, apply heat on it, and slowly pull the brush to unwrap it. The techniques may change depending on what style (curls, waves, or straight) you want.
Step 4: Wrapping Up With A Killer Hair Styling Technique
Your hairstylist will add the finishing touches to your hair with a flat or curling iron, depending on the final look you want.
Voilà! You have smooth, voluminous, and bouncy hair in no time!
You don't need to rush to the salon every time you want a blowout. You can easily do a one at home. We have outlined the steps below.
How To Blow Out Your Hair: A DIY Method
Wash your hair with a sulfate-free shampoo. If you have oily hair, use warm water. But for dry hair, always wash your hair with room temperature water.
After shampooing, flip your hair down and apply a frizz-control serum. Distribute the product evenly with a boar bristle brush or a wide-toothed comb.
Set your blow dryer to a medium heat setting and divide the hair on the back of your head into 2-4-inch sections.
Wrap the hair around a round brush and start blow drying. Hold the dryer closer to the hair.
Roll and unwrap the hair as you blow dry it. As you reach the ends, roll the brush through your hair up to the scalp, pointing the dryer towards the hair brush.
Once your back hair is dry, roll your hair up and clip it. However, leave a small section at the end for an extra bouncy look.
For the front hair section, wrap it around the brush. Roll your brush as you dry like you did in the previous steps.
Take the clips out and run your fingers through the hair to loosen the curls. Finish off with a serum of your choice.
Additional Tip: Wrap the hair section away from your face and blow dry to create a flip hairstyle. You can do this to the hair ends to flip them out.
Now that you know how to DIY a blowout hairstyle at home, what can you do to make this sleek, salon-like hairdo last longer? We have a few surefire tips below!
How Long Does A Blowout Last?
Depending on your hair texture and thickness, a hair blowout retains its form for anywhere between 3 to 5 days.
Remember that your hair adapts to the shape and style with every blowout session, allowing it to last longer every time. Plus, you need to follow proper hair care practices and use appropriate products to extend your blowout hairstyle between sessions. Here are a few expert tips to keep in mind:
Top 9 Practices To Maintain A Blowout
Do not use any hair products on the day of the blowout. You can use only an anti-humidity spray if you live in a humid place.
Use a hydrating shine spray to add shine to your hair after a few days.
Tie your hair in a loose bun/ponytail when sleeping at night.
Avoid fiddling with your hair too much.
If you have oily roots, you can use an expert-recommended dry shampoo.
Be sure not to wet your hair. As a thumb rule, use a sweat absorbing headband while working out and a shower cap when showering.
To revive your blowout, blow dry your hair again as you did on the first day of the blowout treatment.
To moisturize your blowout, use a leave-in conditioner that contains wheat germ extract, cetrimonium bromide, or cetrimonium chloride.
Follow these tips to keep your blowout hairstyle in place and give the roots and strands some extra nourishment.
Blowout hair is the simple art of washing and blows drying your hair to make it look bouncy and smooth without using heat styling tools. Blowouts do not require frequent washing, reduce frizz, and provide voluminous hair in a short amount of time. However, doing a blowout more than once a week can cause damage and hair loss. Instead, follow easy tips such as using sulfate-free shampoo and blow-drying your hair at medium heat to get a smooth and sleek look. Also, avoid touching your hair too often and moisturize your hair to keep it hydrated and healthy.
Frequently Asked Questions
When is the best time to get a blowout?
You can get a blowout whenever you want, provided your hair is not too dry or brittle.
Should I wash my hair before getting a blowout?
Yes, you can. Blowouts work best on clean hair.
How to sleep after a blowout?
Tie your hair in a loose bun, wrap your hair with a silk cap, or sleep on a satin pillowcase to ensure that the blowout retains its shape.
Can I get a blowout with extensions?
Yes, you can get a blowout treatment with hair extensions. However, most salons charge extra, so make sure to ask them the prices.
Key Takeaways
A blowout is an act of washing, blow-drying, and styling the hair to make it smooth, voluminous, and glossy without using heat-styling tools.
Depending on hair texture and thickness, a hair blowout retains its form between 3 to 5 days.
Moisturize your blowout using a leave-in conditioner that contains wheat germ extract, cetrimonium bromide, or cetrimonium chloride.
The following two tabs change content below.