15 Stunning Dragonfly Tattoo Designs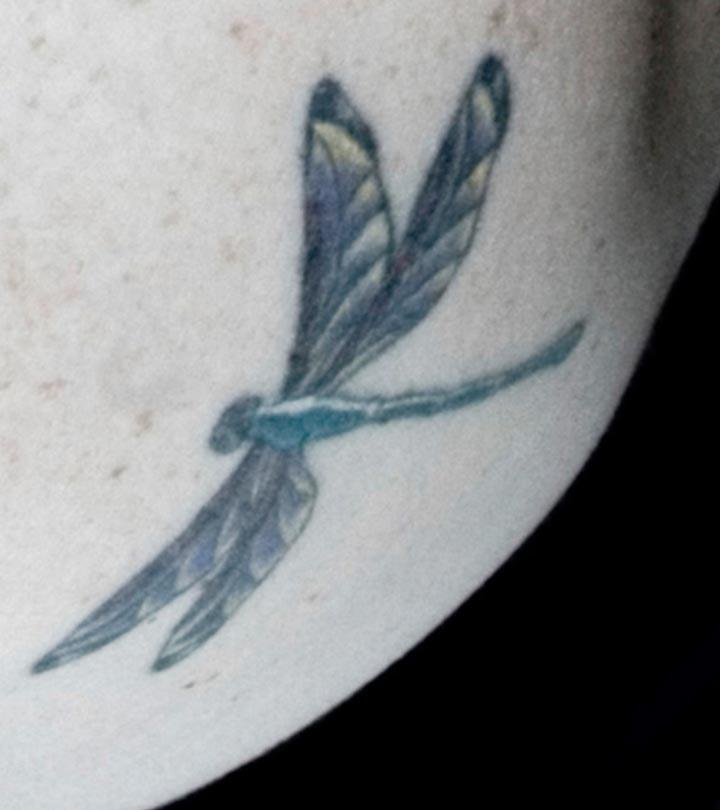 Dragonfly tattoos have something mystical about them. They have a fairy tale quality that can be quite beautiful in offering an interesting blend of appeal to any tattoo. The dragon fly is symbolic for change and being okay with it. Unlike a fairy, dragonfly tattoos are not categorically feminine, and have an universal appeal.
It's just a matter of choosing the right one for you. Here I am listing the top fifteen dragonfly tattoos!
The Best Dragonfly Tattoo Designs
1. Blue Dragonfly Tattoo:
I would like to start the list with this blue comic dragonfly. Nothing can beat this cute dragon fly, right? The clever usage of blue and orange colors has a lovely contrast here.
2. Simple Dragonfly Tattoo:
This tattoo looks simple yet still has a poetic edge to it. The red dragonfly wandering between the green leaves makes it a very pretty sight. The blue flowers add the extra beauty to the tattoo.
[Read:Musical Tattoo Designs]
3. Colorful Dragonfly Tattoo:
This tattoo shows a bunch of flowers around dragonfly and a butterfly. The pink and purple flowers make them look so cute! The dragonfly has a hint of blue in it matching the flowers.
4. Abstract Dragonfly Tattoo:
This is one of the most popular tattoo designs among women. It is simple, serene yet so powerful. I love how the tail is longer than the usual, adding a vey whimsical touch to it.
5. Whimsical Dragonfly Tattoo:
Another whimsical design, this dragonfly has more of a fluid nature. It has an abstract pattern with proper outlining and doesn't seem like the regular ones.
[Read:Gypsy Tattoo Designs]
6. Toe Dragonfly Tattoo:
This is also one of the most popular designs among dragonfly tattoos. I like this little tattoo on the toe finger. This looks very petite and at the same time looks elegant as well.
7. Green Dragonfly Tattoo:
Now say hello to three dimensional tattoos will you? This dragon fly shows some real characters, with the amazing hues, the combination of shades, shadows and more.
8. Fairy Dragonfly Tattoo:
This is a fairy dragonfly. It has an air of mystery around it and that makes it very classy. If I ever get a tattoo based on this theme, I'll probably opt for this one for sure.
[Read:Small Tattoo Designs]
9. Swarm of Dragonflies Tattoo:
While one dragonfly is fun, beautiful and mysterious, multiple dragonflies make your tattoo all the more interesting! Will you get this kind inked on your back?
10. Flower and Dragonfly Tattoo:
Now let's combine the flowers and the fly for a lovely finish. The purple dragonfly on your arm oozes the beauty and feminism of a lady!
11. Dragonfly with Quote Tattoo:
This is a much customized tattoo with the words adding the beauty to the tattoo. The dragon fly looks simple and easy, the line makes it special. May be a couple can get this inked to show their love for each other.
12. Simple Dragonfly Tattoo:
This simple tattoo on the arm looks pretty with bright flowers. This tattoo is for those who don't care a damn about the world. It's your way or there is no way, right? If yes, go get this inked now!
13. Simple Fairy Dragonfly Tattoo:
This one has few simple colors yet still remains effective. The wings are lighter making the flight easier. This gives fairy tale feeling to this dragonfly tattoo, so cute and feminine.
14. Detailed Dragonfly Tattoo:
This dragonfly is a very elegant one. The usage of colors and the detailing in this tattoo make it beautiful and interesting.
15. Dragonfly Tattoo for the Foot:
This is probably the simplest one out there, look how the lines hardly meet and still make a statement! The placement of the tattoo makes a very important impact on the beauty.
These are my top favorites. Which one is your favorite? Shoot a comment below!
The following two tabs change content below.