22 Envious Blunt Bangs Hairstyles
These amazing and edgy blunt bang styles will surely convince you to get a short chop.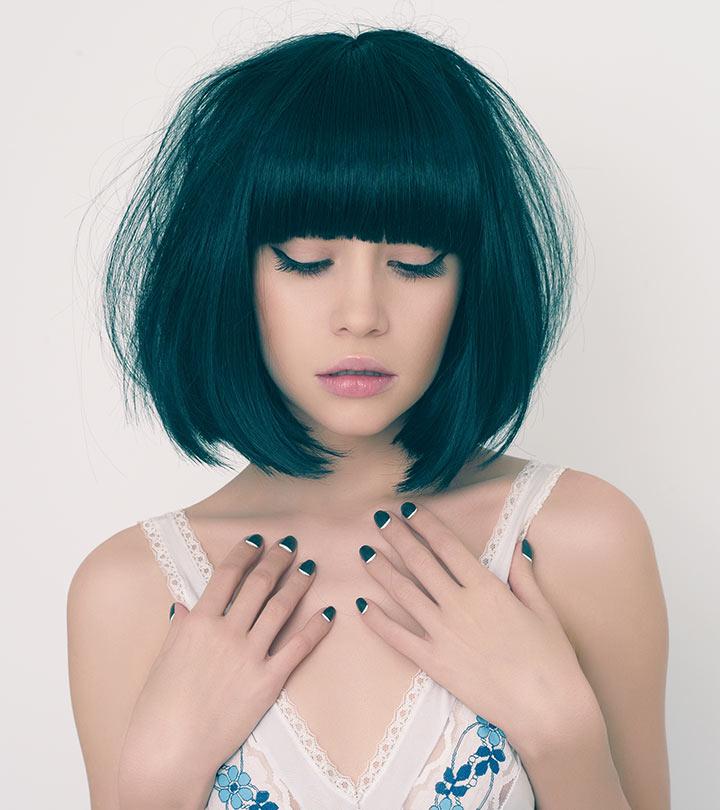 Blunt bangs are a chic and modern fringe style. Your bangs are cut straight across without any feathering. Keep reading to explore the many blunt bangs hairstyles, so you know what you want on your next trip to the salon.
Blunt bangs have been around for decades, but let's clear a common misconception. Remember that illustration of Cleopatra wearing a serpent crown and flaunting blunts bangs with a blunt bob? That is inaccurate because, historically, blunt bangs were not around until a few centuries after Cleopatra's reign. These bangs shot to fame during the 1920s. Women were breaking free of the stereotypes and sporting short dresses and shorter hair. Blunt bangs are a staple in many flapper hairdos. They were hidden from the spotlight for a few years, but thanks to Zooey Deschanel, they are back!
Now they are all the rage thanks to the classic anime look, not to mention the badass femme fatale feel! So, scroll down and have a gander at how you can pair blunt bangs with different hairstyles to make them look fierce.
What You Need To Know Before You Get Blunt Bangs
Blunt bangs look great when coupled with any hairstyle. They look especially great with high top knots and low slick ponytails.
Blunt bangs are a bit high maintenance. You need to take out time to style them every day. If you are a perfectionist, this means getting the blow dryer and round brush out and sitting in front of the mirror for a good 10 minutes to make sure every strand is in place.
Blunt bangs generally make women look younger. No kidding! Check out this article to see for yourself!
Blunt bangs require regular trims. They are usually cut across the eyes or a little above your eyebrows. When they grow longer, not only does it ruin the style, but you also constantly have hair in your eyes.
Thick hair means extra hot summers. Having blunt bangs in summer can make your forehead super sweaty. On the bright side, you can pin up the bangs to create a nice pouf.
They make your hair look thicker.
If your hair gets greasy quickly, it'll show on your bangs first.
If you have a large forehead, blunt bangs are a great way to cover it up and balance your face shape.

Quick Tip
Long blunt bangs are not meant for people with wide, round faces. They over-accentuate the wide cheekbones. Those with wide facial features can try wispy fringes or side-swept bangs instead.
Now you know what it takes to get blunt bangs and up your game? Great! I know that some of you love to cut your own hair, so here's one way you can cut your blunt bangs.
How To Cut Your Own Blunt Bangs
What You Need
Comb
Hair cutting scissors
Elastic band
How To Do
Section off the hair in the front in a triangle. This triangular section of hair will be cut to create your blunt bangs.
Tie up the rest of your hair with an elastic band to keep it out of the way.
Comb the triangular section of hair to remove any knots and tangles.
Hold the section of hair with your right hand. Twist the section of hair and hold it straight across between the index and middle fingers of your left hand.
Cut your hair straight across below your fingers.
Comb and hold your bangs in a similar fashion as before.
This time, keep the scissors pointed up and cut the ends of the bangs. This will add a nice feathered touch to them.
Now that you know how to cut your own blunt bangs, check out these 22 styles to give you the hair inspiration you need!
22 Envious Blunt Bang Styles
1. Wispy Wavy Blunt Bangs
Tired of looking at dull, straight cut blunt bangs? Time to add a little life to them and revamp the whole look. Wispy bangs with a blunt wave are a great way to partially hide the forehead without overpowering the style. A soft minimalist hairdo you can sport on all occasions and exude your girl-next-door charm confidently!
2. Platinum Wavy Blunt Bangs
While blunt bangs in itself is a bold move, try dyeing your hair into a stunning platinum shade that will take the complete look to the next level. Blunt bangs, a shaggy haircut, and platinum hue, it can't get any better than this. A modish hairstyle you can definitely wow everyone with and perhaps grab the attention of that special someone too!
3. Classic Blunt Bangs
Classic blunt bangs are bangs that are cut across at the eyebrows. When you cut these bangs, stretch your hair out and cut it at the level of your eyes. This way, the bangs move a little higher when they are relaxed. Use a straightener and comb to style them to perfection. You can pair these bangs with a high ponytail or top knot, and you've got yourself a dazzler!
4. Blunt Bangs With Layered Sides
This is one the most popular hairstyles sported by anime characters. It has created a craze that just won't die down. It is a classic hairstyle with an edgy twist. After you've cut your blunt bangs, take a little hair from either side. Holding your scissors diagonally up in front of your face, cut one side of hair. Repeat the same on the other side. Brush your bangs with a round brush and neatly arrange the front with a thin comb.
5. Fine Blunt Bangs
Blunt bangs are usually thick, but that shouldn't stop women with fine hair from getting them. Blunt bangs have many face-framing qualities. Most importantly, they cover a large forehead. Large foreheads can make your face look big. Try this fine blunt fringe. It covers your forehead partially. Another plus point of these bangs is that they bring a horizontal focus to your face. This means that rather than noticing your face shape, people will be focusing on your cheekbones, eyes, and mouth. Simply brush your bangs down to blend them with your hair naturally.
6. Curved Blunt Bangs
Notice how flawlessly curved these bangs are at the eyebrows. That kind of perfection comes from professional experience and months of practice. It's the sign of a great hairstylist. Also, the disassociated long bangs on either side of the blunt bangs dial this hairstyle up to a hundred. These bangs are ideal for that let's-get-down-to-business look.
7. Tilted Blunt Bangs
Some of us like our hair titled a certain way. For instance, I tend to comb my hair towards the left. When I did some research on this, I found out something interesting. Did you know that brushing your bangs a certain side can balance out asymmetric features? So, if you feel your facial features are slightly unbalanced, try tilted blunt bangs to balance them out.
8. Statement Blunt Bangs
These statement blunt bangs require not only a particular face shape but also oodles of attitude. These bangs cover a large forehead without completely concealing it. They look brilliant on oval faces. Ask your hairstylist cut the bangs a little longer and then keep trimming them until you're satisfied with the length.
9. Bold Blunt Bangs
The hair on the sides, right where the bangs end, are shaved off. This accentuates the bangs more. If you have a long face, you can pull this look off really well. But, even if you don't, don't cross this one out just yet. Your personality is all you need to pull off these bangs. Talk to your hairstylist and see if there's a version of these bangs that will suit your face shape.
10. Full Blunt Bangs
Thick hair is meant to be flaunted, and there's no better way to flaunt it than with thick bangs. Hear me out! If you have thick hair, blunt bangs not only look incredible but also make your hair look even thicker than it is. Don't these full bangs look so lush? I love its brunette dimension color blend. Stunning!
11. Feathered Blunt Bangs
If you have a small but wide forehead, thick blunt bangs might not be a good option. Opt for these slightly feathered bangs instead. They are thick at the top and gradually feather out towards the end. They draw all the attention to your eyes and cheekbones. These bobs with bangs go really well with layered haircuts.
12. Simple Blunt Bangs
If a simple U-cut is your jam, and you're looking for something to change it up a bit, try this simple blunt fringe. It can transform a regular V- or U-cut with no layers. Go for thicker ends instead of choppy bangs. It can really spruce up a simple haircut.
13. U Blunt Bangs
If you're on the hunt for an edgy hair look, go for these bangs. U-cut blunt bangs draw attention to your jawline. This is one of the most sought-after styles of bangs, and it is most often paired with a gradual bob. This is a great way to flaunt those perfectly shaped eyebrows too!
14. Slightly Parted Blunt Bangs
Slighted parted blunt bangs also help balance out the asymmetrical features on your face. They also add a quirky touch to an otherwise simple hairstyle. Try them out to nail that girl-next-door look!
15. Choppy Blunt Bangs
Blunt and choppy bangs seem to be all the rage right now! They are the perfect style for completing the grunge look. Throw on a leather jacket, apply some smokey eye makeup, put on a deep lip color, and get a layered haircut with these choppy blunt bangs. You are the IT girl now!
16. Blunt Baby Bangs
Not everyone can pull off baby bangs because they tend to exaggerate your face shape. If you have a long face, an oval face, a diamond face, or a square face, these bangs will suit you. But, if you have a wide face or a sharp jawline, it's better not to opt for this style.


Quick Tip
If you have short hair, oval face, and would like to experiment with androgynous styles, take inspiration from Emma D'Arcy. Her baby short bangs are boldly super short and she rocks them.
17. Layered Blunt Bangs
This style of layered bangs will require you to divide your hair into three sections. One is the center triangular section that will be cut into blunt bangs. The other two sections are the side sections that will be cut in layers to form the longer blunt ends. Feather the bangs at the end using the point-cut method. Style the bangs with a blow dryer and a round brush.
18. Eye-Grazing Blunt Bangs
These bangs are the best for fall. Cut your hair in the eye-grazing blunt bangs and color your hair in earthy colors, like yellow, orange, red, or ash. These bangs will also accentuate your eye color.
19. Feathered Ends
I'll let you in on a secret: a great way to make your hair look thicker is to feather the ends. By feathering only the ends, you make the rest of your hair look fuller than it really is. You can feather your bangs by holding the scissors upwards while cutting your hair.
20. Sandy Blunt Bangs
Baby blunt bangs paired with chin-length hair is a total ten in my book. Cut your sandy blonde locks in the front halfway down your forehead. You don't want to cover your forehead completely. Baby bangs give the appearance of a longer forehead and a more slender face.
21. Nerdy Blunt Bangs
These start off thin but get thicker towards the end. They merge beautifully into her blunt bob. Instead of going for highlights, color your hair jet black. This will create the perfect nerdy-chic look.
22. New Emo Bangs
These slanted blunt bangs are what all the new emo girls are opting for. The thick layers of blunt hair have been brushed aside and styled with choppy layers to create this emo look. Pair this look with some dark eyeliner and eyeshadow, and you are good to go!
Infographic: 6 Trendy Blunt Bangs Hairstyles
While blunt bangs have been around for ages, they have risen in popularity immensely in the recent years. They fall straight across the forehead and are best suited for people with naturally straight and thick hair. These bangs are easy to style and look classy. If you are looking for some inspiration to style your blunt bangs, check out the infographic below.


This article has covered everything you need to know about blunt-bang hairstyles. From the things you need to be mindful of to cutting your own blunt bangs at home, it is your perfect guide throughout the process. You can take your pick from this list of 22 of our favorite blunt bangs and experiment, from the simple ones to the more bold and edgy ones. Other types of bang haircuts that you may also try are micro bangs, asymmetrical bangs, tapered bangs, textured bangs, lobs with bangs, pixie cut with bangs, shaggy bangs and curtain bangs. Try the longer bangs styles before going for the shorter types if you are unsure about them. You may not get it right the first time, but hey, practice makes perfect. Who knows, you may start a new trend of your own! So, grab those scissors, choose a style, and chop 'em off!
Frequently Asked Questions
Who do blunt bangs look good on?
Blunt bangs look best on oval and round faces. They also look good on faces with long foreheads as they help with coverage and can balance the proportions.
Do blunt bangs make you look fatter?
No, blunt bangs do not make you look fatter. However, if they hit the cheeks on faces that are chubby, or heart-shaped, they can add to the width of the face. Therefore the length of the bangs is key when it comes to making things stay proportionate.
How often do I need to trim blunt bangs?
You need to trim blunt bangs every 3-4 weeks to avoid them from getting into your eyes and to maintain the look.
Can I wear blunt bangs with any hair length?
Yes, you can wear blunt bangs with any hair length ranging from a short bob to shoulder-length hair and long layers. You can even style your long hair with blunt bangs in different ways, like a ponytail, messy bun, and loose braids.
Can I wear blunt bangs with curly hair?
Yes, you can wear blunt bangs with curly hair. Earlier, blunt bangs were thought to look best on straight and fine hair. However, now women with wavy, curly, thick, and textured hair can be seen sporting these bangs, and they look absolutely stunning on them. There should be no limit to styling or cutting your hair just because it is curly!
How do I prevent my blunt bangs from getting greasy?
You can prevent your blunt bangs from getting greasy by spraying dry shampoo into your roots just before you go to bed. You may also try washing your bangs alone between wash days to keep them extra fresh and oil-free.
Are blunt bangs suitable for thin hair?
No, blunt bangs are not suitable for thin hair as the style relies on thicker and fuller strands to achieve the look. People with thin hair can opt for side swept and curtain bangs instead.
Can I wear blunt bangs with glasses?
Yes, you can wear blunt bangs with glasses, especially those with a straight top or a thicker rim. Make sure to keep the bangs just at eyebrow level to prevent them from getting caught in your glasses.

Elevate your style game! Check out this video to learn more about stylish blunt bangs to pair up with your hairdos and make a statement!

The following two tabs change content below.