35 Bombass Ways To Style Your Bodacious Box Braids
The ultimate styling guide to transforming your box braids and making you a showstopper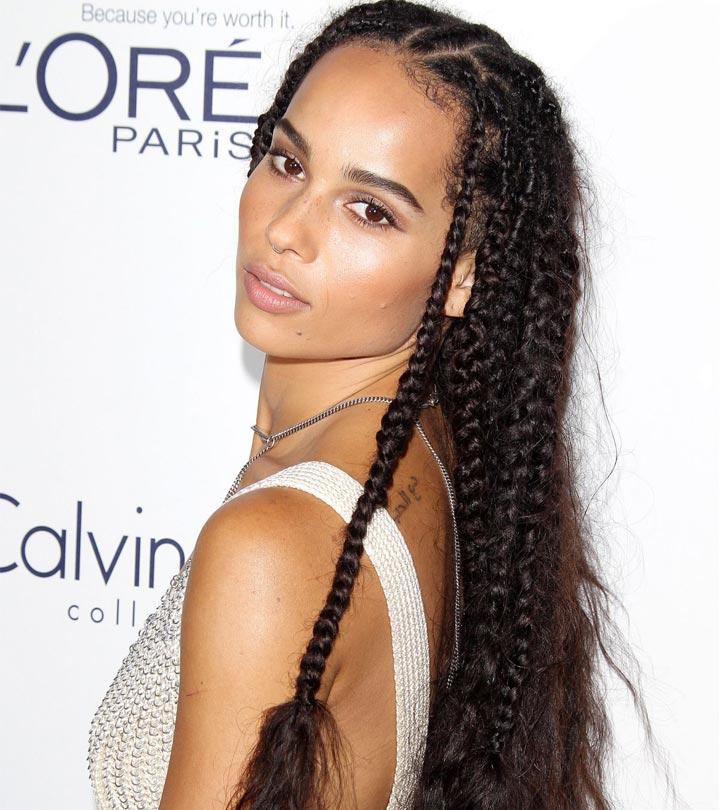 Zoe Kravitz, Beyonce Knowles, and Keke Palmer – apart from raising the bar in the arts world and just being amazing people, have something else in common. They have flaunted bodacious box braids! Box braids are a protective hairstyle, part of the African heritage, passed down for ages. These braids are very popular not only because of how cool they look but also because they are low maintenance, and with the right care tips, these braids can last for months.
You know those hot sweltering summers when your hair sticks to your neck and back? Try box braids! These keep your hair tied while looking very chill! The best part about these braids is that you can either use your natural hair to try them or experiment with colorful hair extensions. And once you have styled your hair in these braids, you can style them even further! To help your inspiration flow, we have added a few of our favorite box braid hairstyles below. Scroll down.
What You Need
Wide toothed comb
Tail comb
Large hair clips
Hair elastics OR boiling hot water
How To Box Braid
Wash and condition your hair and let it dry completely.
Use your wide toothed comb to remove all the knots and tangles from your hair.
Now, create partitions in your hair – one from the center of your forehead to the nape of your neck, and the second from your right ear to left ear. This will divide all your hair into 4 sections.
Leaving loose the section you want to start with, use 3 large hair clips to pin up the rest of the sections.
From the very front of this section, pick up a 1 inch by 1 inch section of hair using the tail of your tail comb.
a) If you want to box braid with just your natural hair, divide this section of hair into 3 strands and simply braid it right till the end.
b) If you want to use extensions, pick one up and fold it in half so that it forms an upside down U. Divide your pinched section of hair into 3 strands, with the center strand just a little bit thicker than the side                strands. Place the fold of your hair extension over the center section of your natural hair, so that its 2 halves combine with the side strands. Braid just one stitch to attach the extension to your hair. Then,                  redivide your hair into 3 equal strands and braid it right till the end.
You can secure the ends with either a hair elastic or by dunking the ends in boiling hot water to seal them together.
Pinching the same sized sections of hair each time, box braid all your hair.
I know it can be quite a task to follow these instructions and box braid your hair. But don't you worry because I've got your back! Check out this helpful video by ForeverCryssy to get a better idea of what you need to do!
Now that we've got the hard bit out of the way, let's look at some basic ways that you can style your box braids.
Basic Ways To Style Your Box Braids
Braids: Be it French, Dutch or fishtail, there's no braid that you cannot do with your box braided hair. In fact, the individual sections of hair created by the box braids and their inability to get knotted makes it much easier for you to do these braids.
Ponytails: There are a ton of ponytails that you can style your badass box braids in. High, low, on the side, and pigtails are just a few that I can mention off the top of my head. The possibilities are endless!
Updos: There are a myriad of buns and other updos that you can experiment with when your hair is done up in box braids. These work especially well when you have a formal event, like a wedding or a graduation, to attend.
Half Updos: Half updos are a hit no matter what kind of hair they are done up in. But on box braids, they create a magical effect all on their own. Half top knot and half ponytail look especially cool and stylish.
Ribbons: Since hair elastics can't really get the job done the best way possible when tying up your box braids, ribbons are the way to go. You can use these in a ton of colors and fabrics to add that pop of color to your hair look.
Now that you know how to box braid your hair and some basic hairstyles that you can try out with them, let's get into our top 35 picks for styling them!
35 Beautiful And Badass Ways To Style Your Bodacious Box Braids
1. Versatile Box Braids
It's truly amazing how many different styles you can come up with when you sport box braids. Heading out with friends? Go for a twisted box braids style swept on to one side. Wanna look cute for a date? Then tie your braids up in an adorable bow! For a chill day at work, try out a cool half up donut bun style with your braids.
 2. Box Braids Ponytail
Our favorite (and most underrated) Disney star Monique Coleman is absolutely slaying it with her box braids ponytail. Paired with a gorgeous bodycon dress and gold hoop earrings, she is rocking that classic ponytail style like nobody's business.
3. Simple Half Updo
Trust Jhene Aiko to turn up in the simplest of styles and still look like a total queen. She has styled her super long and jet black box braids in a simple side parted half updo and swept all her braids over one shoulder to create this elegant yet chic hair look.
4. Super Long And Center Parted Box Braids
Zoe Kravitz looks like a modern reimagination of a Greek goddess (Aphrodite, maybe?) with her super long box braids style. Her thin box braids flow down till her waist and are always parted down the middle to create her signature style. Makes sense that she would always sport this look as it can be dressed up and dressed down, according to the occasion.
5. Center Parted Half Updo
When it comes to box braids, there are a ton of ways that you can experiment with its styling. One way to do so is to play around with their size and thickness. Xosha Roquemore, for instance, has gone for some thin micro box braids that look oh-so-cute. She has then parted them down the center and pinned them up in a half up style to make for a simple and demure hair look.
7. Fiery Red Box Braids
Set your style game on fire with these flaming red box braids look. The popping red shade of this style is bound to grab everyone's attention and get you on top of the fashion game. Tie your braids up in a half bun and, if you're feeling a little too daring, color your eyebrows in the same fiery shade to take your style statement to a whole new level.
8. Caramel Box Braids
Give your hair a caramelized twist with these gorgeous box braids that teeter the line between blonde and brown. The rich brown shade of the extensions gives a sunkissed effect to this whole look. Simply part the braids on one side and go for super dramatic eye makeup to complement this hair look.
9. Ruby Red Box Braids
Wanna glitter and shine like a bright ruby? Then try out this gorgeous long box braids look for size. These red-toned box braids are quite elegant while still being brilliantly eye-catching. Pair this look with some nude makeup and a neutral toned outfit to keep all the focus on the beautiful box braids.
10. One Side Undercut Box Braids
Why follow just one hairstyle trend when you can follow two at the same time? You heard that right! Check out this badass hair look that has a shaved undercut on one side and box braids on the top and the other side of her head. No on will question your straight edge nature after you sport this look.
11. Flower Crown Box Braids
Bored of your simple box braids but are too lazy to remove them right now? Well, fancy them up and infuse new life into them with the help of a gorgeous flower crown. Not only will you have refreshed your drab old box braids, but also look like a flower princess.
12. Patterned Box Braids Bun
Just because they are called 'box braids' doesn't mean that you have to follow a box pattern when partitioning your hair to box braid it. As pictured above, you can follow a diamond pattern (or any pattern really) to add a funky twist to your look. What's more? You can actually tie your hair into a high bun to show off your cool patterned scalp to the world!
13. Carnival Box Braids
What comes to your mind when you think of going to a carnival? For me, it definitely has to be the copious amounts of cotton candy and orange soda that I get to consume while there. And those are exactly the two things that this box braids style reminds me of. The quirk level of this style has been notched up with the help of a rolled-up half bun and the white flowers added to its crown.
14. Pink Ponytails Box Braids
Let out your inner Harley Quinn with this insanely cool box braids hairstyle. This hair look is the perfect combination of cutesy and crazy with its bubblegum pink braids tied up in two ponytails on either side of the head. Pair it with a quirky patterned outfit and head out for a fun day at a music festival.
15. Magenta Ombre Box Braids
Add a touch of glamor to your everyday hair look with some ombred locks. These box braids are unique in their color scheme as they start out black on the top and slowly transition into a vibrant magenta. With a bright pink lipstick to match your braids, there will be no stopping you from absolutely killing it.
16. Silver Box Braids
Metallic shades are all the trend this season. From lipsticks to handbags, no fashion product has been left untouched by shades of gold, silver, and bronze. So, of course, they made their way into the world of hairstyling as well! These silver box braids look super futuristic, and when tied up in double buns, you will look nothing less than a space warrior.
17. Violet Box Braids Long Bob
Go crazy with violet with this box braids style that is simply wow! A long bob style (achieved by using shorter extensions) will go beautifully with the purple shade. Just tie a long scarf in a contrasting shade around your head to complete your boho-chic look.
18. Spaced Out Box Braids
You don't always have to go for the same box braids style to get the look of natural hair. Here's an interesting way to style them. Instead of placing the box braids super close together, space them out and use thicker extensions to create this edgy look.
19. Mermaid Box Braids
If you want to look like a true blue mermaid, here's a box braids look that you definitely need to try out. These gorgeous dusty purple box braids fade into a pastel blue to create a fascinating look. Pin up the braids on the sides and put on a shimmery outfit to complete your mermaid look.
20. Ginger And White Box Braids
Now here's a box braids style that will make all your anime dreams come true. Yes, it makes use of ginger red and white box braids that are super cool and all. But the highlight of this look are the two flat half buns sitting on either side of her head, making her look like she has just stepped right out of an anime.
21. Box Braids Crown Bun
Don't let anyone ever tell you that you're anything less than a fierce African queen. And show everyone just that with the help of this deep brown box braids look. The box braids have been wrapped in an elaborate and big bun at the top of her head and left super long and loose at the back to create this out-of-the-world look.
22. Turban Box Braids
Go for a mysterious desert princess vibe with this interesting styling of box braids. The super thin chocolate colored braids have been accented with some sparkly beads. The multicolored turban that she has wrapped on top of her head pulls the whole look together.
23. Lime Green Box Braids
Is there any color more refreshing than bright green? I don't think so. So what better way to brighten up your look than these incredible lime green box braids? These super fine and long box braids are bound to make you look like a neon queen.
24. Undercut Half-Up Box Braids
Now here's a way that you can totally rock that biker chick look. And a bonus to this look is that you will need half as many extensions as you would need to box braid your full head. All you need to do is shave off the hair on either side of your head to create an undercut. Then, box braid your hair at the top and back of your head. Easy peasy.
25. Dual Pastel Box Braids
If you are a flower child at heart and want your hair to reflect the same, boy, have we got a hairstyle just for you. To get this totally whimsical and cute style, all you need to do is box braid some cool blue extensions on one side of your head and pastel pink ones on the other. Tie them up in pigtails and go out in your most colorful clothes to look like the epitome of fun.
26. Box Braids Bantu Knots
Why go for just one protective style when you can go for two? You heard that right! Now you don't need to worry about choosing between box braids and bantu knots because you can get both. Just roll and pin up the extensions at the front of your head into Bantu knots to make them look like a crown. Throw in some blue braids along with your jet black ones to highlight the knots.
27. Ultra White Braided Box Braids
Look like a badass from one of those Fast and Furious movies who always seems ready to jump on a bike and go fight someone with this box braids look. The ultra white box braids have been tied up in a thick braid that looks insanely cool. Just perfect your Resting Bitch Face and you'll be good to go.
28. Blonde Ring Box Braids
I actually had to remind myself to take some deep breaths after looking at this hairstyle because it literally took my breath away. I mean, LOOK AT IT! These blonde box braids may have been simple by themselves. But after accessorizing with a crap load of silver rings, they are enough to bring anyone to their knees.
29. Gold Highlighted Box Braids
If you like to keep things subtle when it comes to your hair but still want to add a pop of color, check out this awesome look. While box braiding, this gorgeous lady has used one gold colored extension with two black ones to create this highlighted effect. So simple, yet so effective.
30. Sunshine Yellow Box Braids
Ahh, yellow. The color of joy and happiness. And what better way to spread sunshine in everyone's life than with sunshine yellow hair? Get these vibrant yellow box braids and tie them up in two funky buns to spread the cheer all around!
Bodacious box braids are a protective hairstyle for natural hair. You can weave your natural hair in these braids or add extensions to make your hair look thicker and fuller. Once you weave your hair in the braids, do not forget to seal the ends with hot water (be careful, though!). You can style these braids in many different styles like ponytails, braids, buns, and more. You can also get creative with the box braids themselves. You can play around with colors, patterns, parts, and more. These braids also have a hair care benefit. They protect your strands from daily wear and tear caused by pollution, dirt, sun exposure, and overuse of chemical and heat products and tools.
The following two tabs change content below.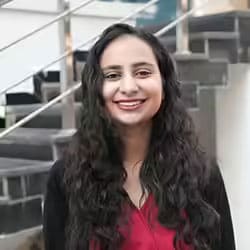 Arshiya Syeda is an editor at StyleCraze. Prior to that, she was a content writer and combined her writing and...
more