10 Bollywood Celebs Who Looked Stunning In Manish Malhotra Outfits
Anyone who is remotely interested in fashion would have heard his name. Every celebrity's answer to "Who are you wearing?" is mostly – Manish Malhotra. In fact, we are getting to hear this from the brides as well! We are not surprised because his take on bridal wear is ethereal. It seemed unbelievable to me when I first go to know that a coveted designer like him has not had formal education in fashion. He grew from being Bollywood's most sought out costume designer to becoming a brand and setting runways on fire. His inscrutable spirit and enigma for fashion translate into every single piece of clothing he designs.
Like Alia Bhatt once said, "You're not a star unless you wear Manish Malhotra." She has a point! Our stars love his collection, and we can't stop drooling either!
While at it, let's look at some of our celebrities who totally rocked the collections. Be prepared to be amazed!
10 Of The Best Manish Malhotra Outfits
1. Kareena's Hand Crafted Ensemble
Kareena Kapoor is known for defying all odds with her fashion statements, or otherwise. She's done that without flinching one bit, during her pregnancy as well! She has been a constant on the runway and rocked it every single time, especially Manish Malhotra's collections. This heavily embroidered powder blue handmade dress needs no other accessories. The swanky Jimmy Choo clutch, Saint Laurent silver shoes, plain pants, and her smile complement this ethereal ensemble.
2. Sophie Choudhary's Blush Pink Floor Length
Manish Malhotra apparently believes in using subtle colors for the canvas and blowing it out into breathtaking dresses with embroidery and other design details. This blush pink floor length Anarkali dress has a hemline that trains down into a subtle swirl and adds definition to the cinched waistline. The sheer tulle dupatta embroidered all over is exquisitely beautiful. Specifics like these show his craftsmanship and passion. Sophie Choudhary looks gorgeous as ever, and we cannot take our eyes away from her!
3. Alia Bhatt's Black Crop And Skirt Combo
He took the classic black to another level. The charcoal black crop top with thread work is the highlight of this masterpiece. The high neck and bump at the waist are super cute – not a lot of designers offer this to us. The self-design black skirt is an exciting addition to break the monochrome look, a wee-bit! Alia Bhatt is thoroughly enjoying promoting her new films and rocking it all in beauties like these.
4. Shriya Saran's Sheer Floral Cape And Skirt
Shriya Saran swept everyone off their feet at a wedding she recently attended. With a dress like that, I'm not very surprised. No prizes for guessing that the highlight of this look was the cape with the fine thick thread and applique work. Capes have been the fad for some time now, and Manish just took the style a notch higher. The crop top was kept subtle and had a silver paneled border.
[ Read: Wedding Color Combinations Ideas ]
5. Farah Khan's Charcoal Black Saree
When was the last time you saw Farah Khan in a saree? Take a minute and think about it – I'll wait. Can't seem to recall? Me neither. I don't believe she was ever spotted wearing a saree or made an appearance deliberately. But, she came back with a bang – in a classy, sophisticated black saree. Black in its entirety with a pop of color along the border makes it all about elegance and class. We owe it to Manish for this one!
6. Athiya Shetty's Peach Lehenga
A lehenga that is equal parts contemporary and traditional, which is how it is supposed to be. Peach, pastel, and pinks are going to be around for good because our designers love it – and so do we!
Athiya Shetty is known for her iconic fashion statements and looks like she is taking the lead from Sonam Kapoor. Her attitude and personality permit it; we are so glad she is doing her thing. This exclusive Manish Malhotra lehenga piece is absolutely stunning. Gone are the days when gaudy and swanky used to translate to style.
7. Karisma Kapoor's Ivory Sharara
The Kapoor sisters are fashionistas in every sense of the word and own it up to every outfit they wear. Karisma Kapoor has been nailing all her looks, be it at a Diwali bash or airport musings. She believes in minimalistic designs and carries them exceptionally well. Manish Malhotra has one for everybody. This beige beauty from his trunk seems like it's meant for her. This ivory long kurta and sharara combination with the beige dupatta is irresistible. Limited editions like these are tailor-made for stars. We just cannot stop admiring it!
8. Shilpa Shetty's Gold Fringe Saree
This is one of the best Manish Malhotra sarees. This gold fringe saree is completely handcrafted and comes across as one clearly. The precision and fine detailing of the sequinned embroidery for the body of the saree, the fringes that make it a fun addition, the off-shoulder white gold blouse – you name it and it's all made to near perfection. Shilpa Shetty, with her hourglass figure, has embraced this dress with panache.
9. Sridevi Kapoor's Yellow Embroidery Kurta Set
Sridevi Kapoor is like a brand ambassador for Manish Malhotra's label. From sarees to lehengas to kurtis and gowns – she has tried it all from his luxurious trove and has been giving us all major goals. I loved the way he picked an overarching shade of yellow and came out with something as astounding as a gorgeous kurti. Colors like these are not easy to handle and need to be dealt with care, precision and passion, which is what Manish Malhotra always does. More power to him!
10. Sonali Bendre's Nude Handloom Dress
This is another elegant, rich, and stylish pick from Manish Malhotra outfits. The simple ivory kurta with golden motifs that give an embossing effect goes well with the heavily embroidered and printed dupatta. His work swings both ways – contemporary and upbeat; elegant and eternal. This dress goes with Sonali's aura and personal style. Manish totally knows his stars.
That was a total feast for the eyes, wasn't it? I hope you enjoyed reading it as much as I did while writing it all down. Did we miss something? What was your favorite outfit and why? Let us know all about it by dropping a text in the comment section below. And until then, let the awe-spiration last!
Recommended Articles

The following two tabs change content below.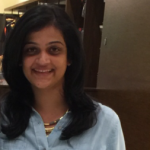 Latest posts by Pratima Ati (see all)