Bollywood Inspired Eye Makeup – Step By Step Tutorial With Images
Take some makeup inspiration from these Bollywood divas and turn heads wherever you go.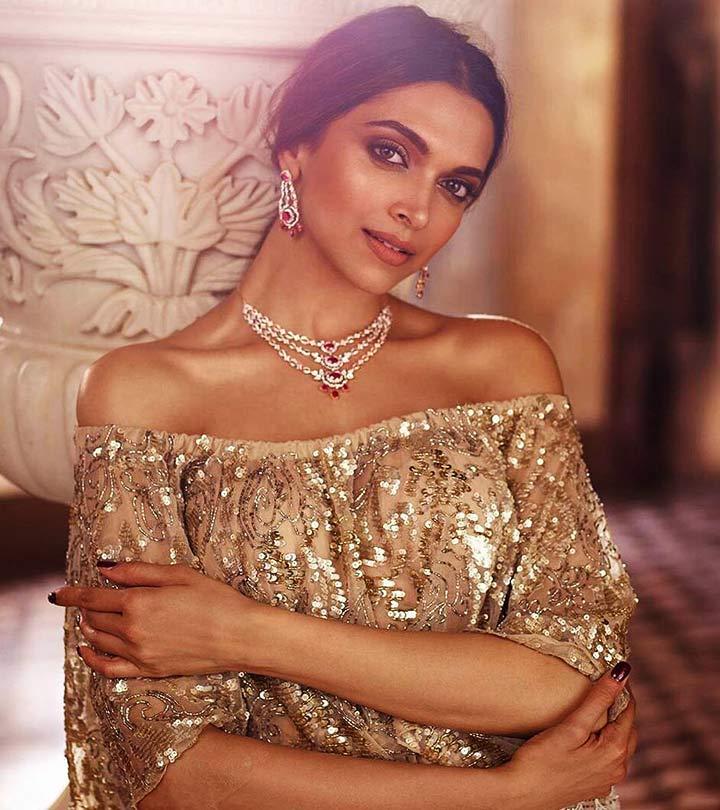 We all love copying dressing and makeup styles of popular Bollywood actresses. Today we will show you a Bollywood inspired eye makeup tutorial – Deepika Padukone's Bollywood eye makeup look from Om Shanti Om.
Bollywood Eye Makeup Tutorial
Things You Will Need
Some simple and easy things that you will need for this eye makeup look are as follows:
A concealer and foundation
A face compact
Eyeshadow (colours needed – light shimmer mauve or a skin colour and a silver shadow for highlighting)
Kajal
Black liner pencil
Liquid eyeliner
Mascara
Lash curler
Lash comb
Accessories needed for completing the look:
A bindi, floral hair accessories, a light lipstick in pink and a liner, a lip gloss and a little blush for the cheeks.
Tutorial:
Step 1:
On clean eyelids, apply concealer and foundation. Follow it up with a compact for a flawless texture.
Step 2:
Apply the Shimmer mauve eye shadow on the whole of the eyelids. Do not extend it in a tail. Just keep the eye shadow on to the lids only.
Step 3:
Apply the silver highlighter or silver eyeshadow on the whole of the crease, on to the brow bones, at the eye nose junction and blend it well.
Step 4:
Time for kajal application. Use kajal or a black liner pencil (whichever you are comfortable using). Use on the lower rim properly.
Step  5:
Use the liner pencil following the line of the eyes just below the waterline too. Extend a bit towards the nose. Follow the picture below.
Step 6:
Time for liquid liner application. Start at top lid in a little extended form by drawing a small line.
Step 7:
Drag the line such that it covers the lash line properly.
Step 8:
When the lash line is properly covered, define the line once again and broaden the exterior.
Step 9:
Carefully give the tail a swipe towards the top. You must have a very sleek and fine brush for this tail drawing.
Step 10:
When the top wing is complete, extend the lower liner in a straight line with a liquid liner only. This is why we drew the lower rim lining with a liner pencil. This will not give you a proper extension, no matter how finely it is sharpened. So use a liquid liner only with a sleek brush for these extensions and wings.
This is how it looks when completed.
Step 11:
Here is a final look at how it should look after the above steps are complete.
Step 12:
Use mascara in a top to down fashion on the upper lashes and a zig zag manner on the lower lashes.
Step 13:
Brush out any clumps with a mascara brush.
Step 14:
Use a curler for added curling if required.
Step 15:
Make a middle parting of hair and tie a back bun. Use a floral hair accessory. A light lipstick in pink with a darker lip liner and some gloss will complete the look. Use a little blush for contouring the cheeks but not too much. This is a light makeup look. Use a bindi for the finishing touch.
And there you have the Om Shanti Om Look.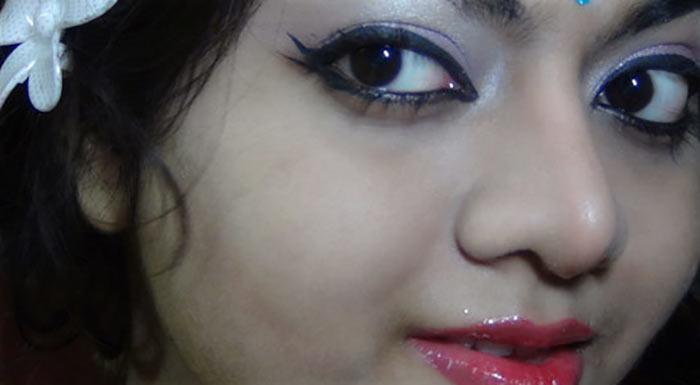 Here's another Bollywood Inspired Makeup tutorial! With this tutorial, you can give voice to the diva in you!
Let's begin our Bollywood eye makeup tutorial!
Tutorial:
Step 1:
Start by applying an eye primer to prevent eyeshadows from creasing. Then, apply cello tape at the outer corner of your eye by connecting it in a line to the brow bone. This tape will act as a guideline in creating a sharp edge to the eye makeup. Then, apply a hot pink satin finished eyeshadow to the crease area and softly blend it out. Here, I used the Lakme Stylish eyeshadow in Pink Wink.
Step 2:
Then, apply a black gel eyeliner to the outer corners of the eye and then also follow your crease area of the eye. This step need not be neat as we will be smudging the eyeliner later. Here, I used the Lotus Herbals Kajal in black.
Step 3:
Apply a shimmery purplish pink eyeshadow in satin finish over the black kajal, which was applied earlier. Then, use a smaller dome-shaped crease brush and blend the kajal with the eyeshadow to achieve a seamless finish. Here, I used a hot purplish ink eyeshadow from 120 eyeshadow palette.
Step 4:
Apply a shimmery yellow gold eyeshadow to the innermost corner of the eye and also bring it slightly towards the one third eye area. You can dampen your eyeshadow brush slightly with water to build up rich color intensity of the eyeshadow.
Step 5:
Then, choose a satiny peach-like coral eyeshadow and place it on the two third of your eye area. Pat the eyeshadow gently and avoid sweeping motion as usually done to get good color intensity. Then, use a blending brush and sweep it across the crease area to give a soft smokey look to the eyes.
Step 6:
As the eyeshadow in the crease will look slightly faded after blending, you can go back and take the same hot pink shade used earlier and define the crease again.
Step 7:
Apply the same shimmery gold eyeshadow to the innermost corner of the lower lash line and the purplish hot pink eyeshadow to the rest of the lower lash line. Complete the eye look with mascara and line your eyes to define your eyes. I created a dramatic winged eyeliner look to bring in the bold and intense look seen in Bollywood actors. If you like a subtle look, then you can go for a normal eyeliner look. Here, I used the same Lotus Herbals kajal and Loreal million lashes mascara.
And you are done.
Bollywood Inspired 1960s Eye Makeup Tutorial:
The old classy Bollywood actors have always been a joy to see. Wish to recreate this classic 1960s glamorous Bollywood look, but not sure how to? No worries, here's an easy step by step tutorial inspired from the 1960's Bollywood makeup style, just for you!
Step 1:
Apply an eye cream to hydrate your eye area. This step will help in keeping control of drier patches, which can arise after concealer application. Then, take a full coverage concealer and conceal dark circles to create a flawless base. Set the concealer with a compact powder to prevent creasing of the product.
Let's begin the 1960 eye makeup. Fill your eyebrows with a matte black eyeshadow in a thick, fuller manner to replicate 1960s makeup style. Then, apply a creamy base to your eyelid area to lighten the eyelid pigmentation and increase the vibrancy of the eyeshadow to be applied later. Then, softly smudge the creamy base with a stiff flat eyeshadow brush and apply a matte cream colored eyeshadow over it. Here, I used the Elf Day on the Beach eyeshadow palette for the matte cream colored eyeshadow.
Step 2:
Take a matte orange-brown eyeshadow to act as a transition color for your crease area and start defining your crease area. The crease is where your eye folds and sits in a socket. This step will add dimension and bring out your crease area to give an illusion of deeper set eyes. Here, I used the Kryolan matte blush in mocha as eyeshadow.
Then, take a matte brown eyeshadow and start defining the crease slightly stronger than the previous step to add more depth to your eyes as 1960's Bollywood style is all about having deep and big eyes. This step can be achieved by using a fluffy blending brush and imitating a wiper motion across the crease area of the eyes. I have used the Avon mocha eyeshadow palette for the medium matte brown eyeshadow.
Step 3:
Blending is the key to any makeup style. Use a slightly bigger blending brush and buff out all the sharp edges created by both the eyeshadows applied in the earlier step. Use short circular strokes and gently blend the edges for a diffused natural look to the eyes.
Step 4:
Then, apply a white or a creamy nude colored eye pencil to the waterline to open your eyes and give an illusion of bigger eyes like the 1960s Bollywood actresses. Here, I used the Oriflame nude eye pencil. I recommend using white colored eye pencils for fairer skin tones and nude or lighter brown color for medium to darker skin tones.
Step 5:
Eyeliner is the star of this makeup look. Take a dark black gel liner or liquid eyeliner and start drawing a very thick line. Slowly wing out the liner in a sharp end. Then, draw a parallel line on the lower lash line to create a double liner eye look. Here, I used the Kryolan black eyeliner.
Draw a thick black eyeliner on your lower lash line to define it strongly. Here, I used the Lotus Herbals kajal in Black. This step will add more depth and dimension to your eye makeup. Most of the 1960s actors did not connect the lower and the upper lash line in the inner corner of the eye. So, while lining the lower lash line start it from the one third of your eyes as shown in the image. Then, highlight your tear duct area with a matte cream eyeshadow to lift your eyes and give an illusion of bigger eyes.
Retro fashion never really gets old. In recent years it has made a stronger comeback than ever. What better way to stay in trend than take inspiration from our very own dramatic and ever-dazzling world of Bollywood! We hope the above Bollywood eye make-up tutorial helps you pull off these evergreen looks and be the party's talk! We have also mentioned the names of the products we have used for reference. So, what are you waiting for? Try these out now and find the perfect look to impress your friends at the next gathering!
The following two tabs change content below.