Boysenberry: All That You Need To Know
Rich in essential vitamins and minerals, this dark and juicy berry does more good than you know.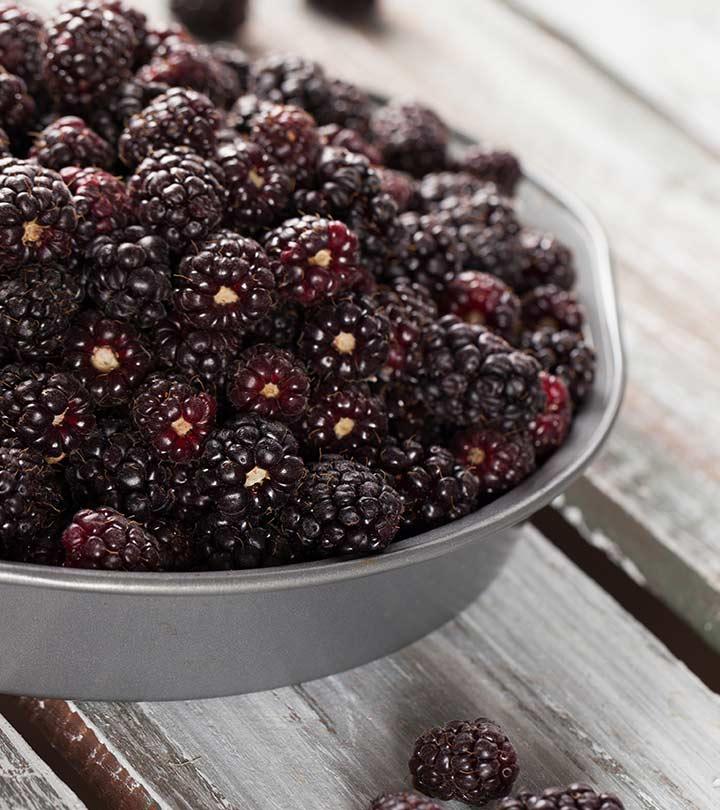 Berries are a delight every summer, all over the world. While most grow naturally and are found in the wild, there are also a few hybrid varieties developed meticulously by crossbreeding over the years. Boysenberry is one such hybrid berry that's usually found freshly harvested in your nearby farmer's market. Rich in vitamins and antioxidants, boysenberries help improve your health in several ways. Read on to know about their nutrient facts, health benefits, flavor profile, and various ways to include them in your diet.
What Is Boysenberry?
Boysenberry fruit is a large, juicy, dark purple berry that looks like a cluster of small grapes. It is a hybrid fruit developed by cross-breeding loganberry, dewberry, raspberry, and blackberry by Rudolph Boysen in Anaheim, California, in the 1920s. These berries are soft and fragile and don't transport well. These also tend to get spoiled very quickly, so need to be harvested and consumed soon. With their somewhat sweet yet tangy taste, you can enjoy them fresh as a healthy snack or turn them into delectable jams, jellies, sauces, syrups, and pie fillings.


Trivia
Boysenberries became commercially popular only in the 1930s due to farmer Walter Knott and his wife Cordelia.
Let's take a deeper look at its nutrient content in the next section.
Nutritional Information
According to the USDA, one cup of frozen, unthawed boysenberries has the following nutrition content (1).
| | |
| --- | --- |
| Water | 113 g |
| Energy | 66 kcal |
| Protein | 1.45 g |
| Total lipid (fat) | 0.343 g |
| Carbohydrate | 16.1 g |
| Fiber | 7 g |
| Sugars | 9.1 g |
| Calcium, Ca | 35.6 mg |
| Iron, Fe | 1.12 mg |
| Magnesium, Mg | 21.1 mg |
| Phosphorus, P | 35.6 mg |
| Potassium, K | 183 mg |
| Sodium, Na | 1.32 mg |
| Zinc, Zn | 0.29 mg |
| Copper, Cu | 0.106 mg |
| Manganese, Mn | 0.722 mg |
| Selenium, Se | 0.264 µg |
| Vitamin C | 4.09 mg |
| Thiamin | 0.07 mg |
| Riboflavin | 0.049 mg |
| Niacin | 1.01 mg |
| Pantothenic acid | 0.33 mg |
| Vitamin B-6 | 0.074 mg |
| Folate | 83.2 µg |
| Choline | 13.5 mg |
| Vitamin B-12 | 0 µg |
| Vitamin A, RAE | 3.96 µg |
| Carotene, beta | 52.8 µg |
| Vitamin K (phylloquinone) | 10.3 µg |
| Cholesterol | 0 mg |
Boysenberries are a good source of vitamins A and C, iron, calcium, magnesium, phosphorus, and dietary fiber. It also contains vital B vitamins and folate that play an important role in cellular mechanisms and brain development. Additionally, a cup of berries has about 200 mg of potassium and just 1.3 mg of sodium which is essentially good for your cardiovascular health.
Further ahead in the article, we understand how these nutrients translate into some important health benefits for you.
Potential Health Benefits Of Boysenberry
May Help Promote Lung Health
 The polyphenols and antioxidants in boysenberry may have a positive effect on lung health. Research states that regular consumption of boysenberry juice might help moderatechronic lung fibrosisi  X A lung condition wherein damaged and scarred lung tissue makes it difficult for the organs to function, causing shortness of breath. in asthma and other chronic pulmonary conditionsi  XAny lung disease that prevents normal functioning of airflow to and from the lungs over a long period of time. (2). A recent study in 2021 also suggests that drinking boysenberry and apple juice concentrate might help reduce lung inflammation and tissue damage (3).
May Help Support Your Heart Health
Boysenberries are rich in anti-inflammatory polyphenols that may help reduce the risks of cardiovascular disease (4). A few animal studies suggest that consumption of boysenberry juice might help lower blood pressure and serum triglyceride levelsi  XIt refers to the amount of fat in the blood. Increased levels can cause a stroke, heart attack, or pancreatitis. significantly (5), (6). Another study suggested that boysenberry juice can help maintain the thickness of endothelial cell walls, thereby enabling normal blood flow and pressure (7).
Boysenberry is also packed with anthocyanins, the pigmented flavonoids with antioxidant properties that give them their rich vibrant color.
Research has shown that anthocyanins might help prevent neurodegenerativei  XDiseases caused due to the continuous degradation of nerve cells responsible for mobility and cognition. and cardiovascular diseases associated with oxidative stress (8). These flavonoids may also help strengthen your vision and help reduce the risks of cancer (9).
As per another study, boysenberry seed oil was reported to have the strongest oxygen radical absorbance capacity compared to blueberry, red raspberry, and marionberry seed oils (10).
May Help Improve Your Bone Health
Boysenberries contain important vitamins and minerals that help support bone health. One cup of frozen boysenberries contains about 36 mg of both calcium and phosphorus. It also has a good amount of vitamin K and manganese, which are vital for bone metabolism (11). The deficiency of these vitamins and minerals could lead to an increased risk of developing osteoporosisi  XThis condition hampers the formation of new bone cells to replace old ones which makes bones weak and more prone to fracture. (12), (13).
May Help Boost Your Immunity
Like most berries, boysenberries are a rich source of immune-boosting vitamin C. One cup of boysenberries contains more than 4 mg of vitamin C which helps fight infections and strengthen your immune system (14).
Now, with the above boysenberry benefits, you might be keen to include them in your diet and wonder what they taste like. If you find blackberries bitter for your taste, you may actually like the sweet and bold flavor of boysenberries. With their bigger size, they are also quicker to harvest and easier to incorporate into various dishes. Let's see next what you can make with these clustered berries.
How To Add Boysenberry To Your Diet
Boysenberries are most often seen in the nearest farmers markets around May or early June all through the summers. Boysenberries are typically not found in grocery stores or supermarkets as they are thin-skinned and fragile to transport. These berries don't last long and should ideally be processed into jams and jellies as soon as harvested.
Boysenberries may last around a week in the fridge, or you can choose to freeze them for later use. The best way to freeze them is to line them out on a baking sheet with enough space in between two berries. Once completely frozen, you can transfer them into a freezer-safe sealed container suitable for long-term storage.
Boysenberries are a balanced mix of sweet raspberries and tart blackberries in taste. A few common ways to include boysenberries in your diet are as follows:
Bake them into a variety of cakes, pies, and crumbles.
Blend them into smoothies or add them to a fruit salad.
Add them to your favorite desserts such as crisps, cobblers, and cakes.
Make them into jams, jellies, and syrups.
Add them as a topping or flavoring in ice cream, yogurts, and cheesecakes.
Make them into syrups and drizzle over pancakes or waffles.
Blend them into sauces that complement savory dishes like roasted pork or beef.
Pair them with other berries, coconuts, apricots, peaches, honey, raisins, hazelnut, cinnamon, chocolate, fino sherry, and rum to enhance the flavor of any dish to your liking.

Quick Tip
You can also use boysenberry in your favorite spirit or cocktail. Add 5 boysenberries and a few mint leaves and crush to a paste. Add 2 ounces of white rum and ½ an ounce of lime juice to the glass. Top it up with sparkling water and fresh boysenberries.
Before including boysenberries in your diet, you should be aware of its possible side effects as well.
Side Effects And Allergies
Since boysenberry is a hybrid berry, people who have prior allergies to raspberry, blackberry, loganberry, or dewberry might have a possibility of allergic reactions to boysenberries as well. They may experience mild allergic reactions like itching, swelling, or stomach discomfort after eating these berries. If you suspect any such allergic symptoms, you should discontinue eating boysenberries and consult a doctor.
Consumption of berries might increase the possibility of kidney stone formation and other renal complications due to their high potassium and oxalate content.
To Sum Up
Boysenberry is a hybrid berry rich in antioxidants, flavonoids, vital vitamins, and minerals. This makes these vibrant berries beneficial to your health in several important ways. They help reduce oxidative stress, promote cardiovascular health and digestion, and may help in weight management and boost your immunity as well. They have a sweet, tart, and bold taste that lends well to making smoothies, salads, jams, jellies, cakes, pies, tarts, and other baked goods.
Frequently Asked Questions
What is the difference between a marionberry and a boysenberry?
Marionberry is a cultivar of blackberry while boysenberry is a hybrid of four berries.
Is boysenberry a tree or a bush?
It is a bush. Like most berries, boysenberry grows on low, trailing bushes.
How do you know when boysenberries are ripe?
As boysenberries mature, they develop a reddish-dark purple color and develop a distinctive aroma.
Key Takeaways
Boysenberries are a hybrid fruit developed by cross-breeding loganberries, blackberries, raspberries, and dewberries.
These sweet and tangy berries are consumed soon after harvesting as they rot quickly.
Boysenberries offer various health benefits with their vitamin, mineral and antioxidant contents. These berries boost the immune system, reduce the risk of chronic diseases and promote healthy skin.
Some people may experience itching, swelling, or stomach discomfort after eating these berries.
Due to their high potassium and oxalate content, excess consumption of these berries may increase the risk of kidney stones and other renal complications.
Discover the amazing health benefits of boysenberries! Learn from this video why nutritionists recommend adding them to your diet for improved health.
Sources
Articles on StyleCraze are backed by verified information from peer-reviewed and academic research papers, reputed organizations, research institutions, and medical associations to ensure accuracy and relevance. Read our editorial policy to learn more.
The following two tabs change content below.