32 Edgy Braided Mohawks You Need To Check Out
There is more than one way to sport this rock-chic look to amp up your look! A braided mohawk looks as cool as it sounds.
Keep reading to check out 32 edgy braided mohawk hairstyles that will leave you wanting one yourself! Braided mohawks are not just a fierce fashion statement. They make hair maintenance easy too. In fact, this protective braid-style keeps everyday pollution, dirt, and weather conditions from ruining your tresses. With the right technique, you can keep a braided mohawk in place for close to two weeks.
If edgy is your middle name and mohawk haircuts are your game, scroll down to get inspired by these cool 32-braided mohawk styles! And those of you who think a braided mohawk sounds too risqué – what's life without some adventure?

Before You Get Started
A rattail comb, elastic bands, bobby pins, and hairspray are essential for creating your perfect braided mohawk.
Use extensions matching your original hair texture for a natural look.
Skip shampooing the day you decide to do a mohawk braid to help your hair stay in place.
The hairstyle is suitable for almost every face shape except oval faces because it further elongates the face.
32 Edgy Braided Mohawks You Need To Check Out Right Now
1. Dual-Sized Braided Mohawk
This extremely defined braided mohawk comprises thin and thick blonde braids overlapping each other. It looks chic and trendy. Weave your locks in thin and jumbo cornrows, then tie them into a bun just below the crown to enhance the mohawk look. Use hair accessories to add some oomph to the look. You can also use blonde hair extensions instead of coloring and damaging your natural locks.
2. Curl-Spiked Braided Mohawk
Who says spikes are just a straight-hair thing? Get inspired by these edgy curly spikes and make a statement through your hair. The thin rows at the sides accentuate the curly mohawk even more. Apply curl defining cream to the ends to accentuate your curl structure.
3. Twisted Mohawk
Twists are one of the biggest fashion statements of our time. The only thing that can take them to the next level is the twisted mohawk. I love how the sides are aligned close to the scalp, but the mohawk is left loose on top of her head.
4. Ponytail Mohawk
Multiple braids come together to give us this super cool hairstyle. The braids start off thin and get thicker as they move toward the mohawk. Thin braids are easier to play with to create the design at the front. If you're not sure about getting a full mohawk, opt for this look.
5. Braided Mohawk Updo
African women have always been known for styling their hair in stunning protective hairstyles. This is one of them. Can you believe that the purpose of these hairstyles was not solely to look good but to keep their hair away from their faces?
6. Intricately Looped Mohawk
Just when you thought the mohawk was simply a tuft of hair standing on top of your head, it's taken up a few notches. This hairstyle is not only chic but also elegant. It is perfect for a formal event.
7. Aligned Mohawk
If you are all about clean lines when it comes to your hairstyles, I'm sure you will find this one particularly pleasing. It's truly stunning how unique and creative hairstylists are getting these days. This mohawk begins with thin cornrow braids that are perfectly aligned. Also, take note of the three different line patterns.
8. Curled Mohawk
This curled mohawk is beautiful and very easy to achieve. Braid your hair at the sides and the back in medium-sized cornrows. Braid them until you reach the top of your head. Instead of braiding the rest of the way down, curl the ends of your hair. Join the curls to create the mohawk.
9. Long Curls
Mohawks are a great way to flaunt your naturally kinky locks. Braid cornrows on the side of your head and leave the lower half of your hair loose. Spread all your loose hair to create a mohawk. Apply curl defining cream and wrap your curls in a scarf every night to add definition to your kinky curls.
10. Close Braided Mohawk
The best things about protective styles are hair extensions. They make your hair look thicker and longer. You don't even have to color your natural locks! This cool braided mohawk uses them to its advantage. The loose curls at the top that fall to the side add a nice touch to this look.
11. Big Braided Mohawk
Big braided mohawks are all the rage right. They look super cool yet elegant. You can flaunt one at any event, be it formal or casual. Partying all night with your girls? Sport the big braided mohawk and slay the style game!


Trivia
Janelle Monáe donned a similar hairstyle at the 2015 BET awards. She wore a voluminous braid down the middle of her head, interspersed with smaller braids all over.
12. Sewn Braids Mohawk
African American women truly know the power of hair accessories. The aim of a hair accessory is never to upstage the hairstyle but to accentuate it. Check out how the beads accentuate this braided mohawk. Looks brilliant, right?
13. Front-To-Back Mohawk
This is a full-on punk rock version of a mohawk. Whoever said long hair can't be flaunted in a mohawk? It protects your hair and flaunts it at the same time.
14. Attached Braided Mohawk
Braid your hair in any protective style. Weave the braids up and close to the scalp, until you reach the top. Once at the top, weave the braids normally. Divide the braids into horizontal sections. Twist each section to form bantu knots that align to create a mohawk. Join the bantu knots together using bobby pins or U-pins.
15. Patterned Braided Mohawk
Patterns look interesting and intriguing. It's no wonder we've combined them with hairstyles to make them look cool. Take your braided mohawk up a few notches with some surreal patterns. It's time to get creative!
16. Feed-In Braided Mohawk
Mohawks don't have to be big and high. A subtle mohawk can make all the difference you need to jazz up your regular protective hairstyle. It will certainly make your hairdo look different!
17. Colored Braided Mohawks
There is unity in diversity – I have never seen a hairstyle prove that more! In this gorgeous look, big crochet braids form a mohawk while surrounded by thin cornrows. Throw in some colored extensions, and you've got a killer hairdo!
18. Tied-In Braided Mohawk
This low mohawk braid is perfect for women who have to follow a formal dress code at work. You can show off your edgy style without looking too over the top. It's the best blend of sophistication and style.
19. Single Braided Mohawk
This mohawk is super easy to achieve. Apply some strong-hold hair gel and comb your hair upwards. Weave the raised hair in a braid. You can take this style up a notch by doing a couple of cornrows on the sides.
20. Stretched Mohawk
Black hair braids meet grungy rock 'n roll in this hair look. This is one hairstyle that will let your stretched hair shine. This hairstyle is also commonly known as frohawk. Pretty cool, right?
21. Double Braided Mohawk
If you think a braided mohawk requires cornrows or other thin black braids, check this style out. A braid on top of a braid have been joined at the nape to form a single braid. The sides have been shaved off to finish off this awesome look. This just goes to show how versatile a braided mohawk can be.
22. Folded Braided Mohawk
Let your inner spirit queen shine through with this stunning folded braided mohawk. It is amazing what some black braids, hair extensions, accessories, and a creative mind can do. Floored!
23. Stretched Braided Mohawk
If you don't already own an afro hair pick, run out and get one immediately! This hairstyle uses the pick to pull the hair out the hair from the mohawk just a bit. It gives the mohawk a messy yet put together look.
24. Three-Layered Braided Mohawk
Yes, that's right! This braided mohawk is comprised of three layers of braids. Each braid is woven with hair extensions. Pick natural hair extensions over synthetic ones. They'll give your hairstyle a more natural look.
25. Twisted Cornrows Braided Mohawk
If you're looking for something cool and edgy, you've come to the right place. This braided mohawk is super modern and stylish. Weave your cornrows in a curved pattern to add a chic touch to this look.


Trivia
Actress Jada Pinkett Smith has famously sported this look with half her hair in an updo and half her hair down.
26. Kinky Braided Mohawk
This braided mohawk is a brilliant hairstyle to show off your natural 'fro locks. Its curled tips only add oodles of oomph to the entire hairstyle. Go for this look if you want to show off your natural locks while keeping them off your face.
27. Jumbo Braided Mohawk
The jumbo braided mohawk seems to be an all-time favorite hairstyle, and rightly so! It looks incredibly stylish and has a contemporary edge to it. Don't worry if you have short hair – you can get this look with hair extensions.
28. Colored Braided Mohawk
Gather the braids at the front of your head and pull them back. Use pins to hold the braids in place. Form a fishtail braid that covers the pulled-back hair with the side braids. This hairstyle looks especially stunning when done with colored extensions.
29. Bantu Knots And Braided Mohawk
Braids and bantu knots are intricately woven into African heritage. I love that they've been combined to form this lovely braided mohawk hairstyle. This one's a perfect hundred in my opinion.
30. Thin Curled Mohawk
Thin curls give the appearance of gelled or wet curls. They've been around for ages and look very cool. The side braids in this hairstyle really enhance the gelled effect of thin curls. It looks wonderful!
31. Curled Ends Braided Mohawk
African women are unparalleled when it comes to creativity in hairstyles. They embrace their heritage and flaunt it with style. I love how they've jazzed up this regular mohawk with those curled ends.
32. Big Bun Braided Mohawk
This bun is an unconventional version of the braided mohawk. This hairstyle is graceful and perfect for any red carpet event. Imagine it paired with some red lipstick, minimal makeup, and a long flowing gown. A perfect ten!
Infographic: Mohawk Hairstyle Fun Facts
The braided mohawk hairstyles are undoubtedly something to die for. These hairstyles are cool, stylish, and widely loved. Check out the infographic below to learn some interesting facts about Mohawks.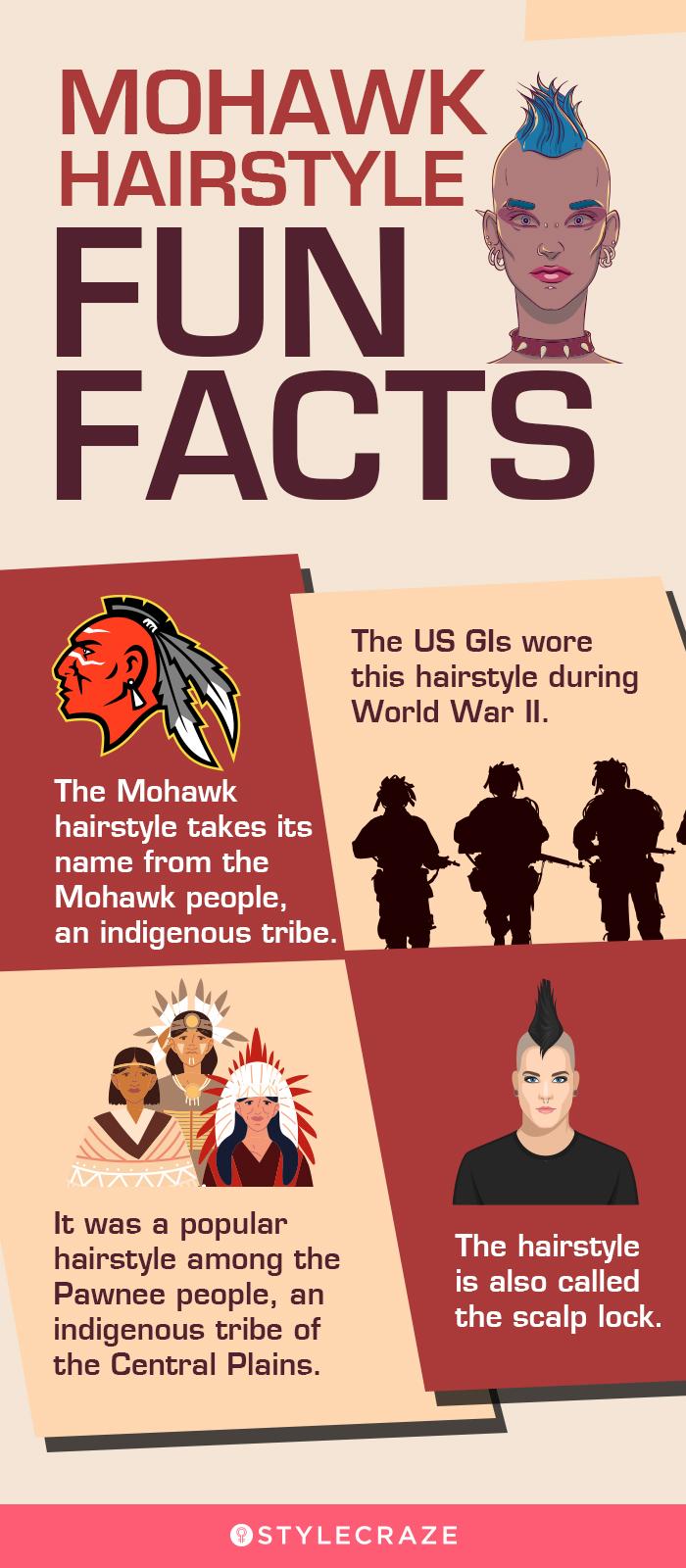 Now that you have all the ideas pertaining to braided mohawks, get the ball rolling and start experimenting with them. Trust me when I say this – you will never ever go wrong with these hairstyles. They are cool, always trendy, and easy to carry too. So, what's holding you back? Take your pick from the styles mentioned above and be the showstopper right away. Also, be very mindful of hair care and hair beauty do not stop yourself from adding your own flavor to the hairstyles. Let your style bring out your personality better.
Frequently Asked Questions
How long do mohawk braids last?
Mohawk braids can last up to two weeks.
How do you do a Dutch braid mohawk?
A Dutch braid mohawk is done the same way as a regular Dutch braid, but make sure the rest of your hair is slicked down so the braid stands out like a mohawk. Weave a 3-section braid from the front of your head. The side parts have to go under the middle section. Keep adding hair to the side sections until you reach the end. Pancake the braid to make it bigger. Tuck the end of the braid underneath the braid itself with bobby pins
How do you do a French mohawk braid?
Take some hair from the front of your head, just a bit away from the front hairline. Divide the hair into three sections and weave a stitch of a braid. Then add more hair to the side sections and weave another stitch. Keep braiding your hair in this manner. Fluff the hair in the end, and your French mohawk braid is set.
Key Takeaways
Braided mohawks are a fierce fashion statement and jazz up your regular hairdo.
This protective hairstyle can be used to keep your hair in place for almost two weeks.
Ponytail mohawk, twisted mohawk, aligned mohawk, and curled mohawk are some of the styles that you can try out.
Learn how to create an easy mohawk Dutch braid and up your style game. Watch this video for a step-by-step tutorial and be ready to rock this edgy look!
The following two tabs change content below.