Do Braids Promote Hair Growth? Are They Safe For Scalp Health?
Understand the reasons how protective braids can support your hair health.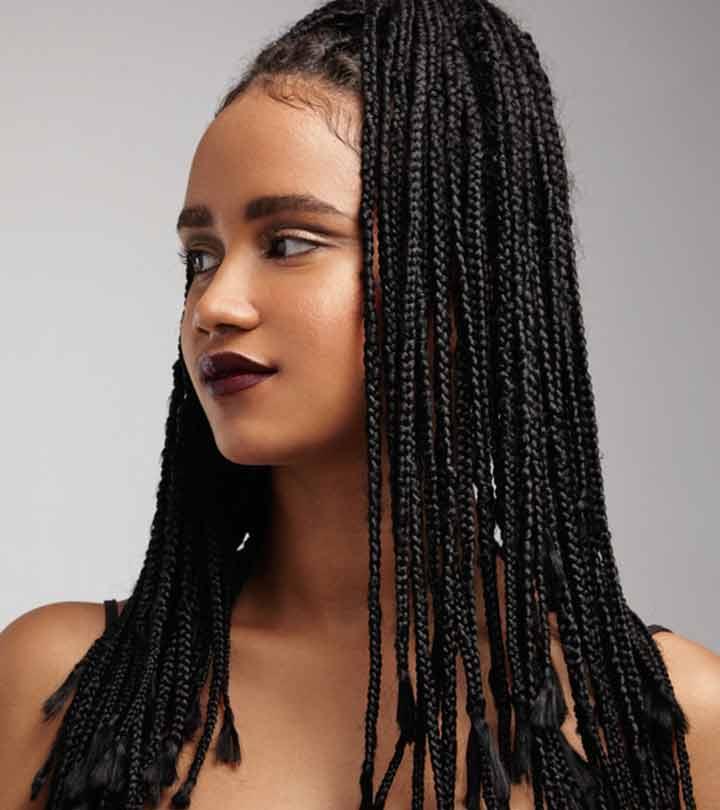 Growing your hair long can take time. But, what if we told you that braids promote hair growth? Anecdotal evidence suggests that braiding your hair protects the strands, prevents breakage, tangles, and shields the scalp from dust and pollution. Moreover, braids look stylish and add definition to wavy and curly hair. They can also be used to style straight hair. Read on to learn how braids boost hair growth and more.

Did You Know?
Braids originated in Africa, in the Himba tribe of Namibia in 3500 BC, almost 5000 years ago.
What Are Hair Braids?
Braiding is a protective hairstyle, and braids (or plaits) are formed by sectioning the hair and intertwining or interlacing them to create a pattern. Braids are incredibly diverse, and there are braiding techniques suitable for different hair textures and types.
This hair technique has been popular for years. With proper hair maintenance, hair tips, and emerging hair trends, braids continue to evolve and remain a versatile hairstyle for many.
Do braids promote hair growth? Find out next.
Braids For Hair Growth: Does It Work?
Unfortunately, braiding cannot speed up the hair growth rate. Your hair growth rate depends on factors like genetics, lifestyle, stress levels, and diet. Your hairstyle does not determine the growth rate. But braiding can protect the hair by preventing breakage and strengthening its structure.
The hair strands stay strong when woven into a braid, which restricts their movement. Braiding also minimizes daily wear and tear caused by friction, especially when you toss and turn while sleeping and during combing and brushing. Moreover, it spares you the horror of hair breakage, which might result in frizz. All these factors help minimize hair breakage and damage, promoting healthy hair growth.
However, ultra-tight braids may pull the hair from the roots, causing traction alopecia (1). This is common in Afro-Caribbean hairstyles involving tight braiding techniques. Traction alopecia is not a disease but results from hairstyling practices. Hence, avoid tying the hair in tight braids. Here are a few braiding methods you may follow for better hair growth.
What Are The Different Braids For Hair Growth?
These are tiny braids woven tightly on the scalp. They are not done on the entire hair length. These braids can stay on hair for months.
This is one of the most classic hair braiding styles for natural and tightly-curled hair. Box braids are three-strand braids with a square-shaped hair division.


Quick Tip
Try knotless box braids if you have a sensitive scalp or fine hair for a more relaxed look and less tension on the scalp.
They are technically not braids but a protective hairstyle to make your hair manageable. In this hairstyle, synthetic hair is wrapped around actual hair, giving it a heavy, dread-like appearance.
They are also known as latch hook braids. Here, synthetic hair extensions are crocheted to a person's natural hair using a latch or crochet hook.
Often, the growth is not visible in braided hair. Is there a way to check that? Find out some easy hair tricks in the next section!
How To Know Hair Is Growing With Braids
Measure the hair length using a scale or measuring tape every 10-15 days.
Check the braid roots. If they appear loose, it means your hair is growing.
Proper hair care is of utmost importance if you are trying to grow your hair. Check out the pre and post-braiding hair care tips below.
How To Maintain Hair Before And After Braiding
Spritz plain water 2-3 times a week to keep your braids hydrated and moisturized.
Clean your braids once a week with a clarifying natural shampoo. Use a deep conditioner to restore and rejuvenate the locks.
Be gentle on the scalp. Avoid drying your braids by rubbing them with a towel. This may damage the scalp and hair. After washing, squeeze the braids gently to drain out excess water.
Moisturize the braids after drying. Massage moisturizers from root to tip to restore hydration and shine.
Do not wear braids for more than eight weeks at a time. Keeping them any longer may cause damage to your scalp and hair. Instead of tight braids, try loose ones like French braids, linear plaits, or fishtail braids. Krysta Biancone, a hair stylist, says, "Loose braids are great for keeping the hair out of your face and protected from heat damage. They also help to detangle the hair, making it easier to style in other ways. However, if you keep them in for too long, they can become tight and cause breakage or split ends."
To protect your braids, wear a satin scarf or bonnet while sleeping.
Braiding the hair is good, but these ultra-tight hairdos can damage your hair. Scroll down to find out how.
Can Braiding Damage The Hair?
Yes, a tight braid can damage the hair by tugging or pulling hair from the scalp, causing traction alopecia (1).
Even a tight spiral braid can cause inflammation and scalp damage. The spiral pattern decreases blood flow towards the vertex, causing ischemic necrosis (2).
To avoid scalp and hair damage, avoid keeping the braids for too long.
How Long Should You Keep In Braids For Hair Growth?
It is advised not to keep the braids for more than 6-8 weeks. Let your scalp and hair breathe for at least a week or two in between braiding. Always change the braiding style and avoid weaving too tightly close to the scalp and roots. You can also consult a professional cosmetologist before trying the braids to check the condition of your scalp and hair. It will give you a better idea of what to do and what not to do.
Infographic: Things You Should Avoid While Wearing Braids
Braids are low-maintenance yet gorgeous and can keep your hair nourished and prevent breakage and split ends. However, you may need some help to make them last longer. Click on the infographic below to learn what you should not do while wearing protective hairstyles like braids.



There is no clear link to prove that braids promote hair growth. Your natural hair growth depends on your lifestyle, hair health, diet, stress levels, and genetics. However, braids do protect your hair from damage and breakage and strengthen the hair structure. This versatile hairstyle prevents your hair from damage caused by daily wear and tear. This keeps your hair healthy, which could promote hair growth. But, if you tie your hair in very tight braids, it may lead to severe hair loss conditions like traction alopecia. Maintain a healthy hair care regimen to stimulate hair growth.
Frequently Asked Questions
Is it better to braid when the hair is dry or wet?
It is always better to braid your hair when it is dry. Wet braids are heavy and can pull your hair at the roots, leading to hair fall.
Are braids better than ponytails?
Braids may be better than ponytails as they keep all your hair in place without pulling at the roots. Wearing your hair in tight ponytails regularly runs the risk of causing traction alopecia.
Can you sleep with wet braids?
No, you must not sleep with wet braids. Wet hair is fragile, and the tossing and turning during sleep may cause hair breakage.
Key Takeaways
Protective braids like box braids and knotless braids prevent scalp damage and hair breakage and encourage healthy hair growth.
Wash your braids with a clarifying natural shampoo once a week.
After washing your braids, massage moisturizer into them from root to tip to restore hydration and shine.
Very tight braids can pull the hair at the scalp, resulting in traction alopecia. Also, don't leave the braids on for too long to prevent scalp and hair damage.

Unlock the secrets of braids! Watch this video to learn about the power of braiding, how it can promote healthy hair growth, and get tips for achieving luscious locks.

Sources
Articles on StyleCraze are backed by verified information from peer-reviewed and academic research papers, reputed organizations, research institutions, and medical associations to ensure accuracy and relevance. Check out our 
editorial policy
for further details.
The following two tabs change content below.