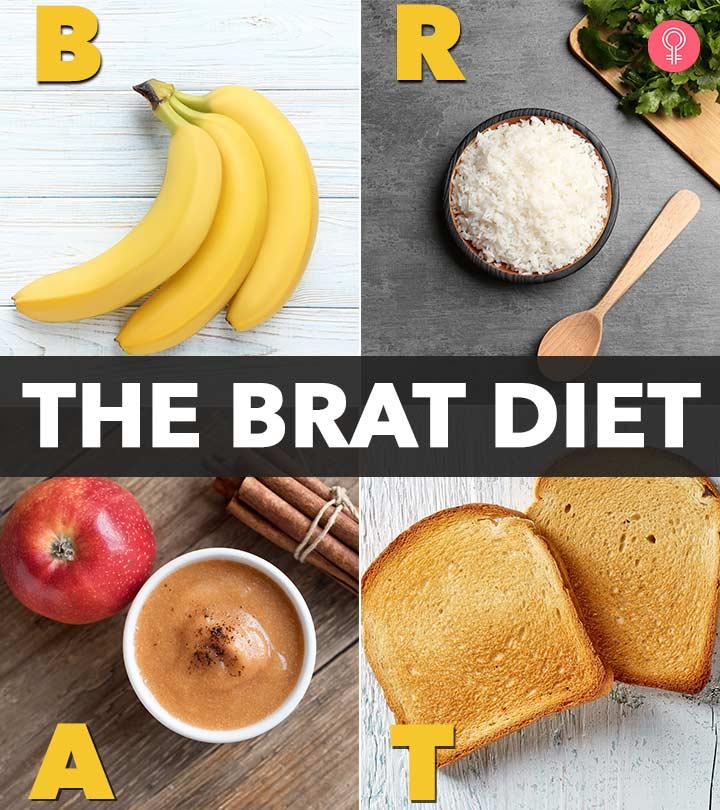 BRAT is an acronym for bananas, rice, applesauce, and toast (1). The BRAT diet, also known as the bland diet, is suggested for people with acute diarrhea and/or vomiting.
This diet has been around for a while now. But if you are new to this diet and want to learn everything about it, you have landed in the right place. Read on to get all the information about the BRAT diet. Scroll down!
More On The BRAT Diet
The BRAT diet consists of foods that are easy to digest and low in fat and fiber. Raw and uncooked foods are not recommended. This diet has a mild flavor and is less acidic, enabling fewer bowel movements.
The diet is low in nutritional value. Hence, following it for two to three days and then getting back to a regular balanced diet is recommended.
In addition to the foods in the diet, you can also consume low-fat dairy products, pudding, fruit juice, vegetable stew, eggs, and lean meat. More food options can be added on the second and third days of the BRAT diet.
One major concern with the BRAT diet is whether it is safe for children or not. Let's find out in the following section.
Is The BRAT Diet Safe For Children?
Though the BRAT diet was once recommended to children with acute diarrhea, experts now suggest against its use for longer periods as it lacks in fat and several other micronutrients (2).
Proper feeding in children with the food appropriate for their age must continue. This must be a standard of nutritional care during acute diarrhea in children.
Let's now understand how this diet works.
How Does The BRAT Diet Work?
The BRAT diet consists of foods high in starchy carbohydrates and low in dietary fiber. These foods make the stool firm. They are also low in fat and protein and hence do not upset the stomach. Since they are not spicy, they also do not cause nausea.
In this way, the BRAT diet can help treat diarrhea in both toddlers and adults.
BRAT Diet For Toddlers
Children with diarrhea and/or vomiting must be introduced to ORS initially. If the child is being breastfed, continue doing so (3). You can also introduce milk formula if the child can tolerate it.
After giving liquid foods, wait and watch for any symptoms. You can then introduce the BRAT diet. The foods are soft, mildly seasoned, low in fiber, and easily digested. This reduces the irritation of the digestive tract.
The BRAT diet can be given to children only for a short while as it cannot replace other healthier food options. Regular food must be resumed after two to three days. The following food pattern can help:
• Coconut water/milk formula (if the child can tolerate)
• Dry toast/mashed potato or sweet potato
• Mashed banana/cooked vegetables
• Rice with boiled lentils
• Broth/clear soup
BRAT Diet For Adults
If you have vomited, rest for a while, and do not consume anything for some time (4). Once you feel that you can tolerate some liquid, sip on regular water, coconut water, apple juice, and broth. Start with lower quantities and gradually increase your intake.
A few hours after you are able to tolerate liquids, you can eat some bland foods like bananas, rice, applesauce, and dry toast.
After 24 to 48 hours, you can resume your regular diet (with foods that are easy to digest). Avoid spicy and fried foods to keep your stomach from getting irritated again.
The following food pattern can help:
First few hours – After you feel your stomach has settled, drink plain water or an electrolyte beverage.
First 24 hours – Consume clear liquids like coconut water, fruit juice, and broth. If the symptoms of vomiting/diarrhea do not return, you can continue drinking something every two hours (5).
2nd day – You can consume foods from the BRAT diet – including bananas, rice, applesauce, and dry toast.
3rd day – You can get back to a regular diet. Add fruits and vegetables to your meal for nutrition.
We have discussed the foods you can include in a BRAT diet. There also is a list of foods you must avoid.
Foods To Avoid On The BRAT Diet
Below are the foods to avoid in the BRAT diet (1):
Spicy and highly-flavored food, including onions, garlic, hot sauces, and seasonings.
Fried and fatty foods, including meat (as they cannot be digested in this condition).
Dairy products like milk, cheese, etc. (you can give milk formula to children if they can tolerate it).
Sugary foods like cookies, cakes, doughnuts, candy, cold drinks, and ice creams.
Key Takeaways
The BRAT diet is rich in starchy carbs and low in fiber, fat, and protein, so it does not upset the stomach.
Children and adults with diarrhea can be given this diet for 2-3 days, followed by regular meals.
Start off with liquids like juices and broths, then move on to soft foods like bananas, rice, and applesauce.
Avoid foods that cause an upset stomach such as spicy foods, fatty foods, sugary foods, and dairy products.
The BRAT diet is recommended for persons who experience diarrhea or vomiting. Also known as bland diet, the BRAT diet consists of simple-to-digest foods low in fat and fiber. It has a neutral flavor and is lower in acidity; thus, it allows you to have fewer bowel motions. However, because it is poor in dietary fiber and does not provide sufficient nutrition, the BRAT diet is only safe to follow for two to three days until your digestion improves.
Frequently Asked Questions
When to see a doctor?
You must visit a doctor if you have the following symptoms:
You have diarrhea or are vomiting for more than 3 days.
• Your body temperature is 101º F or higher.
• You experience dehydration, lightheadedness, decreased urination, and severe fatigue.
• You have bloody diarrhea and abdominal pain.
• You have insulin-dependent diabetes and experience vomiting, diarrhea, or nausea.
• You are under treatment for a medical condition and have acute diarrhea and vomiting.
What are the possible risks of a BRAT diet?
Prolonged use of the BRAT diet can lead to severe malnutrition. The diet substantially lacks vital nutrients, including protein, fat, fiber, calcium, and vitamins A and B12.
What does research on the BRAT diet say?
According to several studies, following a restrictive diet for a long time can result in malnutrition (6). During any illness, a balanced diet should be given to compensate for the loss of nutrients in the body.
Age-appropriate foods should be included in the diet to keep the nutrition levels optimal. Formula milk or breastfeeding should be continued for infants.
Children and adults should return to their regular diets once they start tolerating normal foods.
Can You Lose Weight On The BRAT Diet?
The BRAT diet is effective for anyone with severe diarrhea and/or vomiting. However, it is not recommended in the long run.
References
The following two tabs change content below.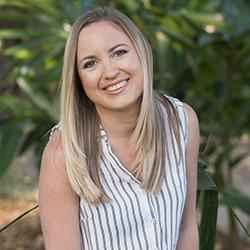 Sarah Spann
(Adv Dip (Nut Med), mATMS)

Sarah Spann is a clinical nutritionist specializing in gut health and is based in Brisbane, Australia. She is dedicated to...

more