50 Bridesmaid Hairstyles For Short Hair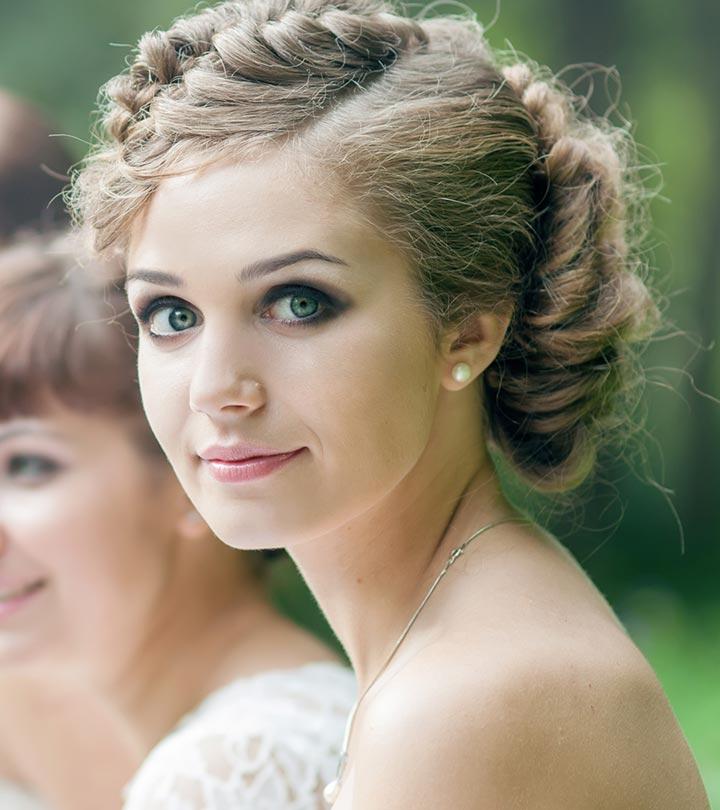 With the wedding season knocking at the door, you must have at least one or two friends or sisters getting married this year. And if you are going to be the attractive bridesmaid in any of those wedding celebrations, it is high time that you start planning for your perfect bridesmaid hairstyle to complement your stunning outfit. Well, need help in choosing the best hairstyle for yourself? Go through the following list to have plenty of ideas.
Let us have a look at the 50 popular Bridesmaid Hairstyles For Short Hair:
1. Very Short and Messy Stacked Bob:
If your hair is too short to sport beautiful hairdos, go for a stacked bob haircut. Give it a messy finish and add lots of hair spray to retain the look. The trick lies totally in how you carry it off.
2. Graduated Bob with Long Side Bangs:
A graduated bob, also popularly known as inverted bob, with long side bangs can be a good option for bridesmaids with short hair. It looks even better on light golden blonde with caramel streaks.
3. Textured Wavy Bob with Wispy Points:
No matter if you are a blonde or brunette, you will look charming enough in this middle-parted wavy bob right beside the bride. The texture and wispy ends are two big features of this hairstyle.
4. Soft Romantic Waves with Teased Top:
Tease the hair at the top and secure the puff at your crown with bobby pins. Let rest of your waves cascade your shoulders. A perfect soft and romantic look needed by a bridesmaid.
5. Textured Wavy Bob with Messy Finish:
A wavy bob can look awesome on a bridesmaid depending upon her outfit. Just create a side part, give the hair a messy finish and texturize it properly.
6. Layered Bob with High Volume and Curved Fringes:
If you have a layered bob, curl up its edges in an inward direction for an added touch of elegance. Those slightly curved fringes can rest on your forehead, but do not forget to volumize the top intensely.
7. Curly Bob with Teased and Twisted Top:
Curly natural blonde looks amazingly gorgeous in this hairstyle. Tease and twist the top section of hair and secure it at one side of your head with bobby pins. A hair brooch will even double up your glamour.
[ Read: Hairstyles For Brides With Round Faces ]
8. Smooth Rounded Bob with Side-Swept Bang:
How about wearing this sleek smooth bob having slightly rounded edges with a classy milky-white outfit? The side sweep should fall over the eye brow in order to make you look prettier.
9. Textured Bob with Curly Ends:
Look like a dazzling beauty by sporting this jet black, perfectly textured bob on your friend's or sister's wedding. You must curl up the ends of your hair for a precise as well as graceful finish.
10. Puffy Top with Textured Curls:
Add a volume to the top of your head and retain it by using a couple of hair clips at the back. Now, texturize the rest of your hair to create long, soft and eye-catching curls. You are ready!
11. Wavy Layered Bob Tucked Behind Ears:
A short layered bob with rich chocolate brown shade itself is one of the best short bridesmaid hairstyles to make you stand out from others. Creating delicate waves on it and tucking it behind the ears neatly will work as add-ons.
12. A-Line Bob with Smooth Fringes:
A-line bob goes excellent with heart and diamond-shaped faces. So, if you have such a facial structure, pick this hairstyle with smooth fringes and a little wavy first layer of bangs. Sweet and simple!
13. Shoulder-Length Messy Bob with Wispy Ends:
Want a playful look as a bridesmaid for that bright wedding party? Start with creating an off-center part for your shoulder-length bob and add a messy effect to it, while making the edges wispy.
14. Layered and Textured Bob with Intense Curls:
Smooth, coiled hair can give you an absolutely perfect bridesmaid look. But make sure that you have shoulder-length layered locks, which are texturized nicely. You can also add an accessory of your choice.
15. Stacked and Textured Bob with Roses:
Forget fussy hairdos. When you have stacked bob on blonde hair, you just need a couple of fresh beautiful roses to brighten it up. Adding texture to your locks will give you a better finish.
[ Read: Simple Bridal Hairstyles For Curly Hair ]
16. Simple Low Bun with Puffy Crown and Side Sweep:
This hairstyle suits both bride and bridesmaid beautifully. You just need to puff up your crown and make a small low bun right at the nape of your neck. Tuck the side sweep into it loosely right behind your ear.
17. Side Low Bun with Free Ends and Side Sweep:
This casual look can be achieved by sweeping the hair into low bun at any one side of the head. In order to balance off the romantic side sweep, let the end of the bun swing on your shoulder freely.
18. Wavy Layered Bob with Texture and Intense Volume:
There is no need of funky hair accessories, if you can sport this highly volumized layered bob with right attitude. Creating waves and adding texture will help you keep the style intact for the whole day.
19. Pale Purple Semi-High Bun with Puffy Top:
If you are choosing a dark-shaded bridesmaid outfit, consider this simple hairstyle with a pale purple tint. Even though it is a regular semi-high bun with a puffed up top, it's pretty. Right!
20. Unique Twisted Hairdo:
Small twists around the head can actually complement your bridesmaid outfit and make you look differently stylish. So, are you ready to give it a try?
21. Retro Bob with Sexy Curled Side Bang:
How about adding a retro flair to bridesmaid short hairstyles and look like an unusual bridesmaid? Well, it is all about how neatly you can texturize your hair and curl up your side bangs. Sexy and graceful!
22. Puffy Loop Bun with Side Sweeps:
Silky smooth hair is not only meant to be left loose. Just add volume to your crown and sweep your hair into a loop bun at the nape of your neck. Accessorizing it will enhance your look even more.
23. Low Twisted Loop Hairdo:
A sophisticated bridesmaid outfit can be nicely complemented with this wonderful low hairdo. All you need to do is slick back your hair and twist it in such a manner that it turns into an attractive loop.
24. Elegant Low Bun with Rolled Side Bang:
Want to keep it simple yet classy? How about this easy-to-wear low bun? However, you need to keep rest of the hair slightly loose as well as roll up the side bang and secure it with bobby pins.
25. Doll-Like Textured Curls with Twisted Hair Headband:
Do you have thick layered bob? Give this delightful style a shot and doll up your look as the bridesmaid. Curl up the ends of your hair, add a nice texture to the crown and finally, decorate the entire hair with a twisted hair headband. Awesome!
26. Flowy Textured Curls with High and Lowlights:
Play with your hair color to look ravishing in your bridesmaid attire. Pick two appealing shades and create some eye-catching highlights and lowlights. Then, add lots of hairspray to the curls and let them flow down your shoulders.
27. Asymmetric Bob with Layered Curly Bangs:
An asymmetric bob can be the ideal choice for achieving an edgy bridesmaid look. Keep the hair very short at one side and layer it up on the other side. Also, grab attention to the side-swept bangs by curling them properly.
28. Small Low Bun with Puff and Braided Hair:
When it comes to getting a classic bridesmaid look, nothing can be better than a braided hairdo. Create volume at the crown as well as the back of your head and come up with a small bun right below it. At the same time, braid up the front hair and secure it into the bun.
29. Side Bun with Braided Headband and Fringes:
If you wish to look a bit more modish, go for a messy side bun with straight front fringes. Adding a braided headband to it will spice up the hairstyle even more.
30. Gorgeous Upside Down French Braid:
Here is another braided hairdo that will look splendid with your backless bridesmaid gown. It is basically an upside down French braid that has got considerable depth for the shades of highlights and lowlights chosen rightly.
31. Sexy Stacked Bob with Curled Inward Bangs:
Let your stacked bob add to your special bridesmaid look significantly. Curl up your short bangs in an inward direction and tease your crown a little bit.
32.  Beautiful Braided French Twist:
Let us add a zing to the typical French twist hairstyle. Separate a certain section of hair from the top of your head and braid it up. Now, place it over the twisted section of hair and secure with bobby pins into the ending hairline. Perfect for the bridesmaid look!
33. Face-Contouring Bob with Side-Swept Bangs:
A simple straight bob can make the best pair with a stunning bridesmaid dress. Try to frame your face with your hair and allow the side-swept bangs to rest on your eye charmingly.
34. Chic Bob with Layered Bang and Twisted Side:
This is an upgraded version of a chic rounded bob. Just twist the hair at the shorter side and stuck it behind your head. Get your front bangs layered and embrace your forehead in a stylish manner.
35. Messy Low Side Bun with Textured Side Bangs:
Check out the messy low side bun made by creating a deep side part and those flawlessly texturized side bangs cuddling it. Don't you think that it will go the best with your striking bridesmaid dress and charismatic personality?
36. Twisted High Bun with Teased Top:
Want to show off your toned neck and shoulders? Opt for this sexy high twisted hairdo. Also, make sure that you tease the hair present at the top of your head and apply hairspray to it generously.
37. Vintage Textured Hair with Low Twisted Bun:
Make your bridesmaid hairstyle for short hair to experiment with some classic vintage look. Start with creating a twisted low bun at the nape of your neck and follow it by texturizing rest of your wavy hair. And yes, don't miss out that sexy side bang!
38. Curled and Textured Low Side Hairdo:
Curl up the sides as well as ends of your tresses and make a low side hairdo. Set the entire hairstyle with lots of hairspray. Finally, jazz it up with some exclusive accessories.
39. High Ponytail with Puffy Top and Curly Ends:
If you think that ponytail just doesn't go with a regular bridesmaid look, you are totally wrong. Add enough volume to the top of your head and make a high ponytail with slightly curved edges. Isn't it lovely?
40. Loose Waves with Hair-Wrapped Ponytail at Top:
Look fresh and youthful in your bridesmaid gown with this easy-to-wear hairstyle. Apply a huge amount of hairspray all over the hair in order to turn it into messy waves. Now, make a ponytail at the top of your head and wrap it with a thin section of hair.
41. Simple Side Braid with Wavy Side Bangs:
Increase your feminine charm with this soft and dramatic braided hairstyle. You just need to create a regular side braid with your wavy locks and adorn it with curly highlighted side bangs.
42. Twisted Side Hairdo with Curly Ends:
This is a super easy hairstyle that can help you look effortlessly stylish in your bridesmaid attire. Curl up the ends of your hair and gather it at one side. Now, twist the hair present at that side and secure it right above the ear with bobby pins.
43. Loose Waves with Braided Headband:
Keep your wavy hair loose and decorate it with a braided headband. This is a highly adorable look that you will certainly love to flaunt in the marriage party of your sister or friend as the bridesmaid.
44. Curly Hair with Braided Headband and Fringes:
It is an admirable adaptation of the previous hairstyle. Let the fringes swing over your eyelids and get defined curls at the ends of your hair. At last, augment the look with the braided headband.
45. Intense Curls with Twists at Top:
If you have a short bob cut on super curly hair, then this is one of the best bridesmaid updos for short hair bob to go with. Create multiple parts at the top of your head and twist up the hair in small sections. Secure them at the crown with hair clips. Quite unique!
46. Simple Ponytail with Curly Ends and Hair Wrap:
If you feel the most comfortable in a ponytail, this sweet and cute hairstyle will impress you very much. Just curl up the ends and wrap its base with a section of hair. Also, add a striking piece of hair accessory to it.
47. Middle-Parted Textured Hair with Curly Ends:
Create a middle part and curl up the edges of your straight smooth hair intensely. For added texture, apply lots of hairspray to it. Your hair is ready with an exceptional bridesmaid look.
48. Twisted and Tucked In Hair with Texture:
In order to wear this exclusive hairstyle, you have to give your hair proper hold by applying hairspray. Then, twist inward starting from the bottom and tuck it in as soon as you reach the nape of the neck.
[ Read: Indian Bridal Hairstyles ]
49. Twisted Low Bun with Side Braids and Wrap:
This is an innovative bridesmaid look that can be sported by creating a low twisted bun and a few side braids. Wrap the braids around the bun and set the entire style with hairspray.
50. Twisted and Rolled Low Hairdo:
Start twisting as well as folding the hair right from the bottom and include both sides in it as you go up. You must do in the outward direction and secure the hair with bobby pins at last.
Here ends the list of Bridesmaid hairstyles for short hair! So, have you found the most suitable bridesmaid hairstyle for yourself? Do let us know by leaving a comment below.
Recommended Articles:
The following two tabs change content below.

Latest posts by Deepika Goenka (see all)