Cute Bridesmaid Proposal Ideas That Are Fun And Interesting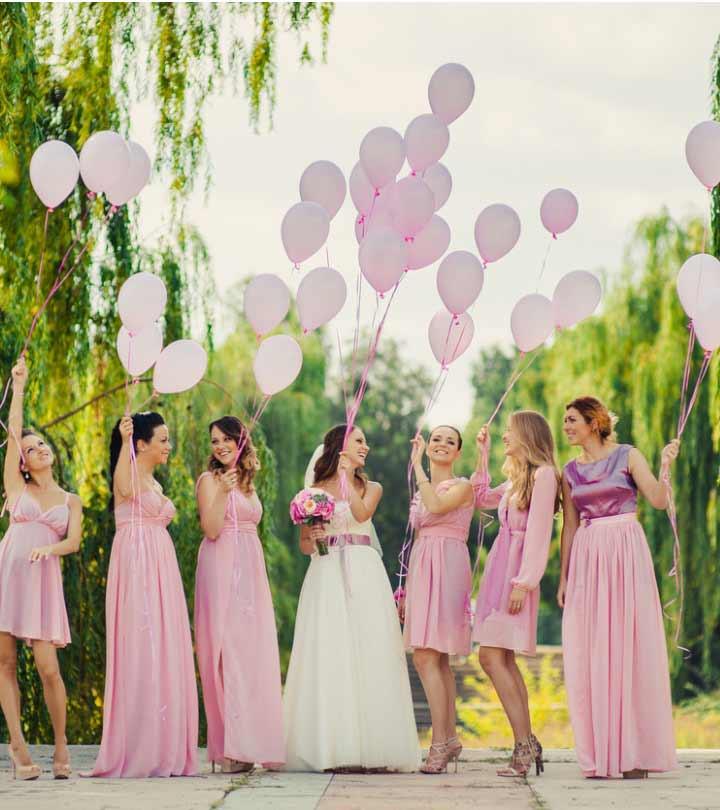 We all know how excited everybody gets about weddings! A sweet and gorgeous wedding ceremony is definitely one among the wedding checklist. From deciding on the wedding gown to choosing the right menu, everything needs to be taken care of without at all taking a chill pill! And if you are the bride, we know there are endless things that you need to figure out—from flowers to decor, to makeup to the guestlist, and the like. But most importantly, you will need to have some out-of-the-world bridesmaid proposal ideas because these ladies are gonna be with you throughout your entire wedding.
Ideally, you can ask your bridesmaids to take up the responsibility once you have the engagement ring and the date is set. And while you do this, you gotta make sure that it sweeps them off their feet, and they are left with no choice but to say a giant "Yes"! But hey, is your pressure mounting? Don't let it. We are here to rescue you by dint of some catchy ideas to ask your bestie to be your girl for the event! So, read on and get inspired.
Bridesmaid Proposal Ideas Your Bridesmaids Will Love
Being a bridesmaid is a moment to be treasured; after all, how often does one get to be one! So here are some unique ways to ask your bridesmaids to get them into one of the most crucial wedding roles. But before we begin, let us establish a few ground rules you would needa to keep in your mind before you ask. Giving them time to plan your wedding is essential. Hence, asking as soon as you have a date at least a minimum of four months prior to the date is necessary. This can give them ample opportunity to save up for their clothes and other expenses and plan the different essential aspects. This is also considered a formal invitation for the wedding.
Now, let's find out the fantastic ideas that we have in store for you!
 You can have some bridesmaid proposal gifts to ask the question. Get a customized hamper with your pictures together or a gift card that has the question on it. If they don't live in the same city as yours, sending a gift hamper is one of the creative ways to ask bridesmaids to be your wedding gang, yet surprising as well. It can also have a mug or key chain with your photograph. You can also add a personalized robe that reads "Bridesmaid" so that they can use it during your wedding and, of course, save it as a wedding souvenir. You can even consider including a wedding planner journal so that they can use it to make notes of everything! This can later be a good memory book for you and the girls! What is more, you can offer a printed invitation too. This invite can also be the official invite you send to the guest list, or even personalized unique bridesmaid invitations can work! Adding accessories of their favorite is also a good go-to! Any jewelry that they love can be included, like earrings or pendants. Or, if you want to personalize a bracelet or pendant with their name, then it could make the best gifts to ask your bridesmaids to be your wedding girl squad! To add more to the ideas for bridesmaid gift hampers, you can have customized goodies like t-shirts, coffee mugs, etc.
 Another creative idea would be to send a puzzle! You can easily get customized puzzles on the internet. Everything is just one click away. Do some browsing and get an illustration of you and them ready to do a puzzle. You can add the question to the illustration as a part of the puzzle. This way, the element of surprise stays until they are actually done solving the puzzle.
 If you are thinking about the maid-of-honor proposal, why should you keep it low? Maid-of-honor is, after all, the leader of the bridesmaid pack. You can throw a simple party for her. You can call all your bridesmaids to attend the party as well. This will also give the maid-of-honor enough opportunity to plan and get to know the folks in her team. As a return gift from the party, you can still include a bridesmaid gift. This can be a simple bathing bomb or other bath products with their name engraved or a tote bag.
 We have a few more bridesmaid proposal box ideas lined up that you can offer at the party or get-together you are gonna organize to pop the question! But first, to begin the celebrations, let us show how things need to be done. So, for this, how about a round of drinks for them served with a fancy shot glass that has their names inscribed?! Sounds cool! That will get everyone pumped up! Now, time to offer the gifts while you pop the question. You can consider making customized socks or even an accessories kit with pendants and hair accessories that they can use for your weddings or even later! If you have a color theme in mind, try matching these with the theme so that your bridesmaids can make use of them. Also, they will definitely be all pumped to get dressed and dolled up! Hence, you can include makeup essentials from lip-balm to lipstick to eye gel or concealer. Now, who will even think to even say "No" to the proposal?
 You can take them out to a fine cafe where you can offer them some custom-made fortune cookies because these cute fortune cookies can never be wrong! You can have the question written on the cookies and serve your team! Once they begin to eat them, their eyes will sparkle reading the sweet little question on them and scream "Yass"!
 Thinking of cute bridesmaid proposals? You can set a coffee date or any day out doing the fun thing you enjoy together, and as you call it a day, you can tell them how much it means to have them around and why you need them by your side. Pop the big question, and they will be all in happy tears! We bet there is a beauty in keeping it intimate and low-key as well!
 How about making it much more intimate with a vow? Yes, you can write a vow for your best friend. Think about the best things she has done for you and note down why you need her on your side. You may let her know that you trust her to pick you up when you panic or freak out or even have cold feet. Let her know that it is her who would help you to get you back on your senses.
 Now to ask these ladies to become your bridesmaids in a fancy manner, we have another idea. How about having a balloon to drop the question? "Will you be my Bridesmaid" balloons are just all over nowadays. Blow some of these balloons (or even one will do) and surprise your girl squad!
Below we have some fun ways to ask the question. Check them out.
 Starting with the basic and simple way: "Will you be my bridesmaid?"
 To make it more intimate, you can frame it with these heart-touching words: "I cannot say 'I do' without you, will you be there by my side?"
 You can also ask them: "Will you help me tie the knot?"
 You can theme your bridesmaids and call them "I do crew". To propose this, you can ask, "Will you join the 'I do' crew?"
 You can also try "I cannot get hitched without my best. Please be there?"
Popping the question of being bridesmaids to your girl gang can be tricky, especially if you want to make a big and special thing. The bridesmaid proposal ideas in this post can be helpful when you want to add that extra factor to the question. From balloons to customized puzzles, there are so many ideas to inspire you and make it so that your friends cannot refuse. But, of course, the most important things to consider are giving them enough time to prepare for your big day and making them feel absolutely special.
Frequently Asked Questions
What should a bridesmaid's proposal say?
It is not necessary to have one specific sentence or structure. You only have to make them understand how important it is to have their support on your big day. So the proposal should convey that you are giving them a choice to be your bridesmaid.
How much should you spend on bridesmaid proposals?
It depends on the budget you have allocated for the wedding. Let's say, on average, a maximum of six to eight percent of your total budget should be more than enough.
How far in advance do you do bridesmaid proposals?
As soon as you have an engagement ring and a fixed date, asking your bridesmaid should be a priority. Let's say a maximum of two months after the engagement and four-six months before the wedding date.
Key Takeaways
Planning the bridesmaid proposal with gifts or gift hampers can be a good idea.
Puzzles are also great bridesmaid proposal ideas. You can get them online, or you can prepare them.
Asking the bridesmaid the special question with balloons is a cool idea always.
You can plan a coffee date for a bridesmaid proposal.
The following two tabs change content below.