6 Brilliant DIY Ideas For Nail Polish Removers
Ways to keep your nails clean and healthy with easily available home ingredients.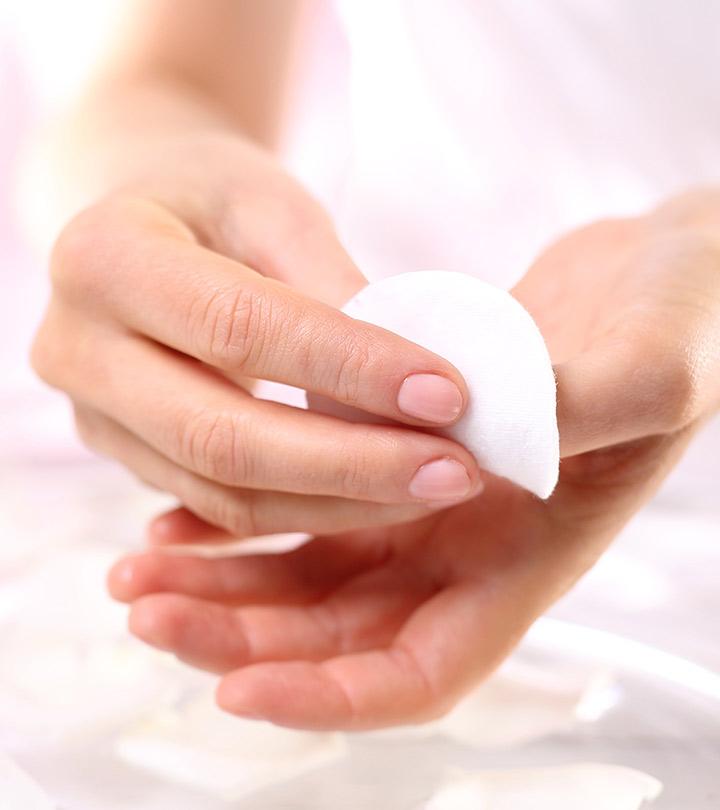 DIY ideas for nail polish removers can save you on an unfortunate day! How?
Imagine you are all set to go for a party, trying to find your shoes, when suddenly your eyes notice your fingernails with chipped nail polish! Only you do not have to imagine because this happens to us all. And interestingly, these are often the moments when you realize that you have run out of nail polish removers. But do not get impatient or panicky because we are here to help.
The easy-to-use homemade nail polish removers have simple recipes and are healthier, safer, and cheaper than the regular ones. So, swipe up to explore them!
How To Make Nail Polish Remover At Home?
Here are six amazing DIY homemade nail polish removers.
1. Lemon
Lemon is a natural ingredient that can be used to remove nail polish. It is also a natural ingredient used in manicures. All you have to do is rub a slice of lemon on your nails and remove the nail polish. Now, isn't that easy?
You Will Need
How To Remove Nail Polish With Lemon
Soak your fingers with nail polish in lukewarm soapy water for about 3-5 minutes.
Then, use a lemon slice as an alternative to commercial nail polish remover. This will help soften the nail polish so that it comes off easily.
Use a moisturizer or nail oil to keep your nails healthy after that.
2. Vinegar
Vinegar is an acidic ingredient that can break down nail polish. Vinegar is also something that can often be found in homes or your local supermarkets.
You Will Need
How To Remove Nail Polish With Vinegar
Soaking the nails in warm water for 10-15 minutes before removing the nail polish can help to speed up the process.
Mix equal parts of lemon juice and vinegar.
Stir the mixture, soak a cotton ball in it, press it onto your fingernails, and hold it for 10-20 seconds. This causes the nail enamel to dissolve and removes all the remnants of nail polish.
Then use the cotton ball to wipe the polish off. It might take a little longer to remove the nail paint if there are several coats.
Don't forget to moisturize or apply nail oil afterwards.
Quick Tip
You can also add an equal amount of orange juice with vinegar. The fruit's acid content also helps remove the nail polish.
3. Alcohol
Rubbing alcohol is a good alternative for those who don't have lemon juice and vinegar for preparing homemade nail paint remover. It is more natural and less harsh than the chemicals found in commercial removers. Using alcohol as a nail polish remover can be beneficial for those suffering from nail infections, as alcohol has antibacterial properties.
You Will Need
Rubbing alcohol
Bowl of lukewarm water
Cotton ball
How To Remove Nail Polish With Alcohol
Soak your nails for some time in the bowl of lukewarm water.
Wet a cotton ball with alcohol and use it to wipe off the nail paint.
To keep your nails healthy, use a moisturizer and cuticle oil.
4. Deodorant
Are you running out of all the above supplies? Acetone is the main ingredient present in store bought nail polish removers, but it can be harsh on the skin. Don't worry! Deodorants also contain some solvents that can act as wonderful nail polish removers.
You Will Need
Deodorant spray
Cotton ball
How To Remove Nail Polish With Deodorant
Before doing this, make sure you are not allergic to spray deodorants.
Just grab your deodorant can and keeping the nozzle at a closer range, spray it over your nails.
Immediately wipe it off using a cotton ball. Deodorants have alcohol and acetone in them that will help to clean the nails and remove the nail paint quickly.
5. Hand Sanitizer
Another DIY hack for removing nail polish from your nails is by using a hand sanitizer! This is something that can be easily found around the home so try it out!
You Will Need
Hand sanitizer
Cotton ball
How To Remove Nail Polish With Sanitizer
Squirt a little of the hand sanitizer on your nails. Immediately rub a cotton ball over them.
Repeat the process until the polish starts to come off. However, don't use a lot of sanitizer.
Be sure to wash your hands thoroughly once you are done with it. Otherwise, it will dry on your nails. Now that's something you don't want, do you?
6. Nail Polish
Okay, I know how this sounds. Nail polish to remove nail polish? Trust me, it actually works! Nail polish dries due to the evaporation of solvents. These solvents also soften the polish, so applying nail polish on nail polish makes it easy to remove it! Fight fire with fire, right?
You Will Need
Any old nail polish that you don't mind wasting.
Kitchen paper towel
How To Remove Nail Polish With Nail Polish
Apply the nail polish on your nails. Make sure it's not a fast drying one.
Use a paper towel immediately to wipe it off.
It may take a few tries to clean it away completely.
Tips And Precautions To Be Followed While Using DIY Nail Polish Removers
These methods are only alternatives. They might not be as effective as nail polish removers since the key ingredient to removing nail polish is acetone, which is absent in them.
When using nail polish to remove nail polish, make sure that what you're using does not dry quickly. It's best to wipe it off while it's still wet. If it dries, it may be even more difficult to remove.
Don't forget to moisturize and apply cuticle oil once you have removed the nail polish. This keeps your nails healthy.
Quick Tip
You can also use hairspray to remove nail polish. But ensure it is aerosol hairspray as it can help remove nail polish from even carpets and fabrics.
Infographic: 6 Alternative Ingredients To Substitute Nail Polish Remover In An Emergency
You need to be ready within the hour and realize that your nails are messily speckled with your old polish. But you forgot to order a bottle of nail polish remover! You need a cheat sheet of substitute ingredients to use in place of a remover. And the best part, you are most likely to have these ingredients around the house.
Here's the infographic with the list of common household items that can help you get rid of nail polish quick and easy.


Bet you would never have imagined these conveniently available household items could save the day like this. Cool! Right? The next time you run out of nail polish remover, you know what to do! Make a note of these brilliant DIY ideas for nail polish remover, and you will have your alternative backup options handy. If you have not tried these yet, are you waiting for the next crisis? Go on, test them all out and prepare to be impressed! You can thank us by sharing these tips with your friends.
Frequently Asked Questions
Can you use toothpaste to remove nail polish?
Yes, you can use toothpaste to remove nail polish. Just scrub your nails with regular toothpaste or one that contains baking soda.
Can you use tissues to remove nail polish?
Using tissues to remove nail polish is not wise as they shred. The process can be a hassle. A washcloth can be a good alternative.
Key Takeaways
Try a vinegar and lemon juice mixture to remove your nail paint naturally.
Your deodorant can be a great option for removing your nail polish.
Grab your hand sanitizer and use it as a nail remover.
Try applying a fresh layer of any nail polish, and while it is wet, remove it with a cotton ball.
The following two tabs change content below.