20 Amazing Brown To Blonde Hair Color Ideas
Lightening brown hair is one of the easiest ways to spruce up your hair and up your style quotient. Whether it is an ombre, sombre, balayage, or babylights, adding blonde to your natural brown locks is the simplest way to make things interesting. And with so many techniques to choose from, there is something for everyone. We've put together a list of 20 brown to blonde hair color ideas that have managed to take our breath away. But first, let's look at how you can get this look at home.
How To Get Brown To Blonde Hair At Home
Sometimes, going to the stylist can be hard on your budget. But some styles are simple enough to achieve at home. I've put together a step-by-step tutorial oh how you can achieve a simple brown to blonde ombre.
You Will Need
Hairbrush/comb
Gloves
An old shirt
Clips for sectioning
Vaseline
Ombre kit
Applicator brush
Plastic bowl
Shampoo
Conditioner
Method
Using a comb or hairbrush, detangle your hair.
Ensure that you are working with hair that has not been washed in a couple of days.
Put on an old shirt that you wouldn't mind getting stains on.
Put on your gloves and apply the vaseline all along your hairline and on your forehead, ears, and neck.
Following the instructions on your ombre kit, mix the color in a plastic bowl.
Section away the top part of your hair and start working with the mid-lengths of the lower layers.
Following the instructions on the box, apply the dye onto your hair in sections. Ensure that you are concentrating on the tips and work on them first so that they are the lightest.
Once you're done with the lower layers of your hair, start working on the sectioned away crown part of your hair.
Once you've got the dye on, run your hairbrush through your hair to ensure that all strands are evenly covered.
Leave the dye on for the recommended amount of time.
Proceed to shampoo and condition your hair.
Brown To Blonde Hair Color Ideas
20 Brown To Blonde Hair Color Ideas
1. Caramel Iced Latte
This hairstyle is satisfying all of our morning coffee cravings. The deep espresso roots have melted to take on lighter coffee tones ending with the light latte foam all coffee lovers live for. The multi-toned look adds dimension and texture to fine, straight, and wavy hair.
2. Cool Maple Balayage
This root drop/balayage is one of the best styles that we've laid our eyes on. The deep brown tones seamlessly fade into the pale baby blonde color. The sweeping balayage effect of this look has been perfected so well, we cannot think of how this could get any better.
3. Cool Blonde Ombre
The contrast on this looks is so high, but the blending so well done. The deep brown hair transitions into a beautiful pale blonde, creating the perfect ombre. If you have dark hair and prefer ombre over balayage, this might just be the right style for you.
4. Sweeping Platinum
This style is so smooth our eyes can't seem to focus without slipping. Moving from a dark brown to a cool platinum, the blending has definitely been performed by the hands of an expert. We love how the platinum is so even, bereft of any warm tones.
5. High Contrast Balayage
Talk about contrast. This deep-rooted balayage has been so expertly blended out to an almost platinum blonde. The hair takes on lighter tones of brown at blonde near the mid-lengths to create the perfect fade.
6. Balayage With Dimension
The dimensions in this style are magical. The blonde is heavier towards the ends and near the framing bits of the face. The color has been swept on finely, creating texture and dimension. This is one of the best styles to sport if you have fine hair.
[ Read: 30 Short Hairstyles For Fine Hair ]
7. Blonde Sombre
We have not seen better framing than this style. The caramel blonde is heavier near the framing bits of the hair than near the back or the tips. The color is rich and warm and has a beautiful melting effect.
8. Almond Toffee Crunch
This hair looks so good we almost want to take a bite out of it. We love how the artist has left a lot of the natural color alone, starting the fade past the mid-lengths of the hair. The fade begins higher up near the framing bits of the hair, moving down as you go around the back.
9. Straight Definition
We love this style. The artist has avoided creating a high contrast look by starting the balayage fade right at the roots. The natural brown under this blonde color is creating a beautiful low lights effect, adding depth to the style while the multi-toned blonde creates volume and dimension. This style is perfect for women with fine straight hair.
10. Melting Caramel
This warm caramel brown fade is what dreams are made of. The deep roots have been faded to a warm caramel brown, which then transitions to a caramel blonde. The result is so seamless, creating a beautiful sun-kissed look.
[ Read: Best Caramel Shade Hair Colours Available In India ]
11. Blonde Root Melt
Cool melts are our favorites. This beautiful melt fades from deep brown roots to glossy blonde hues. The fade starts very high up near the roots and the two-toned blonde creates dimension, making this style perfect for fine hair.
12. Latte Fade
We love our caffeinated hair as much as we love our caffeinated drinks. This balayage looks so authentically hand-painted. We are in love. The beautiful rich brown fades to a baby blonde, creating the perfect amount of contrast.
13. Glossed Ice Melt
We cannot wrap our minds around how glossy this melt is. The cool-toned brown hair fades to an icy platinum, giving us the best kind of chills. We cannot get over the flawless transition, making this one of our favorite brown to blonde looks.
14. Melted Mocha
Lovers of coffee, it cannot get better than this for you. The chocolate and coffee tones in this style create the perfect mocha blend that we cannot take our eyes off of. The deep roots are quick to pick up blonde hues to create a hand-painted balayage masterpiece.
15. Dimensional Blonde
Two-toned blondes are among our top favorites. This style is nailing the brown to blonde look with its natural brown lowlights that quickly fade to a two-toned blonde, creating dimension and volume. This style is ideal for fine hair.
16. Caramel Color Melt
We love the sharpness of this look. The natural dark hair on this look goes so well with the added warm blonde hues. The strawberry blonde helps cut down on contrast, creating a look that will suit textured and wavy hair.
17. Warm Chestnut Balayage
Lovers of warm tones, this one is for you. The warm chestnut brown fades to a beautiful chestnut blonde with a hand-painted balayage effect. The lighter colors have been used sparingly, creating depth and dimension.
18. Babylights On Brown
Babylights will always be a classic, and this style is the epitome of classy. The fade is almost not noticeable, but as you move from the roots to the tips, the contrast cannot be missed. We love how the sun-kissed baby lights frame the face in this look.
19. Drop Root Blonde
We love a good root drop and this style is a great root drop. The brown roots have taken on silvery blonde tones as you move down the hair. The subtle rose-gold undertones cannot be missed in this dominatingly cool hairstyle. This is one of the best styles for people with olive skin tones.
[ Read: How To Choose The Right Hair Color For Olive Skin And Brown Eyes? ]
20. Fall Vibes
Golden leaves. Golden trees. You cannot miss the fall vibes of this style. The deep brown hair has been sparingly streaked with gold to create the perfect fall brown to blonde style. This is one of the best ways to spruce up short brown hair.
These brown to blonde hair color ideas are among the best we've seen. We hope you love them as much as we do. Do you plan on sprucing up your brown locks with some blonde? Tell us about your big hair plans in the comments section below.
Recommended Articles

The following two tabs change content below.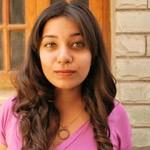 Latest posts by Meenal Rajapet (see all)