Are You A Bubble Tea Addict? Do You Know What Goes Into It?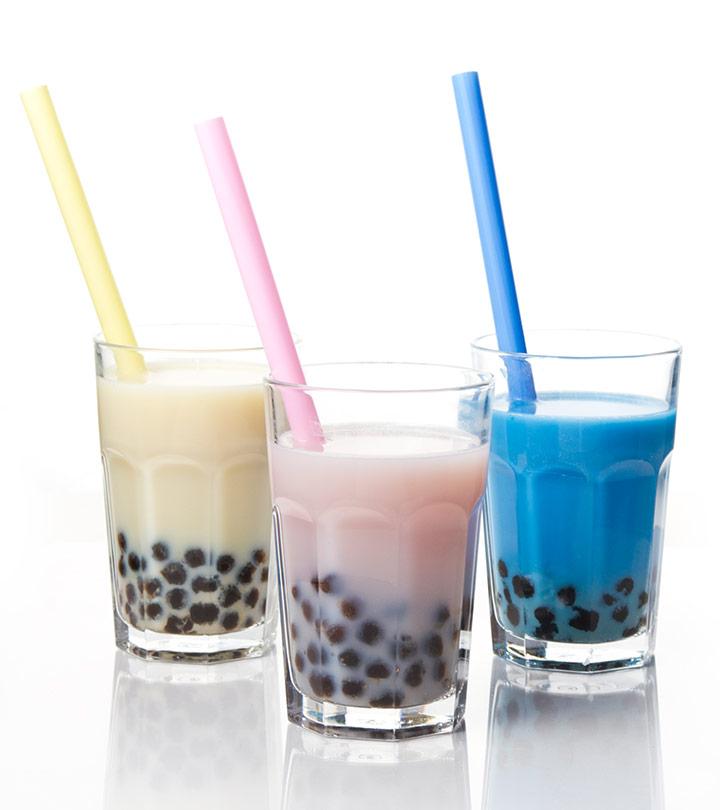 All that glitters is not gold. And all that's sweet and milky is not healthy, especially if they are beverages. Be it tea, coffee, milkshake, or juice – sugar makes it tasty. Bubble tea is an Asian spin-off from such sweetened beverages.
Bubble tea is a beverage that is made of milk, sugar, fruit flavors, ice – and bubbles! What are these bubbles? What is so special about this tea? You have to read on with an open mind for answers to these questions. Let's get started!
Table Of Contents
What Is Bubble Tea? How Is It Made?
Bubble tea, also known as boba milk tea or pearl tea, is a drink made from a range of fruity flavors or coffee or tea, sugar, and various toppings, including the 'bubbles.'
The central ingredients in this tea are the bubbles or pearls or boba. These boba balls are made of tapioca. Cassava starch from sweet potato, chamomile root, caramel, brown sugar, and various additives are boiled to produce chewy, round balls.
These tapioca balls are then added to hot, cold, and blended beverages. Such drinks are usually consumed with a wide straw, through which the balls are slurped and chewed.
Bubble tea comes in several flavors and combinations. You get honeydew, lychee, mango, passion fruit, peach, plum, strawberry, decaf, coffee, mocha, black tea, green tea, oolong tea, white tea, and many hybrid flavors.
Interesting! But, where did bubble tea come from?
Where Is It From?
Bubble tea originated in the 1980s in Taiwan. A Taiwanese tea shop owner, Liu Han‐Chieh, and his product development manager, Lin Hsiu Hui, experimented by adding different ingredients like fruit and syrup and a few tapioca balls to milk tea beverages (1).
It became popular in the 1990s throughout Asia, and it has gained more popularity in the United States and Europe since 2000. Teens and young adults all over world binge on boba teas made from exotic and colorful flavors and toppings.
Just A Minute!
Some say 'bubble' tea got its name not because of the tapioca balls, but because of the foam that is formed from the heavy-duty shaking this drink goes through.
The classic types of bubble tea are pearl milk tea (milk tea + tapioca pearls), bubble milk tea (milk tea + large pearls), and black pearls milk tea (milk tea + black colored pearls). Which one would be your pick?
Do you think only its attractive colors and numerous customizable flavors have made bubble tea this popular? Despite all the sugar, bubble tea is associated with a few health benefits.
Are There Any Benefits Of Bubble Tea?
Well, not many – given its ingredients and composition.
Bubble tea can give you instant energy. Sixteen ounces of boba tea have about 300-400 calories – which means quick energy! Drinking the right boba tea is better than having carbonated drinks that give you a sugar rush and no nutrition. The key is to choose ingredients that are natural and safe to add in your tea drink.
But why are there no benefits of bubble tea? And what happens if you drink a lot of bubble tea?
What Are The Risks And Side Effects Of Drinking Bubble Tea?
Despite its popularity in the Western world, bubble tea is associated with quite a few risks and side effects.
1. Could Cause Cardiovascular Diseases
Sugar-sweetened beverages (SSB) like bubble tea are made with high-fructose sweetening syrups. Such sweeteners exceed the recommended added sugar intake levels for men (max. 150 kcal/day) and women (max. 100 kcal/day). A 16 oz. serving of bubble tea contains 38 g of total sugar!
There is increasing evidence that added sugars can lead to metabolic disorders, primarily cardiovascular disorders, in young adults. Replacing added sugars with natural sweeteners might bring down the risk (1).
2. Might Be Responsible For Childhood Obesity And Diabetes
A large-sized boba drink exceeds 500 calories and contributes to 25% of total daily calories (1). Thanks to the empty calories and added artificial sweeteners, boba tea is now considered as a factor contributing to obesity and diabetes in children, teens, and young adults.
The high dietary glycemic load from such SSBs due to fructose (in the form of high fructose corn syrup or sucrose) can also increase the risk for hepatic insulin resistance, visceral fat deposition, and elevated triglyceride and cholesterol levels in these individuals.
3. Could Cause Cancer
The tapioca balls are the ones to blame here. Recently, a few German researchers found traces of cancer-causing chemicals in the boba balls. Substances like DEHP, acetophenone, styrene, and various brominated compounds were identified.
These substances belong to a class of chemicals known as PCBs or polychlorinated biphenyls, which are potent carcinogens. These carcinogens are suspected to be toxic for the GI tract, kidneys, and respiratory system.
The PCBs in the tapioca balls have been known to cause adverse effects on the immune, reproductive, nervous, and endocrine systems of the body. Hence, they are banned from use in manufacturing in the US (2).
Okay, this is scary!
If bubble tea was so unhealthy, why is the world crazy about it?
Let's take it this way. The concept of bubble tea is actually healthy. But the ingredients and the proportions in which they are used are unhealthy. So, what we do? Read on for some hope!
Ways To Make Bubble Tea Healthier
Just because it might have cancer-causing, fattening additives and piles on empty calories doesn't mean you should completely shun bubble tea.
The research and studies are in the process of being verified, but bubble tea contains very little nutritional value.
If you wish to indulge in some of it, opt for green or black teas without milk. You can ask for no sweetener or choose brown sugar or jaggery as the sweetening agent.
Get a smaller scoop of tapioca pearls (or no pearls at all!). Most importantly, find out the source and learn about the manufacturing process of commercially available tapioca balls.
If you are overwhelmed by what's being written and said about bubble tea, why don't you make a glass of it at home? Free of suspicion and guilt! But how?
Scroll down!
How To Make Healthy Bubble Tea At Home
Check out this super simple recipe.
5-minute Bubble Tea: Easy And Tasty!
What You Need
Water: 4 cups
Quick cooking pearl tapioca: 1 cup (you may adjust the quantity accordingly)
Brewed black or green tea: 6 cups
Sweet condensed milk or almond milk: ¼ cup (optional)
Brown sugar: 4 teaspoons or to taste (optional)
Ice cubes
Pitcher
Teapot: medium-large size
Let's Make It!
Add the water to a pot and bring it to a boil.
Add the tapioca pearls and cover the pot. Leave it for 2 minutes.
Reduce the heat to medium-low and simmer for 5 minutes.
Drain the pearls and set aside.Pour the brewed tea, condensed milk, and sugar into a pitcher. Stir continuously to dissolve the sugar crystals.
Refrigerate this tea mixture until it is chilled (about 1 hour).
Scoop the drained tapioca pearls into 4 large glasses, about 2 tablespoons each.
Fill each glass with tea mixture and top with ice.
Sink into the balcony chair and sip on it over a relaxed summer afternoon!
You can try replacing any of these ingredients with a healthier option. Use soy milk, almond milk, skimmed, or low-fat milk if you don't like your tea without milk. Coconut milk is a less explored option, but worth a try.
Choose natural flavors over artificial syrups. You can make detox drinks by adding lemon, chamomile, aloe vera, rose, mint leaves, etc., instead of sweet strawberry, litchi, or black currant flavors.
In Short…
Like everything else in life, you need to balance the sugar, fat, and carbs in your bubble tea. If you are like me, who just melts looking at bubble teas, this article should be an eye-opener!
It's alright to drink this Taiwanese tea drink – but choose your ingredients wisely. Having milk- and sugar-free or total vegan boba tea in small portions is way better than guzzling down cans of beer or carbonated cola.
Do your research on bubble teas and share your insights with us. Use the comments box below to send in your suggestions, comments, and feedback about this read.
References
"Calories and sugars in boba milk tea…" Food Science & Nutrition, US National Library of Medicine.
The following two tabs change content below.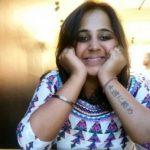 Latest posts by Swathi Handoo (see all)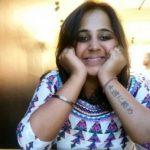 Swathi Handoo
Swathi holds a Master's degree in Biotechnology and has worked in places where actual science and research happen. Blending her love for writing with science, Swathi writes for Health and Wellness and simplifies complex topics for readers from all walks of life.And on the days she doesn't write, she learns and performs Kathak, sings Carnatic music compositions, makes plans to travel, and obsesses over cleanliness.