Top 10 Burgundy Lipsticks Available In India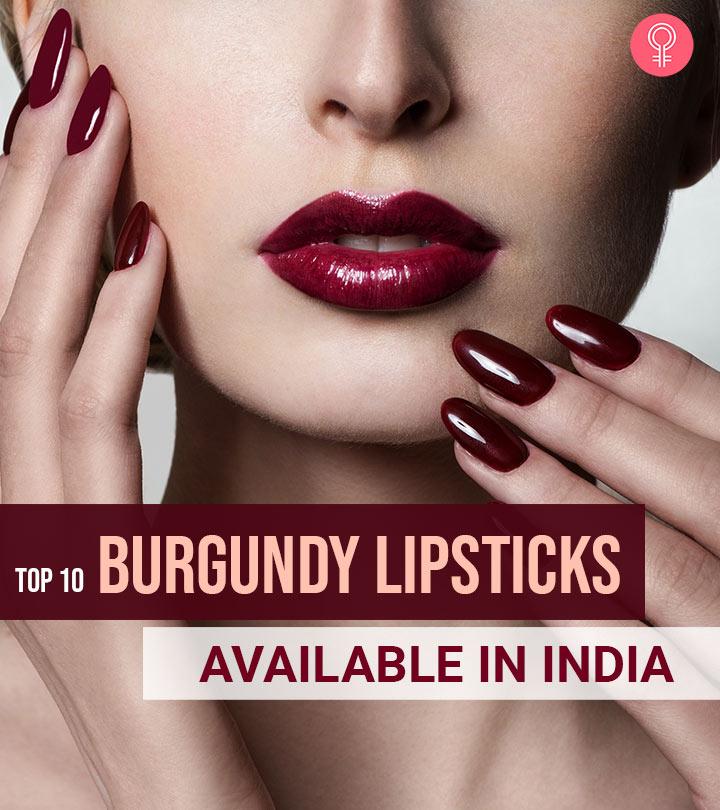 Burgundy is a universally flattering shade that never goes out of fashion. You can go bold or chic with a burgundy lip color. It is one of those shades that can change your entire look, and you don't have to spend hours applying too much makeup on your face. Just a quick swipe of this bold hue, and you're good to go! However, the concern for many people could be how to wear burgundy or wine-colored lipstick without looking too over the top.
Finding the perfect burgundy color lipstick can be tough. So, here we are presenting the top 10 burgundy lipsticks available in India right now that are high in quality, pigmentation, and staying power. Check them out!
Top Picks
10 Best Burgundy Lipsticks Available In India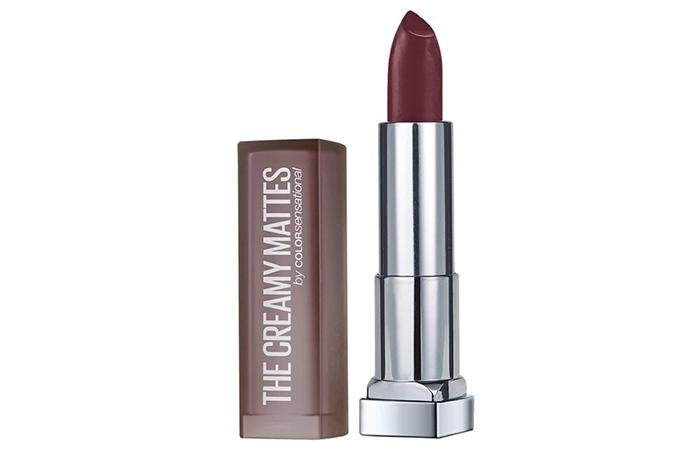 Burgundy Blush from the Maybelline Color Sensational Creamy Matte instantly makes your skin go brighter. Its texture is smooth, creamy, and highly pigmented. Just a single stroke, and you'll notice the difference. It is enriched with honey nectar that moisturizes the lips. It stays on for long hours and leaves a red tint behind, which remains for another couple of hours. Isn't it amazing? This shade has a creamy matte finish, which makes it ideal for daily use.
Pros
Smooth, creamy texture
Highly pigmented
Moisturizes the lips
Matte finish
Suitable for daily use
Affordable
Cons
None
Price at the time of publication: ₹225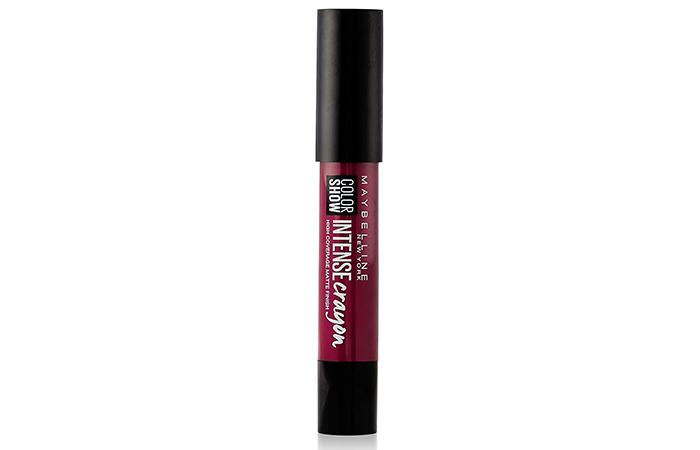 If you are looking for the ideal burgundy shade to give you that bold look, go for Bold Burgundy from the Maybelline New York Intense Lip Crayon range. The shade offers high coverage. It is enriched with honey and SPF 17, so your lips do not darken or dry out. Its matte formula makes the burgundy shade look even more vibrant when you wear it.
Pros
High coverage
SPF 17
Hydrates the lips
Does not fade away
Matte finish
Cons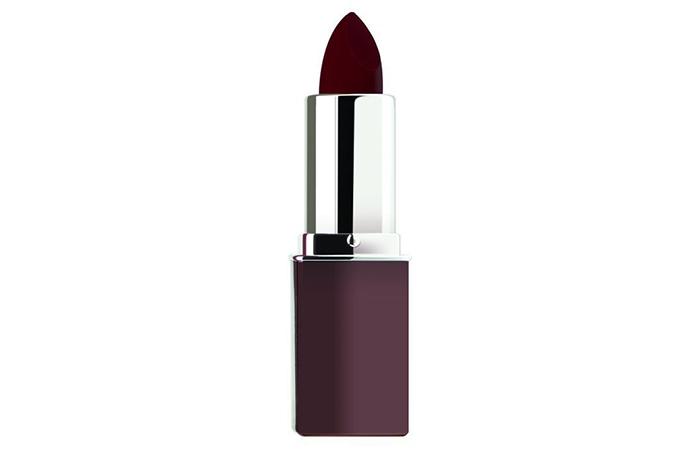 Nicka K Matte Lipstick has a non-drying, creamy formula. The formula stays on for quite some time on your lips. The shade Burgundy is intensely dark and looks strikingly gorgeous on your lips. The color delivers rich pigmentation along with a plush, velvety feel.
Pros
Non-drying formula
Long-lasting
Rich pigmentation
Velvety matte finish
Cons
Does not suit all skin tones
Price at the time of publication: ₹550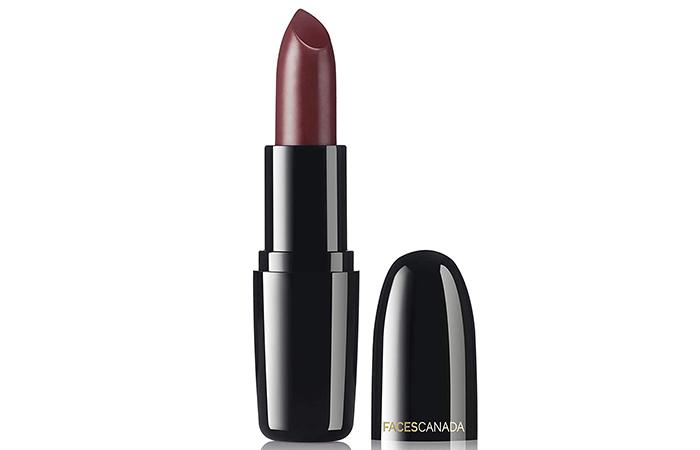 The shade Burgundy 17 from Faces Canada's Weightless Crème Lipstick range is considered to be a universally flattering shade. It can elevate a simple makeup look. Its creamy texture glides smoothly on your lips. This lipstick has an ultra-glossy finish. Its formula is enriched with ingredients like vitamin E, shea butter, jojoba oil, and almond oil. It is long-lasting and moisturizing on the lips.
Pros
Creamy texture
Ultra-glossy finish
Long-lasting
Moisturizes the lips
Cons
Might feel oily on the lips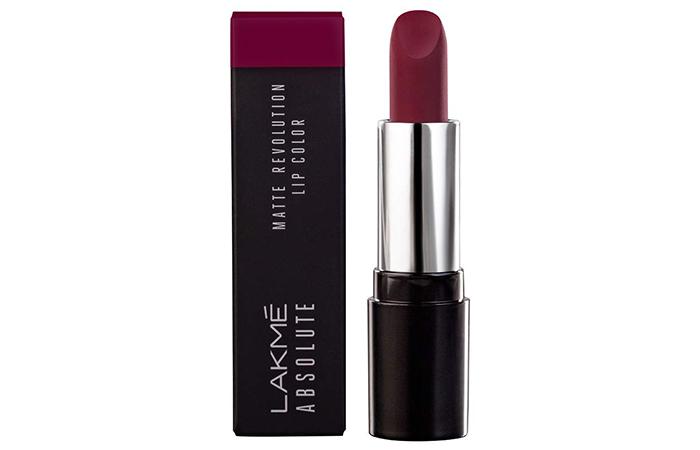 Lakmé Absolute Matte Revolution Lip Color in the shade 502 Burgundy is a lightweight, creamy matte lipstick. It is enriched with raspberry seed oil that nourishes the lips. It has a matte finish and gives you an instant color payoff. The smooth and creamy formula offers high pigmentation and a buttery soft finish. The color lasts up to 15 hours.
Pros
Lightweight
Creamy matte finish
Nourishes the lips
Lasts up to 15 hours
Cons
None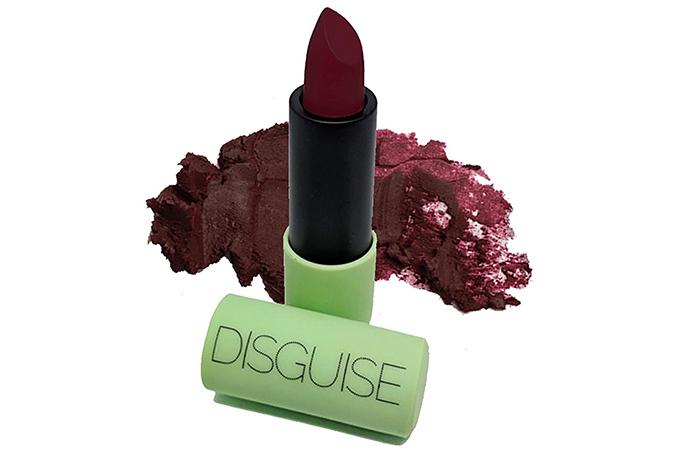 If you want to explore other drugstore options apart from Maybelline or Lakme, you can try out this newly launched vegan brand. Disguise Cosmetics Ultra-Comfort Matte Lipstick in the shade Burgundy Chef 03 is a wine-colored shade that offers decent pigmentation. Its formula is enriched with marula and avocado oils that keep your lips moisturized. Its other nourishing ingredients include vitamin E, jojoba, and almond oils that prevent your lips from drying out. It offers a gorgeous burgundy color, smoothest glide, and the perfect finish. It is also 100% vegan and PETA-certified.
Pros
Offers decent pigmentation
Moisturizing formula
Glides on smoothly
Vegan
PETA-certified
Cons
None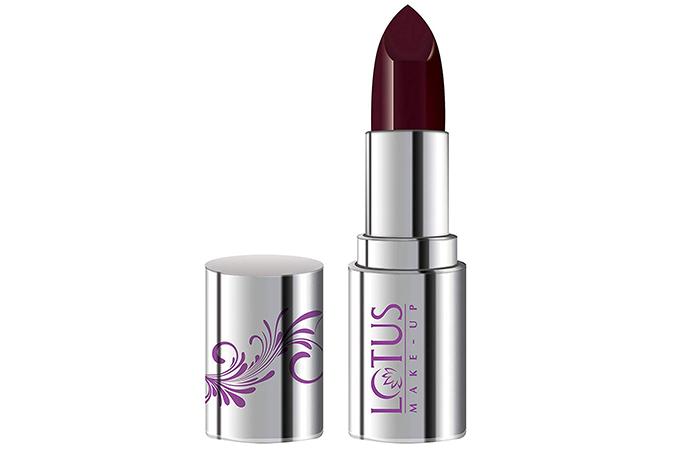 The shade Burgundy Bliss from the Lotus Makeup Ecostay Butter Matte Lip Colour range is a burst of richly pigmented color. All you need is a single glide on your lips to enjoy the feel of the buttery matte formula. This lipstick stays on for hours without smudging. Its moisturizing formula consists of shea butter, vitamin E, and jojoba oil. These triple lip conditioners improve your lip texture.
Pros
Highly pigmented
Glides on smoothly
Long-lasting
Does not smudge
Cons
Might feel dry on the lips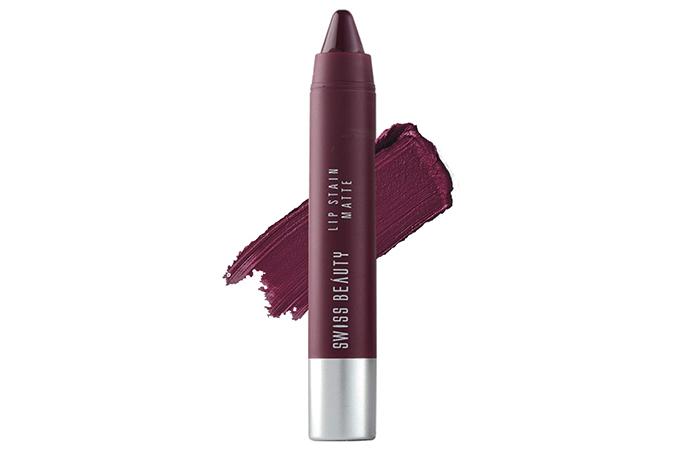 This deep burgundy hue by Swiss Beauty looks strikingly radiant as you put it on your lips. The formula offers intense hydration so that your lips don't feel chalky or dried out. This long-lasting formula is enriched with skin care ingredients and is perfect for everyday wear. The color effortlessly fills in the fine lines and makes your lips look fuller.
Pros
Long-wearing
Non-drying formula
Skin-friendly ingredients
Lips look supple and smooth
Intensely pigmented
Suitable for daily use
Cons
None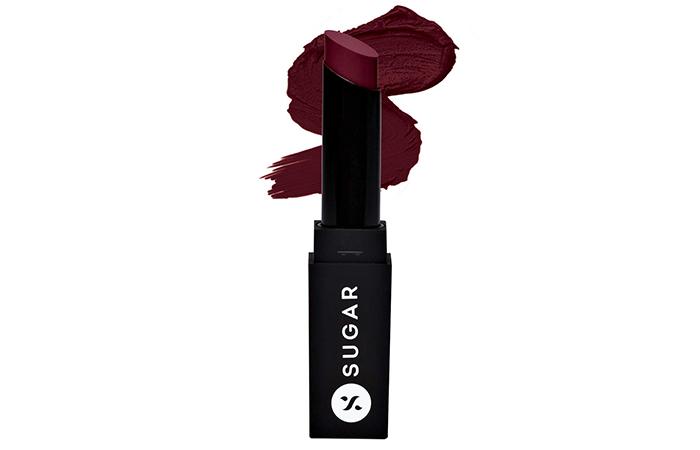 Looking for a deep burgundy lipstick that looks glamorous and gorgeous? The shade True Oxblood by SUGAR Cosmetics is precisely that. This lipstick has a matte finish, though the texture is not drying. It has a creamy formula that glides on your lips with the utmost ease. The staying power is also pretty high. It can deal with all your munching and sipping for at least 5-6 hours without smudging. This creamy matte lip color is FDA-approved and free from mineral oils and parabens.
Pros
Matte finish
Rich, creamy formula
High pigmentation
Glides on smoothly
Long-wearing
Paraben-free
Lightweight
Cons
Price at the time of publication: ₹85.48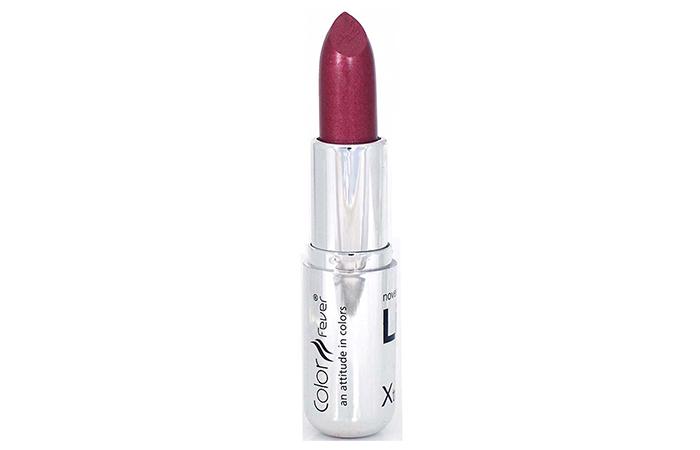 This burgundy shade by Color Fever is a must-have. Its smooth formula glides easily on your lips and reduces the appearance of fine lines in just a few swipes. This ultra long-wearing lip color contains SPF 15 that prevents your lips from getting darkened. Your lips feel plump and soft after applying this formula.
Pros
Soft and smooth formula
Reduces the appearance of fine lines
Long-wearing
SPF 15
Affordable
Cons
Now, let's check out how to pick a burgundy lipstick that will look flattering on you.
How To Choose The Best Burgundy Lipstick For Your Skin Tone
To choose the best burgundy shade for your skin tone, consider both the shade and the texture of the lipstick.
If you're looking for a burgundy shade that is appropriate for work, consider a lipstick with a sheer burgundy tint.
Burgundy colors have different undertones. Those with a red or pink base usually look good on everyone. The ones with
blue or purple undertones are dark and intensely pigmented.
Before buying a burgundy lipstick, make sure it matches your skin tone.

Burgundy shades with pinkish undertones look good on fair-skinned people.

The ones with brown or red undertones look good on dusky skin tones.

Maroon-based wine lipsticks suit medium skin tones.

Blue-toned burgundy lipsticks look great on cooler skin tones, but they also look good on almost every other skin tone.
You can wear burgundy lipstick during the daytime or nighttime. When you decide to go for burgundy lips, consider the things listed in the next section.
How To Wear Burgundy Lipstick The Right Way
The color burgundy is bold and elegant, so it tends to attract a lot of attention. If you're planning to wear it in the daytime, keep your base very subtle and minimal. Don't go overboard with your eye look either. Well-groomed eyebrows and light rose-tinted cheeks go well with burgundy lips for a daytime look.
For an evening look, you can experiment with copper or golden smokey eyes paired with wine-colored lips. Such a look will make your lips pop out even more.
For office-wear purposes, you can wear a burgundy-colored lip balm or a lip gloss that has a sheer wine tint.
Before going bold with burgundy lips, here are a few hacks to sport that gorgeous look with confidence and ease.
Wine Or Burgundy Lipstick Looks – Do's And Don'ts
Use a color corrector to cover imperfections before you wear burgundy lipstick.
Burgundy lipsticks that have a blue undertone make your teeth look whiter and brighter.
Line your lips carefully with a liner to achieve a fuller look.
Spot-treat the red marks on your face with a concealer. This will turn your face into a perfect canvas before sporting such a bold lip color.
Deep wine colors are usually higher maintenance. To keep the effect of the color intact, choose a long-wearing lipstick.
As we all know, wine and burgundy lipsticks are an evergreen trend. These bold lip colors look good on all skin tones and undertones. To help you find some of the best burgundy lip colors, we reviewed 10 best burgundy lipsticks and their formula and texture so that you can choose your favorite among them. Why keep waiting then? Grab favorite burgundy lipstick now!
Frequently Asked Questions
What eyeshadow goes well with burgundy lipstick?
You can pair your burgundy lips with smokey eyes. For an evening look, go for copper or golden smokey eyes with bold burgundy lips.
What makeup goes well with burgundy lip shade?
You can rock burgundy lips with a very subtle makeup look. Burgundy itself looks very bold and radiant. If you go light with your base and eyes, this bright lip color will automatically pop out and change your entire look.
Are burgundy lipsticks suitable for dark skin?
Yes, burgundy shades with brown or red undertones look good on dark and dusky skin.
Recommended Articles
The following two tabs change content below.