Calendula For Skin: Benefits, How To Use, And Side Effects
Calendula oil has nourishing properties and can enhance your skin health in many ways.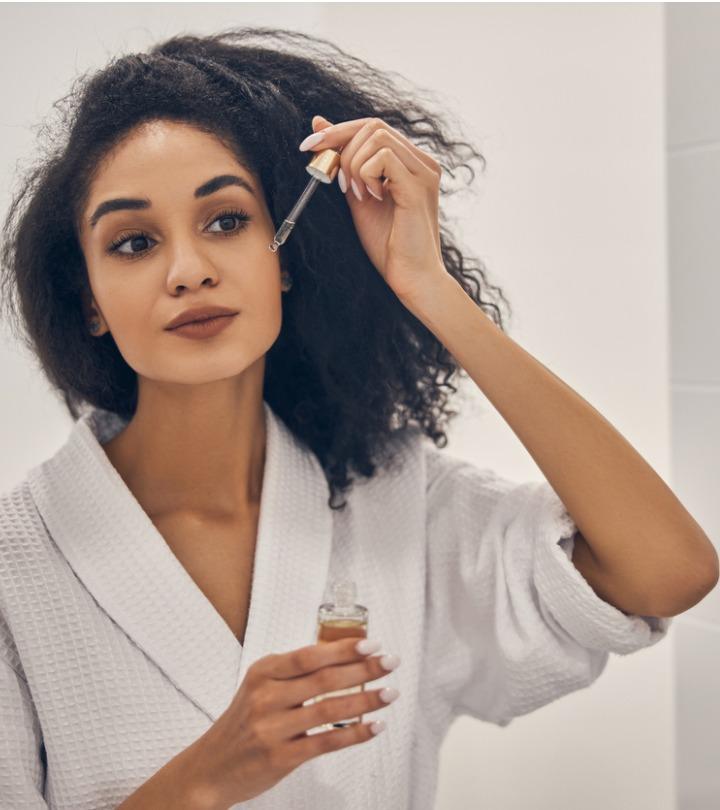 Calendula, widely known as pot marigold, is prized for its culinary, medicinal, and therapeutic properties. The use of calendula for skin care is on the rise due to its relaxing and anti-inflammatory effects. The benefits of calendula for skin health are numerous. It hydrates the skin and enhances its overall appearance. Aside from that, this powerful plant possesses a slew of skin-friendly qualities. Keep reading to know more!
What Is Calendula?
Calendula, often known as pot marigold or common marigold, is a perennial flower native to the Mediterranean and distinguished by large, gorgeous orange blossoms. It is commonly used in traditional herbal medicine to treat mild skin inflammation and wound healing.
The oil extracted from the flower is commonly used in creams, ointments, and other skin care products. It is processed by steam distillation from the plant's petals, stems, and seeds and has numerous skin benefits.
Fun Fact
The most common historical purpose of calendula across cultures was culinary. It is also nicknamed "the poor man's saffron," as it was a cheaper alternative to saffron.
Calendula Benefits For The Skin
1. Hydrates Dry Skin
Calendula extract can boost skin hydration and firmness (1). It moisturizes the skin and boosts hydration levels to maintain normal skin functions, which is beneficial to prevent skin changes and premature aging. Calendula extract also increases skin tightness and reduces wrinkles by reducing collagen degeneration in sun exposed skin (2).
2. May Reduce Radiation Damage
Calendula contains polyphenolic antioxidants that can help reduce radiation damage. A study evaluated the effects of topical calendula extract on patients who received radiation therapy and had radiation-induced skin damage like radiodermatitis and redness (3). It found that calendula extract could reduce radiation-induced skin toxicity. However, further studies are required to establish the claim
3. Minimizes UV Damage
UV exposure causes signs of photoaging like wrinkles, fine lines, and pigmentation. Calendula extract is rich in antioxidants like carotenoids, flavonoids, and terpenoids, which reduce free radical damage and minimize photodamage signs (2).
4. Helps Manage Acne
Calendula has anti-inflammatory properties that calm and soothe acne and speeds up the healing process of damaged skin tissues (4). It contains sulfur derivates, which dry out acne.
5. Promotes Wound Healing
Calendula extract speeds up wound healing. A study found that using aloe vera and calendula ointment could speed up episiotomy (surgical cut on the vagina during childbirth) wound healing (5). It also reduces redness and swelling.
6. Minimizes Diaper Rash
Diaper rash is a frequent problem among children, characterized by red, irritated skin around the buttocks and groin. Calendula extract helps relieve diaper rash and other skin irritations. A study concluded that calendula ointments could be a safe alternative treatment for diaper dermatitis (6).
Fun Fact
Calendula is known to repel mosquitos and a few other bugs with its pungent smell. Having them in your garden and home can significantly reduce the risks of bug bites.
Calendula's therapeutic characteristics make it a popular choice for wound healing, skin moisturizing, and a variety of other uses. Here is how you can use it for your skin.
Ways To Use Calendula For Skin
1. Moisturizer
Calendula-infused oil is well-known for its hydrating and nourishing properties. It can make your skin feel smoother and suppler, and it absorbs fast without leaving a greasy residue. Calendula is suitable for all skin types. You can massage your skin with the oil in the morning or evening for a healthy glow.
2. Healing Ointment Or Cream
The easiest way to use calendula oil is to mix it with beeswax or other plant butters like shea or cocoa butters and use it as a homemade healing cream. Use the balm twice a day for benefits. You can also buy calendula-infused healing balms.
3. As A Makeup Remover
The oil can be used to remove makeup. Mix calendula oil with other vegetable oils and use it as an oil cleanser to lift waterproof makeup in non-oily skin.
4. Other Direct Topical Uses
Apart from the face, calendula oil can be used on other body parts as a moisturizer or for other purposes. For instance, you can use it as a massage oil or for soothing sunburns and itching.
Calendula extract, particularly oil, may cause minor side effects if you are allergic to it.
Are There Any Risks Of Using Calendula For The Skin?
Calendula oil may cause allergic reactions. So, do a patch test to see if it suits your skin. If you are new to the ingredient, always consult a doctor or herbalist before using it.
Key Takeaways
Calendula, popularly known as marigold, has numerous skin care benefits – enhancing skin firmness, hydrating the skin, healing wounds fast, and reducing diaper rash.
You can use calendula as a moisturizer, makeup remover, or healing cream for your skin.
You must do a patch test or consult a doctor before using calendula as it may cause an allergic reaction.
Calendula is a popular flower commonly used in the treatment of various skin conditions in the Mediterranean region. The benefits of using calendula for your skin include skin moisturization, management of acne, and reduction in redness and diaper rash. Calendula is readily available as a moisturizer, toner, and healing cream. You can even use calendula oil for providing relief from auburn and itching. It is recommended that you conduct a patch test before you use the calendula. In case of adverse reactions, stop its usage immediately and consult your doctor for further treatment.
Frequently Asked Questions
Is calendula good for dark spots?
Yes. Calendula can help fade the appearance of dark spots, acne marks, and hyperpigmentation.
Is calendula the same as marigold?
No. Calendula is only known as a 'pot marigold' and is not the same as a marigold. The two belong to different genera of plants.
Is calendula oil good for wrinkles?
Yes. Calendula oil can slow down the appearance of wrinkles and premature aging.
Can I use calendula cream on my face?
Yes. Calendula is considered safe for use on the face.
Is calendula the same as chamomile?
No. Though calendula and chamomile belong to the same family Asteraceae, they are different plants.
Sources
Articles on StyleCraze are backed by verified information from peer-reviewed and academic research papers, reputed organizations, research institutions, and medical associations to ensure accuracy and relevance. Read our editorial policy to learn more.