How To Bleach Synthetic Hair Wigs: A Complete Guide
Natural, effective, and simple tips for coloring your faux hair just the way you want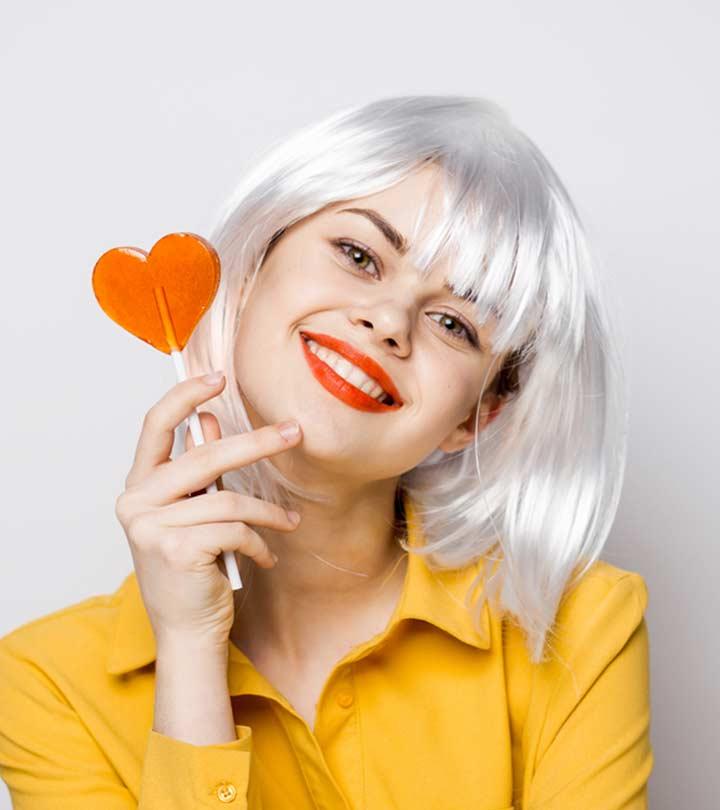 Wigs are one of the most convenient ways to upgrade your hairstyle without having to alter your hairstyle. Moreover, it is easy to bleach synthetic hair wigs and customize the color as per your preference. Synthetic wigs are cheaper than human hair wigs. So, you can easily get multiple wigs and customize them to match your style and stay up-to-date with the hair fashion game. This article will guide you through the step-by-step processes of bleaching synthetic wigs. Keep reading.


Did You Know?
The word wig comes from the French word "perruque." "Perruque" eventually became "periwig," which was further shortened to "wig."
Things Required To Bleach A Synthetic Wig
Bleaching synthetic hair is easy with hydrogen peroxide and baking soda. Here's what you need for the bleaching process:
1 ½ teaspoon of hydrogen peroxide (3% solution)
2 teaspoons of baking soda
Gloves
A ceramic bowl (for mixing)
A wooden spoon  (for mixing)
An applicator brush
Spray bottle
Clips
Aluminum foil wrap
Old newspapers (to cover the floor)
Hair dryer
Follow the steps below to bleach the synthetic wig.
How To Bleach A Synthetic Wig: Step-By-Step Guide
Bleaching With Hydrogen Peroxide And Baking Soda
Clean the wig with a mild shampoo and dry it thoroughly.
Wear your gloves. Spread the newspaper and foil wrap on the floor. The wrap should be big enough to cover the bleached hair section.
Mix the hydrogen peroxide solution and baking soda to form a paste.
Place the wig on the foil wrap and section the strands. Secure the wig with clips.
Apply the mixture to the sections you want to bleach or lighten.
Leave it on for 30 minutes to an hour, depending on the desired intensity.
Wash it off with shampoo and dry it.
You may also use only hydrogen peroxide solution to lighten the synthetic wig to make it easier for hair styling.
Bleaching With Hydrogen Peroxide Solution
Mix equal parts of water and hydrogen peroxide solution and pour it into a spray bottle.
Spray the solution on the hair sections and saturate thoroughly.
Leave it on for 30 minutes to an hour.
Wash off the solution with water and dry the wig.
Synthetic wigs need to be appropriately maintained, especially after bleaching. Here are a few tips for synthetic hair maintenance.
Tips For Protecting Bleached Synthetic Hair
After bleaching, do not use heat-styling tools immediately. This can damage the synthetic hair strands.
Wash synthetic hair extensions or wigs regularly. Use hair products like shampoo formulated for synthetic wigs to avoid any dirt buildup.
Do not use hot water on synthetic wigs. Always wash them in cold or room temperature water.
Use a wig brush to detangle the strands, and do not comb wet hair.
Always air-dry the synthetic wig. Avoid using a hair dryer.
Use conditioning sprays meant for synthetic wigs to keep them shiny.
These wig care tips will help make the synthetic hair color and quality long-lasting.

Fun Fact
It is believed that the ancient Egyptians were among the first to create wigs to shield hairless or shaved hair from the sun.
Infographic: 2 Ways To Use Hydrogen Peroxide To Bleach Synthetic Wigs
Bleaching is a messy affair. However, you can bleach synthetic wigs easily, safely, and as per your color preference. We have created a comprehensive infographic on the two ways to bleach your synthetic wig with hydrogen peroxide safely. Scroll down to know more!



Bleaching your natural hair leaves it vulnerable to serious damage, like dryness, brittleness, breakage, limpness, and split ends. Instead, bleach synthetic hair wigs to give you the color you desire without putting your real tresses at risk. Synthetic wigs give you the option to play around with colors that you may otherwise be apprehensive to try due to the amount of bleaching your natural hair would require. It also reduces the risk of damage because you can style the wig with heat-styling tools. Instead of straightening your hair with a flat iron or chemical hair treatment, style and color a synthetic wig. But remember to take proper care of your synthetic wig to increase its lifespan and keep it looking healthy.
Frequently Asked Questions
Can you change the color of a synthetic wig?
Yes, you can change the color of a synthetic wig using bleach or hair dye. You can also use natural ingredients to color this hair accessory.
How can I lighten a wig without bleach?
If the wig is made of natural hair, you can lighten it using natural home remedies. You can try light-colored, semi-permanent hair dyes to lighten synthetic and natural hair wigs.
How long should you leave the bleach on your wig?
You can leave the bleach on your wig (synthetic or natural hair) for about 15-30 minutes.
What is the fastest way to bleach a wig?
Use hair bleach with a strong developer of 30 or 40 volumes for fast results.
Should I wash my wig before bleaching it?
Yes. You should wash your wig before bleaching it to remove any dirt. But, do not condition your wig,
How do you wash a wig after bleaching it?
Wash the wig with lukewarm water to remove any bleach and then leave it to air dry or use a microfiber towel to dab it dry.
Can you bleach a wig twice?
Yes, you can bleach a wig twice. But leave some time between the bleaching sessions; otherwise, the bleach may damage the wig.
Key Takeaways
Just like your normal hair, synthetic hair wigs can also be colored to upgrade your look in an instant.
Baking soda and hydrogen peroxide are commonly used to bleach synthetic wigs.
Air drying the synthetic wig and avoiding heat styling it right after bleaching can make help maintain its shine for longer.

Uncover the truth about bleaching synthetic weaves with this informative video. Click on it to learn the risks and expert tips to transform and customize your synthetic hair safely and beautifully.

The following two tabs change content below.