Can You Dye Greasy Hair? Everything You Need To Know
Discover everything you need to know before taking the leap and dyeing your hair. Can you dye your hair when it is greasy? The answer has much to do with the level of greasiness. Extra greasy hair does not support the uniform distribution of the dye, leading to uneven color payoff.
On the other hand, some experts do not prefer washing the hair before dyeing and rather like it to be as is. The question is, how do you determine the level of oiliness in your hair? What is the ideal greasiness that is good to go?
In this article, we will explore whether greasy hair improves the results of dyeing and how to color your mane at home. Let us get started.
Can You Dye Greasy Hair?
Yes, you can! Believe it or not, greasy hair can benefit your tresses during the bleach and color process.
The sebum or natural oils keep the hair healthy and moisturized and shield it from external damage caused by harsh chemicals. You can dye your hair after two days of washing it. In these two days, the scalp will produce some natural oils, and this will not affect the color payoff.  However, avoid dyeing excessively oily and greasy hair. But how greasy should your hair be before you color it? We explore the answer below.
How Greasy Should Your Hair Be Before Dyeing It?
Your hair should be a little greasy before you color it. Ideally, you should apply hair dye about 24-48 hours after hair washing. However, if you have not washed your hair for 3-4 days or more, it will become excessively greasy, and dyeing such greasy locks can be challenging.
However, it does depend on the concentration of the developer that you use. The hair dye is combined with a developer to give better results. The concentration of the developer is mentioned either in percentage (%) or units of the volume. A higher number indicates a stronger concentration.
If you are using a developer lower than 20 vol., your hair needs to be clean. These developers are not as strong as their counterparts and require fresh strands to produce effective results.
On the other hand, developers over 30 vol. are strong and give good results on unwashed and greasy hair. Also, the excess oil shields the hair from damage caused by the chemicals in the product.
But before you dye your greasy hair, keep the following pointers in mind to minimize the chances of scalp and hair damage.
Things To Remember Before Dyeing Greasy Hair
1. Do A Trial
Coloring your hair can be quite disastrous if not done right. Often, you may not get the desired results on greasy hair.
To avoid these issues, practice your application techniques on a clean head of hair with a semi-permanent hair color. This will give an insight into the final look, and you can improve your application techniques to get better results with permanent dyes.
2. Do A Patch Test
You should test the dye on a small patch of greasy hair to:
Gauge the greasiness of your hair and evaluate the final result. If the color does not catch properly, you have to clean your hair and do another patch test to assess the effects.
Evaluate your scalp strength. A patch test will reveal whether your scalp is sensitive to the bleach and hair color or not.
3. Ensure Your Hair Is Healthy Before You Dye
The chemicals in the hair dye can damage your strands. When mixing a hair dye with a developer, always follow the manufacturer instructions. Ensure your hair is healthy before coloring it.
Deep condition your hair at least once or twice a week to nourish and moisturize your tresses. Use a clarifying shampoo once in two weeks to remove product buildup and a gentle conditioner for hair smoothing. This will help prevent any damage.


Quick Tip
Trim your hair before dyeing them if you have split ends to make it appear healthy.
In the next section, find out how you can dye greasy hair at home.
How To Dye Your Dirty And Greasy Hair At Home
Step 1: Wear The Correct Clothes
Dyeing your greasy hair can be messy and can stain your clothes. To avoid this, wear an old T-shirt that you can afford to stain or throw away.
Step 2: Wrap A Towel Around Yourself
Wrap a dark towel around your shoulders to minimize any stains.
Step 3: Remove The Tangles
Brush your tresses to remove any knots and tangles. This will make the dyeing process easier and give a better and even finish.
Step 4: Prep Your Skin
Apply oil or petroleum jelly to your forehead, behind your ears, and at the nape of your neck. This will prevent skin stains.
Step 5: Wear Gloves
After prepping your skin, put on a pair of gloves to prevent finger staining.
Step 6: Mix The Dye
Mix the hair dye and developer as per the directions. Follow the exact ratio mentioned in the package for better results.
Note: Do not use metal bowls as it may react with the dye. Use only plastic or glass bowls.
Step 7: Section Your Hair
Divide your hair into four sections with a rat-tail comb. Clip each in place.
Step 8: The Application Process
Start by dividing the first section into smaller sub-sections and apply the dye from the tips to the roots. The roots process the hair dye quicker and should be colored last to ensure even results. Run a comb through your hair to ensure even distribution. Repeat the process in the other sections.
Step 9: Let Your Hair Process The Color
After dyeing your hair, cover it with a shower cap and leave it on as per the instructions provided.
Step 10: Rinse And Blow Dry
Wash away the color with water. Once the dye is removed, blow dry your hair and style it however you like. Do not shampoo immediately. Do it after a day or two.


Quick Tip
Excessive grease on your hair may not allow the hair dye to latch on to your locks quickly. So, apply baby powder to soak the excess grease before dyeing your hair.
Voila! You now have a brand-new look!
Infographic: How To Check If Your Hair Is Too Greasy To Dye
You can easily dye hair that has been left unwashed for a day or two. However, dyeing greasy hair may affect the color payoff as the pigments won't stick to the strands. And it leaves your hair more prone to damage.
Therefore, it is best to check if your hair is too greasy to dye. Check out the infographic below to learn how to tell if your hair is too greasy to dye.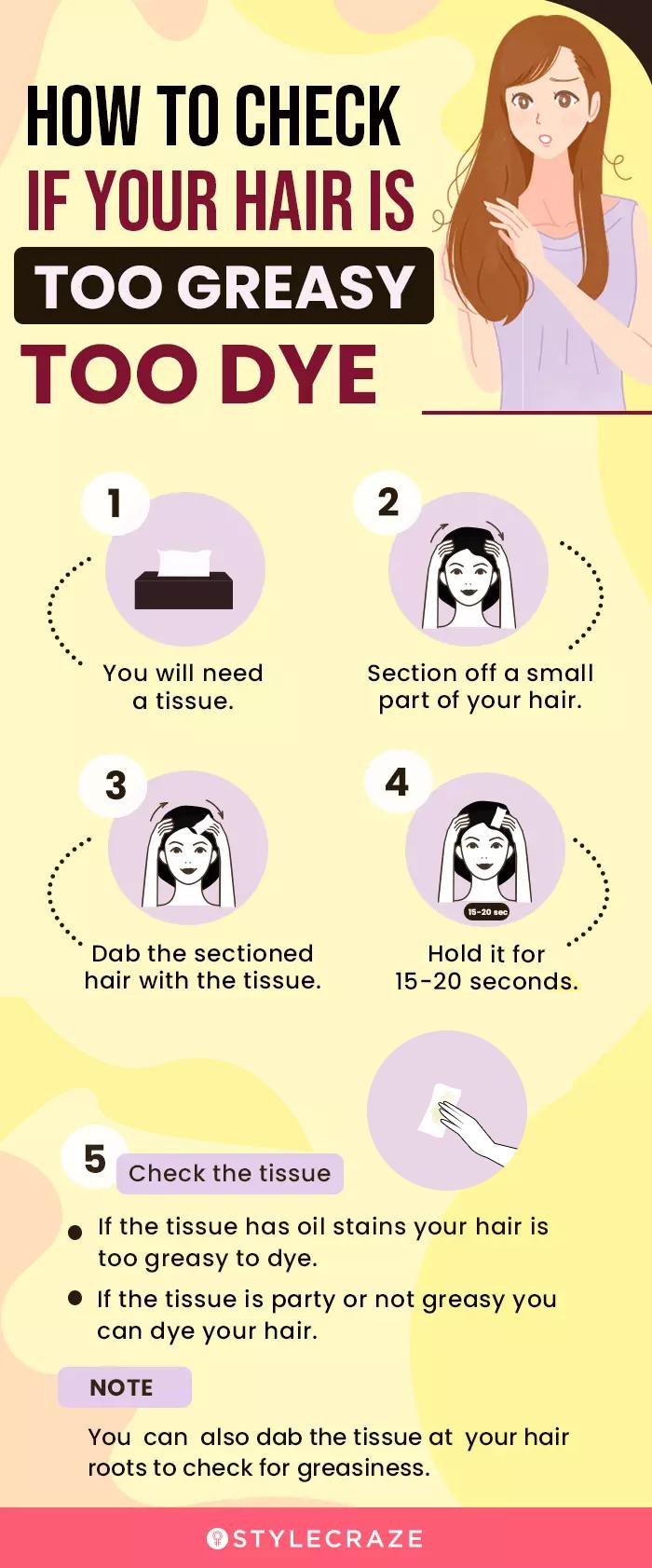 In short, the sebum coating your hair keeps it protected and moisturized during the coloring process. But, excessively greasy hair makes it tough for the color pigments in the hair dye to latch on to the hair strands. If you washed your hair the day before, that is alright. But if you have not washed your tresses in 3-4 days, then you should not dye your hair when it is greasy. Before you color your hair, perform a patch test and ensure your tresses are in good condition and not weak or damaged. Deep condition your hair to keep it replenished, beautiful, and strong. Keep these points in mind and follow the step-by-step instructions to dye greasy hair at home, without requiring any hair treatments from a salon.
Frequently Asked Questions
Can you dye your hair with hair products in it?
No, products like gels and sprays prevent color absorption, affecting the color payoff.
Can you repair your hair once it has been damaged by hair dye?
It depends on the severity of the hair damage. If the bleach or dye fried your hair to the point where it looks and feels like straw, your best bet is to cut the damaged hair off and let your hair grow out.
Does hair dye stick better to greasy hair?
Yes, dye sticks better to greasy hair, but the color in the dye can get diluted and give you a lighter shade.
Is it better to dye hair with greasy or clean hair?
Dyeing greasy hair is better as it has natural oils that protect the strands from the harsh chemicals in the dye.
Key Takeaways
Greasy hair is coated with natural sebum that protects it from the harsh chemicals of hair dye.
It can be tough to color excessively greasy hair that has not been washed in 3-4 days.
Test the dye on a small section of hair first to make sure it will give you the desired results.

Wondering if you can dye your hair when it's greasy? Check out this video to know the pros and cons of dyeing greasy hair and tips for achieving the best results.

The following two tabs change content below.