Can You Straighten Damp Hair?
Some quick and safe tips to style your moist hair without heat-damaging them.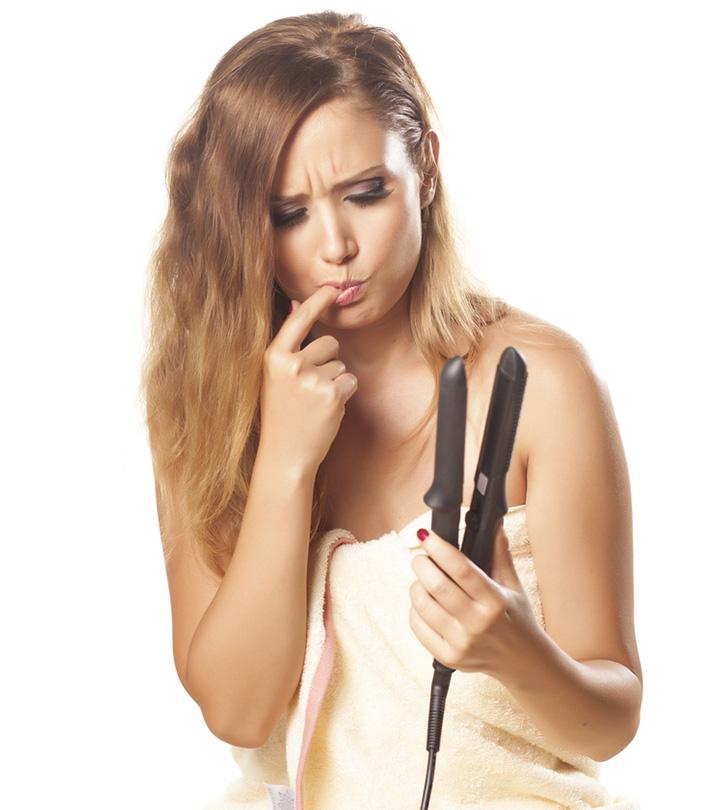 Your hair is in the most fragile state when it is wet. Sandwiching those damp strands between the hot plates of a flat iron can damage them. Does this mean you can never straighten damp hair? Well, you notice a sizzling sound with steam rising from damp hair whenever you try to straighten it. The heat simply damages the structure of the hair. This may eventually cause hair fall and other hair issues.
Did You Know?
The hair straightening technique came into existence sometime around the 1890s and became popular in the 1950s.
So, are there any alternatives? This article discusses why you must avoid straightening damp hair and some tips to style your hair without damage. Keep reading to know more.
Why Avoid Straightening Damp Hair?
Avoid straightening wet hair as it may cause long-term damage to your hair.
Water boils and turns into steam at 100°C (212°F). Most hair straighteners function in the temperature range of 185-230°C (365-446°F). The temperature of the flat iron surface is greater than the boiling point of water.
Naturally, the second the hot straightener touches your wet hair, the water turns into steam and  evaporates rapidly out of the cortex (inner layer of the hair), causing structural damage. This damages the cortex and cuticles and leads to hair breakage, frizzy, and coarse hair (1).
Therefore, you should avoid using a straightener on wet hair. In the next section, we have shared some quick hair styling tips. You can follow these when you are in a hurry to get smooth and frizz-free hair without damage.
Tips To Quickly Style Your Hair Without Damage
1. Use A Microfiber Towel
Microfiber towels can absorb water quickly and make it easier to dry hair quickly. Squeeze your hair with the microfiber towel. Do not rub. This will reduce the blow-drying time.
2. Do Not Skip The Conditioner
A conditioner moisturizes your hair and makes it soft and manageable. Well-moisturized hair does not have to cling to the water for moisture, and thus, it air-dries faster.
3. Blow Dry With Cool Air
Blow dry your hair on a cool setting as it helps seal your hair cuticles and add shine. It also prevents heat damage.
4. Wash Your Hair At Night
Another option is to wash your hair the previous night. Your hair will be completely dry by the morning and in a better condition for heat styling. This will also save time during the morning rush.
5. Skip The Hair Wash
If you do not have time for any of the tips mentioned above, it is better to skip washing your hair altogether and straighten it dry. You may also use a dry shampoo and conditioner to give your hair a quick pick-me-up.
Quick Tip
Since heat straightening may dry out your hair, drink plenty of water, apply oil, and sleep well to retain the natural moisture of your mane.
Key Takeaways
Straightening damp hair can cause long-term damage.
When the hot hair straightener touches wet hair, it causes it to turn frizzy or coarse and break.
Using a microfiber towel, blow drying with cool air, and using a conditioner in your hair care routine can help minimize the damage.
If you want to use hot tools on your hair, consider using a heat protectant.
In short, you should not straighten damp hair. Damp or wet hair is more susceptible to damage since it leaves your hair more porous. Applying heat to wet hair leads to breakage, frizz, and a change in hair texture. You may notice your hair feeling rough and coarse. However, if you are in a hurry, you should blow dry your hair on a low setting. And if you are in a pinch, use a dry shampoo to give your hair some texture and volume. Scroll up to read through the additional tips you should follow to straighten your hair without damaging it.
Frequently Asked Questions
Is it okay to straighten your hair every day?
No. Straightening your hair every day can lead to hair damage due to excessive heat exposure.
Should you use hairspray before or after straightening?
Using a heat protectant spray before straightening your hair can save it from damage and lock in the style and moisture. Use a regular hairspray afterward to set the hairstyle.
Is damp hair the same as wet hair?
No. Wet hair is completely soaked and drips water. However, damp hair is slightly wet but not dripping.
Sources
Stylecraze has strict sourcing guidelines and relies on peer-reviewed studies, academic research institutions, and medical associations. We avoid using tertiary references. You can learn more about how we ensure our content is accurate and current by reading our editorial policy.