What Are The Health Benefits Of Caraway Seeds?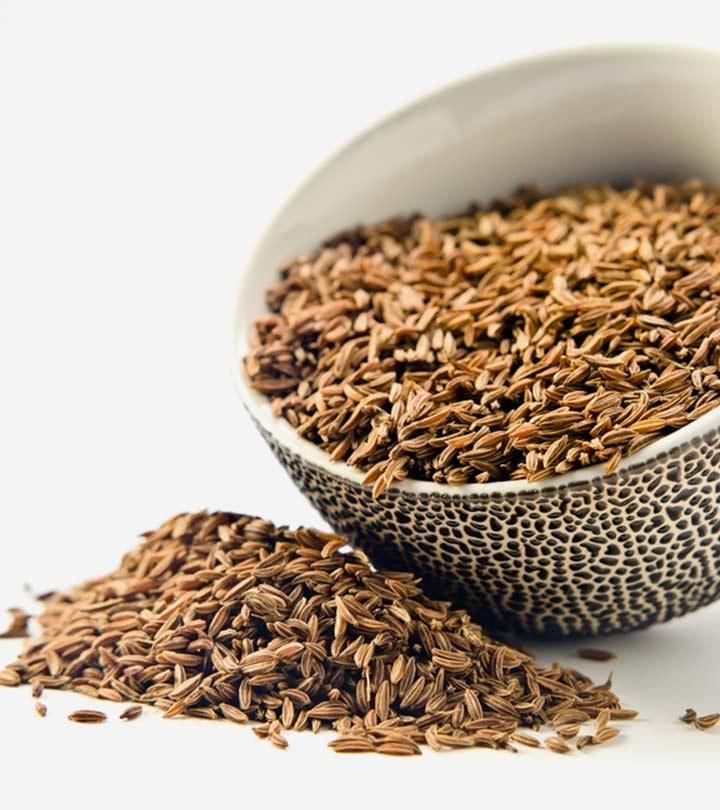 Caraway (Carum carvi) is a spice with an earthy, anise-like flavor and a pungent aroma. It has been used in herbal medicine as an effective digestive aid for centuries. Its phenolic compounds and antioxidants help treat different health ailments. The seeds of caraway may help reduce inflammation, promote weight loss, help fight cancer, and regulate blood sugar levels. In this article, we explore the health benefits of caraway, its nutrition facts, uses, and potential side effects.
What Is Caraway?
Caraway is also known as meridian fennel or Persian cumin. The small, hard, and brown crescent-shaped fruits of this plant are commonly referred to as caraway seeds. Their limonene, carvone, and anethole content gives them a pungent flavor. The seeds are often used whole in baked foods like breads, cakes, curries, soups, desserts, salads, and liqueurs. Caraway essential oil is also used to treat several health problems.
The medicinal properties of caraway seeds are helpful in treating many disorders. What are the health benefits of caraway seeds? Read on to know more.
Caraway Health Benefits
1. May Reduce Inflammation
The limonene in caraway seeds possesses anti-inflammatory and antioxidant properties. Their anti-inflammatory activity may help control and prevent respiratory injuries. As per one study, the immunomodulatory properties of caraway help treat inflammatory bowel disease (IBS) and reduce colon tissue damage. Caraway oil also showed its efficacy in treating IBS when applied topically. Another review published in the Alimentary Pharmacology and Therapeutics suggests that a combination of peppermint oil and caraway oil helps treat indigestion. In addition, vapors of caraway seeds were also found effective in relieving pain and inflammation in people with lumbar pain.
2. May Improve Digestion
Studies suggest that extracts of caraway, fennel, and peppermint may treat upper abdominal problems. A fixed combination of caraway and peppermint oils helps improve the quality of life in patients with functional dyspepsia. In addition, the carminative activity of caraway helps relieve flatulence. As per another study, caraway seeds were also used in the treatment of diarrhea, flatulence, and bloating. However, more studies are warranted to further understand this phenomenon of caraway.
3. May Promote Weight Loss
Caraway has been traditionally used to treat obesity. In one study conducted by the University of Malaya, caraway extract was found to have a weight-lowering effect on overweight and obese women. A dosage of 30 ml/day of caraway extract was found to be effective in weight management. Also, the aqueous extract of caraway was found to have appetite-suppressing properties that may help reduce body weight. In another study conducted by the Ahvaz Jondi Shapour University of Medical Sciences, Iran, on Wistar rats, oral administration of caraway was found to reduce body weight.
4. May Help Reduce Cancer Risk
The limonene in caraway seeds may help reduce cancer risk. The anethole in caraway seeds may also inhibit the proliferation of cancer cells in the case of human prostate cancer. Caraway may promote carcinogen detoxification, thereby reducing the risk of cancer. A dosage of 60 mg/kg body weight of caraway effectively decreased oxidative stress and inhibited tumors in animals. Also, the phenolic compounds in caraway seeds may have anti-carcinogenic effects.
5. May Regulate Blood Sugar Levels
The aqueous extracts of caraway were found to exhibit anti-hyperglycemic activity in diabetic rats. In another rat study, the oral administration of caraway was found to reduce serum glucose levels. The oral administration of caraway oil was also found to reduce oxidative stress in diabetes. However, more studies are needed to further understand this phenomenon in humans.
6. May Improve Skin Health
Caraway tablets were found to be effective in the treatment of vitiligo (a disease that causes loss of skin color). In general, this autoimmune disorder has no significant cure. However, limited studies are available to prove the effectiveness of caraway in this regard.
The aqueous extract of caraway essential oil was found to exhibit anticonvulsant properties that help prevent seizures in mice.
These are the potential health benefits of caraway. These seeds have a rich nutritional profile. We have discussed the same below.
Caraway Seeds Nutrition Facts
According to the U.S. Department Of Agriculture, one tablespoon (6.7 g) of caraway seeds contains:
Energy: 22.3 kcal
Protein: 1.33 g
Fat: 0.978 g
Carbohydrate: 3.34 g
Fiber: 2.55 g
Sugars: 0.043 g
Calcium: 46.2 mg
Iron: 1.08 mg
Magnesium: 17.3 mg
Potassium: 90.4 mg
Copper: 0.061 mg
Zinc: 0.368 mg
Caraway also contains phenolic compounds, antioxidants, and other minerals in trace amounts.
Interestingly, caraway, fennel, and cumin seeds look similar. People often confuse one variant for the other. But there are some unique differences that we will check in the next section.
Caraway Seeds Vs. Fennel Seeds
Caraway seeds have a nutty and earthy flavor and are pungent. They are long and thin with slightly mint notes. Fennel seeds have licorice-like. However, they are smoother and less pungent than caraway seeds.
Caraway Seeds Vs. Cumin Seeds
Cumin seeds are light in color and larger than caraway seeds with darker stripes. They have a strong flavor with a warm aroma as they are rich in essential oils. Caraway seeds are darker in color and are slightly curved.
Using caraway seeds in your diet is easy. Keep reading.
How To Use Caraway Seeds?
You can find caraway seeds in your grocery stores. They add flavor to your curries, soups, baked goods, and pickled or fermented food items. Caraway is also the main ingredient in rye and soda bread.
Add caraway seeds to your potato salad.
Add them as a seasoning for roasted vegetables.
Sprinkle caraway seeds over roasted or sweet potatoes.
Add them to pies, tarts, jams, jellies, and custards.
Add a pinch to any tomato-based sauce or soup.
Add to shortbread cookies or Irish soda bread cookies.
Caraway seeds pair well with garlic, pork, and cabbage.
Use with a pork roast or pork chops.
Mix into a cheese dip.
What is the recommended dosage of caraway seeds? How much of caraway can you intake? Find out the answers in the following section.
How Much Caraway Can You Take?
The ideal recommended dosage of caraway seeds is not clearly established. But anecdotal evidence suggests that intake of half to one tablespoon of caraway divided into three doses throughout the day could be effective.
How To Eat Caraway Seeds?
1. Caraway Seed Cake
What You Need
Caraway Seeds – 4 teaspoons
Eggs – 3
Vanilla extract – ½ teaspoon
Ground almonds – 45 g
Milk – 4 tablespoons
Softened butter – 170 g
Self-raising flour – 170 g
Golden caster sugar – 170 g
Flaked almonds – 1 tablespoon
Demerara sugar – 1 tablespoon
Process
Heat oven to 190 degrees C. Line two baking sheets with silicone baking mats or baking parchment.
Beat the caster sugar and butter using a spoon or electric whisk.
Whisk in the eggs and vanilla, then gently stir in the flour, ground almonds, milk, and caraway seeds.
Pour the mixture into the tin.
Sprinkle over the demerara sugar and flaked almonds and bake for an hour.
Remove from the tin and leave to cool on a wire rack.
2. Caraway Seed Cookies
What You Need
Caraway seeds – 1 tablespoon
All-purpose flour – 2 ¾ cups
Baking soda – 1 teaspoon
Sugar – 1 ½ cups
Salt – ¼ cup
Unsalted butter – 1 cup
Milk – 1 cup
Process
Preheat the oven to 350 degrees F. Line two baking sheets with silicone baking mats or baking parchment.
Whisk together flour, baking soda, salt, and caraway seeds in a bowl and set aside.
Place butter in the bowl of a stand mixer and cream on medium until smooth and glossy, for about a minute.
With the mixer still on medium, slowly add sugar and beat until pale and fluffy, for about 5 minutes.
Add flour mixture and milk in two additions, alternating between the flour and milk. Mix on low until just combined.
Transfer the mixture to a piping bag fitted with a 3/8-inch tip.
Pipe rounded teaspoons on prepared sheets, leaving 2 inches of space between the cookies.
Bake until golden brown, rotating front to back and top to bottom halfway through, for about 20 minutes.
Cool on sheets for 5 minutes before transferring to a rack to cool completely.
3. Buttered Cabbage With Caraway
What You Need
Green cabbage – 1 (2 pounds)
Caraway seeds – 1 teaspoon
Butter – 4 tablespoons
Celery seeds – ½ teaspoon
Black pepper – ½ teaspoon
Salt – as needed
Process
Heat a large pot of well-salted water to a boil.
Prepare the cabbage while the water is heating. Cut the head of cabbage into quarters, through the core, and cut away and discard the core.
Once the water is at a rolling boil, add the torn cabbage leaves to the water.
Submerge the leaves in hot water. Cook for 90 seconds and drain the water in the pot and leave the cabbage leaves in the pot.
Stir four tablespoons of butter into the cabbage.
As the cabbage and the pan are both hot, the butter would melt quickly in the pan.
If you are using unsalted butter, you will want to add more salt to the cabbage. Start with half a teaspoon and add more if needed.
Sprinkle with caraway seeds, celery seeds, and black pepper, and toss to combine.
You can prepare caraway tea easily at your home with two ingredients. Here are the steps to prepare caraway tea.
How To Make Caraway Tea?
What You Need
Water – 12 ounces
Caraway seeds – 1 tablespoon
Honey – to taste
Process
Place 12 ounces of water in a kettle and bring to boil.
Add one tablespoon of caraway seeds to a teacup.
Pour the boiling water over the caraway seeds.
Cover the teacup with a plate to contain the heat of the water inside the cup.
Allow the tea to steep for at least fifteen minutes.
Pour the tea into a second cup through a strainer, straining off the seeds. Discard seeds.
Add honey to tea to taste.
You must store caraway seeds carefully to maximize their shelf life. Scroll down to know in detail.
How To Store Caraway Seeds?
Caraway seeds can last for three to four years if stored properly. Store them in an airtight jar and place the jar in a dark and cool place. Storing them in the refrigerator can maximize their shelf life.
Caraway seeds are generally considered safe. But they may have certain side effects. Check them out in the next section.
Are There Any Side Effects Of Caraway?
Caraway is generally considered safe for consumption. But caraway (especially the oil) is not recommended for those under 18 years, lactating, and pregnant women. And, people with diabetes should be cautious while consuming caraway. It is known to lower blood sugar levels, and may lower blood sugar levels way too much in those taking diabetes medications. Also, consult your doctor before consuming caraway to treat any specific health problem.
Conclusion
Caraway seeds have numerous applications. Their nutrients and phenolic compounds help treat many ailments. From reducing inflammation to improving skin health and reducing cancer risk, caraway seeds offer several health benefits. However, people with health issues, children, and pregnant and lactating mothers should consult their doctor before consuming caraway.
Sources
Articles on StyleCraze are backed by verified information from peer-reviewed and academic research papers, reputed organizations, research institutions, and medical associations to ensure accuracy and relevance. Read our editorial policy to learn more.
Recommended Articles
The following two tabs change content below.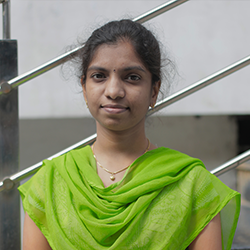 Sindhu Koganti is a Biotechnology graduate and has been in the writing field for over 4 years now. She specializes in writing on Health and Wellness. She has hands-on experience in writing articles and press releases on Life Sciences and Healthcare, Food and Beverages, and Chemicals and Materials. When she's not writing, she loves watching movies and listening to music. She also enjoys traveling.