Carnivore Diet Recipes For Breakfast, Lunch, Snacks & Dinner
Plan your breakfast, lunch, snacks, and dinner with delicious meals like grilled chicken and nuggets.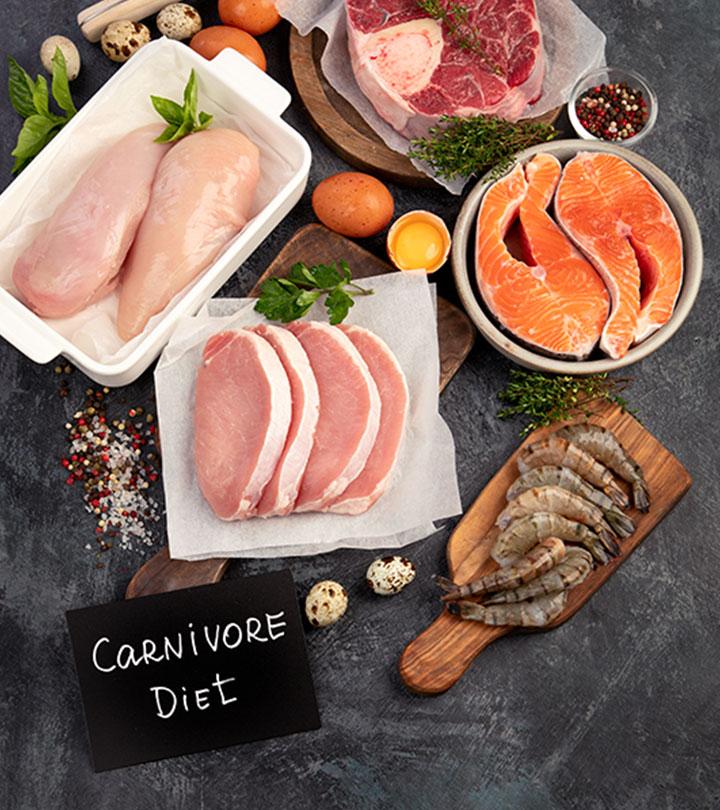 If you are on the carnivore diet, you are probably on the lookout for delicious carnivore diet recipes. This popular weight loss diet includes protein-rich dishes with a lot of meat and animal products. However, it is important to note that this diet is different from a keto diet. Luckily, the recipes we have shared here are easy to cook, can be stored for a long period, and are perfect for weekend getaways or backpacking trips. Check out these carnivore diet recipes for breakfast, lunch, dinner, and snacks. Scroll down!
A study conducted on 2029 participants (67% males) found that 93% consumed a carnivore diet for 14 months primarily for health reasons. Furthermore, participants also noted high levels of improvement and satisfaction in general health (95%), well-being (66%–91%), and various medical conditions (48%–98%).

At A Glance: Carnivore Diet
Principle: A high-protein and zero-carb diet filled with only animal products.
Purpose: To promote weight loss, regulate blood sugar levels, and treat mood issues.
Who It Is For: Individuals trying to lose weight by following a completely animal-based diet.
Duration: Short-term
Who Should Avoid: Individuals with kidney disorders, diabetes, or (a history of) eating disorders, and pregnant or breastfeeding individuals.
Cons: Highly restrictive and may cause bloating, gas, nausea, vomiting, constipation, and nutritional deficiencies.
Carnivore Diet Recipes For Breakfast
1. Cheesy Carnivore Omelets
What You Need
4 large eggs
50g meat (ground)
50g yogurt
20g mozzarella cheese
Salt and pepper for seasoning
3 teaspoons oil
 How To Prepare
Heat some oil in a frying pan.
Add the meat and fry.
Beat the eggs in a bowl and pour it into the frying pan.
Top with salt and pepper when the eggs start to set. Let it cook for 5 minutes.
Spread the mozzarella cheese on the omelet and let it melt for 3 minutes. Serve hot!

Did You Know?
You can aim for a protein-to-fat ratio of 2:1 grams. It ensures you have enough fat for energy and protein for all needs.
2. Carnivore Waffles
What You Need
2 eggs
300g raw breakfast sausage
8 teaspoons flour
2 teaspoons butter
A pinch of salt and pepper
How To Prepare
Beat two eggs in a bowl along with the sausages.
Add in the flour and keep the mixture aside for 2 hours.
Preheat the waffle maker and grease it with butter.
Pour the mixture in the waffle maker and cook until it turns golden brown.
Take the waffle out and serve hot!
3. Pancake Patties
What You Need
300g breakfast sausage
2 eggs
1 cup sweetener
150 ml coconut milk
1 teaspoon oil
How To Prepare
Break the sausages into small pieces.
Add all the ingredients (except coconut milk) to the broken sausages in a bowl.
Stir to make the batter smooth.
Add in the coconut milk and stir well.
Heat the pan, grease it with oil, and pour the batter in small disc shapes.
Flip when the edges of the batter begin to cook. Continue to cook again until they turn brown.
Transfer to a dish and serve!
Carnivore Diet Recipes For Lunch
1. Fish Stock Recipe
What You Need
8 fish pieces
2 tablespoons butter
1 onion (sliced)
½ cup dry white wine
¼ cup parsley (finely chopped)
1 bay leaf
4 whole peppercorns
How To Prepare
Melt the butter in a stockpot and sauté the sliced onions for a minute (until the color changes).
Add the fish pieces, white wine, and other ingredients. Add enough water to cover all the contents of the pot.
Cook for about 30 minutes on low to medium flame while stirring continuously
Strain the liquid.
Pour it in a bowl and serve hot.
2. Pot Steak Soup
What You Need
400g fresh steak and bones
1 tablespoon salt
800 ml water
½ tablespoon pepper powder
1 tablespoon vinegar
2 pods of garlic
How To Prepare
Add the steak and bones along with other ingredients to a pot.
Add water to cover the steak and bones
Place the pot on low to medium heat.
Stir constantly for 5 minutes once it boils.
Add salt and keep stirring.
Bring the entire stock to rest for a while. Transfer to a bowl and serve hot.
3. Whole Grilled Chicken
What You Need
3-pound whole chicken
4 tablespoons butter
2 tablespoons smoked salt
Seasoning ingredients
How To Prepare
Wash the chicken properly and pat it dry.
 Preheat the oven.
Coat the chicken with butter and season well on all the sides.
Grill for about 40 minutes.
Flip the chicken and add butter if needed. Cook for another 40 minutes.
Remove from the grill and let it cool for about 10 minutes before cutting it.
Place the grilled chicken pieces in the serving dish and serve!
Carnivore Diet Snack Recipes
1. Steaky Nuggets
What You Need
1 big steak (cut into small pieces)
1 egg
3 teaspoons oil
1 teaspoon salt
1 teaspoon lime juice
¼ cup mayonnaise
½ cup cheese
Method
Combine the steak, cheese, and salt in a bowl. Mix well.
Beat the egg in a container to cover the steak mixture.
Dip the steak chunks in the egg mixture to give a coat.
Stir fry steak nuggets in oil on a medium flame until they turn brown.
Transfer the nuggets to paper rolls and season with salt and mayonnaise.
2. Chicken Wings
What You Need
10 chicken wings
1 tablespoon parsley
1 tablespoon salt
½ tablespoon ground black pepper
¼ teaspoon butter
½ cup cheese
How To Prepare
Add the cheese, parsley, salt, and pepper to a bowl and mix well.
Dip the chicken wings in the mixture. Place them on the baking sheet and let it rest for a few seconds.
Melt the butter in a frying pan and heat slightly.
Cook the coated chicken wings in the frying pan until they turn brown and serve hot.
3. Meatballs
What You Need
500g ground beef
1 cup cheese
1 egg
1 tablespoon salt
1 tablespoon garlic powder
How To Prepare
Mix the beef and cheese in a large bowl.
Beat the egg and pour into the mixture. Add salt and garlic powder.
Make medium-sized balls with the mixture.
Heat the pan or skillet by greasing it with oil and fry the meatballs.
Transfer to a serving dish and serve hot!
Carnivore Diet Dinner Recipes
1. Carnivore Stroganoff
What You Need
300g ground beef
¼ cup heavy cream
1 tablespoon salt
How To Prepare
Heat the oil in a pan or skillet on medium heat.
Slowly place the grounded beef and cook until it turns brown.
Pour the heavy cream on top and season with salt.
Simmer it until the liquid reduces to half.
Cool it down and serve.
2. Beef Patties With Onion Gravy
What You Need
500g ground beef
2 tablespoons butter
4 tablespoons flour
1 teaspoon salt
1 small onion
1 cup chicken broth
Seasoning ingredients
How To Prepare
Add seasoning ingredients and salt to beef in a pot. Add in the flour and mix it gently. Leave for 2 hours.
Make patties with the beef mixture and keep them aside.
Heat the pan and melt some butter in it.
Place all the patties and cook them on both sides.
Transfer to a dish.
Add sliced onions and the broth to the pan.
Keep stirring until it turns to a thick gravy.
Pour the liquid on patties and serve hot!

Quick Tip
If you are following a carnivore diet, consuming organ meats (offal) is one of the best choices to add nutrients to your diet.
3. Chicken Liver Pate
What You Need
500g chicken liver
½ cup butter
2 cloves of garlic
1 tablespoon parsley
½ teaspoon salt
1 shallot
¼ teaspoon black pepper
How To Prepare
Melt the butter in a pan. Sauté the garlic and shallot.
Fry the chicken liver on the pan on both sides until it is brown and tender. Add parsley.
Add the leftover butter and season with salt and pepper.
Stir slowly to mash the contents. Pour the dish into a container and let it cool for a while.
Serve with bread.
Infographic: Carnivore Diet: Simple 3-Meal Plan
The carnivore diet follows a simple concept. You include lots of protein-rich meat in your diet and treat everything else as bonus flavoring. Most recipes listed in the article require very basic ingredients and minimal preparations. In the following infographic, we have summarized one such simple recipe each for three main meals of the day. Take a look.


The carnivore diet is a high-protein weight loss diet that includes a lot of meat, poultry, and animal products. It is considered by some to be more healthy than the Paleo diet, primal diet, and the hunter-gatherer diet that includes foods directly procured from nature. You would need to plan your day and meals around recipes that not only make you feel full but give you the right nutrition and calories as per your plan. The various delicious meat lovers recipes listed here give you breakfast, lunch, and dinner options that you can easily make at home. You should consider following the carnivore diet only for a limited period of time as including other foods, fruits, and vegetables would give you a more balanced approach towards weight loss. Make sure to consult a licensed dietician before and while practicing a carnivore weight loss diet routine.
Frequently Asked Questions
What desserts can you have on a carnivore diet?
You can have carnivore cake, carnivore egg pudding, or no-bake cheesecake amidst other egg-based options.
How many eggs can I eat on a carnivore diet?
You may have up to 6 eggs per day on a carnivore diet.
What can I drink on a carnivore diet?
Water and bone broth are the drinks encouraged on a carnivore diet.
Which is better, keto or carnivore?
The keto diet, though carbs-restrictive, is better than a carnivore diet, as it gives you more wholesome options for low-carb meals. You are not just restricted to animal protein on a keto diet.
What are the side effects of the carnivore diet?
It might lead to high LDL cholesterol levels and affect your heart and kidney health.
Can I drink coffee on a carnivore diet?
Carnivore diet eliminates all plant-based food items, and thus you can not have coffee on this diet.
How long should you do the carnivore diet?
While a carnivore diet may take anywhere between 3 days to a few weeks to show results, you should not follow it for more than 6 days at a stretch. It is not healthy in the long-term and may lead to nutrient deficiencies, and cholesterol imbalance among its other side effects.
Can you eat deli meat on a carnivore diet?
You can opt for fresh deli meats and avoid pre-packaged ones to prevent intake of salt and preservatives.
Can you drink milk on a carnivore diet?
You can have low-lactose dairy products in moderation along with meat-based recipes when on the carnivore diet.
Is vodka okay on a carnivore diet?
Vodka or any sort of alcohol is not encouraged on a carnivore diet.
Key Takeaways
The carnivore diet consists of high protein meals which are mostly meat and animal products.
Enjoy a delicious cheesy carnivore omelet for a hearty breakfast and a whole grilled chicken with some butter and salt for a delicious lunch.
You can try your hand at cooking some chicken wings at home when you feel like snacking.
To end the day, cook up a yummy beef stroganoff for a nice dinner with your family.
Discover mouthwatering carnivore diet recipes that will tantalize your taste buds and satisfy your primal cravings. From chicken wings to succulent lamb chops, embark on a carnivorous culinary adventure like no other. Check out the video below!
The following two tabs change content below.