11 Best Carrier Oils For Skin & How To Pick The Right One
Choose wisely and learn how to use cold-pressed oils for various skin concerns and types.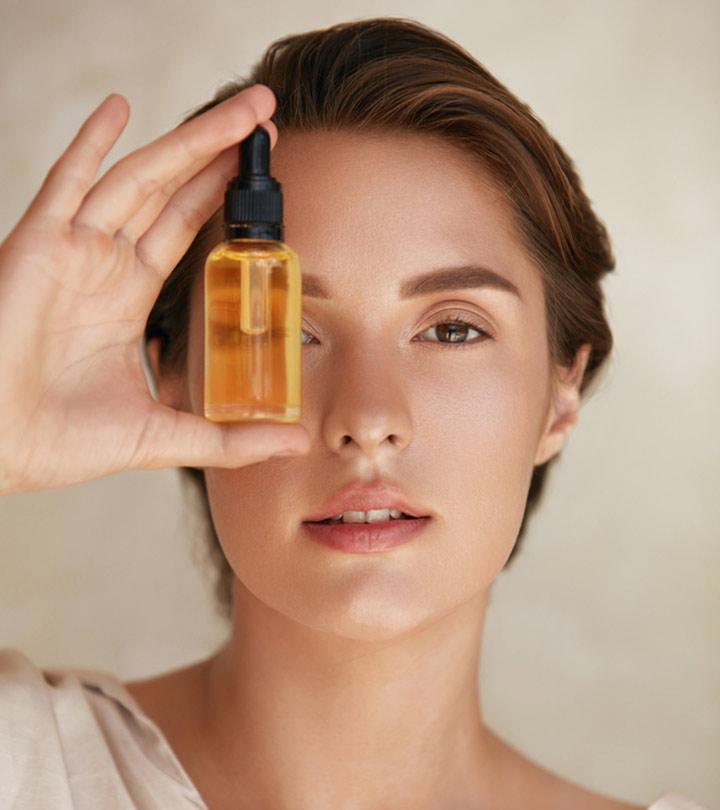 Many people have started using carrier oils for skincare and for good reason! These vegetable oils are found in lotions, moisturizers, creams, lip balms, and other skincare products. They are often used as base oils to dilute essential oils before application.
Carrier oils offer numerous therapeutic benefits for the skin. These natural oils can aid in the treatment of a variety of skin conditions and improve the appearance and feel of your skin. The benefits of carrier oils for your skin and how to include them in your skincare routine are discussed in this article. Keep reading!
What Are Carrier Oils?
Carrier oils are derived from fatty plant parts such as nuts, seeds, and kernels. Common examples include coconut oil, olive oil, sweet almond oil, grapeseed oil, and even butters such as cocoa butter and unrefined shea butter.
These cold-pressed vegetable oils are used to dilute essential oils before topical application. As essential oils are highly potent, they can cause skin damage, burning, and irritation if applied directly. Diluting them in carrier oils minimizes skin sensitivity and also reduces their rate of evaporation.
With so many carrier oils for skin available today, it can be overwhelming to know which suits you the best. Hence, we share a few helpful tips for choosing the perfect carrier oil for your skin type.
Finding The Right Carrier Oil For Your Skin Type
Before choosing a carrier oil, look for how quickly it gets absorbed into the skin. The rate of absorption differs among carrier oils. While some oils, like castor oil, sink in very slowly, grapeseed and camellia seed oils get absorbed fast.
If you have oily or combination skin, go for lightweight carrier oils that permeate the skin more readily. These include grapeseed and jojoba oils.
Thicker oils, such as olive or avocado oils, are more nourishing and could work better on drier skin types. However, they may also clog your pores over time and are not recommended for those with oily or acne-prone skin.
If your skin is dehydrated or damaged, you may also want to pick a carrier oil containing phytosterols. Phytosterols are useful in repairing damaged moisture barriers and can help with moisture retention. They also help preserve collagen after UV irradiation (1).
Additionally, carrier oils rich in fatty acids and vitamins such as A, C, D, and E can help boost the overall skin radiance and restore the skin's natural glow (2).
Ensure the carrier oil you choose to buy is from a reputable source and of good quality. Since it is absorbed into the body, you want to consider something organic, unrefined, and preferably cold-pressed.
Which carrier oil(s) can suit your skin type the best? Keep reading to know.
Carrier Oils For Normal Or Combination Skin
1. Coconut Oil
Coconut oil is one of the best moisturizing oils that is obtained from the kernels and meat of fresh, mature coconuts. The oil acts as an effective moisturizer for all skin types and is used as a base ingredient in several skin care products, including creams, lotions, and soaps.acids that are known to soften skin (3). It is also widely beneficial for many different skin issues.
In its purest, cold-pressed form, coconut oil is generally solid or creamy until melted. Hence, fractionated coconut oil is usually preferred as a carrier oil. The fractionated variant is processed to keep it in the liquid state at room temperature, making it easier to work with.
2. Sunflower Oil
Sunflower oil is rich in oleic and linoleic acids that promote skin healing and strengthen the skin barrier (4).
Out of all the nourishing oils available out there, this one is extremely versatile and light and is easily absorbed into the skin, leaving very little oily residue. Sunflower oil is also suitable for acne-prone or irritated skin as it does not damage the skin barrier (5).


Trivia
Sunflower oil is believed to be the first domesticated crop by Native Americans dating back to 3000 BC. They used the oil to condition the skin and hair and treat snake bites.
3. Pomegranate Seed Oil
Pomegranate seed oil has potent antioxidant and anti-inflammatory properties (6). Anecdotal evidence suggests that topical application of pomegranate seed oil may help moisturize and nourish the skin and balance the skin pH.
4. Sweet Almond Oil
Sweet almond oil may help soften and recondition the skin. It is suitable for all skin types and can be particularly beneficial for those with dry, itchy skin. However, more research is warranted in this regard.
Carrier Oils For Oily Skin
1. Jojoba Oil
Jojoba oil is widely used in cosmetic formulations such as moisturizers and sunscreens. The oil has a high content of wax esters and closely resembles human skin sebum (7). It is a non-comedogenic oil considered suitable for acne-prone and oily skin types.
2. Argan Oil
Argan oil is extracted from the unroasted kernels of the argan fruit. The oil has been traditionally used in Morocco to moisturize skin, maintain complexion, and treat skin pimples and chickenpox scars (8).
Additionally, argan oil is one of the best anti-inflammatory oils that is considered beneficial in treating skin conditions such as eczema, psoriasis, and skin inflammation. It is also claimed to reduce wrinkles and can be considered an anti-aging oil (8).
3. Grapeseed Oil
Grapeseed oil is a very light oil that is easily absorbed by the skin. It is rich in linoleic acid, vitamin E, omega fatty acids, and antioxidants (9).
As the oil is very light, it does not make the skin greasy. The antioxidant capacity of the oil also keeps the pores from getting clogged. Its anti-inflammatory properties may prevent acne outbreaks.
Carrier Oils For Dry/Aging Skin
1. Rosehip Oil
The rosehip carrier oil is extracted from the seeds of rosehip and is an abundant source of linoleic and oleic acids (4).
Out of the plant-based oils, this one contains antioxidant and anti-inflammatory properties and is considered extremely beneficial for treating irritated, dry, and weathered skin. The oil may also treat stretch marks, burns, and scars. However, more information is warranted in this regard.
2. Avocado Oil
Avocado oil is extracted from the fruit of Persea Americana and is an excellent source of fatty acids, minerals, lecithin, and vitamins A, C, D, and E (4). It is odorless and its color can range from yellow/green to green/brown. The oil is widely used in treating dry, damaged, and chapped skin.
3. Apricot Kernel Oil
Apricot kernel oil, which is extracted from wild apricot kernels, is rich in vitamin E and fatty acids (10). It is a popular massage oil as it is absorbed into the skin fairly easily.
Apricot kernel oil is suitable for all skin types and is particularly beneficial for sensitive, dry, or matured skin.
4. Evening Primrose Oil
Evening primrose oil (EPO) is extracted from the seeds of a plant native to North and South America. The oil contains high levels of gamma-linolenic acid (GLA), a fatty acid thought to help in the treatment of skin conditions like eczema (11). However, more studies are warranted to understand the safety of this oil in this regard.
In another Korean study, patients with mild atopic dermatitis found improvement in their condition with the use of EPO (12).

Trivia
Evening primrose oil was used by Native Americans to treat wounds, stomach pain, fever, and sore throat.
While carrier oils are generally considered safe and effective for use on the skin, you may want to take a few general precautions before applying them to your face and body. We outline some best practices below.
Precautions To Take When Using Carrier Oils For Skin
1. Always Do A Patch Test
Doing a test patch is necessary before using any carrier oil, especially if you are prone to breakouts. Apply a few drops of the oil on your arm to see how well your skin responds. If you develop any irritation or sensitivity after the patch test, you should avoid using the oil.
2. Read The Labels
You need to read the labels on your carrier oil packaging for any specific warnings or recommendations. If you have nut allergies, you may want to check the label to avoid using organic oils containing nuts or nut derivatives or are manufactured in a facility that also processes nuts.
3. Avoid Certain Areas Of The Face
When using carrier oils on the skin, avoid applying the oil inside your nose or directly to or near the eyes as the skin in these areas is extremely sensitive.
4. Store Carrier Oils Safely
Carrier oils need to be stored in a cool, dark place away from direct sunlight. Excessive light or heat can alter their chemical properties, causing them to turn rancid faster.
Carrier oils are found in skin care products like lotions, lip balms, creams, and moisturizers. These cold-pressed oils are often used to dilute essential oils and improve the quality of such oils. Since the absorption rate differs for different carrier oils, you should be careful while choosing the one suitable for your skin type. It is always best to buy organic, cold-pressed, and unrefined carrier oils. Otherwise, it may lead to more skin issues and cause adverse reactions. Also, do a patch test before you apply any oil to your face.
Frequently Asked Questions
What is the most moisturizing carrier oil?
Jojoba oil is one of the most commonly used carrier oils for moisturizing the skin and improving skin texture. It is widely used in skin care products as it is suitable for all skin types.
Which carrier oil is best for dark spots?
Argan oil is considered to be one of the best oils for eliminating dark spots because of the presence of antioxidants and vitamin E in it (8).
Can I mix all carrier oils together?
Yes, carrier oils can be mixed together to enhance their properties and reap their benefits. However, it depends on the skin type and the benefit you are looking for. For instance, if you need a moisturizing carrier oil blend, mix Jojoba oil with grape seed oil.
Is witch hazel a carrier oil?
No, witch hazel is not a carrier oil. It is a watery extract from the witch hazel plant. However, it can be mixed with other carrier and essential oils as it benefits the skin in numerous ways like soothing skin irritation, and itchiness.
Is vinegar a carrier oil?
No, vinegar is not a carrier oil. It is an acidic liquid, mostly used in cooking and cleaning. However, it can be mixed with other carrier oils used in the skincare regime.
Key Takeaways
Carrier oils are made from seeds, nuts, and kernels of coconut or grapeseed and are used to dilute essential oils before applying.
People with combination skin should go for coconut oil or sweet almond oil since they hydrate the skin.
Light oils such as jojoba oil or argan oil are ideal for oily skin, while rosehip oil or evening primrose oil is suitable for dry skin.
Always do a patch test and read the labels for warnings before using any carrier oil.
Learn how to select the right carrier oil for your skin. Check out the video to understand more about the key points to keep in mind when selecting a carrier oil for you.
Sources
Articles on StyleCraze are backed by verified information from peer-reviewed and academic research papers, reputed organizations, research institutions, and medical associations to ensure accuracy and relevance. Read our editorial policy to learn more.
The following two tabs change content below.