How To Treat Dark Circles Under Eyes: Causes, Home Remedies, And More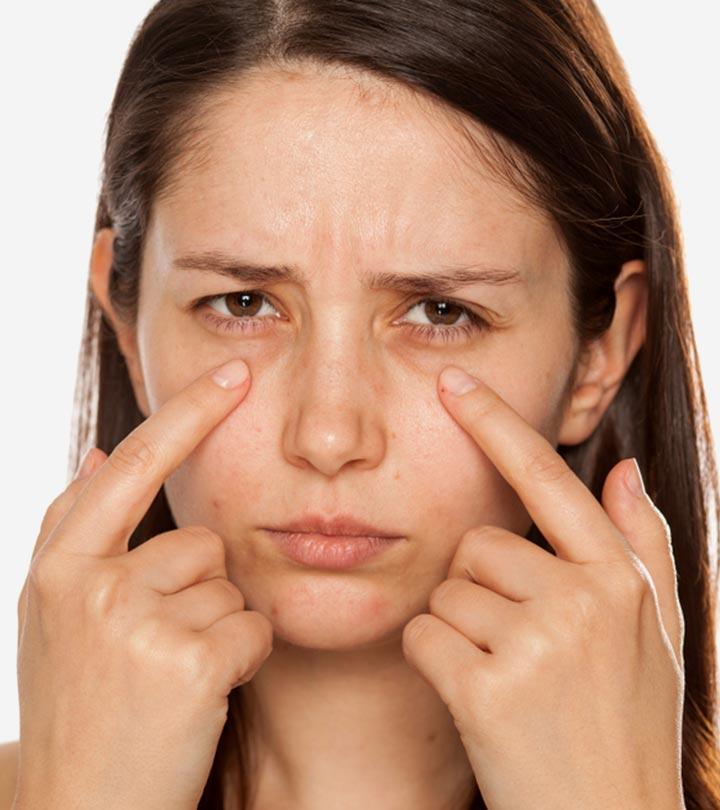 Are you worried your dark circles are making you look older than you are? While sleep deprivation or stress is a common cause, other contributing factors include smoking, allergies, etc. Dark circles typically occur below the lower eyelids and may extend towards the upper eyelids, eyebrows, and temporal regions.
Most often, these dark circles can be reduced with simple treatments. Here, we discuss how you can get rid of dark circles under your eyes using simple home remedies. Let us jump right in.
What Causes Dark Circles Under Your Eyes?
The skin under your eyes is thin and one of the most delicate among all other areas of the human body. Plus, it has no oil glands to ensure regular keep-up, making it susceptible to dark circles, rings, or shadows.
There are numerous other reasons you may have dark circles under your eyes. These include:
Now that you understand the underlying causes of dark circles, let us check certain simple treatments and home remedies to get rid of them.
Types Of Treatment For Dark Circles
It is important to remember that most of these treatments may not entirely get rid of dark circles, though they may fade them to a great extent.
At-Home Treatments For Under-Eye Circles
1. Invest In A Cold Compress
You can reduce swelling and shrink the dilated blood vessels with effective and constant application of a cold compress. A cold press also reduces puffiness. To use a cold compress, follow these steps:
Wrap a few ice cubes in a soft washcloth and apply to your eyes. If the ice is too cold for your skin, you can dampen the washcloth with cold water and apply it instead.
Leave it on for about 15 to 20 minutes.
Keep repeating the process if the ice melts or the washcloth does not feel cold enough.
2. Get Adequate Sleep
Beauty sleep is not a cliché. As discussed, lack of adequate sleep can cause your face to look pale and puffy and trigger dark circles. Ensure you get a minimum of 7 to 8 hours of sleep every day.
3. Change Your Lifestyle Habits
Reduce your alcohol consumption and smoking. Adopt a healthy diet rich in antioxidants and plant-based foods. Keep track of your nutritional levels (especially iron) from time to time.
4. Treat Your Eyes To A Massage
You can use a gentle oil to give your eyes a massage. You may also place cut cucumbers on your eyes after a long, tiring day. Anecdotal evidence suggests that the latter has a cooling after-effect on the eyes.
5. Keep Your Head Elevated
Your dark circles may also have to do with the way you sleep. As a thumb rule, always elevate your head using a few pillows. This prevents fluid retention under your eyes and may reduce dark under-eye circles.
6. Treat Your Eyes With Caffeine Gels
Applying cool caffeine-based eye gels can reduce the appearance of your dark circles. In a study, caffeine could also shrink the blood vessels (though only in fewer participants) (6).
You can also use black tea or green tea bags in place of caffeine gels. Here are the steps to follow:
Soak two black/green tea bags or caffeine gels in hot water for five minutes.
Place them in the refrigerator and let them cool for about 15 to 20 minutes.
Apply the tea bags/gels to your closed eyes for 10 to 20 minutes.
Remove the bags and rinse the area around your eyes with cool water.
7. Use Makeup To Conceal Them
Makeup can be a short-term, least-invasive treatment. You can always camouflage the dark circles under your eyes with makeup and cosmetics. There are numerous concealers available that can effectively cover them. You can also use opposite color wheel techniques and contrasting hues to mask color irregularities.
However, remember to use makeup products with extreme care and as little as possible. Certain products can worsen your condition or trigger an allergic reaction. If you notice any irregularities after applying cosmetics, stop use immediately and visit your doctor.
8. Apply Vitamin C Topically
Applying skin care products that contain vitamin C, such as lotions and eye creams, may help lighten the under-eye darkness (4). Dab the cream around the eyes as gently as possible for the best results.
Medical Treatments For Dark Under-Eye Circles
Note that invasive medical treatments can be expensive, painful, and, if done incorrectly, cause more harm than good. Thus, consult with your doctor to understand the side effects of such treatments.
Should You Consider Lasers, Peels, And Fillers For Dark Under-Eye Circles?
Although medical treatments can be effective in getting rid of dark circles under your eyes, it is advisable first to try natural, non-invasive methods.
Invasive methods such as lasers, peels, and fillers can dent your pocket. They may also damage your skin in the long run. On the contrary, home remedies are safer to use and more cost-effective.
Besides, addressing the root cause of dark circles will give you better results than superficial treatments.
The Bottom Line
Dark circles under your lower eyelids may occur due to lack of sleep, hormonal changes, and nutritional deficiencies. You can use a combination of the right cosmetic treatments, healthy lifestyle changes, and high-quality over-the-counter skincare products to reduce them. But if your dark circles are worsening despite your efforts, contact a dermatologist to understand the best course of action.
Recommended Articles
Sources
Articles on StyleCraze are backed by verified information from peer-reviewed and academic research papers, reputed organizations, research institutions, and medical associations to ensure accuracy and relevance. Read our editorial policy to learn more.
The following two tabs change content below.