7 Celebrity Men Who Choose To Wear Skirts To Red Carpet Events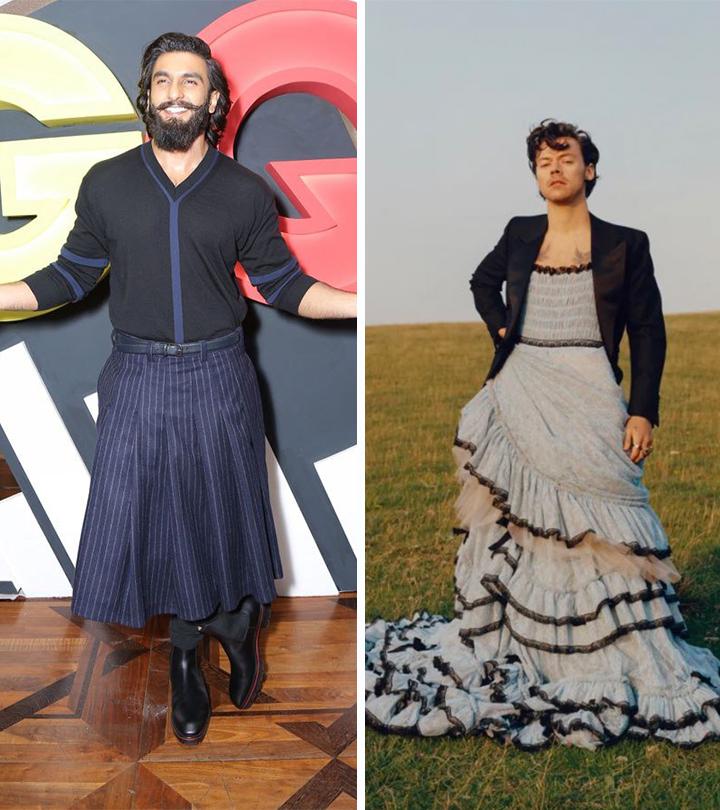 As early as 2010, American actor and musician Jared Leto tweeted, "Real guys wear skirts." The actor has been seen wearing skirts and dresses at many red carpet events since then. And the trend does not end with him. Many A-listers followed suit in recent years and the trend of men donning feminine dresses and skirts has exploded in terms of popularity. Some male superstars, such as David Beckham & Axl Rose, began donning skirts when Jean Paul Gaultier created his first skirts for males in 1985. A series of photographs taken by Mark Seliger for Rolling Stone in 1999 feature Brad Pitt in various feminine clothes, necklaces, and hoop earrings. Many individuals now think that clothing is neutral in terms of sexual orientation.
Many male collections featured dresses and skirts in primary colors such as black, brown, gray, and white. Men were also encouraged to explore and express their feminine aspects by donning feminine attire such as cosmetics, heels, and gowns. Even some commoners have joined celebrities and designers in donning the masculine frock look. As a result, more people felt they could identify with the brand, and sales went up. In 2021, for instance, Thom Brown's skirts for men became one of the most Googled items. And Mark Bryan, a German engineer and parent who frequently posted photos of himself wearing dresses and heels became viral. Here are some famous celebrities who wore skirts on the red carpet, and we couldn't be more proud. Read on!
1. Ranveer Singh
Ranveer Singh is believed to be the Bollywood star with the wildest fashion sense. Only he can pull off a combination of sherwani and lehenga at his wedding reception. When it comes to fashion trends, he knows no boss and is probably the one setting trends for fans to stand out in what they wear. Well, kudos to your confidence Ranveer!
2. Gerard Butler
His Scottish heritage makes him very comfortable wearing the skirt in public. He has graced many occasions in the traditional pleated kilt, and we are only proud to see him flaunt his tradition on the big stage.
3. Bad Bunny
Bad Bunny made his debut at Met Gala in a skirt, and the confidence showed right on his face. He even commented that dresses are much more comfortable than pants. And we couldn't agree more!
4. Oscar Isaac
Oscar Isaac wore skirts twice in one week before the premiere of Moon Knight on Disney. And we loved how confident and calm he was about breaking the stereotypes on gender-based clothes.
5. Harry Styles
No one, including women, can love women's clothing as much as Harry does. It is still common to see celebrities wear skirts and dresses on the red carpet, but Harry doesn't stop there. He says he finds them really comfortable and seeing him walk to the market in a skirt is a ubiquitous sight.
6. Billy Porter
The actor and singer graced the 2019 Oscars in a custom-made tuxedo dress made by Christian Siriano donned with a winged Cleopatra gold bodysuit. That was probably more graceful than anyone had ever seen.
7. Jared Leto
Jared Leto had always been a fan of kilts and skirts, so he was comfortable showing up in a skirt at the iHeartRadio Music Awards 2014 in a blue jacket and black dress. He has even worn pleated skirts to many of his concerts, and we couldn't adore the look more.
While we are not very used to seeing men in frilly skirts walk past us, men in kilts have been around for ages. Men have traditionally favored wearing dresses and dress-like clothes, including hosiery, for various reasons. Roman warriors could march more comfortably in their armor since it resembled a miniskirt. Men wore tunics during the Middle Ages and diverted skirts during the Renaissance. The popularity of skirts and dresses among males gradually declined throughout the succeeding centuries, as pants became the garment of choice. Nevertheless, some cultures maintained skirt-like clothes like the kilt and the fontanelle as part of traditional dress.
Breaking stereotypes has never been an easy job, and while these celebrities are taking the bold step of inducing the change, they have to face frequent backlashes from social media. We admit that it takes time to seep in, but as long as the wearer is comfortable and happy in what they are dressed in, no one should pass judgment on them. So, which of these celebrities do you think rocked the skirt look? Let us know in the comments section.
The following two tabs change content below.