The 15 Best Celebrity Skin Care Products To Try In 2023
Tackle your skin care-related woes with magical products recommended by celebrities.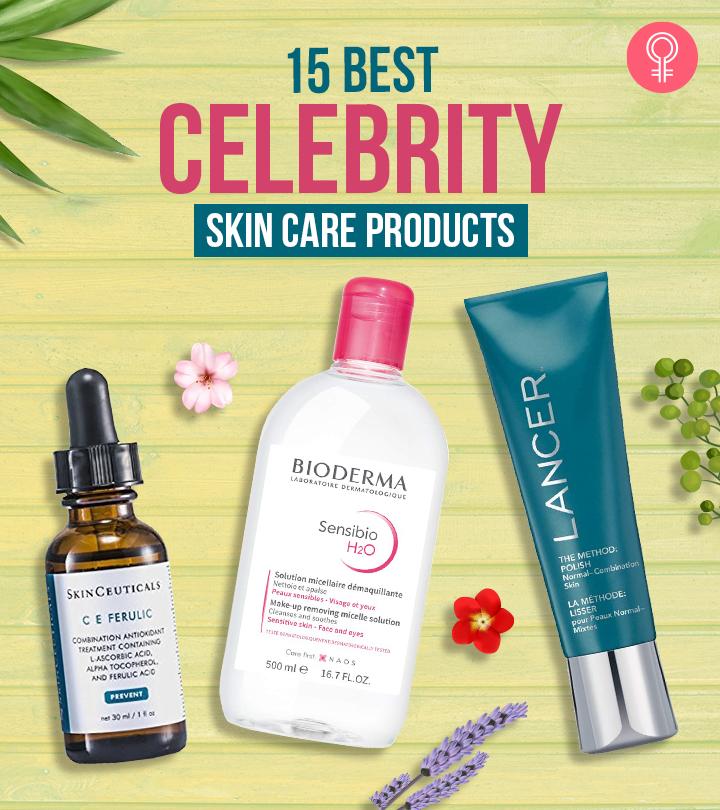 If you have been wondering what your favorite celebrity eats or drinks or what brand of makeup she wears to look so perfect, well, the underlying truth is that they have a solid skincare regimen. Celebrity skincare products are something they swear by no matter what is the event, weather, or mood.
From Jennifer Lopez, Gigi Hadid, Kadarshian, and Jenner sisters, Kate Hudson, we know the magic skincare products that they use. We have got you the 15 best celebrity skincare products to explore. Have a look!
15 Best Celebrity Skin Care Products
The Dr. Barbara Sturm Hyaluronic Serum is a favorite among celebs for its intense hydration boost and instant refreshing feel. It is packed with low and high molecular weight hyaluronic acid molecules that provide instant hydration at the surface and lasting hydration at the deeper skin layers.
The long-chain hyaluronic acid makes your skin look visibly firmer, radiant, and refreshing, while the short-chain hyaluronic acid provides an instant boost of hydration to the deeper dehydrated skin layers. This lightweight serum also contains the antioxidant-rich Purslane extract that plumps the skin and diminishes fine lines and wrinkles. It also protects the sensitive skin cells against free radical damage and enhances skin texture.
Best For: Dull, Dry, and Mature skin
Celebrity Fans: Hailey Baldwin Bieber, Victoria Beckham, Dove Cameron, Nina Dobrev, Bella Hadid, Kim Kardashian, and Kourtney Kardashian
Key Ingredients: Active hyaluronic acid and Purslane
Pros
Lightweight
Absorbed instantly
Pleasant fragrance
Travel-friendly packaging
Minimizes fine lines and wrinkles
Paraben-free
Silicone-free
Fragrance-free
Mineral oil-free
Cons
Price at the time of publication: $294.0
The gentle formula of the Bioderma Sensibio H2O Micellar Water makes it one of the top skin care products that celebrities use. It is formulated especially for sensitive and allergy-prone skin.
This micellar water is enriched with fatty acid esters that cleanse and soothe the skin without irritating or drying it. The Dermatological Advanced Formulation is a patented complex that helps calms and enhances the tolerance threshold of the skin. Apart from drawing impurities from your skin and cleansing it, this micellar water removes stubborn makeup without leaving any residue.
Best For: All skin types
Celebrity Fans: Lindsay Ellingson, Victoria Beckham, Khloe Kardashian, Drew Barrymore, Gwyneth Paltrow, Lucy Hale, Rosie Huntington-Whiteley, Laura Harrier, Ashley Graham, and Tracee Ellis Ross
Key Ingredients: Fatty acid esters
Pros
Unscented
Gentle
Non-sticky
Paraben-free
Alcohol-free
Oil-free
Hypoallergenic
Dermatologically tested
Cons
May not take off stubborn eye makeup.
Price at the time of publication: $10.99
Try the Dr. Dennis Gross Alpha Beta Universal Daily Peel for a salon-like facial at home. This peel is packed with five alpha and beta hydroxy acids, antioxidants, and vitamins that give you even-toned, flawless skin.
Step 1 has gentle yet powerful and rejuvenating exfoliating acids and chamomile that lift away dead skin cells and tone and soothe the skin. Step 2 contains retinol that helps smooth wrinkles and fine lines and enhances skin elasticity and hydration. It also contains green tea extract that protects the skin from toxins and free radical damage. These steps nourish the skin and keep it balanced, smooth, and radiant. This celebrity skin care product is suitable for all skin types, including first-time peel users.
Best For: All skin types
Celebrity Fans: Chrissy Teigen, Selena Gomez, Olivia Culpo, Naomi Campbell, Rosie Huntington-Whiteley, Zoë Kravitz, and Constance W
Key Ingredients: Step 1 – 5 Alpha beta acids and Chamomile, Step 2 – Retinol and Green tea extract
Pros
Evens out the skin tone
Easy to use
Minimizes fine lines and wrinkles
Travel-friendly packaging
Paraben-free
Phthalate-free
Cruelty-free
Vegan
Cons
Price at the time of publication: $149.79
The Skin Ceuticals C E Ferulic Combination Antioxidant Treatment is a revolutionary skin care product that delivers unprecedented results. This serum protects your skin against photoaging by eliminating and neutralizing free radical damage, boosting collagen production, and providing utmost protection to your skin. It can remain effective for up to 72 hours after absorption into the skin.
This antioxidant serum is formulated with l-ascorbic acid (vitamin C), alpha-tocopherol (vitamin E), and ferulic acid. The l-ascorbic acid has anti-aging benefits, protects the skin against oxidative stress, and brightens the skin tone. Alpha-tocopherol is a pure form of vitamin E that eliminates free radicals and replenishes the skin's natural oils. Ferulic acid is a plant-based antioxidant that enhances and stabilizes the benefits of vitamins C and E to improve the skin's texture and tone.
Best For: Normal, Dry, and Sensitive skin
Celebrity Fans: Sienna Miller, Hailey Baldwin, Kristen Stewart, and Brooke Shields
Key Ingredients: L-ascorbic acid, Alpha-tocopherol, and Ferulic acid
Pros
Brightens the skin tone
Long-lasting effects
Makes the skin soft and plump
Fragrance-free
Phthalate-free
Paraben-free
Non-comedogenic
Cons
Price at the time of publication: $105
The La Mer Crème De La Mer Moisturizing Cream helps heal dry and parched skin with intense and deep moisture. This luxuriously rich cream is amongst the top celebrity skin care products. It thoroughly soothes and moisturizes your skin and helps heal dryness.
This moisturizing cream is formulated with essential vitamins, oils, Miracle Broth, and lime tea. The cell-renewing Miracle Broth is a healing elixir infused with sea kelp that helps replenish your skin's moisture and radiance. It also reduces fine lines and wrinkles, makes your skin soft and supple, and locks in its natural radiance. This multifunctional cream can be used as a day and a night cream for renewed skin.
Best For: Dull and Dry skin
Celebrity Fans: Tracee Ellis Ross, Chrissy Teigen, Kate Hudson, Jennifer Lopez, Nina Dobrev, Ashley Tisdale, Kate Hudson, and Constance Wu
Key Ingredients: Miracle Broth and Lime tea
Pros
Can be used as a day and night cream
Paraben-free
Phthalate-free
Reduces fine lines and wrinkles
Sulfate-free
Gluten-free
Cons
Price at the time of publication: $207
This everyday polish from Lancer is a powerful anti-aging physical and chemical exfoliator and a skin-replenishing treatment. It is designed to gently exfoliate and remove dry skin cells, impurities, and dirt from the skin's surface and instantly revitalize your skin. This self-warming exfoliator is formulated with pure natural minerals and pumpkin and pomegranate enzymes that make your skin softer and visibly brighter.
The pure natural minerals like magnesium, sodium, and quartz crystal beads gently exfoliate the skin without being abrasive. The pumpkin enzymes draw impurities and dead skin cells from your skin, while the pomegranate enzymes help in resurfacing and replenishing your skin with intense hydration and potent antioxidants to make it blemish-free complexion and firm. This polish can be used during the day as a perfect makeup primer and as a night cream in your skin care routine.
Best For: Normal, Combination, Acne-prone, and Mature skin
Celebrity Fans: Beyoncé, Victoria Beckham, Kim Kardashian, Ryan Seacrest, Olivia Culpo, Lindsay Ellingson, Lucy Hale, and Jennifer Lopez
Key Ingredients: Natural minerals, Pumpkin enzymes, and Pomegranate enzymes
Pros
Gentle
Refreshing
Soothing fragrance
Paraben-free
Sulfate-free
Phthalate-free
Dermatologically approved
Clinically tested
Cons
None
Price at the time of publication: $65
The Biologique Recherche Lotion P50exfoliates, purifies, and mattifies your skin. This purifying and exfoliating lotion is one of the celebrity skin care products with visible results.
It is formulated with lactic acid, niacinamide, and salicylic acid that help erase dark spots, shrink enlarged pores, and even tone your skin to make it look flawless. This lotion also regulates excess sebum secretion and helps maintain the pH balance of your skin. It works as an all-in-one balancer, toner, and exfoliating lotion. Consistent use of this product will give you fresh, rejuvenated, and younger-looking skin.
Best For: Normal, Oily, and Acne-prone skin
Celebrity Fans: Madonna, Mary-Kate, Ashley Olsen, Nicole Kidman, and Brad Pitt
Key Ingredients: Lactic acid, Niacinamide, and Salicylic acid
Pros
pH-balancing
Gentle
Tones the skin
Phenol-free
Soothes seborrheic dermatitis
Cons
Strong fragrance
Can sting on application.
Price at the time of publication: $145
The Caudalie Beauty Elixir Face Mist delivers an instant burst of vitamins to refresh your skin and add radiance. It is infused with the extracts of grape, rosemary, rose, and organic peppermint that instantly awaken the skin and minimize pores.
Grape water extract has hydrating properties that soothe and moisturize your skin and reduce sensitivity, while rose oil tones the skin, peppermint essential oil refreshes it, and rosemary oil boosts energy and radiance. This is a cult favorite celebrity skin care product and is used to set makeup and brighten the skin after a hectic day of shooting. Just a few spritzes, and your skin feels refreshed instantly. It can be used by both men and women and works perfectly as an aftershave.
Best For: All skin types
Celebrity Fans: Rosie Huntington-Whiteley, Karlie Kloss, Cara Delevingne, Katy Perry, Victoria Beckham, Liv Tyler, Zoë Kravitz, and Margot Robbie
Key Ingredients: Peppermint essential oil, Green grape extract, Rose, and Rosemary oil
Pros
Sets makeup
Light scent
Instant visible results
Ideal for sensitive skin
Travel-friendly packaging
Paraben-free
Phthalate-free
SLS-free
Mineral oil-free
Phenoxyethanol-free
100% natural formula
Dermatologically tested
Cons
Price at the time of publication: $49
The Mario Badescu Drying Lotion is an award-winning solution that dries up surface blemishes overnight. It is formulated with a potent blend of sulfur, calamine, and salicylic acid that helps soothe and clear pimples, blemishes, and whiteheads overnight without irritating the surrounding skin.
The salicylic acid in this lotion helps unclog pores and extract dead skin cells. Sulfur deeply cleans the pores and absorbs excess oil. Calamine provides a soothing and calming effect to irritated skin. This product is best suited for cystic acne and pimple-prone skin for targeted treatment to dry out the troubled area while you sleep. This effective spot treatment a popular addition to celebrity skin care routines for its fast-acting and visible results.
Best For: All skin types
Celebrity Fans: Kylie Jenner, Ashley Graham, Bella Hadid, Lili Reinhart, Lucy Hale, Rosie Huntington-Whiteley, Olivia Culpo, and Zoë Kravitz
Key Ingredients: Salicylic acid, Sulfur, and Calamine
Pros
Lightweight
Paraben-free
Phthalate-free
Sulfate-free
Formaldehyde-free
Vegan
Cruelty-free
Gluten-free
Affordable
Cons
Contains talc
Unpleasant fragrance
Price at the time of publication: $22.1
The Weleda Skin Food Original Ultra-Rich Cream intensely moisturizes and nourishes dry skin and smoothens it. It is loaded with essential fatty acids and vitamin E-rich ingredients like pansy, beeswax, and sunflower oil. The potent blend gently repairs and restores moisture and makes your skin look healthy and radiant.
The botanical oils lock in moisture, making your skin feel soft and smooth, which makes this cream a perfect primer base for makeup. The blend of pansy, beeswax, and sunflower oil is loaded with nutrients, beneficial fatty acids, and ceramides that nourish and hydrate the skin and strengthen and replenish its protective barrier. The ultra-nourishing and rich essential oils soothe and balance your senses and leave your skin feeling replenished and rejuvenated.
Best For: Dry, Dull, and Dehydrated skin
Celebrity Fans: Alexa Chung, Kate Bosworth, Priyanka Chopra, Dove Cameron, Julia Roberts, Victoria Beckham, and Ashley Graham
Key Ingredients: Pansy, Beeswax, and Sunflower oil
Pros
Travel-friendly packaging
No synthetic compounds
No toxic chemicals
Paraben-free
Phthalate-free
Cruelty-free
100% natural formula
Preservative-free
Fragrance -free
Dermatologically tested
Affordable
Cons
Overpowering fragrance
Might cause slight irritation.
Price at the time of publication: $13.29
Packed with anti-aging, anti-acne, and brightening benefits, the iS CLINICAL Active Serum is another classic celebrity skin care product. This serum reduces fine lines and wrinkles, minimizes enlarged pores, evens out the skin tone, and lightens hyperpigmentation. It contains arbutin, mushroom extract, white willow bark extract, bilberry extract, and sugarcane extract that enhance skin health.
Arbutin and mushroom extract minimize uneven skin tone and brighten the skin. The white willow bark and bilberry extracts are sources of salicylic acid and lactic acid that deeply cleanse the pores, exfoliate the skin, and have moisturizing properties. The sugarcane extract in the serum is a natural source of glycolic acid that renews the skin cells and imparts a glow. This serum provides both rapid and noticeable long-term results. With consistent use, you are sure to notice a brighter complexion and reduced fine lines, dark spots, and blemishes.
Best For: Dry, Dull, Normal, and Mature skin
Celebrity Fans: Lucy Hale, Sophie Turner, Shay Mitchell, Jessica Alba, Laura Harrier, January Jones, Rosie Huntington-Whiteley, Camila Mendes, Phoebe Tonkin, Jessica Alba, and Shani Darden
Key Ingredients: Arbutin, Mushroom extract, White willow bark extract, Bilberry extract, and Sugarcane extract
Pros
Absorbed quickly
Lightweight
Pleasant fragrance
Contains botanical ingredients
Paraben-free
Silicone-free
Dimethicone-free
Value for money
Dermatologically tested
Cons
Water-like consistency
Might cause breakouts in sensitive skin.
Price at the time of publication: $69.02
The Tatcha Luminous Dewy Skin Mist delivers an instant boost of moisturization and can be used over or under your makeup for radiant skin. This fast-absorbing skin mist is formulated with botanical oils, humectants, and Hadasei-3 Anti-Aging Complex. It leaves a seamless base for makeup and gives a dewy finish when sprayed on makeup to replenish moisture and prevent caking.
This mist is infused with uji green tea, Okinawa mozuku algae, and akita rice that have nourishing properties. Uji green tea is Japan's purest and finest source of green tea that has potent antioxidants that detoxify the skin and prevent pre-mature aging. Okinawa mozuku algae are rich in polysaccharides that help retain and renew skin moisture, while akita rice has essential proteins that provide nourishment to your skin. Just a few spritzes of this dewy mist can offer an instant pick-me-up for your skin.
Best For: Normal, Combination, Dry, and Sensitive skin
Celebrity Fans: Kim Kardashian, Kylie Jenner, and Drew Barrymore
Key Ingredients: Uji green tea, Okinawa mozuku algae, and Akita rice
Pros
Fast-absorbing
Easy to use
Travel-friendly packaging
Can be used on and under makeup
Non-irritating
Non-sensitizing
Dermatologist-tested
Cruelty-free
Paraben-free
Sulfate-free
Phthalate-free
Mineral oil-free
Fragrance-free
Cons
Might irritate sensitive skin.
Price at the time of publication: $44.83
The SK-II Facial Treatment Mask is popularly used in celebrity skin care routines and provides instant radiance and hydration to your skin. It is formulated with highly concentratedpitera, which is known to deliver extraordinary moisture in just one use. Pitera is a bio-ingredient loaded with rich minerals, vitamins, organic acids, and amino acids that work in sync to enhance skin cell renewal. It helps shrink large open pores, reduce excess oiliness, brighten uneven skin tone, and provide intense hydration.
Best For: Dull and Dry skin
Celebrity Fans: Kate Bosworth, Olivia Culpo, Hailey Baldwin Bieber, Cate Blanchett, Phoebe Tonkin, Alicia Keys, and Constance Wu
Key Ingredients: Pitera
Pross
Easy to use
Pack of 10 sheet masks
Long-lasting results
100% cotton
Not tested on animals
Fragrance-free
Dye-free
Cons
Expensive
Might cause allergy or breakouts in sensitive skin.
Price at the time of publication: $75.54
The Neutrogena Makeup Remover Cleansing Towelettes remove even the most stubborn makeup and cleanse the skin in one easy step. They instantly wipe away bacteria and dissolve 99.3% of makeup, including waterproof makeup, without leaving behind any residue or stain.
These soft pre-moistened facial cleansing towelettes are designed to remove eye makeup without irritating your eyes even while you wear your contact lenses. They contain cucumber and aloe vera extracts that leave your skin feeling clean, soft, hydrated, and refreshed. This multi-function celebrity skin care product cleans, soothes, moisturizes, and protects your skin against any environmental damage.
Best For: Normal skin
Celebrity Fans: Lucy Hale, Gabrielle Union, Dove Cameron, Hailey Baldwin Bieber, Olivia Culpo, Kylie Jenner, and Constance Wu
Key Ingredients: Cucumber extract and Aloe vera extract
Pros
Gentle on the skin and eyes
Easy to use
No-rinse formula
Suitable for contact lens wearers
Fluoride-free
Sulfate-free
Dye-free
Aluminum-free
Paraben-free
Alcohol-free
Ophthalmologically tested
Dermatologically tested
Allergy-tested
Cons
Strong fragrance
Leaves behind lint.
May dry out the skin.
Price at the time of publication: $10.98
The Nurse Jamie Uplift Facial Massaging Beauty Roller is a unique massaging tool that is a part of every celebrity skincare routine. It is designed to enhance, invigorate, revive, and lift your skin. If you have saggy skin, fine lines, and wrinkles, this massaging beauty roller is your new BFF as it helps boost the firmness and elasticity of your skin.
The unique hexagonal barrel holds 24 tourmaline stones that help stimulate sagging and dull skin by massaging the underlying facial muscles and offer an instant uplift. The rhythmic rolling action replicates the techniques used by professionals insp as for renewed and younger-looking skin. This product proves skin tone and texture and helps boost collagen.
Best For: All skin types
Celebrity Fans: Khloé Kardashian, Olivia Culpo, Jessica Alba, Hillary Duff, and Camila Mendes
Pros
24 massaging stones
Portable
Easy to use
Does not require batteries
Value for money
Easy storage
Travel-friendly product
Cons
Beads fall off after multiple uses.
Price at the time of publication: $69
Why Trust StyleCraze?
Shiboli Chakraborti is a certified skin care coach and has a deep knowledge of what is best for the skin. She has curated a list of some of the best celebrity skin care products that will work wonders on your skin. She did thorough research and checked online reviews on trusted platforms to pick the best products for her readers.
Frequently Asked Questions
How do celebrities get their skin so shiny?
Here are some of the celebrity secrets for clear skin:
• Frozen milk cubes are perfect for combination skin to eliminate dull skin and impart a natural glow.
• Having enough sleep is a natural and effective remedy for reducing dark circles and fine lines.
• Including vitamin C in the skin care routine will improve collagen production and keep your skin even-toned and young-looking
• Drinking enough water keeps skin hydrated internally.
• Following a CTM routine religiously keeps your skin healthy and glowing.
How do celebrities have clear, wrinkle-free skin?
People who make their living under the limelight, aka celebrities, follow dermatologist-adviced skincare routines and skin-friendly dietary habits. In addition, they also use chemical peels, microdermabrasion, sunscreens, etc. to prevent fine lines and wrinkles and preserve the youthful glow of their skin.
Do celebrities get chemical peels?
Yes, many celebrities use chemical peels to exfoliate their skin deeply. It is non-surgical skin treatment and requires less time to recover. It is a great way to get natural glowing skin.
What kind of soap does Kim Kardashian use?
The Kardashian-Jenners uses high-quality and luxury skincare products. Kim Kardashian reportedly mentioned that she uses Cetaphil's Daily Facial Cleanser or Body Soap to prevent dryness.
Recommended Articles