50 Popular Celebrity Short Hairstyles Ideas To Try In 2023
From Tay-Tay to the beautiful Keira Knightley, these celebs will inspire you to cut off your hair.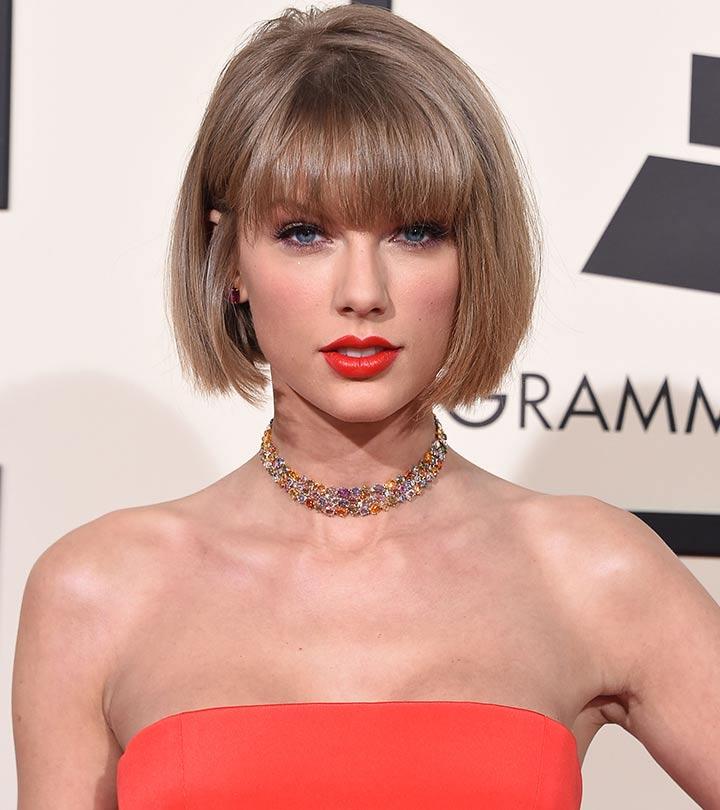 A celebrity's short hairstyles are always an inspiration for those afraid of chopping off their hair. Some fans also take hair inspiration from their favorite celebs like Kristen Stewart, Miley Cyrus, and Taylor Swift. Short hair looks fab, is low maintenance, easy to dry and style, and gives your personality an edge that long hair cannot. Ready to give yourself a short hair makeover? Scroll through the celeb short hairstyles listed below to get some inspiration!

Before You Get Started
Deep conditioning treatment is essential to maintain the freshness of short hair and allow easy movement.
Pixie and bob are some popular short hairstyles that require salon visits every 4–6 weeks for regular touch-ups.
Short hair can be frizz-prone. Therefore, sleep on a silk pillowcase to avoid frizziness.
50 Celebs With Stunning Short Hairstyles
1. Short Bob With Finger Waves
Curled-up jaw-length bobs and retro finger waves are sure to steal some looks. Pop diva Katy Perry sports the slick wavy look with sharp curls. A good dollop of mousse and a curling iron are all you need to create this look.
2. Plain Blunt Bob
Actress Carey Mulligan looks all professional in this blunt bob look. It is a chic hairstyle that complements every hair type and texture. Adding some waves and a color gradient can turn a classy blunt bob into a creative look.
3. Relaxed Pixie
Long hair in the front with cropped sides adds an element of fun and edge to your hairstyle. It is a versatile hairstyle that can be styled into bangs, a mohawk, or a quiff as per the occasion.
4. Half-N-Half Bixie
If you are looking to take your pixie cut to the next level, take some inspiration from Halle Berry's bixie. This Hollywood hairstyle is a beautiful mix between a pixie and bob, this uber-cool hairstyle is perfect for all shapes. Add a splash of platinum blonde for a chic, sleek look.
5. Purple Sidecut
Kelly Osbourne is known for her funky purple hairstyles. The shaved sides with a beautiful lilac shade add a pop of color to her hairstyle and accentuate her gorgeous cheekbones.
6. Mixie
A blend of the popular mullet and pixie, mixie is a unique hairstyle that has been sported by celebrities due to its ability to show off your facial features. If you are looking for a modern take on a retro hairstyle, This edgy hairstyle is for you
7. Retro Faux Bob
J Lo has been a fashion icon for decades. Her beautiful honey-brown hair paired with a beautiful deep Bordeaux lip adds a touch of retro elegance to her look.
8. Straight Bob
Dua Lipa proves that you could pair a glossy golden dress with a simple slick hairdo. With hair falling to the shoulder on one side and the other tucked behind the ears, this chic bob is perfect for a glamorous party or red carpet.
9. Slicked Back Bob
The crease-free classic pulled-back bob looks chic and sleek. This hairstyle works best on oval faces as it emphasizes the symmetry of the face.
10. Glimmery Waves
Worried about styling your pixie? Cara Delavigne shows a fun way of styling a simple pixie crop by adding a glimmering shade to her hair. The combed-back one-sided Marcel waves highlight her beautiful facial features and magnetic eyes.
11. Ombre Wavy Bob
Vanessa Hudgens has naturally wavy hair. This hairstyle is a beautiful combination of bounce, colors, and texture. The dark roots and the choppy ends accentuate her cheekbones and create a perfectly chic look.
12. Retro Curls
What short hairstyle list is complete without retro curls? The red dress, flirty red lipstick, and honey-hued pin curls make Katherine Heigl look like a diva from old Hollywood. This is a classic celebrity short hairstyle which never goes out of style. The multiple layers of curls add texture and volume, making it perfect for fine hair.
13. Blunt Bob With Piecey Bangs
Gen Z looks up to Billie Eilish for her hair trends and there is no color that hasn't been tried by this pop diva. The beautiful brunette bob along with the piecey bangs accentuates her facial features. Make sure you highlight your eyes as the bangs tend to draw attention to your eyes.
14. Faux Bob
Zendaya's sleek hair and sides flow into wavy ends that help draw attention to her beautiful brown eyes. The silver smokey eye and black liner add to her chic and elegant look.
15. Choppy Wavy Bob
Taylor Swift has sported different short hairstyles in her career. The choppy bob makes her face appear longer while the eye-skimming finger wave adds a retro-chic vibe to her look.
16. Wavy Faux Hawk
Long hair or not, Hayden Panettiere rocks this edgy look with class. The hairstyle only involves a good hair spray to keep the twisted tresses in place. The pulled-back sides accentuate her cheekbones and bring out the green in her eyes.
17. Chopped Pixie With Eye-Grazing Bangs
How about a wicked blonde hairdo? Singer Rita Ora wore this jagged asymmetric pixie to the Grammys. The blonde bangs draw all attention to her beautiful eyes and cheekbones. To create this look, use a straightener and lightly gel the hair to complete the look.
18. Flipped Blonde Bob
Reese Witherspoon has sported this straight, sleek look at various events. The hair behind the ear opens up the face, while the side-swept bangs frame her jawline perfectly. Spritz some hair spray and curl the ends outwards to create this simple hairstyle.
19. Side-Swept Blonde Pixie
Chic hairstyles like this tapers to the nape with cropped sides, making Scarlet Johnson's face appear slimmer and longer. The layered front hair adds volume and dimension to the look.
20. Ultra Chic Pixie With Eye-Grazing Bangs
The deep side partition and flattened eye-grazing bangs create a perfect look for a simple, semi-formal look. The dark brown hair tapering towards the side provides a neat finish. The soft, smooth bangs lend a feminine charm to this pixie cut. All you need is a little bit of wax and hairspray to create this ultra-chic look.
21. Layered Bob
Elsa Pataky shows us how to flaunt a bob like a queen! The layered bob looks chic and works, no matter what the event. If you really want to take your hairstyle up a few notches, opt for this layered bob. Feather out the ends of the layers to make your hair look thicker. Style it in waves or light curls to achieve a tousled breezy look. And on day 3 you can still put your hair in a pony.
22. Asymmetrical Bob
Rose Byrne shows us that some stylish hairdos never go out of fashion. Blonde is a versatile color that looks good with anything. Experienced cosmetologist Richard Morrill, creator of HairNerd (biodegradable hair care products), adds, "What if you have super thick hair? Have your stylist thin it out in the mid under sections. This will prevent the unsightly triangle. Try to avoid the thickest part of your hair in line with your cheekbones."
Asymmetrical bob haircuts, on the other hand, are not as versatile. It works well with thin faces. If you have wide cheeks or a round face, keep your hair shorter than your chin.
23. Cute Pixie
Miley Cyrus brings us an uber cute pixie cut! When in doubt, go for a pixie cut. It is one of those trendy hairstyles that look great on women of all ages. The sharp layered bangs draw attention to your eyes and cheekbones. Richard Morrill, an expert cosmetologist, suggests, "Try to avoid a long sideburn if you have a square jaw, unless you're going to tuck behind your ears."


Fun Fact
American actress Audrey Hepburn popularized the pixie haircut in the 1950s. She debuted her hairstyle in the film, "Roman Holiday".
24. Full Bangs Blunt Cut
Rose Byrne looks absolutely stunning in this retro blunt cut. But blunt haircuts are tricky, especially with short thicker hair. So, pair it with full bangs to balance out the look. This will make your face look slimmer and your hair look thicker.
25. Side Lifted Hair
Sometimes, a comb can be a girl's best friend. If your pixie had feathered layers, and it is now grown out, you can lift it to add some style. Spritz on some hairspray all over your locks to keep them in place. Richard Morrill adds, "Hair spray can harden when your hair is still wet. Remember not to touch your hair after the hair spray has hardened. This can make the hair look frizzy. Try not to use a round brush, instead use your hands to push and pull your hair into place."
26. Pulled Back Hair
A small pull can go a long way in terms of a hairstyle. If you want a slick look, comb your hair back with some mousse but make sure to add height to it. If you want a messy look, do the same thing with your fingers instead of a comb and use some light mousse to make it look more natural instead of damp.
27. Moussed Hair
Need to jazz up your regular pixie or bob style? Go the Hollywood way with some firm hold mousse, just like Ruby Rose. Apply mousse to your hair and comb it back. Richard Morrill also adds, "The mousse will keep your locks in place for a long time. And a little secret – a touch of firm hold spray at the end will help this hairstyle last all day."
28. White Blonde
Michelle Williams truly owns the platinum pixie cut! If you want an edgy style, go for a complete platinum look. It will contrast beautifully with brown roots. This color combination works well with cool undertones. Cosmetologist Richard Morrill chimes in saying, "Remember to add a little lipstick to feminize your look for a night out in the town."
29. Fluffy Pixie
Keira Knightley slays with this pixie cut. This fluffy pixie is a great way to make your hair look fuller. It's got style and edge, while also staying true to the elfian pixie look. Young or old, this style brings back that pep in your step.
30. Spiky Pixie
Revamp your pixie cut with some spikes and a blonde makeover, Miley Cyrus style! The champagne tips are accentuated with some dark roots. If you have hazel eyes, the golden tips will bring out the golden flecks in your eyes. Notice the gradient hair coloring that makes this style a little more beachy.
31. Slick Side Parting
Part your hair on one side and let it be. This hairstyle will flaunt the thickness of your locks while adding some style to an overgrown pixie. I also love the "wet hair" vibe of this pixie. Mr. Morrill lets us in on how to get this haircut to perfection. He says, "Who thought crisp slick hair and hard partings were meant just for men! Have your stylist etch your hairline for an exaggerated part."
32. Flicked Out Ends
Ruby Rose really rocks these short haircuts! Flicked out ends can help frame your face and add dimension to your locks. They also make your face appear longer and slimmer. They go especially well with deep brown hair or a nice choppy blonde. Finish the hair with a little firm hold hair gel for that soft but slick look.
33. Curled Bob
Rose Byrne knows how to own the red carpet! Blonde hair and waves go hand in hand to create an ethereal hairstyle. There are many ways you can achieve these waves, both with and without heat depending on your hair's natural wave type. For the best effect use heat styling tools, like a curling iron or hot rollers, or sleep on damp pinned curls. If you have natural curls in your hair, add just a bit of mousse and go.
Richard Morrill, who created a line of biodegradable hair care products, gives us a pro tip. He says, "You can turn any curling iron into a wand, just don't open the prong and wrap it away to save money."
34. Golden Deep Side-Swept Hair
Everything about Jennifer is gold – her personality, her acting, and her lovely blonde locks! The color that has every woman in the world spiraling for more. Opt for deep side-swept hair with heavy layers whenever you're not sure about what to do with your hair. It looks super stylish and is a huge time saver. Though you will have to get a fresh cut every 5 weeks to maintain this look.
35. Classic Short Lob
Julianne Hough shows us why blondes are said to be the life of the party. When you want to go short with your hair but are worried about the risks, go for a short lob. It's a safe bet but still looks stylish. This cut looks great months later even if your roots grow out. And you don't have to leave your hair loose all the time. If you're lazy or in a hurry, simply tie your lob in a low ponytail and you are good to go!
36. Braided Blue Highlights
Short hair can be versatile with a little help from this premade blue crown braid.. Take a page out of Ruby Rose's lookbook and add style to your short cut with a crown braid. Pair this look with a chic blazer and red lipstick, and you're good to go.


Quick Tip
You can experiment with different shades of blue highlights like electric blue, blue ombre, sea blue, teal, or sky blue to add a pop of color to your braid.
37. Slick Bob
Here's Rose Byrne once again showing us why she is a queen! This look is clearly a winner. The light to dark ombre, glossy hair, and simple yet perfect tuck behind the ear show us why a bob is anything but boring. Richard Morrill adds, "You can need flat iron to achieve this look. But remember to use a heat protectant, especially for the bleached ends of your ombre. The look isnt as cute with fried ends."
38. Curly Mohawk
P!nk knows how to rock and roll with her hair. Curls are timeless, and nothing is edgier than a mohawk. So, why not combine their forces to create this fashion-forward hairstyle? It is perfect for women who love to celebrate their hair. HairNerd owner Richard Morrill adds, "Remember you can attach a hair piece to your hair if you're lacking the length for curls. Today's stylist is rediscovering the "wiglet" and its many uses."
39. No Parting Pixie
Jennifer Lawrence is one stylish woman! She owns short hairstyles like a goddess. Celebrate yourself with this stunning pixie with no parting. Without a parting, the focus is retained on your facial features and jawline. Remember the earrings if you don't have the Jennifer jawline. For a commanding look, don't let the earring pass your jaw line.
40. Pinned Pixie
Kristen Stewart is bringing back some bold moves from the past! This '80s inspired look is making a huge comeback with Insta-bloggers sporting bobby pins in a bunch of colors to add a pop of color to their pictures. Create this look even if your hair is longer. If you look closely, Kristen's hair is pinned up in the back. Great for someone growing their hair out for their next major acting role?
41. Dirty Blonde Highlights With A Top Cut
Oval faces are long, wide, and symmetrical. This hair color blend is perfect for framing it. Opt for light blonde highlights at the tips, while keeping your roots dark. This will add depth to your locks. Morrill has some suggestions to offer saying, "Achieve this look by blow drying your hair first. Lifting the bang away from the forehead creates the elongation and contouring of the face. Finish with a little styling pomade of your choice or with a combination of grooming clay and hairspray."
42. Pinned and Curled Mohawk
Kristen Stewart is the queen of the pixie cut! She also knows how to style her mid-length haircut into a rocking pretend pixie cut with style. Curl your bangs with a round brush, some mousse, and a blow dryer to mimic this flawless look.
43. Dark-Rooted Hair
Julianne Hough is one stunning beauty. Dark-rooted hair can make you look like her. This hairstyle helps frame your face and add depth to your hair. The dark roots give the illusion of thicker hair and a longer face. Notice how the notched neckline feminizes the hard hair lines.
44. Brown Hair With Blonde Highlights
Ruby Rose was made for short hair! The blonde highlights and wavy styling add a gorgeous sunkissed vibe to her brown hair. This is the perfect short hair look to sport at the beach. Morrill adds, "This color formula is super simple and very common. Level 6 brown with a herringbone top highlight."
45. Red Carpet Bob
Emma Watson is truly a goddess! If your short hair is growing out, get it cut in a slick bob. Then, highlight it with a strawberry blonde shade and let it shine. Don't forget to pin back those long side-swept bangs! Morrill chimes in, "Use a medium round brush starting on wet hair. This will help you get that tighter bend at the length of your ends. Lightly tease the top, smooth and spray. Use a firm hold hairspray lightly for a lasting finish."
46. Modern Bowl Cut
Batwoman is here to the rescue! Modern haircuts such as the bowl cut look may seem a bit ridiculous, but it is trending big time right now. Go for it if you want to sport something totally cool and whacky. Follow that line into a facial feature. Look how Ruby Rose's eyes and eyebrows pop. Striking!
47. Glamorous Mohawk
Glamorous haircuts such as the mohawk is one of the best modern punk looks you'll ever find. Use gel or mousse to create this look. This is especially great for anyone who wants to let go of their girl-next-door and embrace their inner rebel. Morrill says, "Start with teasing the top and sides and simply pin it into shape. Use silver pins to make it more trendy."


Quick Tip
You can even go for a buzz undercut, quiff, or a mullet to add some volume and funk to your mohawk.
48. Wavy Gelled Hair
See how stunning Ms. Hough looks with this cut? You can achieve this look with a curling iron, hairspray, lots of gel, a comb, and your fingers. Yes, it's that simple! Curl your hair and apply hairspray to it to set in the curls. Then, apply some gel to give it that wet look. Comb your hair back gently, making sure not to disrupt the curls. Richard Morrill suggests, "Less is more when it comes to carefree looks. Remember it's a relaxed look in sweats and an evening look in a dress."
49. Faux Side Cut
The stunning Kristen Stewart shows us how to rock short hair like a boss. This pixie and sidecut style is out of this world. Go for this style if you want a more androgynous look. According to Richard Morrill, Cosmetologist, "Pin it, spray it, tousle the dominant side and go. So much can be done at home with a few pins and a good hairspray. Don't be afraid to take the pin side down and recreate your masterpiece. A helpful tip to keep pins in place is to cross pin, which means to push them together in an overlap."
50. Messy Lob
Messy hair is all the rage right now. Just play around with your lob to make it look messy. If your bob has grown out, have your stylist cut it into choppy layers. This look needs to be razor cut or heavily textured. Style it in waves to make your hair look more voluminous and uber chic.
Infographic: 6 Popular Celebrity Short Hairstyles Ideas To Try In 2022
Thinking about styling your short hair in a certain way? We'll help you with the ideas. Taking inspiration from celebrities, from classic bobs to layered pixie looks, we have put together a list of great hairdos for you. Get six celebrity short hairstyle ideas from the infographic below to jazz up your style.



Celebrity haircuts are stunning and inspire many to go for short hair. These fashionable haircuts require low maintenance and are easy to style. Many celebrities with short haircuts never fail to amaze their fans with their red carpet hairstyles. These short hairstyles are of various types. Layered bob, asymmetrical bob, cute pixie, full bangs, blunt cut, side lifted hair, pulled back hair, moussed hair, white blonde, fluffy pixie, and spiky pixie are a few short hairstyles that many celebrities rock. If you are a fan of short hair and thinking of hair transformations, you can take cues from celebrity fashion and go for one of the short hairstyles mentioned above.
Frequently Asked Questions
Does short hair make you look younger?
Short hair flatters your features so you look younger. Simple pixie cuts or a lightly layered bob will make you look younger and help you maintain the hair easily. You will need a haircut every five weeks for that cute pixie while a perfect bob needs every 7-9 weeks to maintain the shape.
Is short hair better for older ladies?
There are several varieties of haircuts that look good for older ladies. However, many women prefer short hair as it looks flattering on older women. Spike and textured looks are the most flattering and youthful.
What does short hair say about a woman?
Since many women do not experiment with short hair cuts, those who flaunt their short hair are often considered bold and confident enough to experiment with their style. The difference between a man's short haircut versus a woman's is the edge work. Harder lines for men and softer edges for women.
Does short hair make you look older?
No, short hair does not make you look aged. It's super low maintenance and makes hair styling easy. However, how you style your short hair has more impact on your appearance than the actual haircut.
Celebrate the timeless charm of short bob haircuts with a collection of 40 celebrity-inspired hairstyles. Find inspiration for your next chic haircut in the following video.

The following two tabs change content below.