Cellophane Hair Treatment – What Is It And Does It Really Work?
Get shiny and lustrous hair at your home with this easy-to-do semi-permanent treatment.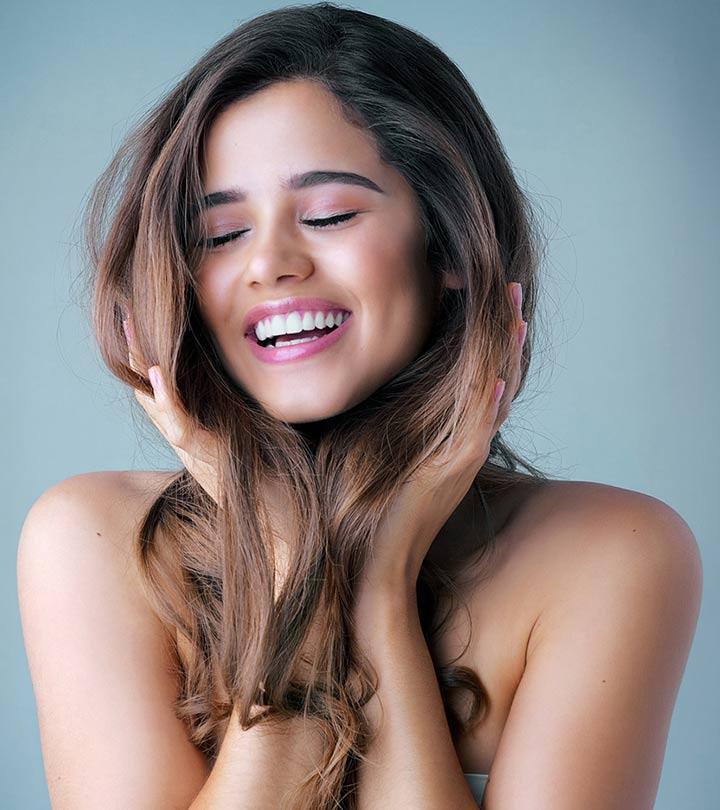 The cellophane hair treatment solves many of our hair-related problems. It is a perfect solution to hair issues like dryness, brittleness, and frizz which makes maintenance and hair styling easier. It is nearly impossible to maintain your hair in the perfect condition all the time in today's world of extreme pollution, stress, and harsh climatic conditions. No matter how careful you are, you will face one or the other issue with your hair even if you invest in a lot of hair products or cosmetics. The cellophane hair treatment provides a solution to many of these problems and can be the one-stop solution to enhance hair beauty. It bestows softness, luster, and shine to your hair.
In this article, we will be looking at cellophane hair treatment, how it benefits the tresses, and other related issues. So, what are you waiting for? Let's dig into it.
What Is Cellophane Hair Treatment?
Cellophane hair treatment is a chemical process that imparts softness, luster, and shine to your hair. This semi-permanent procedure does not use harsh chemicals and is considered less damaging than other hair treatments. Apart from adding a silky sheen to your tresses, it imparts subtle volume and hair nourishment.
This method relies on the simple process of depositing silicon-based polymers on the hair cuticles. These polymers are hydrolyzed proteins that coat the strands to form a protective sheath. This treatment helps lock in the natural moisture of your hair and prevents dryness and brittleness.


Trivia
Cellophane hair treatments have been popular since the 90s, when they used many chemicals. Nowadays, the formulations are nutrient-rich and utilize amino acids for hair repair.
Now that you have an understanding of the process, you may be wanting to try the cellophane hair gloss treatment. But before we dive into the steps involved, here are a few things you should know about the process.
What Should You Know Before Trying Cellophane Hair Color Treatment?
Who Should Opt For Cellophane Hair Treatment?
The cellophane hair treatment works for anybody who wishes to give their hair a new life. But the results will appear more prominent on dull, coarse, brittle, dry, and damaged hair.
If you curl, straighten, or color your hair frequently, consider the cellophane gloss treatment for hair rejuvenation. Hair experts recommend the cellophane hair treatment after rebonding, perming, and relaxing, as it can potentially make these hair treatments more effective and long-lasting with better hair restoration results.
How Long Does The Treatment Last?
The cellophane wrap hair treatment can last between six to eight weeks. Wash your hair once or twice a week with color-safe shampoos and conditioners to boost the effectiveness of this treatment and make it last longer.
Is The Cellophane Hair Color Treatment Safe?
Yes. The cellophane wrap hair treatment is considered safe by the users and hair salon experts and is considered to be a good and effective hair therapy. However, it does come with certain limitations and potential drawbacks, which are discussed later in this article.
Read on for a step-by-step procedure guide for cellophane hair treatment!
Step-By-Step Procedure For Cellophane Hair Color Treatment
Whether you try the cellophane hair treatment at home or the salon, the hair coloring process broadly remains the same – you need to coat your hair cuticles with polymers that seal in moisture and protect the hair from any damage. This treatment can become a part of your personal care and wellness routine.
You Will Need
Latex hand gloves
Tint brush and bowl
Disposable shower cap
Vaseline
Cellophane
Once you have the above items ready, you can do the cellophane hair treatment at home by following these steps.
Step 1: Wash your hair with a mild shampoo. Skip hair conditioning and blow dry your hair until it is 75% dry.
Step 2: Section your hair into four parts with a comb and clip it tightly. Apply Vaseline to your hairline to protect your forehead and ears from irritations.
Step 3: Wear the gloves and unravel one section of your hair towards the back.
Step 4: Gently apply the cellophane to your strands with the tint brush, avoiding the scalp. Start working from the roots to tips until the entire hair section is saturated.
Step 5: Comb your hair to distribute the product evenly and clip it back.
Step 6: Repeat the above step on the other three segments while working your way from the back to the front.
Step 7: Cover your head with the shower cap. You can also use a saran wrap or conditioning heat cap to seal the hair moisture.
Step 7: Sit under a steamer or blow dry your hair to activate the product. If you choose the latter, make sure to apply heat uniformly.
Note: Skip this step if you are using a conditioning heat cap.
Step 8: Apply heat for about 20 to 30 minutes. You can extend this period if you have healthy, non-porous hair so that your hair can absorb the proteins better.
Step 9: Allow the product to rest until your hair cools completely.
Step 10: Rinse your hair with cool water. Follow up with a color-safe shampoo and conditioner.
Step 11: Dry and style your hair as you want.
Let's now take a look at the pros and cons of the cellophane hair treatment so that you can make an informed decision on whether to go ahead with the procedure or not.
Benefits And Drawbacks Of Cellophane Hair Treatment
Advantages Of Cellophane Hair Gloss Treatment
User experiences suggest that the cellophane hair gloss treatment offers the following benefits:
It adds shine to dry and dull hair.
It conditions your hair by infusing proteins into it.
This treatment takes only about 20 to 30 minutes, making it one of the quickest hair care treatments.
It lasts six to eight weeks (sometimes extendable to 12 weeks), making it a cost-effective option to nourish your hair.
The cellophane hair treatment does not affect your hair root or scalp, thus helps maintain your hair health, without affecting hair growth.
It does not involve the use of harsh chemicals, like ammonia or peroxide, making it relatively safer.
The cellophane hair treatment can be done in targeted areas to touch-up undyed or gray hair.
According to a 2019 YouGov survey involving 12,589 US adults, it was found that 29% of the respondents expressed discomfort with the idea of their hair turning grey. This sentiment was twice as prevalent among females, with 19% of males and 38% of females sharing this view. The age groups most likely to hold this perspective were individuals between 18 and 24 years old (35%) and those between 45 and 54 years old (34%).
It is an effective hair loss prevention and hair damage control treatment for your brittle hair that is prone to breakage and further damage.
Rene, a blogger, shared her experience of getting cellophane hair treatment in her blog. She said, "I used to get the clear cellophane whenever I would get my relaxer touchup. I like them because they are good protectants during harsh and warm weather (i)."

Trivia
Since cellophane treatment only affects the cuticles, it doesn't lighten your hair, and you need darker colors for a tinted result.
Although the cellophane hair treatment is marginally safer than hair dyeing, it has some potential side effects.
Possible Side Effects Of Cellophane Hair Treatment
A few cellophane treatment products contain parabens, common preservatives used to discourage the growth of microbes in the products. However, these elements can be detrimental for your hair. They might cause dryness, scalp irritation, and scaling. Hence, choose cellophane products that do not contain any harsh chemicals or parabens.
Infographic: 7 Benefits Of Cellophane Hair Treatment
It's time to jump on the bandwagon of hair fashion and beauty treatments to try out the popular cellophane hair treatment if you haven't done it already. This cost-effective and quick treatment can tackle hair woes, ranging from frizziness to extreme dryness and dullness. It also helps combat environmental stressors like pollution that affect our hair health. Check out the infographic below to learn the 7 benefits of this treatment.


Summing It Up
Cellophane hair treatment is ideal for various hair issues like frizz, dryness, and brittleness. In this treatment, silicon-based polymers are deposited on the hair cuticles, which impart a shine to the hair and lock the natural moisture. People with coarse, dry, and damaged hair benefit greatly from this treatment for the perfect hair makeover. However, it is suitable for all hair types. This treatment conditions the hair and does not affect the scalp or root. However, it may also trigger scalp irritation and scale. Since this hair treatment is semi-permanent, you might have to limit your hair spa visits and hair mask application to once or twice a month to avoid loss of hair shine and color. Hence, choosing the products without harsh chemicals helps in reaping the benefits of this treatment.
Frequently Asked Questions
Does cellophane cover gray hair?
Yes. Cellophane treatment can cover gray hair for an amazing hair transformation.
How do you remove cellophane hair color?
You can remove cellophane hair color using the same techniques to remove semi-permanent hair color. White vinegar, baking soda, and clarifying shampoos are some options.
Can I use cellophane after hair color?
Yes. You can use cellophane treatment on colored hair hydration, hair protection, hair strengthening, and hair revitalization.
Key Takeaways
Cellophane hair treatment is the perfect solution for brittle, dry, and frizzy hair.
It is a semi-permanent procedure that helps add silky sheen, color, and volume to your tresses.
This procedure makes treatments like perming, relaxing, and rebonding more effective and last longer.
However, it may also cause hair dryness and scalp irritation.
Discover the secrets of cellophane glossing treatment to add incredible shine and vibrancy to your hair. Learn the step-by-step process to achieve salon-worthy results. Watch the video now!
Personal Experience: Source
i. Hair Care: Cellophanes & Relaxers
https://savvyhair.wordpress.com/2017/01/29/hair-care-cellophanes-relaxers/
The following two tabs change content below.