Chamomile Tea Benefits And Side Effects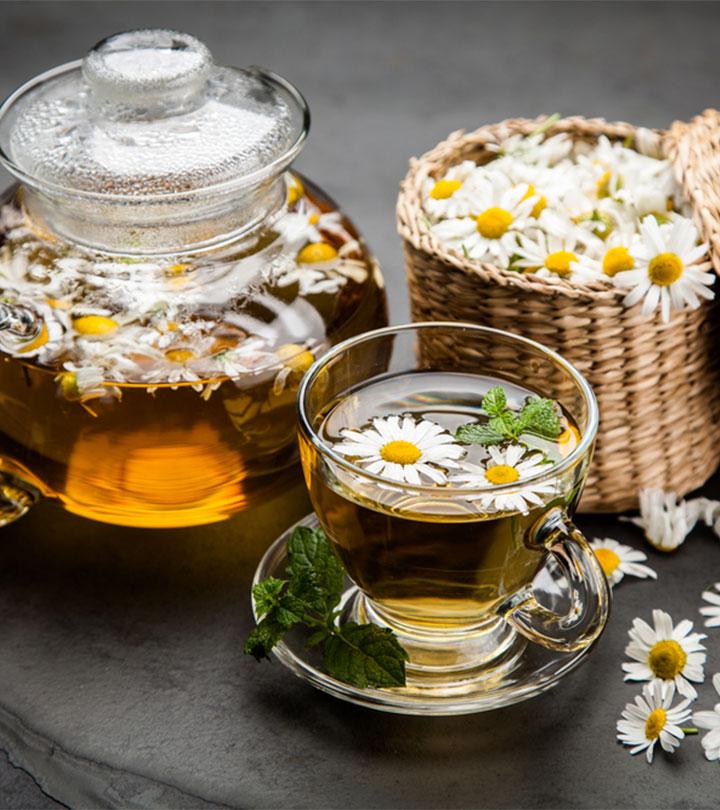 Chamomile tea is an herbal non-caffeinated tea made from the small, daisy-like chamomile flowers belonging to the asteraceae plant family. There are different varieties of the chamomile herb and only the Roman, Egyptian or German varieties are used for making the tea. The tea can be made from an infusion of fresh flowers, dried flowers, or chamomile tea bags as well. Here in this article we will take a look at the chamomile tea benefits, preparation and side effects to help you enjoy that warm cup of sun-kissed golden chamomile brew carefree.
Health Benefits Of Chamomile Tea
1. Helps Ease PMS And Menstrual Cramps
Chamomile tea with its inflammatory and antispasmodic properties have been found to be effective in reducing premenstrual syndrome and menstrual cramps (1). As per a study conducted in 2010, women who consumed chamomile tea regularly for a month reported considerable reduction in menstrual cramps and associated period pains (2).
2. Helps Relax And Fall Asleep
Chamomile tea is widely popular as the herbal tea that helps you destress, relax and fall asleep. It contains the antioxidant apigenin, which binds to specific receptors in your brain, calming your nerves and inducing sleepiness (3) (4). As per a study done on women in their postpartum period who were troubled with lack of sleep and depression, the ones who drank chamomile tea regularly for two weeks reported improved sleep quality than those who didn't (5).
Researchers are of the opinion that chamomile tea might function like the prescription drug  benzodiazepine that helps induce sleep by reducing anxiety (6) (7). The antioxidants in chamomile have also been known to reduce inflammation and ease migraine and tension headaches (8). While having chamomile tea before bed can help in insomnia and other sleep related disorders, its long term effects as a sedative are still unknown.
3. Lowers Inflammation
Inflammation is our body's natural immune response to a wound or infection. However, chronic inflammation is not good overall as it might lead to a wide range of health problems like arthritis, hemorrhoids, autoimmune disorders, gastrointestinal pain, and in some cases, depression (9).
Chamomile flowers contain volatile oils and chemical compounds that have anti-inflammatory properties (10). The chamomile tea infusion can also be used for mouthwash or gargle to help relieve any inflammation in the mucous membranes of the throat or mouth (11).
4. Slows Down Osteoporosis
Osteoporosis is a progressive bone disease that results in a decrease in bone mass and density. This in turn increases the risks of broken bones, fractures and stooped postures. While osteoporosis can affect anyone, it is more likely to be seen in post-menopausal women. This tendency of bone loss is usually attributed to estrogen. Treatment for osteoporosis usually involves Selective Estrogen Receptor Modulators (SERMs) that mimic estrogen but help avoid its harmful effects based on selective differentiation of the target tissue (12). Chamomile tea has been found to have a similar anti-estrogenic effect on the bone cells and tissue (13). Chamomile oil has also been shown to relieve knee pain and stiffness in people suffering from knee osteoporosis (14).
5. Helps Treat Diabetes And Lower Blood Sugar
In a study involving 64 people with type-2 diabetes (in the age group of 30-60 years), 32 people were asked to take chamomile tea thrice a day right after meals, for 8 weeks, and the remaining 32 took water instead. The results were conclusive about a decrease in blood sugar levels in the people who took chamomile tea regularly (15). Though studies on humans have been limited, several animal studies have shown promising effects of chamomile tea in reducing fasting blood sugar levels and preventing blood sugar spikes right after eating (16) (17). While chamomile has not been established as a viable substitute for any of the diabetes medications yet, it may be potentially used to supplement the same (18).
6. Helps Relieve Cold Symptoms
Anecdotal evidence suggests that inhaling the aromatic steam of chamomile tea with its soothing anti-inflammatory properties helps clear the congested sinuses and relieve symptoms of common cold. Some studies have also hinted at the antibacterial effects of chamomile tea that can help with strep throat infections (19). Another study reported beneficial effects of chamomile in alleviating ashtmatic symptoms in children affected with common cold (20).
7. Keeps Your Heart Healthy
Chamomile tea has been found beneficial in keeping your heart healthy by lowering the blood pressure and bad cholesterol levels (21). Chamomile tea is also rich in flavonoids, a class of antioxidants that have the potential to lower cholesterol levels and high blood pressure thereby decreasing the probability of heart disease (22). A study with 64 diabetic people reported a decrease in triglycerides and harmful LDL cholesterol levels in people who drank chamomile tea regularly (15).
8. Helps Soothe Minor Skin Irritations
While drinking chamomile tea can help you with its potential health benefits internally, applying it topically has been found effective in soothing minor skin irritations and inflammations. Adding chamomile tea to your bath water or applying it onto your skin directly has been found helpful in providing some relief from scaly and itchy skin conditions (23). Chamomile tea with its natural phytochemicals and polyphenols has been found to speed up the healing of scars and minimize the appearance of wrinkles and fine lines. Chamomile tea with its anti-inflammatory and anti-bacterial properties can thus help ease various common skin conditions (24).
9. Aids In Digestion
Chamomile tea has been traditionally used to treat colic pain in children (25). It has also been found effective in resolving irritable bowel syndrome, upset stomach, relieving gas and preventing stomach ulcers (10. Animal studies have suggested the anti-inflammatory and antispasmodic properties of chamomile to be effective in preventing diarrhea (26 ) (27).
How To Make Chamomile Tea
Chamomile tea has a light and airy, fruity flavor with a golden, sun-kissed color and sweet aromatic scent. A freshly brewed cup of chamomile tea feels light, warm and comforting to help you relax and de-stress anytime of the day. Here's how you can make a cup of chamomile tea all by yourself:
Ingredients
fresh chamomile flowers (a handful/3-4 teaspoons)
water (8 ounces)
mint leaves/lemon (optional)
sweetener (optional)
Instructions
Pluck fresh chamomile flowers from the garden and remove the stems.
Rinse the flowers in warm water and pat them dry.
Bring water to boil in a tea kettle or saucepan.
Place the flowers in a tea infuser or wrap them in a piece of cheesecloth to make a tea-bag.
Put the infuser or tea bag in the boiling water and let it steep for 5 minutes.
Turn off the heat.
Add sweetener or mint leaves as desired.
Remove the infuser/tea bag from the kettle.
Pour and enjoy the warm cup of freshly brewed chamomile tea.
Chamomile tea tastes best when made from fresh flowers. You can also directly boil the flowers in the water and use a strainer to get the clear tea. You can have chamomile tea with honey or mint as per your preference.
When not used immediately, you can wrap the flowers in a wet muslin cloth or paper towel and store them in the fridge to be used within 48 hrs.
If using dried chamomile flowers, 1 teaspoonful of dried flowers can be used for every 8 ounces of water. The same petals can be used for 2-3 infusions.
Side Effects Of Chamomile Tea
Chamomile tea has been generally found safe for most people without any evident adverse effects. However, there are certain things and conditions you must keep in mind before reaching out for that soothing cup of chamomile tea.
If you are allergic to any of the flowers in the daisy family like chamomile, daisies, marigolds, ragweed or chrysanthemums, you should avoid having chamomile tea. Also, if you have pollen allergy, you should be careful about having chamomile tea as the chamomile flowers could be contaminated with pollen from other plants as well.
Studies have reported that few people who used chamomile tea for rinsing their eyes, developed severe allergic conjunctivitis (28) (29 ). These people were also found to be allergic to pollen. Hence, you should avoid using chamomile in any form near your eyes.
Chamomile contains small amounts of the compound coumarin, which is known to act as a blood thinner. While this should not be problematic unless taken in high doses, it's best to avoid chamomile tea at least 2 weeks before any surgery to prevent any complications arising from medicinal interactions (30 ).
The effects of chamomile during pregnancy have not been studied enough to establish its safety while pregnant or breastfeeding. Even infants and young children should not be given chamomile tea as there could be possible contamination with botulism spores (31). You should thus avoid taking chamomile tea while pregnant and consult your physician before taking chamomile with any other supplements or medications.
Apart from the above, people taking pain relieving or blood thinning medications for any particular health conditions, should be careful about taking chamomile tea. Since herbal teas and supplements are not regulated or scrutinized by FDA like other drugs, there might be chances of adverse medicinal interactions when chamomile tea is taken along with other medicines (32).
How Much Chamomile Tea Should You Drink
Chamomile tea is a healthy herbal tea with many therapeutic benefits and minimal side effects. While there is no standard limit of how much chamomile to stick to, you may have one to four cups of chamomile tea per day without any potential side effects or chamomile overdose. This would roughly translate to about 900-1200 mg in powder or capsule form. Although there is a lot of promising research with respect to chamomile tea, there have not been enough human studies to establish its long-term benefits. It is, therefore, better to stick to a moderate amount of consumption without overdoing it.
Is It Ok To Drink Chamomile Tea Every Day?
Chamomile tea, though has been used in folk medicine from ancient times, should be taken as a health supplement and not as a medicine to treat any particular health condition. Though it is mostly deemed safe and relaxing, it is better to have 1-2 cups of tea daily rather than increasing the dose or frequency in want of faster results.
As you have seen above, the chamomile tea benefits are beyond and above its sleep-inducing capabilities. With its many antioxidants and polyphenolic compounds, chamomile tea not only helps overcome minor ailments like common cold and skin irritations, but also helps boost your digestive, heart and mental health altogether. Though there has been more animal-based research, still the chances of side-effects seem pretty scarce.
Whether you want to start your morning with a sense of calm or relax your frayed nerves and unwind peacefully at the end of the day, you can brew yourself a cup of this golden herbal tea, for that relaxing "me time" any given moment.
Sources
Articles on StyleCraze are backed by verified information from peer-reviewed and academic research papers, reputed organizations, research institutions, and medical associations to ensure accuracy and relevance. Read our editorial policy to learn more.
The following two tabs change content below.