31 Cheap Date Ideas For Your Love Life To Thrive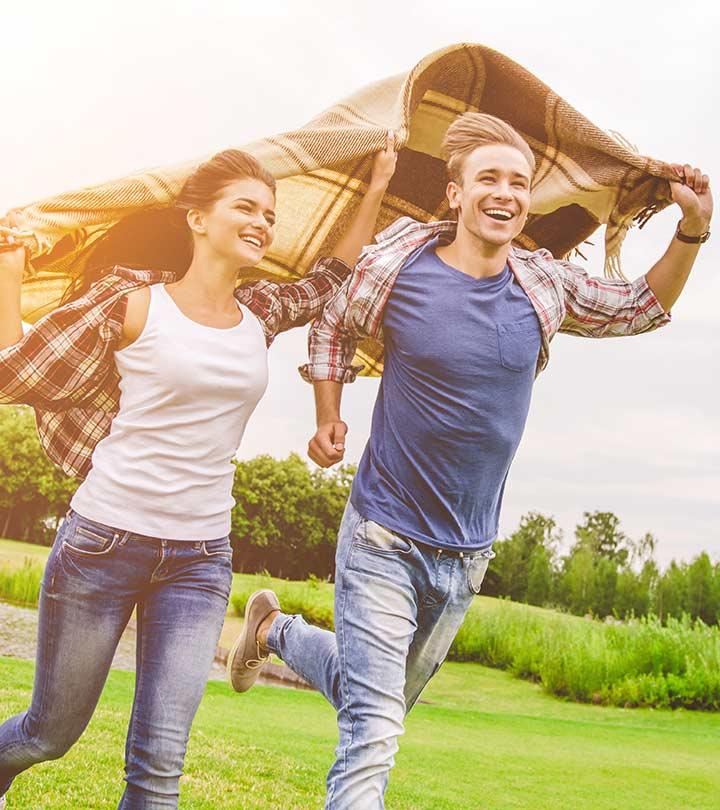 Spending quality time together is essentially the first step if you are looking to build a meaningful relationship with your partner. Dates can be expensive, and it is easy to get overwhelmed by the number of options available to plan a special time for your sweetheart. If you are in search of some creative date ideas that won't completely break the bank and are just as fun as a fancy dinner date, dive into our list of inexpensive yet fun date ideas.
31 Cheap And Creative Date Ideas For Your Special One 
1. Set A Bonfire Together
A blazing fire on a cold night can add a hint of romance to the air. Plan a bonfire date outdoors and bring a blanket for the two of you to huddle together while getting to know each other. Additionally, you can take a picnic basket, a bottle of wine, and some music to add to this memorable experience.
2. Explore History And Enjoy A Museum Visit Together
One of the most challenging things to find is a matching wavelength with a companion. However, if you are a history lover and manage to find somebody with a similar passion, this is definitely one of the most fun date ideas for couples. All you need to pay for is the transport and perhaps the museum tickets too if it is chargeable. If you live in a historically-rich city, it is one of the top options to choose from when you are looking for the best date ideas.
3. Volunteer For A Cause You Believe In
Since we have all become so socially aware in the present day, finding someone who believes in the same causes as you is equivalent to striking gold. Volunteer for a charity of your preference: go to a pet shelter or visit a soup kitchen – the possibilities are endless. Get together and do your part for the good of humanity.
4. Go For Some Antique Shopping Or Do Some Thrifting With Each Other
For people who are looking forinexpensive date ideas, going thrift shopping together can be a unique experience. Digging through cluttered shelves of these stores will open up the possibility of finding something awesome. It can be anything from designer clothes to gorgeous home decor. You will spend a fraction of the price you'd typically spend at a traditional retail store. Moreover, thrift shopping is easy on the planet too!
5. Simply Chill By The Pool
What's better than being a part of each other's comfort zone? When looking for fun date ideas for couples, hanging by the pool is a great idea. You can do so much while chilling by the pool. Sip your favorite drink, read your favorite book, or simply lie down on one of the beach chairs while talking to each other. These activities make for an ideal poolside date  during the summers.
6. Go For A Ferry Ride
If you live near the water, going on a ferry ride is a delightful option. You can enjoy the lovely view while getting away from the hustle-bustle of your busy lives. If both of you are adventurous, go to an unexplored area or take a short trip together. This is also an ideal representation of your relationship – where you are merely testing the waters.
7. Set Up A Spa At Home
Setting up a spa date at home and spending some quality one-on-one time together can be especially fun on a lazy Sunday afternoon. You can put in two tubs and throw some bath salts for a chill pedicure date. If you want to take it a step further, put on face masks while you relax and catch up on some Netflix.
8. Go For Your Favorite Game Together
Another fantasticinexpensive date ideais to enjoy a baseball game together. If you do not want to shell out too much money, go to a local team competition. You can catch some soccer or even tennis if you want to make it a sporty getaway. Meanwhile, the food is tasty and affordable. Execute the plan with some hot dogs and nachos to support you.
9. Enjoy An Arcade Night
Taking your date to the arcade is an exciting way to bond with them. All you'd need is a handful of quarters to get the evening rolling. You can challenge each other in classic games, such as air hockey or DDR, collect tickets, and buy silly prizes with those tickets. It's basically good old-fashioned, child-like fun without any pressure. If you want to take it a notch up, you can get drinks as well.
10. Sing Away At Karaoke
Although this is subjective, karaoke is incredibly fun. Not only can you get to know each other's musical interests, but you can both let your guards down and just have fun. It's honestly hard to take yourself seriously when doing karaoke, and that is, in fact, a good thing. If you're both willing, pick a song and do a duet. Karaoke is an especially great idea as it properly tackles the awkwardness of a first date.
11.Consider Stargazing Together
We're All of us are so busy with our phones and laptops in this digital age that we hardly take the time to consider simple activities like stargazing. All you need to do is grab a blanket and figure out which constellations appeals to you the most. There are plenty of apps on the market, such as Star Tracker in the market, that can help you navigate this better. It is definitely one of the best cheap first dateideas to consider.
12. Go For A Winery Or A Brewery Tour
While this may be slightly heavier on the pocket when compared to more affordable options,a trip to the winery is a romantic way of exploring each other's personalities. There are plenty of wineries in many areas, and taking your partner to explore the beauty of a winery is certainly an option worth considering.
13. Consider Hobby Swapping
What's better than getting to know each other and doing things that make both of you happy? Maybe one of you likes painting, while the other is a big movie buff? You can come up with inexpensive date ideasby simply doing what your date loves and then partaking in an activity that appeals the most to you. This way, you would also be able to figure out whether you want to adapt to each other's interests.
14. Attend A Book Reading Event
If you are a literature enthusiast, finding yourself a book lover is the stuff of dreams. There are so many book readings that happen around town. You can pick one that interests you both and attend the event together. The first session can become a truly memorable experience for both of you. Besides, you'll have so much in common to talk about later.
15. Go To A Bowling Alley
If you are looking for an entertaining first date idea, bowling is a great one. Unlike other traditional date ideas, bowling allows you to interact with your date in ways a conventional date would not. Besides being hella cheap, the game is competitive enough for non-regulars, and its slow-paced nature gives you a lot of moments to have good conversations.
16.Consider Taking A Water Adventure Together
If you are both all about the adventurous life, indulging in water sports is one of the most exciting ways to bond with each other. There are loads of activities to choose from – from kayaking to canoeing and surfing to rafting. Besides, if you are feeling a bit landlocked, taking your relationship offshore while you enjoy the beauty of nature around you can be a refreshing and thrilling experience.
17. Attend A Carnival Together
Is there a carnival in town? If yes, then taking your date to a fair or festival will allow you to bond over precious childhood memories of your favorite rides and foods. Whether you go on a thrilling rollercoaster ride or win them a stuffed animal, this is a modest date idea that is both unconventional and memorable.
18. Visit A Chocolate Factory
If you have an insatiable sweet tooth, you can consider taking your date on an elaborate tour of a local chocolate factory. Besides getting a behind-the-scenes look at how your favorite chocolates are made, you can also tack on a chocolate tasting experience. For a more immersive experience, sign up for a one-day chocolate-making course with your date. It's sure to leave both your sweet tooths satisfied.
19. Try Out A Wine And Cheese Night
Taking from our last idea, we also recommend that you set up a wine and cheese night. It is definitely one of the most tried and tested inexpensive first date ideas and also Cheap Anniversary Ideas and sure to make your potential SO feel like you are taking real effort. All you need to do is invest in some nice wine and a variety of cheese. This combination would surely add the much needed romantic high and cheesiness that you need for a relationship to thrive.
20. Consider Working Out Together
Who said dates have to be about splurging and putting on extra calories? If you are a fitness freak, you can enjoy your time while working out together. We would recommend you go for a jog and give each other a run for excitement. Additionally, you can take a dance class together or simply enroll for a day of workout to understand how much your fitness goals lie in tandem.
21. Check Out A Drive-In Movie
There is nothing more romantic than lying under the sky and in the car while watching a romantic movie play in front of you. Enjoy your favorite dialogues, scenes, and characters while chatting away about what you like and what you dislike. Movies are definitely one of the best ways to bond with each other, and you can plan many movie nights if you end up enjoying your first one together.
22. Dive Bars Are Worth It Too
Who doesn't like their dates to be wild? Well, but going to a dive bar is a lot more different for the wild connotation that we are giving. You can go enjoy your drinks like some cheap shots and also enjoy your favorite finger foods while letting your hair down. Additionally, play some snooker or any fun games that excite you and have a memorable night that is easy on your pocket too.
23. Have A Foreign Film Night
If you have found somebody who likes to explore different cultures, enjoy watching a foreign film together. A foreign film can be the perfect breath of fresh air for an at-home movie date night. Even if you aren't into the same genre, taking turns choosing what to watch is part of the fun.
24. Go For Fruit Picking (If The Season Permits)
It's winter and the leaves are all ready to shed to grow something new. This can be a testament to your new relationship. You can drop all your old inhibitions and start something new. Apple picking is an ideal thing to try out on your first date, especially if you are looking for something different.
25. Hit The Trails
When you want to walk on life trails, taking a hike together is a great way to start this. You can explore the different things that nature has to offer and simply embark upon a trail that appeals to you the most. There is plenty to see in the world, and you can definitely start a relationship by embracing a new activity together.
26. Go For To A Comedy Set Together
Laughter is the most important part of a relationship. If your sense of humor does not match, it would be very tough to enjoy your life together. We recommend that you go to a comedy show happening around you, so you'll enjoy some light-hearted moments together.
27. Like Cooking? Go For It Together
If you want to please the Masterchef in you, go for a cooking class together. It is an inexpensive date idea,one that will cost you hardly anything. It is also one of the best ways to explore the flavors of life together, both literally and figuratively.
28. Attend A Concert Right Under The Stars
You can attend a concert right in the lap of nature. Simply enjoy some marvelous views while swaying to tunes that both of you like. It is sure to make for an extraordinary first date.
29. Explore Your City Together, Find Some Local Art
The best way to get to know each other is by exploring your city together while walking. You can talk about the local art, cafes, and the charm of your city. Share your thoughts and ideas of what you truly like or dislike about your city, and you will undoubtedly end up with loads to talk about.
30. Check Out Mini-Golfing
You can go for mini-golfing and bet shots on each other. Most mini-golfing areas have a lot of other stuff to do too, so you will not get bored for sure.
31. Pick Any Spot And Just Talk!
Another great way to talk is to simply pick a spot and talk away to your heart's content. If your wavelengths have to match, they would match anywhere. Hence, we recommend that you pick an amazing place and talk so that you can find out which date spot is ideal for you next.

Ultimately, when you are meant to hit it off, you would be able to do that in the first 5 minutes of the meeting itself. You won't have to worry about a place or an experience if you like each other. Even a simple date at McDonald's can become one of the best times if you make it out to be! We hope you enjoy these cheap date night ideas that are good for your pocket and your heart too.
Recommended Articles
The following two tabs change content below.

Latest posts by Harini Natarajan (see all)

Harini Natarajan
As Chief Editor, Harini sets the tone and editorial direction for StyleCraze to deliver engaging, interesting, and authentic content revolving around women's health, wellness, and beauty. She has over 14 years of experience in content writing and editing for online media. She specializes in the areas of Beauty, Lifestyle, and Health & Wellness and is proficient in Medical Sciences (Biology, Human Anatomy and Physiology, and Biochemistry). Her background in Biomedical Engineering helps her decode and interpret the finer nuances of scientific research for her team. Harini is a certified bibliophile and a closet poet. She also loves dancing and traveling to offbeat destinations.