19 Best Cheap Valentine's Day Gifts For Him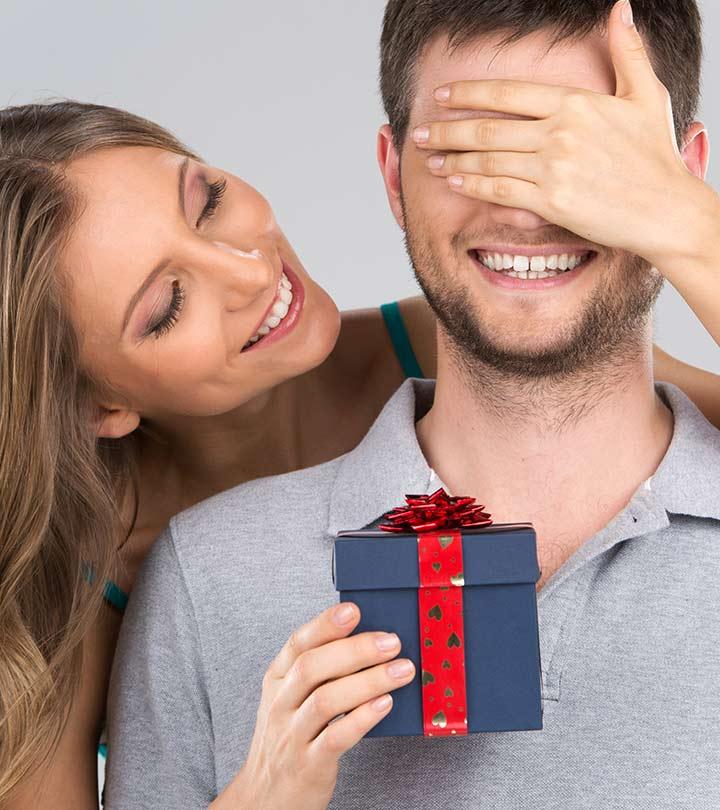 Valentine's Day shouldn't burn a huge hole in your pocket. You should wake up on this day with feelings of love and togetherness and not with nightmares about your next card statement. Spending too much on one day also seriously limits the quality of your date nights later. If you unnecessarily splurge now, you will be spending several Friday evenings indoors binge-watching the same old stuff. So, it's better to be smart about spending. Buying Valentine's Day gifts for your man can be tricky, but we have got your back. Here's a list of 19 Cheap Valentines Gifts For Him that he will surely love.
He desperately needs a uniform for the thing he loves the most. Get him this gamer T-shirt with a unique heart and controller design. The design is beautifully retro and printed on comfortable fabric. The relaxed fit means that he can move his arms around with no restrictions. A gift like this will make sure that even when he is battling demons, fighting aliens, or saving kingdoms, he will think of you.
Key features:
100% cotton
Lightweight fabric
These boxer shorts are that fine blend of comfortable and naughty. Made from top-quality cotton, these printed oxer shorts feature a heart and handcuffs print in white and red against a jet black background. Ideal for a lazy day of gaming or a perfect night's sleep, these boxers will remind him of you even when you are not around. It is the best Inexpensive Valentines Gift For Him.
Key Features:
Made from 100% cotton
Available in small, medium, large, X-large, and XX-large sizes
Most wallets look like they are from the middle ages. No matter how modern your boyfriend or husband may be in other aspects of his life, the wallet he carries, in all likelihood, looks outdated. The RFID-blocking card holder from Estalon is here to change all that. Sleek, modern, and minimal, this wallet is for men who like to be up-to-date with technology. These wallets have elegantly designed slots for cards and RFID technology to protect your data. They perfectly fit in pockets of formal pants, jeans, and cargo shorts, making them the only wallet you gift to your man for a long time.
Key features:
Made of genuine leather
Available in 23 colors
LWF certification for the use of harmless chemicals
This isn't about note-taking. This is about an elevated level of journaling. Your man will fall in love with this leather journal by Rustic Town the moment he sees it. This journal is bound with pure leather and can be used to record anything from the minutes of a meeting to daily thoughts to startup ideas to the next big screenplay.
Key features:
Crafted from 100% leather
Vintage design
200 total pages
How do you make his mornings better? With a stylish coffee mug that declares that he is your favorite person of all time. This mug is made of high-quality glass, and the bold print on it is readable even in dim light. It is also durable, safe, and easy to wash.
Key features:
Sturdy and safe
Clear and legible print
Easy to hold
Easy to clean
He needs to keep himself warm, and he needs to look strong and rugged while doing it. That's where Carthartt's Watch Hat comes in. Made of acrylic and perfect for both indoors and outdoors, this is not only a functional gift but also a stylish accessory that will up his fashion game. This stretchable hat is a top-rated bestseller on Amazon and goes well with semi-formals and casuals.
Key features:
100% Acrylic
Stretchable
Hand wash only
This dual-tone tungsten ring from Metal Masters Co. has silver borders with an elegant shade of black in the middle. This ring is designed to keep its shine forever – just like the love the two of you share. It does not cause itching or irritation. The black matte is what makes it look exceedingly premium while the silver lines add a stunning minimal touch.
Key features:
Made from tungsten
9 mm
Also available in half sizes
From corporations to football teams, mindfulness is everywhere. It has been scientifically proven to improve everything from concentration skills to temper management to relationships. S. J. Scott and Barrie Davenport's Guide To Mindful Relationship Habits contains 25 daily practices to holistically improve the quality of your relationship by bringing you two together on multiple levels. Think of it as not just a Valentine's Day gift, but an investment for your relationship. Once he gets it, make sure you make it a couple's activity to read and practice what it says.
Key features:
Easy steps to attain mindfulness
Scientifically proven methods
The folks at Coleman have made a smashing insulator that does the much-needed job of keeping your drinks cool when it is warm out. This can insulator add value to every get-together, whether it is boys-only or for couples. This gift will certainly become viral. Once his friends see it, they too will want one for themselves.
Key features:
Fits bottles and cans of standard size
Easy to hold
Slippage-free bottom design
Since 1889, Carhartt has been creating products for hardworking men and women. Their Legacy Travel Kit is another glorious addition to that lineage. This is not just for the frequent flier but also handy for an out-of-town trip or concert. This organizer has enough space for all his toiletries and essentials, and he will look savvy carrying it.
Key features:
Made from polyester
Large main compartment
Interior lined with water-resistant coating
Side haul handle
This is a gift that is small in size but massive in effect. This stainless steel guitar pick reads "I couldn't pick a better husband." Will he be proud of you? Yes. Will he flaunt it in front of his mates? You bet.
Key features:
Made of stainless steel
1.25" x 1.00" guitar pick
2mm in thickness
You can't be blamed for thinking that most men's socks seem colorless, soulless, and plain boring. Sheec is here to do their bit with this pair of funky socks for men. If the design brings a smile to your face, the soft fabric and the added toe and heel protection will surely make him comfortable. These socks will cheer him up even when everything at work seems to go wrong.
Key features:
For men's shoe sizes 5 to 8
Reinforced toe and heel
Mid-calf length
Yes, it's a baseball cap, and no, it's not just another baseball cap. This exceptionally well-designed cap from Puma has a stretchable layer of mesh for added comfort and elasticity. The logo in the front looks stylish without being overbearing. Moreover, he will definitely love the cool camo print. It is a gift that you will see him wear all the time.
Key features:
80% polyester, 20% cotton
Machine-washable
3D embroidered front logo
Flat embroidered back logo
Stretchable mesh layer
If he cannot stop talking about Star Wars, you need to get him this Star Wars-themed mug. The caption "Who's your daddy?" printed on it is a bit naughty, to say the least. 1If the caffeine inside doesn't do the trick of getting you some action, the design outside will.
Key features:
Microwave- and dishwasher-safe
Dual-side printing
Made of sturdy ceramic
How can you wrong with a gadget that gets everything right? These premium headphones offer crystal-clear audio, a noise-canceling feature, wireless technology, and multi-button control to not only play music but also answer calls and listen to the radio. iJoy's Wireless Bluetooth Headset gets it all right. It is also available in a range of eye-popping colors that will turn heads.
Key features:
Multi-button control
Comfortable fit
SD card slot
Receives radio signal
Available in a range of colors
Exchange warranty for 6 months
He may not know that idea he needs this, so it's time you gifted it to him. Jack Black Deep Dive Glycolic Facial Cleanser is loaded with the goodness of Kaolin Clay that deeply cleanses by penetrating into your pores and getting rid of all dirt and dead skin cells. There are cleansers, and then there are cleansers that define the category. Gift him this, and he will become a repeat customer in no time. If your bae is beauty conscious, it is the Best Gift For Man On Valentine'S Day.
Key features:
Contains kaolin clay, glycolic acid, and volcanic ash
Completely safe for skin
If your man believes in comfort over style and loves lounging around the house, gift him these comfy track pants. With a brand like Hanes, you don't have to think too much. Their Lounge Pants are so soft and comfortable that it's difficult to imagine anyone getting into a foul mood while wearing them.
Key features:
60% cotton, 40% polyester
Pull-on closure
Comfortable pockets
Easy to wash
Does your bae love biking, racing, or playing baseball? If yes, these polarized sunglasses are the perfect Valentine's Day gift for him. This is not only a robustly made product but also a stylish accessory. And Valentine's Day is the perfect occasion for your boo to step out wearing what the trendsetters wear.
Key features:
100% polarized
100% UVA and UVB protection
Lifetime breakage warranty on frame and lens
Comes with hard protection portable case, color box, pouch, strap, and cleaning cloth
This Glow Monster cream hydrates and brightens your skin and is loaded with anti-aging ingredients. Moreover, it is designed to be used by both men and women. Glow Monster's Triple Action cream also contains vitamin C and hyaluronic acid that will not only beautify your partner's skin but also nourish it from within. He will thank you a million times once his skin starts looking fresher and brighter.
Key features:
Tones, moisturizes, and brightens skin
Fights the signs of aging
Alcohol-free
Although the products on this list may seem inexpensive, once he receives and starts using them, he won't remember the price. He will appreciate your gesture and only love you more. What kind of gifts do you give your bae when you are running low on cash? Comment below to let us know!
Recommended Articles