5 Chinese Herbs That May Help In Treating Hair Loss
Get the long, flowing mane of your dreams with the help of some amazing plants!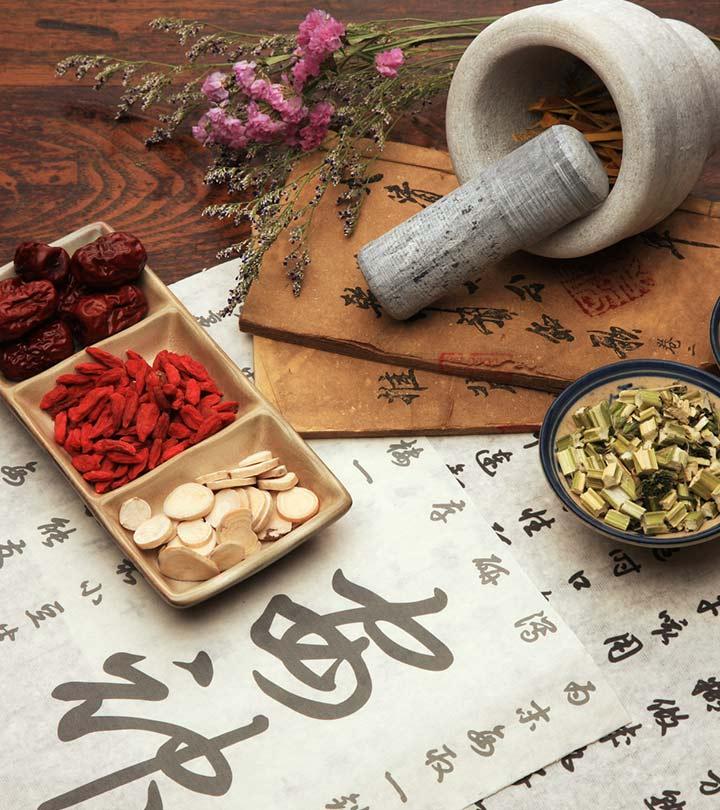 You can use Chinese herbs for hair growth if you have hair loss. Research shows that Chinese herbs can induce hair growth (1), (2). These are great for helping treat hair loss, treat discoloration of hair, and restore its natural pigmentation (3). You must know about Chinese herbs like Dong Quai, Goji Berry, Schisandra Berry, and Rhodiola Rosea because of their amazing health benefits. Here we have compiled a list of five Chinese herbs that may aid hair regeneration and prevent hair loss. Take a peek around.
Note: Before using any herbs, please be sure to consult with your doctor.
Chinese Herbal Remedies For Hair Loss You May Try
1. Fo-ti
Fo-ti is the most commonly used Chinese herb. It is also known as he-shou-wu. Fo-ti has been used for ages to treat hair loss and baldness (4). It can also help restore the natural pigmentation of hair and increase blood circulation.


Trivia
Traditionally, fo-ti was prepared by boiling the root in black bean juice and was consumed as an oral tonic. In modern times, fo-ti is available as tea, supplement, or in the formulations of topical hair and beauty products.
2. Reishi Mushroom
The reishi mushroom is often used in hair tonics. It is also called lingzhi. It has antioxidant, antiviral, antimicrobial, anti-inflammatory, and antibacterial properties (5), (6). It has anti-aging and anti-pigmentation properties that may help keep hair healthy (6). It can also protect hair from photodamage (6).
A mice study shows that that reishi mushroom exhibits hair growth activity and can be used to treat alopecia (7).
Another study shows that reishi mushroom contains 5-alpha-reductase inhibitors (8). 5-alpha-reductase is an enzyme that converts testosterone into DHT (Dihydrotestosterone). An increase in the levels of  5-alpha-reductase will increase the levels of DHT, leading to hair loss. Reishi mushroom can help prevent this.
3. Nu Zhen Zi
This herb promotes the growth of black hair (9). It also has antiviral properties, which may help in promoting scalp health and cleanliness. It also helps flush out toxins from the body and strengthens the immune system. Nu-Shen-Zi increases blood circulation to the scalp.


Did You Know?
Nu Zhen Zi is a wild harvested bitter-sweet fruit that looks glossy and grows on the privet bush, native to China. In English, Nu Zhen Zi is referred to as the "glossy privet fruit".
4. Wu Wei Zin
This herb is popular as a beauty enhancer. It also serves as a tonic that helps purify the blood. Wu wei zin showed hair growth-promoting factors in a study conducted on rats (10). It can also help reduce hair loss and prevent photoaging (11).
5. Morus Albus
A study conducted in 2008 showed that morus alba stimulated hair growth in mice (12). Although there is not much human research done, there is plenty of anecdotal evidence that this herb helps prevent hair loss, increases hair thickness, and premature graying of hair.
Herbs like amla (or Indian gooseberry), horsetail, nettle, saw palmetto, and fenugreek have been used traditionally and have anecdotal evidence for promoting hair growth and dandruff prevention. However, these Chinese herbs can be regularly used as a home remedy. The good thing about them is that they can be grown in your kitchen garden or as window sill plants.
The Chinese method of hair care follows the ancient principles of yin and yang to address the problem at its root. These herbs may be found in any local Chinese markets in the city. Also, these are not very expensive and are generally sold in easy-to-use forms.
Infographic: 5 Chinese Herbs To Combat Hair loss
Chinese herbs can be easily grown and also are easily available. They help prevent premature hair graying and reduce the effects of photodamage. The herbs have other benefits too. In the following infographic, we have listed the different Chinese herbs and how they can boost hair health. Take a look.


If you are experiencing hair loss and want to go for something natural you can use Chinese herbs for hair growth, to promote healthy hair follicles and restore your hair's natural pigmentation and hair shine. You can try using reishi mushrooms, morus albus, wu wei zin, or fo-ti to increase blood circulation and promote scalp health. Studies suggest that these Chinese herbs possess antioxidants and antimicrobial properties that can protect your hair from photodamage, slow down premature graying hair, and prevent hair loss. You can easily grow these Chinese herbs in your garden or you can visit your nearest local Chinese markets for these wonderful herbs (18).
Frequently Asked Questions
What is the most powerful Chinese herb?
Ginseng is considered one of the most powerful Chinese herbs. It is a powerful antioxidant that has cardioprotective and anti-cancerous effects and the potential to treat Alzheimer's disease (13).
Which Chinese herb is best for the skin?
Astralagus or huáng qí is one of the most popular herbs used in Chinese medicine. It can help treat skin disorders like allergic dermatitis (14). Also, it has a photoprotective effect that protects your skin from UVB-induced skin inflammation and photoaging (15).
How long do Chinese herbs take to work?
Although frequent and consistent use of Chinese herbs for a long time is preferable to get the best results. Anecdotal evidence suggests that Chinese herbs can treat certain chronic cases like alopecia areata if used consistently.
Is Chinese herbal medicine good?
Chinese herbs are a crucial part of holistic treatment and act as a beneficial medicine when used properly and under a doctor's supervision. They shouldn't, however, be used as a substitute for standard medical care.
How long does Chinese herbal medicine last?
When stored properly, decocted herbal medicines have a shelf life of up to 70 days from the date of manufacturing.
Can you take Chinese herbs long-term?
Chinese herbs can be used for a few weeks to a few months. Unlike many prescription drugs, this one is usually prescribed for long-term use.
Can you be allergic to Chinese herbs?
The chemical components of Chinese medicines are extremely complex. Some Chinese medicines may cause allergic reactions because each person's body constitution is unique. The combination of certain Chinese herbs can also be toxic. Check for individual contraindications before taking Chinese herbs as medicines.
Key Takeaways
The Chinese herb he-shou-wu or fo-ti may restore natural hair pigmentation and increase blood circulation to treat hair loss.
A hair tonic made of reishi mushrooms may help protect your tresses from photodamage and promote hair growth.
Nu-Shen-Zi and Morus Albus may prevent premature graying of hair and hair loss.
The herb wu wei zin may have hair growth-promoting factors and helps purify the blood.
Explore the world of traditional Chinese medicine for hair treatment! Discover ancient remedies, techniques, and holistic approaches to promote healthy, lustrous hair naturally. Watch this video to unveil the secrets.
Sources
Articles on StyleCraze are backed by verified information from peer-reviewed and academic research papers, reputed organizations, research institutions, and medical associations to ensure accuracy and relevance. Check out our
editorial policy
for further details.
The following two tabs change content below.