Revealed! How Christina Aguilera Lost 40 Pounds
Learn all about this powerful vocalist's astonishing body transformation journey.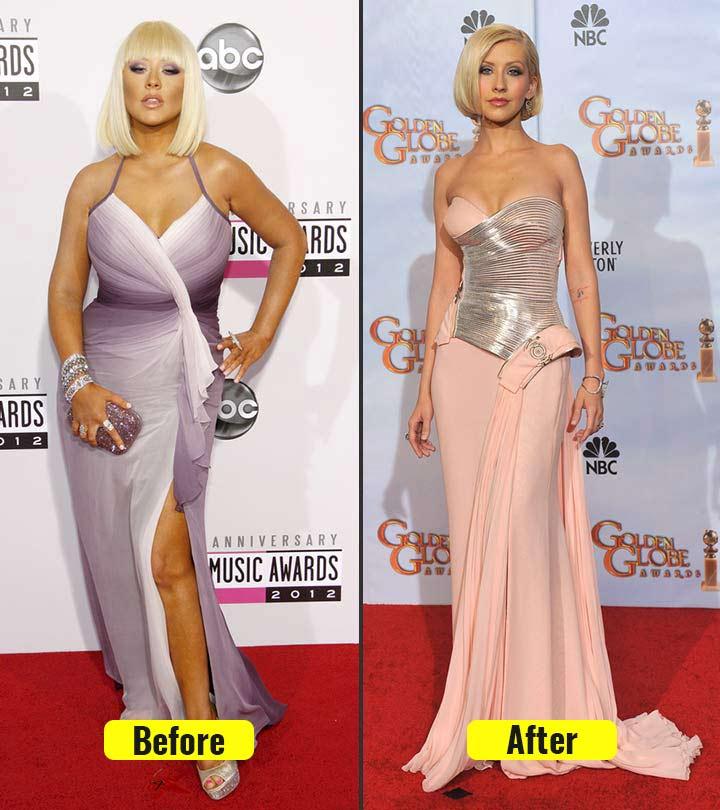 Christina Aguilera's weight loss is inspiring more women than just her fans. The '90s pop icon lost 40 pounds in just three months, and we want to know her secrets! She had a head-to-toe transformation that was evident when she re-entered as a judge on the reality show, The Voice. Want to get inspired and shed pounds like Christina Aguilera? Here's the low-down on Christina Aguilera's diet and weight loss secrets. Scroll down!
Why Christina Aguilera Gained Weight?
Christina Aguilera, an American singer and well-known television personality, gained weight due to numerous reasons. Pregnancy was one of the major reasons for her weight gain. In 2008, Christina gave birth to her first son with ex-husband Jordan Bratman.
It was during her pregnancy that she started to gain weight. Women do! Carrying a living being in the belly, looking after its well-being, and hormonal ups and downs can lead to weight gain during and post-pregnancy.


Trivia
Most women typically put on between 25 to 35 pounds during their pregnancy and it is weight gain that is healthy. However, depending on the diet followed, starting weight, and other factors, some women may put on more weight.
Burlesque Tanked At The Box Office
In 2009, Christina Aguilera went on a diet and lost pounds for Burlesque. She needed to look the part, so she worked with celebrity trainer Tee Sorge to achieve the look. However, Burlesque did not do well at the box office. This was a professional and a mini heartbreak. But what came next was totally personal.
Divorce or any kind of heartbreak with a partner takes a toll on your emotional and physical health and may also trigger weight gain. In 2010, Christina and Bratman called it quits. She started to regain the weight she lost.
In an interview with Marie Claire, Christina said, "I don't weigh myself. What looks good on one person might not look good on another body type. I happen to be very confident in my own skin. It takes time to get to that place. But, it's all about embracing yourself and your body type."
Christina had not even recovered from her heartbreak when the opportunity to be a judge on The Voice came knocking. She thought it was a wonderful opportunity and took it up. However, she was also trying to sell new music at the same time. With so many things on her plate, she did not pay attention to how she was feeling emotionally, which manifested itself physically. Her weight gain was constantly criticized.
During this time, Christina said, "The challenge I've always had is being too thin. So I love that now I have a booty, and obviously I love showing my cleavage." But this was not the end.
How Christina Aguilera Lost Weight
In 2013, Christina took a break from being a judge at The Voice and decided to take charge of her physical and mental health. She subscribed to a meal service from The Fresh Diet. The diet plan from this service allowed her to consume 1600 calories per day. She also followed a "rainbow diet" where her food choices were guided by the vibrant spectrum of colors found in different foods. Let's take a look at her rainbow diet plan.
Christina Aguilera's Weight Loss Diet
Breakfast: Bacon, blueberries, and avocado.
Lunch: Chicken salad with tofu, spinach, kale, squash, pickles, bell peppers, green beans, carrots, and beans.
Dinner: Chicken/fish/ chickpeas with rice, cucumbers, tomatoes, onions, cauliflower, eggplant, and carrots.
Snacks: Celery with nut butter and a shrimp cocktail.
However, she is popularly thought to follow the rainbow nutrition diet. Let's take a look at how that looks.
Christina Aguilera's Rainbow Diet
White Day – All foods are in white. She limited her carb consumption and consumed bananas, egg white, coconut, cauliflower, whitefish, dairy products, onion, and garlic.
Red Day – On this day, she consumed all foods that are red. She consumed raspberry, cherry, strawberry, red grapes, cranberry, red currant, guelder rose, tomato, kidney beans, beetroot, lean red meat, red bell pepper, and cayenne pepper.
Green Day – Christina consumed a wide variety of green foods. From kiwi, cucumber, spinach, and kale to sorrel, lettuce, broccoli, and Brussels sprouts, a wonderful combination of green foods were added to her plate.
Orange Day – On this day, Christina Aguilera's diet plan included all foods that are orange – pumpkin, carrot, squash, papaya, peach, apricot, persimmon, and Redfish.
Purple Day – Christina's diet included all foods that are purple on this day – blackberry, mulberry, eggplant, purple cabbage, purple cauliflower, dark grapes, and plum.
Yellow Day – On this day, Christina consumed only yellow foods – yellow zucchini, yellow bell pepper, yellow zucchini, corn, mature cheese, egg yolk, and honey.
Christina told the US Weekly, "I'm not into depriving myself, I limit the bad foods that I like." Christina also followed these points:
A worldwide survey was conducted by WHO's Department of Nutrition for Health and Development to evaluate the average sugar intake and its impact on various aspects of health. With the pieces of evidence collected regarding its impact on weight, it was reported that keeping sugar intake to less than 10% reduces the risk of being overweight or subjected to obesity. Further recommendations added that keeping the sugar intake around 5% per day would provide additional health benefits.
3 meals per day and 2 snacks.
Food portion control
Adherence to the healthy diet plan.
Alcohol is a no-no.
Unhealthy snacking is a no-no.
She also had to drink at least 2 liters of water per day as per her weight loss plan.
Apart from eating healthy foods and sticking to three balanced meals and two nutritious snacks, she completely avoided processed food and unhealthy snacking as part of her diet plan and controlled her food portions to achieve her body transformation. Christina also started working out. She took a period of time to lose weight healthily by adhering to a proper, daily workout routine. Here's Christina Aguilera workout plan.
Christina Aguilera Workout
Treadmill running – 15 minutes at 6 mph
Elliptical – 10 minutes
Chest press – 3 sets of 8 reps
Bicep curls – 3 sets of 8 reps
Tricep dips/extensions – 3 sets of 8 reps
Crunches – 3 sets of 8 reps
Leg raises – 3 sets of 8 reps
Side lunges – 3 sets of 8 reps
Squats – 3 sets of 8 reps
Yoga
Pilates
However, for her body transformation, rumor has it that she also used weight loss supplements or weight loss products and underwent lipo. Let's find out if that's true in the next section.
Did Christina Take Weight Loss Supplements?
Christina is speculated to have used Garcinia cambogia, a weight loss supplement to lose weight quickly. While it is quite possible, there is no confirmation that she has used this weight loss supplement.
For most parts, accelerating the metabolic system with a doctor-prescribed weight loss supplement is fine. However, these supplements are not FDA-approved. You must check with a licensed doctor before you decide to take any supplement for fast weight loss.


Trivia
Garcinia supplements are derived from a fruit called Garcinia gummi-gutta or Malabar tamarind whose peels contain large amounts of HCA (hydroxycitric acid)— the active ingredient thought to be responsible for their effect on weight loss.
Did Christina Undergo Lipo?
Liposuction is a surgical procedure to remove fat from specific areas of the body. Christina's sudden and fast weight loss made people assume that she must have undergone liposuction. However, a source confirmed that Christina did not undergo lipo. She changed her diet, worked out, and improved her lifestyle to shed 40 pounds.
What Can We Learn?
If you put your mind to it, you can achieve anything! Christina Aguilera proved it. She underwent two pregnancies, one divorce, and major career ups and downs. It is tough to keep it all together. But tweaking your lifestyle, sticking to healthy food choices like organic food, and taking time off can help reduce stress and improve mental and physical well-being. Also, do not choose any extreme diet plans that offer instant weight loss. These do not benefit you in the long run and may even cause serious health issues. Set achievable goals for your exercise routine to stay consistent. For cardio exercise or cardio workouts, it is advised to have a personal trainer to get some tailored exercises to avoid monotony.
Infographic: Top 5 Days From Christina Aguilera's Rainbow Diet
Christina Aguilera is a widely renowned celebrity, and her head-to-toe transformative weight loss has been incredibly inspiring for many, particularly because of her strict diet with a specific food portion size and high-intensity workout sessions. One of the quirkiest diets she followed was the rainbow diet, which has gained popularity of late. Have a look at the following infographic to learn about the top 5 days of her rainbow diet. Scroll down!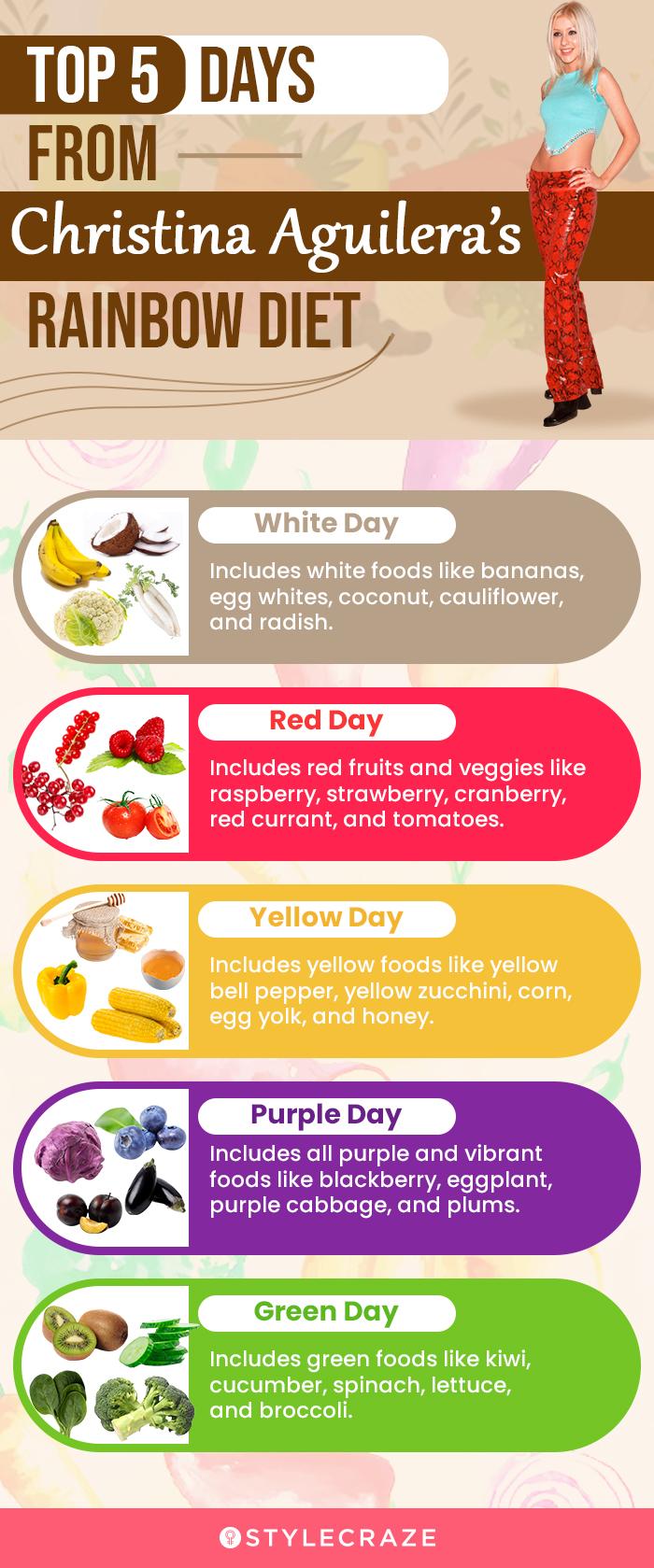 Christina Aguilera's weight loss stunned her fans and inspired many women to lose weight. She lost 40 pounds in three months and followed the rainbow diet, a 7 day color diet, along with a consistent workout routine. Her low-carb high protein diet also included many veggies, fruits, and protein sources like chicken. Her exercise routine included pilates, yoga, chest press, treadmill running, squats, side lunges, and exercises with weights. There were also rumors that Christina underwent liposuction and took weight loss supplements. Reducing stress, choosing a diet plan that suits your body type and contains low calorie food choices, and a regular exercise routine that you can easily stick to, comprising mostly your favorite workouts, can help with effective weight loss. They also help you get a toned body and aids mental health. Her before and after photos can serve as great motivation for those looking to embark on a fitness journey and achieve their health goals.
Frequently Asked Questions
How does Christina Aguilera's weight loss compare to other celebrity weight loss stories?
Each person's body transformation story is unique and personal. Christina seems to have taken a more natural and healthier approach to weight loss, while most celebrities would simply go under the knife. A lot of her weight gain post-divorce was due to an unstable mental health. A healthy diet plan with sustainable dietary choices and exercising, besides weight loss, can also help with mental and emotional well-being.
What are some common misconceptions about weight loss, and how does Christina Aguilera's story challenge these beliefs?
Many people want to lose a lot of weight very quickly. However, a healthy weight loss is a process that needs to be diligently followed. It also requires multiple lifestyle changes, including diet, exercise, sleep, and effective time management. Christina's weight loss journey is a great balance of all these factors.
What impact does social media and celebrity culture have on body image and weight loss?
Social media and celebrities have always had the biggest impact and influence on their audience. They are shaped to look desirable through their weight loss journey, and they are trained for showbiz. Everybody wants to be like them. Therefore, stories of their transformation journeys, makeovers, and anything to do with how they manage to look so perfect are popular. As a result, any appearances on social media platforms where they want to talk about their daily lives and endorsements are devoured by their
Key Takeaways
The '90s pop icon Christina Aguilera lost 40 pounds in three months.
She followed the rainbow diet, which helped her shed weight.
Contrary to popular belief, she did not go under the knife. She changed her lifestyle and worked out regularly to lose weight.
Step into Christina Aguilera's inspiring weight loss journey! Witness her transformation and learn the secrets behind her success in shedding pounds. Check out this video to get motivated and reclaim your health.
The following two tabs change content below.