12 Classic Updo Hairstyles From The 60s
Nothing spells elegance and drama like the decade's beehive buns and high ponytails.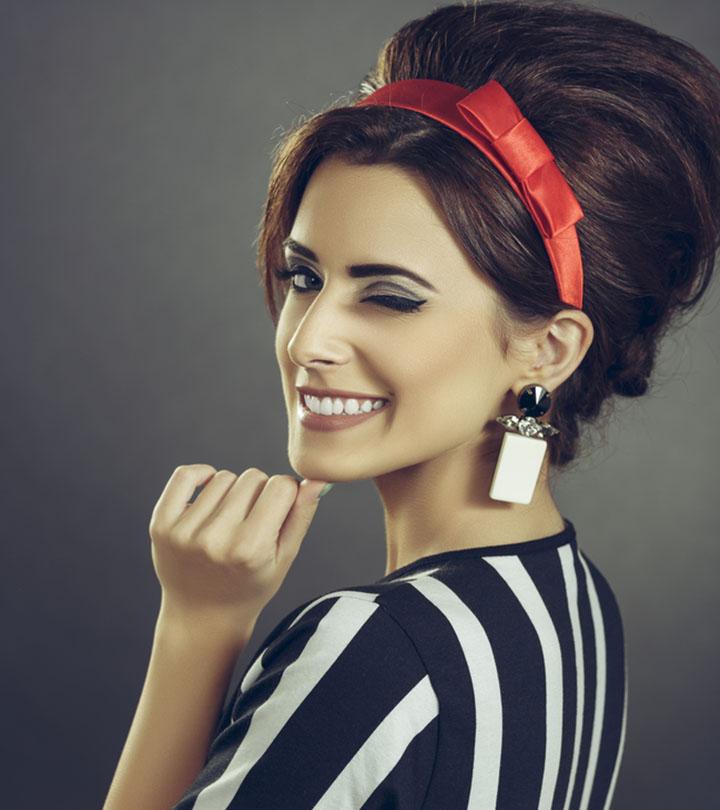 The '60s were the updo decade! Every hairstyle was big – beehives, half updos, back-combed, and ponytails. So, we made a '60s updos hairstyles list! And once you scroll through our picks, you'll understand why!
From chic and classy to hippie and laid-back, you can find a '60s updo that speaks to your heart and soul. So, scroll down to check out these hairstyles and pick your favorite.

Before You Get Started
Hairstyle trends in the '60s saw a counterculture revolution. The hairdos became more loud, voluminous, and bold as opposed to the neat and well-kempt ones of the earlier years.
The updos from this era are also all about exaggerated shapes at the top. A simple bun was also coiffed to look bigger than usual.
Flashy accessories like pearls, glittering beads, and wide headbands in popping colors or glaring patterns are a great way to nail a '60s look.
Classic Updo Hairstyles From The '60s
Hairstyles from the '60s played a major role in the counterculture revolution. They were louder, more elaborate, and celebrated individuality. Although most trends today sway towards minimalism, the '60s continue to inspire creative and unique hair looks.
Hair Stylist Jessican Noonan offers some styling tips to achieve the '60s-inspired look. She suggests, "You'll need bobby pins, hair pins, hair ties, and hair spray. Use a heat-protecting styling cream, gel, or mousse on damp hair. Start with a roller set, or blow and use a curling iron to create volume, and movement in the hair. Velcro rollers are my go-to. Wait until the hair is 100% dry and cool, before styling. Use a workable hairspray to shape and secure hair into style. Finish with an anti-humectant hair spray to weather-proof your look."
She further adds, "If you are going to the salon for styling and you need to change later, remember to wear a button-up shirt!"
With a little bit of practice and creativity, you can easily create these classic updo hairstyles from the '60s at home. Check them out below for inspiration.
1. Vintage Bun
This vintage bun looks straight out of a 1960s fashion catalog. This sort of slicked-back updo was often seen in magazines and movies of that era. The neat fanned-out bun at the back adds an elegant and professional appeal to this look. You can sport it with a high-neck dress and pearl studs to finish off that '60s look.
2.  Face-Framing Updo
We adore the contrast between the '60s-style bun at the back with the unkempt face-framing pieces at the front. This hairstyle is the very definition of a vintage-inspired modern look. You can try this elegant, chic, and classy hairstyle to a wedding or even a casual night out.
3. Side-Swept Beehive
Top marks to Marion Cotillard, who channelled 60s style with this magnificent beehive at the premiere of the Blood Ties in Cannes. The actress looks smoking hot with this hairdo, and we particularly love Marion's right parting that frames her face beautifully. To achieve this look, use anti-frizz and pin your hair up tightly to prevent flyaways. Once done styling, pair it with minimal makeup and nude lipstick.


Quick Tip
A beehive hairstyle suits those with a square face. The high crown gives an illusion of an elongated face shape and helps soften the jawline.
4. Half Beehive
At the 85th Annual Academy Awards, singer Adele wore her hair in a half beehive – a perfect hairstyle with a hint of glamor. We love how retro her look is, with volume at the back and long, face-framing bangs on either side. She further matched her back-combed up-do with ultra-long lashes, porcelain smooth skin, and a nude, matte lip. The 60s 'it-girl' Sharon Tate was also known to rock this puffed-up beehive half-bun.
5. Half Up Half Down
For a sophisticated and retro look, take inspiration from Zooey Deschanel and add an unusual bun to your stylish half updo. To achieve this look, divide your hair into two sections and pin the bottom section off. Subtly backcomb the top section, twist it into a larger bun, and secure it with bobby pins. Release the bottom section of hair and finish it off by applying a shine serum.
6. Beehive With Bangs
If you've always been a fan of the Audrey Hepburn beehive with side bangs, but don't have the time or a good hair care product to pull it off, here's your solution: Gizzi Erskine's vintage beehive, which she rocks at pre-BAFTA party. The actress paired her sleek up-do with a black dress, gorgeous statement jewelry, and sleeker, minimal make-up, including a coral lip – just like Audrey's. A similar bouffant hairstyle was owned by the 60s first lady Jackie Kennedy.
7. Bumped Up Bun
WOW, indeed! Cheryl Cole looks smokin' hot with this romantic and chic Hollywood-style updo. The pretty singer paired her messy, bumped up bun with a black Mullet dress, a dreamy smokey eye, and nude lips at Foxcatcher Premiere in Cannes. Give your vintage bun some extra texture by twisting sections of hair into a bun behind your head.

8. High Twisted Bun
Totally picture perfect: Katie Cassidy's two-toned blonde high twisted bun and gorgeous, wide smile would be recognizable anywhere. The bun adds so much playfulness while the tangled twists remind us of the era gone by. And the result? A timeless style for every occasion.
9. Beehive Low Pony
Joelle Carter looks stunning with her copper blonde hair in the '60s beehive low ponytail, proving that the hairdo can never, ever go out of style. We love the wispy, side bang that grazes her cheek whilst concealing her forehead. To mimic this look, take a cue from the actress and practice until perfect.
10. '60s High Ponytail
Modern day diva, Kate Beckinsale looks pretty and poised with her '60s-inspired high ponytail. Simply add a bit of hairspray and tease your hair up, and voila! You'll have the perfect sophisticated look.
11. French Twist
Don't be afraid to twist your hair just like this model at the Mercedes-Benz Fashion Week. Separate hair into two sections and twist them around each other at the back of your head and pin into place. End result: a glamorous retro French twist.


Quick Tip
You can adorn French twist with flowers or attractive pins. You can experiment with the classic hairstyle and leave the ends of your hair out for an informal look.
12. Twisted Updo
A little bit retro, a little bit modern, but a lot of amazing. Julia Robert's twisted voluminous updo is a perfect look for weddings and parties. The Oscar-winning actress pairs her structured and elegant updo with flicks of black eyeliner and nude lipstick.
Infographic: 5 Timeless '60s Hairstyles For Everyone
The roaring '60s are known not only for their fashion but also for their unconventional hairstyles. The decade saw various new looks being invented that are still adored and emulated by many today. From alluring beehives to chic high ponytails and half updos, check out the infographic below for the top '60s hairstyles that are still in trend!


The 1960s are an unquestionable gold mine of retro beauty inspiration. It wasn't simply the makeup that made the 1960s one of the most beautiful decades. Many fresh, fascinating, and very fashionable hairstyles emerged during the decade. Hair in the 1960s was daring, seductive, and as free-spirited as attitudes, with bombshell waves and bohemian bangs. And now, hairstyles from the 1960s are making a big comeback! So, if you are looking for a fresh new look, it's only natural to go to this trendy era for inspiration, so we have compiled a list of the greatest 60s updos hairstyles!
Frequently Asked Questions
What was the most popular hairstyle in the 1960s?
The beehive was the most popular hairstyle of the '60s. You can find multiple versions of this hairstyle flaunted on many magazine covers and movie posters from that era. It was styled in updo, half up-half down, low bun, and ponytail hairstyles. It was often worn with loose hair to add a bit of height and volume at the crown.
What are the five key points to consider when designing an updo?
• Think about the occasion, and pick a style accordingly.
• Keep all your products and clips ready before you start.
• Divide your hair into sections, and work on one section at a time.
• Take your time, and don't rush the process.
• Finish off with hairspray to set the updo in place.
Should hair be washed before getting an updo?
If you are getting the updo styled at a salon, wash your hair a few hours before the appointment. If you are styling your own hair, wash it the night before.
How long should your hair be for an updo?
There are updo styles for tresses of all lengths: short, medium, and long. If you have short hair, you can add extensions to achieve a dramatic updo.
How do you keep an updo in place?
Use a strong-hold product like hair gel or hairspray to keep an updo in place.
Who are some of the famous 60s female celebrities for hairstyle inspiration?
For vintage mod hair, you can look up Brigitte Bardot, Edie Sedgwick, Nancy Sinatra, Jane Fonda, Twiggy, Mia Farrow, Marianne Faithfull, and Mary Quant.

Fan of those 60s updos that can suit any special occasion? Watch this video to learn how to recreate 60s hairstyles quick and easy, Let's get started!

The following two tabs change content below.