10 Classy Headband Hairstyles To Inspire You
Want to make a major style statement with your 'do? Opt for a headband! Whether you're planning on rocking a bob or wearing your hair up, we have compiled a list of ten headband hairstyles that you'll actually find useful! Bejewelled, floral or leather, these of-the-moment headbands are a stylish addition to jazz up your boring look.
Read on to find out more about headband hairstyles!
1. Sleek Bun With Embellished Headband:
For an ultimate princess style, wear a sleek bun with a double-row embellished headband. Perfect for a night out with the girls, a formal occasion or a hot date, all you need to pull this headband off is a Sasha Luss type of a hairstyle and natural makeup.
2. Ponytail With Headband:
Thinking about skipping your brunch because of a bad hair day? There is an easy trick to solve your problem; just grab your hair, pull it in a low ponytail and add a gold headband to it. Make it trendy like Johanna Klum, who rocks a loose and messy hairstyle with headband.
[ Read: Flower Girl Hairstyles ]
3. Full Fringe Bun With Intricate Headband:
If you have fringes, you know headbands were made for you, right? For this sophisticated look, perfect for a festival or a girl's night out, keep your bun undone and the rest of your bijoux to a minimum. You could side sweep your long bangs, but for that extra impact and romantic look, try rocking the headband behind your fringe à la Dianna Agron.
4. Long Bob With Gold Headband:

Long bob, floral dress and a distant sun headband – go all edgy and glamorous with this chic look. Take a tip from Alex Smith-Kirk and keep the rest of your look simple, avoid caked-on makeup, flashy clothes or dangly accessories altogether.
5. Long Hair With Floral Headband:
If your hair is long, the right headband is a no-brainer addition to make it glamorous. In Zara Martin's case, she chose a big, chunky, floral headband that lies flat against her head. So, if you are looking for headband styles for long hair, make sure the color of the accessory matches the color of your dress or contrasts with your hair color. This will help your look really stand out!
[ Read: Hair Scarf Hairstyles ]
6. Wavy Hair With Boho Head Chain:
Proving that more can be sexy, Sarah Ellen pairs her glittery dress with a sparkling bohemian head chain. Perfect for any occasion, we love how the bedazzled piece contrasts with her tousled waves; a style that adds a certain elegance to a simple hairdo. #BohoStyle
7. Braided Bun With Tiara:
Ah-mazing!

Actress Emmy Rossum matches her simple braided bun, impeccable makeup, subtle eyes and shimmery lips with a gorgeous headpiece. Since the tiara totally glam, the actress matched it with a simple braided bun to let the jewelled headpiece take the spotlight.
8. Braided Updo With Knotted Headband:
A stretchy knotted headband is perfect for edgy, downtown girl like Katy Perry. Perfect for straight hair, the singer looks stunning with her braided up'do at the 28 Annual Aria Awards. A great style to show off your flawless skin, the headband enhanced the embellished frock giving her hairdo an edgy and chic focal point.
[ Read: Best Hippie Hairstyles ]
9. Angular Bob With Leather Headband:
Ashlee Simpson's leather headband is a simple way to infuse a bit of fun to her edgy bob. The black headband is fresh against her blonde hair and pairs it with a cute top and leather skirt that never go out of style.
10. Beehive With Fabric Headband:
Dig a fabric to try and create this easy look: Cut a long fabric to wrap around your messy beehive twice. Position it at the back of the head, pull the sides up behind your ears and tie it at the back. Get inspired by this model at the Lena Hoschek show, who paired the style with natural looking makeup – dewy skin, doe eyes, peachy lips – for a gorgeous finishing touch.
So there you are – ten stylish ways to wear your headbands. Do let us know of your favorite look in the comments box below!
Recommended Articles:

The following two tabs change content below.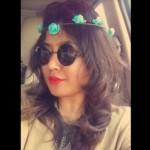 Latest posts by Anisha Pradhan (see all)